Abstract
Diarrhea is defined as reduced stool consistency, increased water content and number of evacuations per day. A wide array of causes and pathophysiological mechanisms underlie acute and chronic forms of diarrhea. This review focuses on the major clinical aspects which should aid clinicians to diagnose chronic diarrhea. Clinical history, physical examination and stool evaluation and the predominant stool characteristic, i.e., bloody, watery, and fatty diarrhea, may narrow the differential diagnosis. Although mainly involved in acute diarrhea, many different infectious agents, including bacteria, viruses and protozoa, can be identified in chronic bloody/inflammatory diarrhea by appropriate microbiological tests and colonoscopic biopsy analysis. Osmotic diarrhea can be the result of malabsorption or maldigestion, with a subsequent passage of fat in the stool leading to steatorrhea. Secretory diarrhea is due to an increase of fluid secretion in the small bowel lumen, a mechanism often identified in gastroenteropancreatic neuroendocrine tumors. The evaluation of the fecal osmotic gap may help to characterize whether a chronic diarrhea is osmotic or secretory. Fatty diarrhea (steatorrhea) occurs if fecal fat output exceeds the absorptive/digestive capacity of the intestine. Steatorrhea results from malabsorption or maldigestion states and tests should differentiate between these two conditions. Individualized diagnostic work ups tailored on pathophysiological and clinical features are expected to reduce costs for patients with chronic diarrhea.
Access options
Buy single article
Instant access to the full article PDF.
USD 39.95
Price excludes VAT (USA)
Tax calculation will be finalised during checkout.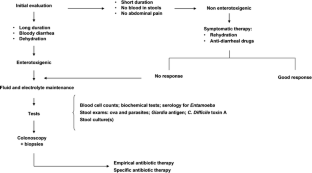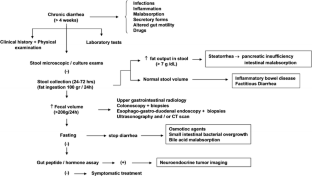 Abbreviations
EMA:

Endomysial antibodies

FD:

Functional diarrhea

IBD:

Inflammatory bowel disease

IBS:

Irritable bowel syndrome

IBS-C:

Constipation predominant irritable bowel syndrome

IBS-D:

Diarrhea predominant irritable bowel syndrome

MRI:

Magnetic resonance imaging

75SeHCAT:

75-Seleniumhomotaurocholic acid

tTG:

Tissue transglutaminase

VIP:

Vasoactive intestinal polypeptide
References
Wenzl HH, Fine KD, Schiller LR, Fordtran JS (1995) Determinants of decreased fecal consistency in patients with diarrhea. Gastroenterology 108:1729–1738

Field M (2003) Intestinal ion transport and the pathophysiology of diarrhea. J Clin Invest 111:931–943

Camilleri M (2004) Chronic diarrhea: a review on pathophysiology and management for the clinical gastroenterologist. Clin Gastroenterol Hepatol 2:198–206

Palma R, Vidon N, Bernier JJ (1981) Maximal capacity for fluid absorption in human bowel. Dig Dis Sci 26:929–934

Kurose I, Pothoulakis C, LaMont JT, Anderson DC, Paulson JC, Miyasaka M, Wolf R, Granger DN (1994) Clostridium difficile toxin A-induced microvascular dysfunction. Role of histamine. J Clin Invest 94:1919–1926

Castagliuolo I, LaMont JT, Letourneau R, Kelly C, O'Keane JC, Jaffer A, Theoharides TC, Pothoulakis C (1994) Neuronal involvement in the intestinal effects of Clostridium difficile toxin A and Vibrio cholerae enterotoxin in rat ileum. Gastroenterology 107:657–665

Baldi F, Bianco MA, Nardone G, Pilotto A, Zamparo E (2009) Focus on acute diarrhoeal disease. World J Gastroenterol 15:3341–3348

Gadewar S, Fasano A (2005) Current concepts in the evaluation, diagnosis and management of acute infectious diarrhea. Curr Opin Pharmacol 5:559–565

Fine KD, Schiller LR (1999) AGA technical review on the evaluation and management of chronic diarrhea. Gastroenterology 116:1464–1486

Headstrom PD, Surawicz CM (2005) Chronic diarrhea. Clin Gastroenterol Hepatol 3:734–737

Schiller LR (2004) Chronic diarrhea. Gastroenterology 127:287–293

Wrenn K (1989) Fecal impaction. N Engl J Med 321:658–662

Juckett G, Trivedi R (2011) Evaluation of chronic diarrhea. Am Fam Physician 84:1119–1126

Di Sabatino A, Biancheri P, Rovedatti L, Macdonald TT, Corazza GR (2012) Recent advances in understanding ulcerative colitis. Int Emerg Med 7:103–111

Paulet P, Coffernils M (1990) Very long term diarrhoea due to Campylobacter jejuni. Postgrad Med J 66:410–411

Chetty R, Govender D (2012) Lymphocytic and collagenous colitis: an overview of so-called microscopic colitis. Nat Rev Gastroenterol Hepatol 9:209–218

Volta U, Villanacci V (2011) Celiac disease: diagnostic criteria in progress. Cell Mol Immunol 8:96–102

Volta U, De Giorgio R (2012) New understanding of gluten sensitivity. Nat Rev Gastroenterol Hepatol 9:295–299

Volta U, Granito A, Parisi C, Fabbri A, Fiorini E, Piscaglia M, Tovoli F, Grasso V, Muratori P, Pappas G, De Giorgio R (2010) Deamidated gliadin peptide antibodies as a routine test for celiac disease: a prospective analysis. J Clin Gastroenterol 44:186–190

Di Sabatino A, Corazza GR (2009) Coeliac disease. Lancet 373:1480–1493

Gasbarrini A, Corazza GR, Gasbarrini G, Montalto M, Di Stefano M, Basilisco G, Parodi A, Usai-Satta P, Vernia P, Anania C, Astegiano M, Barbara G, Benini L, Bonazzi P, Capurso G, Certo M, Colecchia A, Cuoco L, Di Sario A, Festi D, Lauritano C, Miceli E, Nardone G, Perri F, Portincasa P, Risicato R, Sorge M, Tursi A, 1st Rome H2-Breath Testing Consensus Conference Working Group (2009) Methodology and indications of H2-breath testing in gastrointestinal diseases: the Rome Consensus Conference. Aliment Pharmacol Ther 29(Suppl 1):1–49

Ridolo E, Baiardini I, Meschi T, Peveri S, Nouvenne A, Dall'aglio P, Borghi L. (2012) HRQoL questionnaire evaluation in lactose intolerant patients with adverse reactions to foods. Intern Emerg Med (Epub ahead of print)

Quigley EM, Abdel-Hamid H, Barbara G, Bhatia SJ, Boeckxstaens G, De Giorgio R, Delvaux M, Drossman DA, Foxx-Orenstein AE, Guarner F, Gwee KA, Harris LA, Hungin AP, Hunt RH, Kellow JE, Khalif IL, Kruis W, Lindberg G, Olano C, Moraes-Filho JP, Schiller LR, Schmulson M, Simrén M, Tzeuton C (2012) A global perspective on irritable bowel syndrome: a consensus statement of the World Gastroenterology Organisation Summit Task Force on irritable bowel syndrome. J Clin Gastroenterol 46:356–366

Barbara G, Cremon C, Pallotti F, De Giorgio R, Stanghellini V, Corinaldesi R (2009) Postinfectious irritable bowel syndrome. J Pediatr Gastroenterol Nutr 48(Suppl 2):S95–S97

Modlin IM, Oberg K, Chung DC, Jensen RT, de Herder WW, Thakker RV, Caplin M, Delle Fave G, Kaltsas GA, Krenning EP, Moss SF, Nilsson O, Rindi G, Salazar R, Ruszniewski P, Sundin A (2008) Gastroenteropancreatic neuroendocrine tumours. Lancet Oncol 9:61–72

Von der Ohe MR, Camilleri M, Kvols LK, Thomforde GM (1993) Motor dysfunction of the small bowel and colon in patients with the carcinoid syndrome and diarrhea. N Engl J Med 329:1073–1078

Aldini R, Roda A, Festi D et al (1982) Bile acid malabsorption and bile acid diarrhea in intestinal resection. Dig Dis Sci 27:495–502

Sciarretta G, Fagioli G, Furno A et al (1987) 75Se HCAT test in the detection of bile acid malabsorption in functional diarrhoea and its correlation with small bowel transit. Gut 28:970–975

Eherer AJ, Fordtran JS (1992) Fecal osmotic gap and pH in experimental diarrhea of various causes. Gastroenterology 103:545–551

Fine KD, Fordtran JS (1992) The effect of diarrhea on fecal fat excretion. Gastroenterology 102:1936–1939

Afshar P, Redfield DC, Higginbottom PA (2010) Whipple's disease: a rare disease revisited. Curr Gastroenterol Rep 12:263–269

Schiller LR (1995) Review article: anti-diarrhoeal pharmacology and therapeutics. Aliment Pharmacol Ther 9:87–106

Scaldaferri F, Pizzoferrato M, Ponziani FR, Gasbarrini G, Gasbarrini A. (2011) Use and indications of cholestyramine and bile acid sequestrants. Intern Emerg Med (Epub ahead of print)
About this article
Cite this article
Corinaldesi, R., Stanghellini, V., Barbara, G. et al. Clinical approach to diarrhea. Intern Emerg Med 7 (Suppl 3), 255–262 (2012). https://doi.org/10.1007/s11739-012-0827-4
Published:

Issue Date:

DOI: https://doi.org/10.1007/s11739-012-0827-4
Keywords
Chronic diarrhea

Osmotic diarrhea

Secretory diarrhea

Steatorrhea