Abstract
Obesity is frequently characterized by a reduced vitamin D bioavailability, as well as insulin-resistance and a chronic inflammatory response. We tested the hypothesis of an independent relationship between serum concentrations of 25-hydroxyvitamin D (25[OH]D) and several circulating inflammatory markers in a cohort of severely obese individuals. Cross-sectional study was carried out among obese patients undergoing a clinical evaluation before bariatric surgery in our University Hospital. Serum 25(OH)D, fasting and post load glucose and insulin, high-sensitive C-reactive protein (hs CRP), fibrinogen, interleukin-6 (IL-6), tumor necrosis factor-α (TNF-α), leptin, adiponectin and lipid profile were collected. Insulin-resistance was assessed by insulin sensitivity index (ISI). Total body fat (FAT kg), total percent body fat (FAT%) and truncal fat mass (TrFAT) were assessed with dual-energy X-ray absorptiometry. A total of 147 obese subjects (89 women, 37.8 ± 7.1 years) with mean body mass index (BMI) of 43.6 ± 4.3 kg/m2 were enrolled. Patients in the lowest tertile of 25(OH)D were significantly more obese with a higher amount of TrFAT, more insulin-resistant, and had higher levels of fasting and post-challenge glucose (p < 0.05 for all). In a multivariate regression analysis, serum 25(OH)D was inversely related to significant levels of hs CRP, IL-6 and TNF-α after accounting for age, gender, season of recruitment, BMI, FAT kg and TrFAT (p < 0.01 for all). In extremely obese subjects, 25(OH)D serum concentrations are inversely associated with several biomarkers of systemic inflammation, regardless of the total quantity of fat mass.
Access options
Buy single article
Instant access to the full article PDF.
US$ 39.95
Tax calculation will be finalised during checkout.
Subscribe to journal
Immediate online access to all issues from 2019. Subscription will auto renew annually.
US$ 79
Tax calculation will be finalised during checkout.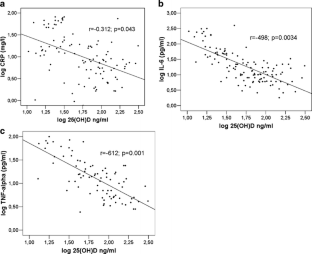 References
1.

Holick MF (2007) Vitamin D deficiency. N Engl J Med 19:266–281

2.

Munger KL, Levin LI, Hollis BW et al (2006) Serum 25-hydroxyvitamin D levels and risk of multiple sclerosis. JAMA 296:2832–2838

3.

Wang TJ, Pencina MJ, Booth SL et al (2008) Vitamin D deficiency and risk of cardiovascular disease. Circulation 29:503–511

4.

Ford ES, Ajani UA, McGuire LC et al (2005) Concentrations of serum vitamin D and the metabolic syndrome among US adults. Diabetes Care 28:1228–1230

5.

Scragg R, Sowers MF, Bell C et al (2004) Serum 25-hydroxyvitamin D, diabetes, and ethnicity in the Third National Health and Nutrition Examination Survey. Diabetes Care 27:2813–2818

6.

Forouhi NG, Luan J, Cooper A et al (2008) Baseline serum 25-hydroxy vitamin d is predictive of future glycemic status and insulin resistance: the Medical Research Council Ely Prospective Study 1990–2000. Diabetes 57:2619–2625

7.

Chiu KC, Chu A, Go VL et al (2004) Hypovitaminosis D is associated with insulin resistance and beta cell dysfunction. Am J Clin Nutr 79:820–825

8.

Maestro B, Campión J, Dávila N et al (2000) Stimulation by 1, 25-dihydroxyvitamin D3 of insulin receptor expression and insulin responsiveness for glucose transport in U-937 human promonocytic cells. Endocr J J47:383–391

9.

Bell NH, Epstein S, Greene A et al (1985) Evidence for alteration of the vitamin D-endocrine system in obese subjects. J Clin Invest 76:370–373

10.

Wortsman J, Matsuoka LY, Chen TC et al (2000) Decreased bioavailability of vitamin D in obesity. Am J Clin Nutr 72:690–693

11.

Parikh SJ, Edelman M, Uwaifo GI et al (2004) The relationship between obesity and serum 1, 25-dihydroxy vitamin D concentrations in healthy adults. J Clin Endocrinol Metab 89:1196–1199

12.

Vilarrasa N, Maravall J, Estepa A et al (2007) Low 25-hydroxyvitamin D concentrations in obese women: their clinical significance and relationship with anthropometric and body composition variables. J Endocrinol Invest 30:653–658

13.

McGill AT, Stewart JM, Lithander FE et al (2008) Relationships of low serum vitamin D3 with anthropometry and markers of the metabolic syndrome and diabetes in overweight and obesity. Nutr J 7:412–421

14.

Arunabh S, Pollack S, Yeh J et al (2003) Body fat content and 25-hydroxyvitamin D levels in healthy women. J ClinEndocrinol Metab 88:157–161

15.

Hotamisligil GS, Shargill NS, Spiegelman BM (1993) Adipose expression of tumor necrosis factor-alpha: direct role in obesity-linked insulin resistance. Science 259:87–91

16.

Xu H, Barnes TG, Yang Q et al (2003) Chronic inflammation in fat plays a crucial role in the development of obesity-related insulin resistance. J Clin Invest 112:1821–1830

17.

Berg AH, Scherer PE (2005) Adipose tissue, inflammation, and cardiovascular disease. Circ Res 96:939–949

18.

Nishimura S, Manabe I, Nagasaki M et al (2009) CD8+ effector T cells contribute to macrophage recruitment and adipose tissue inflammation in obesity. Nat Med 15:914–920

19.

Veldman CM, Cantorna MT, DeLuca HF (2000) Expression of 1, 25-dihydroxyvitamin D(3) receptor in the immune system. Arch Biochem Biophys 374:334–338

20.

Gysemans CA, Cardozo AK, Callewaert H et al (2005) 1, 25-Dihydroxyvitamin D3 modulates expression of chemokines and cytokines in pancreatic islets: implications for prevention of diabetes in nonobese diabetic mice. Endocrinology 146:1956–1964

21.

D' Ambrosio D, Cippitelli M, Cocciolo MG et al (1998) Inhibition of IL-12 production by 1, 25-dihydroxyvitamin D3. Involvement of NF-κBdownregulation in transcriptional repression of the p40 gene. J Clin Invest 101:252–262

22.

Khera A, Vega GL, Das SR et al (2009) Sex differences in the relationship between C-reactive protein and body fat. J ClinEndocrinol Metab 94:3251–3258

23.

Grundy SM, Cleeman JI, Daniels SR, American Heart Association; National Heart, Lung, and Blood Institute et al (2005) Diagnosis and management of the metabolic syndrome: an American Heart Association/National Heart, Lung, and Blood Institute Scientific Statement. Circulation 25:2735–2752

24.

Matsuda M, DeFronzo RA (1999) Insulin sensitivity indices obtained from oral glucose tolerance testing: comparison with the euglycemic insulin clamp. Diabetes Care 22:1462–1470

25.

Borissova AM, Tankova T, Kirilov G et al (2003) The effect of vitamin D3 on insulin secretion and peripheral insulin sensitivity in type 2 diabetic patients. Int J ClinPract 57:258–261

26.

Chiu KC, Chuang LM, Yoon C (2001) The vitamin D receptor polymorphism in the translation initiation codon is a risk factor for insulin resistance in glucose tolerant Caucasians. BMC Med Genet 2:2

27.

Willheim M, Thien R, Schrattbauer K et al (1999) Regulatory effects of 1alpha, 25-dihydroxyvitamin D3 on the cytokine production of human peripheral blood lymphocyte. J Clin Endocrinol Metab 84:3739–3744

28.

Van den Berghe G, Van Roosbroeck D, Vanhove P et al (2003) Bone turnover in prolonged critical illness: effect of vitamin D. J ClinEndocrinol Metab 88:4623–4632

29.

Schleithoff SS, Zittermann A, Tenderich G et al (2006) Vitamin D supplementation improves cytokine profiles in patients with congestive heart failure: a double-blind, randomized, placebo-controlled trial. Am J Clin Nutr 83:754–759

30.

Koeffler HP, Amatruda T, Ikekawa N et al (1984) Induction of macrophage differentiation of human normal and leukemic myeloid stem cells by 1, 25-dihydroxyvitamin D3 and its fluorinated analogues. Cancer Res 44:5624–5628

31.

Dusso AS, Finch J, Brown A et al (1991) Extrarenal production of calcitriol in normal and uremic humans. J Clin Endocrinol Metab 72:157–164

32.

Clement K, Viguerie N, Poitou C et al (2004) Weight loss regulates inflammation-related genes in white adipose tissue of obese subjects. FASEB J18:1657–1669
Acknowledgments
This work was supported by a grant from the Italian "Ministero della Salute" (RF 2004, Paolo Sbraccia).
Conflicts of interest
None.
About this article
Cite this article
Bellia, A., Garcovich, C., D'Adamo, M. et al. Serum 25-hydroxyvitamin D levels are inversely associated with systemic inflammation in severe obese subjects. Intern Emerg Med 8, 33–40 (2013). https://doi.org/10.1007/s11739-011-0559-x
Received:

Accepted:

Published:

Issue Date:
Keywords
Vitamin D

Inflammation

Insulin-resistance

Obesity