Abstract
Angioedema is a recurrent, non-pitting, non-pruritic, self-limiting swelling due to transient increase of endothelial permeability in the capillaries of the deep cutaneous and mucosal layers. Two main groups of angioedema should be distinguished based on the response to treatment: those responding to antihistamine and those that do not. Among the last ones, angioedema due to inherited (hereditary angioedema) and acquired (acquired angioedema) C1 inhibitor deficiency are the best defined, and are known to be mediated by bradykinin. The clinical picture is characterized by cutaneous, abdominal, and laryngeal symptoms that are highly disabling, and can be lethal when they affect the larynx, or if they are not promptly and adequately treated. Important advances in diagnosis and treatment of C1 inhibitor deficiency have been made in recent years, and today, we can rely on different therapeutic options to prevent symptoms or to treat those already present. Because of these advances, in patients properly diagnosed and treated, the mortality for the disease has dropped close to zero, and the quality of life for patients approaches that of normal subjects.
This is a preview of subscription content, log in to check access.
Access options
Buy single article
Instant access to the full article PDF.
US$ 39.95
Price includes VAT for USA
Subscribe to journal
Immediate online access to all issues from 2019. Subscription will auto renew annually.
US$ 99
This is the net price. Taxes to be calculated in checkout.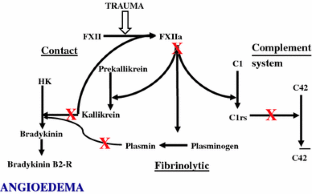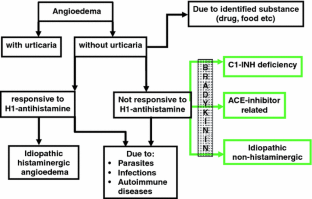 References
1.

Cugno M, Zanichelli A, Foieni F, Caccia S, Cicardi M (2009) C1-inhibitor deficiency and angioedema: molecular mechanisms and clinical progress. Trends Mol Med 15:69–78

2.

Dejana E, Orsenigo F, Lampugnani MG (2008) The role of adherens junctions and VE-cadherin in the control of vascular permeability. J Cell Sci 121:2115–2122

3.

Zingale LC, Beltrami L, Zanichelli A et al (2006) Angioedema without urticaria: a large clinical survey. Cmaj 175:1065–1070

4.

Kaplan AP, Greaves MW (2005) Angioedema. J Am Acad Dermatol 53:373–388 (quiz 89–92)

5.

Weber MA, Messerli FH (2008) Angiotensin-converting enzyme inhibitors and angioedema: estimating the risk (comment). Hypertension 51:1465–1467

6.

Lin RY, Shah SN (2008) Increasing hospitalizations due to angioedema in the United States. Ann Allergy Asthma Immunol 101:185–192

7.

Bowen T, Cicardi M, Bork K et al (2008) Hereditary angioedema: a current state-of-the-art review, VII: Canadian Hungarian 2007 international consensus algorithm for the diagnosis, therapy, and management of hereditary angioedema. Ann Allergy Asthma Immunol 100:S30–S40

8.

Pappalardo E, Caccia S, Suffritti C, Tordai A, Zingale LC, Cicardi M (2008) Mutation screening of C1 inhibitor gene in 108 unrelated families with hereditary angioedema: functional and structural correlates. Mol Immunol 45:3536–3544

9.

Wagenaar-Bos IG, Drouet C, Aygoren-Pursun E et al (2008) Functional C1-Inhibitor diagnostics in hereditary angioedema: assay evaluation and recommendations. J Immunol Methods 338:14–20

10.

Cugno M, Castelli R, Cicardi M (2008) Angioedema due to acquired C1-inhibitor deficiency: a bridging condition between autoimmunity and lymphoproliferation. Autoimmun Rev 8:156–159

11.

Pappalardo E, Cicardi M, Duponchel C et al (2000) Frequent de novo mutations and exon deletions in the c1inhibitor gene of patients with angioedema. J Allergy Clin Immunol 106:1147–1154

12.

Zingale LC, Zanichelli A, Deliliers DL, Rondonotti E, De Franchis R, Cicardi M (2008) Successful resolution of bowel obstruction in a patient with hereditary angioedema. Eur J Gastroenterol Hepatol 20:583–587

13.

Cugno M, Marzano AV, Asero R, Tedeschi A (2010) Activation of blood coagulation in chronic urticaria: pathophysiological and clinical implications. Intern Emerg Med 5:97–101

14.

Cugno M, Zanichelli A, Bellatorre AG, Griffini S, Cicardi M (2009) Plasma biomarkers of acute attacks in patients with angioedema due to C1-inhibitor deficiency. Allergy 64:254–257

15.

Bork K, Siedlecki K, Bosch S, Schopf RE, Kreuz W (2000) Asphyxiation by laryngeal edema in patients with hereditary angioedema. Mayo Clin Proc 75:349–354

16.

Bork K, Fischer B, Dewald G (2003) Recurrent episodes of skin angioedema and severe attacks of abdominal pain induced by oral contraceptives or hormone replacement therapy. Am J Med 114:294–298

17.

Agostoni A, Cicardi M (1991) Contraindications to the use of ace inhibitors in patients with C1 esterase inhibitor deficiency. Am J Med 90:278

18.

Pickering RJ, Good RA, Kelly JR, Gewurz H (1969) Replacement therapy in hereditary angioedema. Successful treatment of two patients with fresh frozen plasma. Lancet 1:326–330

19.

Marasini B, Cicardi M, Martignoni GC, Agostoni A (1978) Treatment of hereditary angioedema. Klin Wochenschr 56:819–823

20.

Gadek JE, Hosea SW, Gelfand JA et al (1980) Replacement therapy in hereditary angioedema: successful treatment of acute episodes of angioedema with partly purified C1 inhibitor. N Engl J Med 302:542–546

21.

Cicardi M, Zingale LC, Zanichelli A, Deliliers DL, Caccia S (2007) The use of plasma-derived C1 inhibitor in the treatment of hereditary angioedema. Expert Opin Pharmacother 8:3173–3181

22.

Craig TJ, Levy RJ, Wasserman RL et al (2009) Efficacy of human C1 esterase inhibitor concentrate compared with placebo in acute hereditary angioedema attacks. J Allergy Clin Immunol 124:801–808

23.

Longhurst HJ, Carr S, Khair K (2007) C1-inhibitor concentrate home therapy for hereditary angioedema: a viable, effective treatment option. Clin Exp Immunol 147:11–17

24.

Levi M, Choi G, Picavet C, Hack C (2006) Self-administration of C1-inhibitor concentrate in patients with hereditary or acquired angioedema caused by C1-inhibitor deficiency. J Allergy Clin Immunol 117:904–908

25.

Bork K, Bygum A, Hardt J (2008) Benefits and risks of danazol in hereditary angioedema: a long-term survey of 118 patients. Ann Allergy Asthma Immunol 100:153–161

26.

Agostoni A, Cicardi M (1992) Hereditary and acquired C1-inhibitor deficiency: biological and clinical characteristics in 235 patients. Medicine (Baltimore) 71:206–215

27.

Kreuz W, Martinez-Saguer I, Aygoren-Pursun E, Rusicke E, Heller C, Klingebiel T (2009) C1-inhibitor concentrate for individual replacement therapy in patients with severe hereditary angioedema refractory to danazol prophylaxis. Transfusion 49:1987–1995

28.

Martinez-Saguer I, Rusicke E, Aygoren-Pursun E, von Hentig N, Klingebiel T, Kreuz W (2009) Pharmacokinetic analysis of human plasma-derived pasteurized C1-inhibitor concentrate in adults and children with hereditary angioedema: a prospective study. Transfusion 50:354–360

29.

Gompels MM, Lock RJ, Abinun M et al (2005) C1 inhibitor deficiency: consensus document. Clin Exp Immunol 139:379–394

30.

Agostoni A, Martignoni GC (1973) Hereditary angioneurotic oedema. Lancet 2:325
Acknowledgment
This study was supported by Telethon grant n. GP08223 and grant from Invernizzi Foundation.
Conflict of interest
None.
About this article
Cite this article
Cicardi, M., Zanichelli, A. Angioedema due to C1 inhibitor deficiency in 2010. Intern Emerg Med 5, 481–486 (2010). https://doi.org/10.1007/s11739-010-0408-3
Received:

Accepted:

Published:

Issue Date:
Keywords