Abstract
Dendrobium is a drought-adapted plant extensively used in traditional Chinese medicine. Long noncoding RNAs (lncRNAs) are known to control many aspects of plant physiology. Their roles in medicinal plants such as in Dendrobium are, however, not documented. Here, we investigated the lncRNAs and their targets in drought-treated Dendrobium huoshanense using strand-specific RNA-sequencing. From these data, we identified 15,224 novel lncRNAs and 17,056 known and 30,282 novel protein-coding genes. The lncRNA were shorter than the mRNAs and were also expressed at lower levels, with modulations in their expression during drought stress indicative of their putative roles in the drought response. The coexpression of differentially expressed lncRNAs and their targets was analyzed, and their potential functions identified by Gene Ontology annotation. Importantly, further analysis indicated the lncRNAs acted by influencing MAPK signaling lncRNAs. This is the first comprehensive investigation of Dendrobium lncRNAs in drought tolerance and furthers our understanding of plant lncRNAs.
Access options
Buy single article
Instant access to the full article PDF.
USD 39.95
Price includes VAT (USA)
Tax calculation will be finalised during checkout.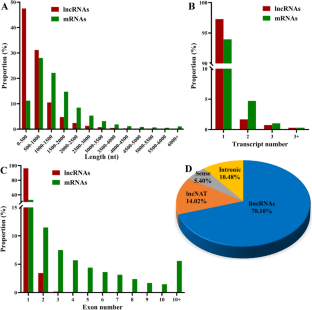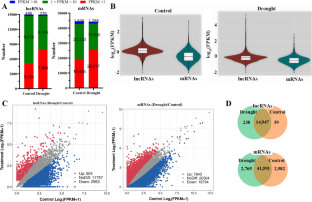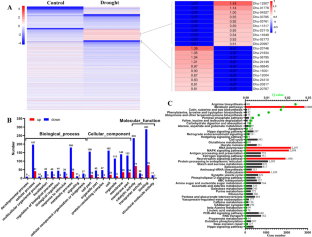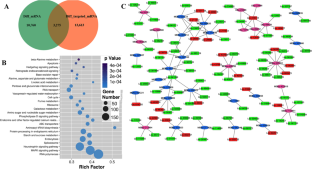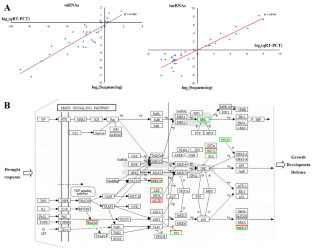 References
Agrawal GK, Rakwal R, Iwahashi H (2002) Isolation of novel rice (Oryza sativa L.) multiple stress responsive MAP kinase gene, OsMSRMK2, whose mRNA accumulates rapidly in response to environmental cues. Biochem Bioph Res Co 294:1009–1016. https://doi.org/10.1016/S0006-291X(02)00571-5

Ashraf M (2010) Inducing drought tolerance in plants: recent advances. Biotechnol Adv 28:169–183. https://doi.org/10.1016/j.biotechadv.2009.11.005

Bao XS, Shun QS, Chen LZ (2001) The medicinal plants of Dendrobium (SHI-HU) in China. A Coloured Atlas. Press of Fudan University and Press of Shanghai Medical University, Shanghai ((In Chinese))

Cai G, Wang G, Wang L, Pan J, Liu Y, Li D (2014) ZmMKK1, a novel group A mitogen-activated protein kinase kinase gene in maize, conferred chilling stress tolerance and was involved in pathogen defense in transgenic tobacco. Plant Sci 214:57–73. https://doi.org/10.1016/j.plantsci.2013.09.014

Chekanova JA (2015) Long non-coding RNAs and their functions in plants. Curr Opin Plant Biol 27:207–216. https://doi.org/10.1016/j.pbi.2015.08.003

Cui J, Luan YS, Jiang N, Bao H, Meng J (2017) Comparative transcriptome analysis between resistant and susceptible tomato allows the identification of lncRNA16397 conferring resistance to Phytophthora infestans by co-expressing glutaredoxin. Plant J 89:577–589. https://doi.org/10.1111/tpj.13408

Farooq M, Hussain M, Wahid A, Siddique K (2012) Drought stress in plants: an overview. In: Plant responses to drought stress. Springer, Berlin, pp 1–33

Han BX, Jing Y, Dai J et al (2020) A Chromosome-level genome assembly of Dendrobium Huoshanense using long reads and Hi-C data. Genome Biol Evol 12:2486–2490. https://doi.org/10.1093/gbe/evaa215

Jia H, Osak M, Bogu GK, Stanton LW, Johnson R, Lipovich L (2010) Genome-wide computational identification and manual annotation of human long noncoding RNA genes. RNA 16:1478–1487. https://doi.org/10.1261/rna.1951310

Kopp F, Mendell JT (2018) Functional classification and experimental dissection of long noncoding RNAs. Cell 172:393–407. https://doi.org/10.1016/j.cell.2018.01.011

Li F, Cui SH, Zha XQ, Bansal V, Jiang YL, Asghar MN, Wang JH, Pan LH, Xu BF, Luo JP (2015) Structure and bioactivity of a polysaccharide extracted from protocorm-like bodies of Dendrobium huoshanense. Int J Biol Macromol 72:664–672. https://doi.org/10.1016/j.ijbiomac.2014.08.026

Li S, Yu X, Lei N, Cheng Z, Zhao P, He Y, Wang W, Peng M (2017) Genome-wide identification and functional prediction of cold and/or drought-responsive lncRNAs in cassava. Sci Rep UK 7:45981. https://doi.org/10.1038/srep45981

Liu J, Jung C, Xu J, Wang H, Deng S, Bernad L, Arenas-Huertero C, Chua NH (2012) Genome-wide analysis uncovers regulation of long intergenic noncoding RNAs in Arabidopsis. Plant Cell 24:4333–4345. https://doi.org/10.1105/tpc.112.102855

Liu X, Hao LL, Li DY, Zhu LH, Hu SN (2015) Long non-coding RNAs and their biological roles in plants. Genom Proteom Bioinf 13:137–147. https://doi.org/10.1016/j.gpb.2015.02.003

Liu L, Han R, Yu N, Zhang W, Xing L, Xie D, Peng D (2018) A method for extracting high-quality total RNA from plant rich in polysaccharides and polyphenols using Dendrobium huoshanense. PLoS ONE 13:e0196592. https://doi.org/10.1371/journal.pone.0196592

Ma L, Bajic VB, Zhang Z (2013) On the classification of long non-coding RNAs. RNA Biol 10:925–933. https://doi.org/10.4161/rna.24604

Metusala D, Supriatna J, Nisyawati SD (2017) Comparative leaf and root anatomy of two Dendrobium species (Orchidaceae) from different habitat in relation to their potential adaptation to drought. InAIP Conference Proceedings 1862:030118

Mizoguchi T, Irie K, Hirayama T, Hayashida N, Yamaguchi-Shinozaki K, Matsumoto K, Shinozaki K (1996) A gene encoding a mitogen-activated protein kinase kinase kinase is induced simultaneously with genes for a mitogen-activated protein kinase and an S6 ribosomal protein kinase by touch, cold, and water stress in Arabidopsis thaliana. P Natl Acad Sci USA 93:765–769. https://doi.org/10.1073/pnas.93.2.765

Pathak RK, Taj G, Pandey D, Arora S, Kumar A (2013) Modeling of the MAPK machinery activation in response to various abiotic and biotic stresses in plants by a system biology approach. Bioinformation 9:443–449. https://doi.org/10.6026/97320630009443

Qiu C-W, Zhao J, Chen Q, Wu F (2019) Genome-wide characterization of drought stress responsive long non-coding RNAs in Tibetan wild barley. Environ Exp Bot 164:124–134. https://doi.org/10.1016/j.envexpbot.2019.05.002

Selmar D, Kleinwächter M (2013) Influencing the product quality by deliberately applying drought stress during the cultivation of medicinal plants. Ind Crop Prod 42:558–566. https://doi.org/10.1016/j.indcrop.2012.06.020

Shumayla SS, Taneja M, Tyagi S, Singh K, Upadhyay SK (2017) Survey of high throughput RNA-Seq data reveals potential roles for lncrnas during development and stress response in bread wheat. Front Plant Sci 8:1019. https://doi.org/10.3389/fpls.2017.01019

Sinha AK, Jaggi M, Raghuram B, Tuteja N (2011) Mitogen-activated protein kinase signaling in plants under abiotic stress. Plant Signal Behav 6:196–203. https://doi.org/10.4161/psb.6.2.14701

Sun X, Zheng HX, Sui N (2018) Regulation mechanism of long non-coding RNA in plant response to stress. Biochem Bioph Res Co 503:402–407. https://doi.org/10.1016/j.bbrc.2018.07.072

Tafer H, Hofacker IL (2008) RNAplex: a fast tool for RNARNA interaction search. Bioinformatics 24:2657–2663. https://doi.org/10.1093/bioinformatics/btn193

Taj G, Agarwal P, Grant M, Kumar A (2010) MAPK machinery in plants: recognition and response to different stresses through multiple signal transduction pathways. Plant Signal Behav 5:1370–1378. https://doi.org/10.4161/psb.5.11.13020

Tavera VM, Mancilla CLA, Gallegos JAA, Pimentel JGR, Arriaga AIM, Nieto JER (2018) Mechanisms for water-use efficiency between bean cultivars tolerant to drought are different. Acta Sci Agron. https://doi.org/10.4025/actasciagron.v40i1.39378

Tian JX, Du SongYP, QZ, Yang XH, Ci D, Chen JH, Xie JB, Li BL, Zhang DQ (2016) Population genomic analysis of gibberellin-responsive long non-coding RNAs in Populus. J Exp Bot 67:2467–2482. https://doi.org/10.1093/jxb/erw057

Trapnell C, Roberts A, Goff L, Pertea G, Kim D, Kelley DR, Pimentel H, Salzberg SL, Rinn JL, Pachter L (2012) Differential gene and transcript expression analysis of RNA-seq experiments with TopHat and Cufflinks. Nat Protoc 7:562–578. https://doi.org/10.1038/nprot.2012.016

Wang J, Meng X, Dobrovolskaya OB, Orlov YL, Chen M (2017) Non-coding RNAs and their roles in stress response in plants. Genom Proteom Bioinf 15:301–312. https://doi.org/10.1016/j.gpb.2017.01.007

Wang L, Xia X, Jiang H, Lu Z, Cui J, Cao F, Jin B (2018) Genome-wide identification and characterization of novel lncRNAs in Ginkgo biloba. Trees 32:1429–1442. https://doi.org/10.1007/s00468-018-1724-x

Wang A, Hu J, Gao C, Chen G, Wang B, Lin C, Song L, Ding Y, Zhou G (2019a) Genome-wide analysis of long non-coding RNAs unveils the regulatory roles in the heat tolerance of Chinese cabbage (Brassica rapa ssp. chinensis). Sci Rep UK 9:5002. https://doi.org/10.1038/s41598-019-41428-2

Wang Y, Shao Y, Zhu Y, Wang K, Ma B, Zhou Q, Chen A, Chen H (2019b) XRN1-associated long non-coding RNAs may contribute to fungal virulence and sexual development in entomopathogenic fungus Cordyceps militaris. Pest Manag Sci 75:3302–3311. https://doi.org/10.1002/ps.5453

Wierzbicki AT, Haag JR, Pikaard CS (2008) Noncoding transcription by RNA polymerase Pol IVb/Pol V mediates transcriptional silencing of overlapping and adjacent genes. Cell 135:635–648. https://doi.org/10.1016/j.cell.2008.09.035

Wu X, Yuan J, Luo A, Chen Y, Fan Y (2016) Drought stress and re-watering increase secondary metabolites and enzyme activity in Dendrobium moniliforme. Ind Crop Prod 94:385–393. https://doi.org/10.1016/j.indcrop.2016.08.041

Xiang XG, Mi XC, Zhou HL, Li JW, Chung SW, Li DZ, Huang WC, Jin WT, Li ZY, Huang LQ, Jin XH (2016) Biogeographical diversification of mainland Asian Dendrobium (Orchidaceae) and its implications for the historical dynamics of evergreen broad-leaved forests. J Biogeogr 43:1310–1323. https://doi.org/10.1111/jbi.12726

Yang Z, Yang D, Ding X, Gao Y, Li D, Xu T (2014) MicroRNA expression profiles in conventional and micropropagated Dendrobium officinale. Genes Genom 37:315–325. https://doi.org/10.1007/s13258-014-0257-y

Zhang YC, Chen YQ (2013) Long noncoding RNAs: new regulators in plant development. Biochem Bioph Res Co 436:111–114. https://doi.org/10.1016/j.bbrc.2013.05.086

Zhang M, Pan J, Kong X, Zhou Y, Liu Y, Sun L, Li D (2012) ZmMKK3, a novel maize group B mitogen-activated protein kinase kinase gene, mediates osmotic stress and ABA signal responses. J Plant Physiol 169:1501–1510. https://doi.org/10.1016/j.jplph.2012.06.008

Zou LH, Wan X, Deng H, Zheng BQ, Li BJ, Wang Y (2018) RNA-seq transcriptomic profiling of crassulacean acid metabolism pathway in Dendrobium catenatum. Sci Data 5:180252. https://doi.org/10.1038/sdata.2018.252
Acknowledgements
This work was supported by Postdoctoral Research Project of West Anhui University (WXBSH2019003), National Natural Science Foundation of China (31901383 and C0031750), Nature Science Research Project of Anhui Province (1808085QB33), Natural Science Fund of Education Department of Anhui Province (KJ2017A408 and KJ2019A0628), Project of Anhui Provincial Administration of Traditional Chinese Medicine (2020zcyb09).
Ethics declarations
Conflict of interest
The authors have no conflict of interest.
Additional information
Publisher's Note
Springer Nature remains neutral with regard to jurisdictional claims in published maps and institutional affiliations.
Communicated by J. Zhao.
Supplementary Information
Below is the link to the electronic supplementary material.
About this article
Cite this article
Wang, Y., Dai, J., Chen, R. et al. Long noncoding RNA-based drought regulation in the important medicinal plant Dendrobium huoshanense. Acta Physiol Plant 43, 144 (2021). https://doi.org/10.1007/s11738-021-03314-1
Received:

Revised:

Accepted:

Published:
Keywords
Dendrobium huoshanense

Drought

Long noncoding RNAs

Mitogen-activated protein kinases