Abstract
Koelreuteria integrifoliola, an important ornamental plant, has interference effect on the turf grass. However, the mechanisms of its allelopathy to plants has not been fully elucidated. Here, the allelopathic effects of leaf aqueous extract of K. integrifoliola on the growth, endogenous hormone contents and ultrastructure of Lolium perenne Lam seedlings were investigated. Leaf aqueous extract of K. integrifoliola at different concentrations (25.00, 50.00 and 100.00 mg mL−1) significantly reduced the growth (in terms of dry weight), chlorophyll b, total chlorophyll and carotenoids contents of L. perenne. The results also showed the decline in indole acetic acid (IAA) and gibberellic acid (GA3) contents, and the increase in abscisic acid (ABA) after extract treatment (50.00 and 100.00 mg mL−1). In addition, the (IAA + GA3)/ABA ratios in root and leaf decreased with the increase of extract concentrations. Upon exposure to extracts (50.00 and 100.00 mg mL−1), L. perenne mesophyll cell showed structural abnormalities, mostly including chloroplast distribution, destruction of chloroplast membrane and thylakoid membrane, increment of plastoglobuli number, dissolution of mitochondrial membrane and disappearance of the internal ridge. Furthermore, the chloroplast number and chloroplast volume in L. perenne mesophyll cell showed a concentration-dependent decline exposed to extracts. Thus, the changes of endogenous hormones contents and their ratios, the ultrastructure changes of mesophyll cells caused by the K. integrifoliola leaf aqueous extracts are partly responsible for allelopathic inhibition of receptor plants.
Access options
Buy single article
Instant access to the full article PDF.
US$ 39.95
Tax calculation will be finalised during checkout.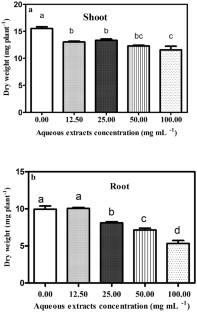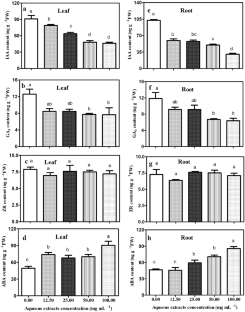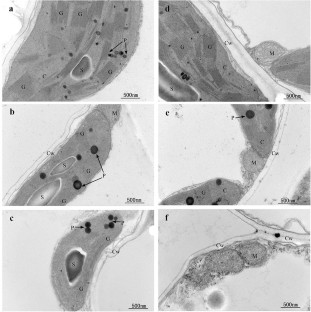 References
Alkhatib R, Alkhatib B, Al-Quraan N, Al-Eitan L, Abdo N, Muhaidat R (2016) Impact of exogenous caffeine on morphological, biochemical, and ultrastructural characteristics of Nicotiana tabacum. Biol Plant 60:706–714. https://doi.org/10.1007/s10535-016-0600-z

Batish DR, Singh HP, Setia N, Kaur S, Kohli RK (2006) 2-Benzox-azolinone (BOA) induced oxidative stress, lipid peroxidation and changes in some antioxidant enzyme activities in mung bean (Phaseolus aureus). Plant Physiol Biochem 44:819–827. https://doi.org/10.1016/j.plaphy.2006.10.014

Bogatek R, Gniazdowska A, Zakrzewska W, Oracz K, Gawronski SW (2006) Allelopathic effects of sunflower extracts on mustard seed germination and seedling growth. Biol Plant 50:156–158. https://doi.org/10.1007/s10535-005-0094-6

Braine JW, Curcio GR, Wachowicz CM, Hansel FA (2012) Allelopathic effects of Araucaria angustifolia needle extracts in the growth of Lactuca sativa seeds. J for Res 17:440–445. https://doi.org/10.1007/s10310-011-0314-1

Cao XW, Cui HM, Yao Y, Xiong AS, Hou XL, Li Y (2017) Effects of endogenous hormones on variation of shoot branching in a variety of non-heading Chinese cabbage and related gene expression. J Plant Biol 60:343–351. https://doi.org/10.1007/s12374-016-0124-2

Cao L, Liu JH, Lin Q, Ronse De Craene LP (2018) The floral organogenesis of Koelreuteria bipinnata and its variety K. Bipinnata var. Integrifolia (Sapindaceae): Evidence of floral constraints on the evolution of monosymmetry. Plant Syst Evol 304:923–935. https://doi.org/10.1007/s00606-018-1519-y

Cheng F, Cheng Z (2015) Research progress on the use of plant allelopathy in agriculture and the physiological and ecological mechanisms of allelopathy. Front Plant Sci 6:1020. https://doi.org/10.3389/fpls.2016.01697

Decraene LPR, Smets E, Clinckemaillie D (2000) Floral ontogeny and anatomy in Koelreuteria with special emphasis on Monosymmetry and septal cavities. Plant Syst Evol 223:91–107. https://doi.org/10.1007/BF00985329

Ding L, Qi L, Jing H, Li J, Wang W, Wang T (2008) Phytotoxic effects of Leukamenin E (an en-tkaurene diterpenoid) on root growth and root hair development in Lactuca sativa L. seedlings. J Chem Ecol 34:1492–1500. https://doi.org/10.1007/s10886-008-9556-6

Graña E, Sotelo T, Diaz-Tielas C, Araniti F, Krasuska U, Bogatek R, Reigosa MJ, Sanchez-Moreiras AM (2013) Citral induces auxin and ethylene-mediated malformations and arrests cell division in Arabidopsis thaliana roots. J Chem Ecol 39:271–282. https://doi.org/10.1007/s10886-013-0250-y

Gulzar A, Siddiqui MB, Bi S (2016) Phenolic acid allelochemicals induced morphological, ultrastructural, and cytological modification on Cassia sophera L. and Allium cepa L. Protoplasma 253:1211–1221. https://doi.org/10.1007/s00709-015-0862-x

He Z (1993) A laboratory guide to chemical control technology on field crop. Beijing Agricultural University Press, Beijing, pp 60–68. (In Chinese)

Holappa LD, Blum U (1991) Effects of exogenously applied ferulic acid, a potential allelopathic compound, on leaf growth, water utilization, and endogenous abscisic acid levels of tomato, cucumber, and bean. J Chem Ecol 17:865–886. https://doi.org/10.1007/bf01395596

Hong S, Lee YH, Choi YJ, Lee J, Shin HD (2019) First report of powdery mildew caused by Blumeria graminis on Italian ryegrass (Lolium multiflorum) in Korea. Plant Dis 103:761–762. https://doi.org/10.1094/PDIS-09-18-1535-PDN

Hu Y, Na X, Li J, Yang L, You J, Liang X, Wang J, Peng L, Bi Y (2015) Narciclasine, a potential allelochemical, affects subcellular trafficking of auxin transporter proteins and actin cytoskeleton dynamics in Arabidopsis roots. Planta 242:1349–1360. https://doi.org/10.1007/s00425-015-2373-6

Kratsch HA, Wise RR (2000) The ultrastructure of chilling stress. Plant Cell Environ 23:337–350. https://doi.org/10.1046/j.1365-3040.2000.00560.x

Kurepin L, Haslam T, Lopez-Villalobos A, Oinam G, Yeung E (2011a) Adventitious root formation in ornamental plants: II. The role of plant growth regulators. Propag Ornam Plants 11:161–171

Kurepin LV, Walton LJ, Yeung EC, Reid DM (2011b) The interaction of light irradiance with auxin in regulating growth of Helianthus annuus shoots. Plant Growth Regul 65:255–262. https://doi.org/10.1007/s10725-011-9596-8

Kurepin LV, Park JM, Lazarovits G, Bernards MA (2015) Burkholderia phytofirmans-induced shoot and root growth promotion is associated with endogenous changes in plant growth hormone levels. Plant Growth Regul 75:199–207. https://doi.org/10.1007/s10725-014-9944-6

Li XJ, Meng FJ (1996) Study on the photoperiodic-induced flowering in soybean: changes of plant hormones and assimilates of the first leaves. J China Agric Univ 1:35–39. (In Chinese)

Li ZH, Wang Q, Ruan X, Pan CD, Jiang DA (2010) Phenolics and plant allelopathy. Molecules 15:8933–8952. https://doi.org/10.3390/molecules15128933

Li LL, Shao TY, Yang H, Chen MX, Gao XM, Long XH, Shao HB, Liu ZP, Rengel Z (2017) The endogenous plant hormones and ratios regulate sugar and dry matter accumulation in Jerusalem artichoke in salt-soil. Sci Total Environ 578:40–46. https://doi.org/10.1016/j.scitotenv.2016.06.075

Li HS (2006) Principles and techniques of plant physiology and biochemistry experiment. Higher Education Press, Beijing, pp 118–119. (In Chinese)

Liu Q, Lu D, Jin H, Yan Z, Li X, Yang X, Guo H, Qin B (2014) Allelochemicals in the rhizosphere soil of Euphorbia himalayensis. J Agric Food Chem 62:8555–8561. https://doi.org/10.1021/jf502020v

Luo Z, Tian D, Ning C, Yan W, Xiang W, Peng C (2015) Roles of Koelreuteria bipinnata as a suitable accumulator tree species in remediating Mn, Zn, Pb, and Cd pollution on Mn mining wastelands in southern China. Environ Earth Sci 74:4549–4559. https://doi.org/10.1007/s12665-015-4510-8

Milledge JJ, Nielsen BV, Harvey PJ (2019) The inhibition of anaerobic digestion by model phenolic compounds representative of those from Sargassum muticum. J Appl Phycol 31:779–786. https://doi.org/10.1007/s10811-018-1512-4

Mitić N, Stanišić M, Savić J, Ćosić T, Stanisavljević N, Miljuš-Đukić J, Marin M, Radović S, Ninković S (2018) Physiological and cell ultrastructure disturbances in wheat seedlings generated by Chenopodium murale hairy root exudate. Protoplasma 255:1683–1692. https://doi.org/10.1007/s00709-018-1250-0

Mittler R (2002) Oxidative stress, antioxidants and stress tolerance. Trends Plant Sci 7:405–410. https://doi.org/10.1016/S1360-1385(02)02312-9

Mizutani J (1999) Selected allelochemicals. Crit Rev Plant Sci 18:653–671. https://doi.org/10.1080/07352689991309432

Mutlu S, Atici Ö (2009) Allelopathic effect of Nepeta meyeri Benth. Extracts on seed germination and seedling growth of some crop plants. Acta Physiol Plant 31:89–93. https://doi.org/10.1007/s11738-008-0204-0

Niu S, Li Z, Yuan H, Fang P, Chen X, Li W (2013) Proper gibberellin localization in vascular tissue is required to regulate adventitious root development in tobacco. J Exp Bot 64:3411–3424. https://doi.org/10.1093/jxb/ert186

Ozga JA, Yu J, Reinecke DM (2003) Pollination-, development-, and auxin-specific regulation of gibberellin 3β-hydroxylase gene expression in pea fruit and seeds. Plant Physiol 131:1137–1146. https://doi.org/10.1104/pp.102.015974

Pathan SM, Aylmore LAG, Colmer TD (2003) Soil properties and turf growth on a sandy soil amended with fly ash. Plant Soil 256:103–114. https://doi.org/10.1023/A:1026203113588

Rehman S, Shahzad B, Bajwa AA, Hussain S, Rehman A, Cheema SA, Abbas T, Ali A, Shah L, Adkins S, Li P (2019) Utilizing the allelopathic potential of Brassica species for sustainable crop production: a review. J Plant Growth Regul 38:343–356. https://doi.org/10.1007/s00344-018-9798-7

Rice EL (1984) Allelopathy. Academic Press, New York, pp 292–293

Robert-Seilaniantz A, Navarro L, Bari R, Jones JDG (2007) Pathological hormone imbalances. Curr Opin Plant Biol 10:372–379. https://doi.org/10.1016/j.pbi.2007.06.003

Santino A, Taurino M, De Domenico S, Bonsegna S, Poltronieri P, Pastor V, Flors V (2013) Jasmonate signaling in plant development and defense response to multiple (a)biotic stresses. Plant Cell Rep 32:1085–1098. https://doi.org/10.1007/s00299-013-1441-2

Soltys D, Rudzinska-Langwald A, Gniazdowska A, Wisniewska A, Bogatek R (2012) Inhibition of tomato (Solanum lycopersicum L.) root growth by cyanamide is due to altered cell division, phytohormone balance and expansin gene expression. Planta 236:1629–1638. https://doi.org/10.1007/s00425-012-1722-y

Tan Z, Wang C, Wang G (2012) First report of bark cracking of Koelreuteria bipinnata var. integrifoliola caused by Lasiodiplodia theobromae in China. Plant Dis 96:1579–1579. https://doi.org/10.1094/PDIS-04-12-0337-PDN

Valera-Burgos J, Díaz-Barradas MC, Zunzunegui M (2012) Effects of Pinus pinea litter on seed germination and seedling performance of three Mediterranean shrub species. Plant Growth Regul 66:285–292. https://doi.org/10.1007/s10725-011-9652-4

Vyvyan JR (2002) Allelochemicals as leads for new herbicides and agrochemicals. Tetrahedron 58:1631–1646. https://doi.org/10.1016/S0040-4020(02)00052-2

Wang J, Dai C, Zhang X, Lu Y (2018) Elucidating the molecular mechanism of the inhibitory effect of epigallocatechin-3-gallate on Microcystis aeruginosa. J Appl Phycol 30:1747–1758. https://doi.org/10.1007/s10811-017-1370-5

Wang J, Zhuang L, Zhang J, Yu J, Yang Z, Huang B (2019) Identification and characterization of novel homeodomain leucine zipper (HD-zip) transcription factors associated with heat tolerance in perennial ryegrass. Environ Exp Bot 160:1–11. https://doi.org/10.1016/j.envexpbot.2018.12.023

Weir TL, Park SW, Vivanco JM (2004) Biochemical and physiological mechanisms mediated by allelochemicals. Curr Opin Plant Biol 7:472–479. https://doi.org/10.1016/j.pbi.2004.05.007

Weston LA, Mathesius U (2013) Flavonoids: Their structure, biosynthesis and role in the rhizosphere, including allelopathy. J Chem Ecol 39:283–297. https://doi.org/10.1007/s10886-013-0248-5

Xie BB, Wang XD, Ye JF (2011) Research status and prospect on Koelreuteria integrifoliola Merr. Northern Horticult 23:181–183. (In Chinese)

Yu JQ, Ye SF, Zhang MF, Hu WH (2003) Effects of root exudates and aqueous root extracts of cucumber (Cucumis sativus) and allelochemicals, on photosynthesis and antioxidant enzymes in cucumber. Biochem Syst Ecol 31:129–139. https://doi.org/10.1016/S0305-1978(02)00150-3

Zhang X, Chang HN, Li HY (2017) Allelopathy of Koelreuteria bipinnata franch Var. Integrifoliola T. Chen leaf aqueous extracts on the seedling growth of Lolium perenne. Northern Horticult 71–75 (In Chinese)

Zhang X, Cui QX, Zhao Y, Li HY (2018) Allelopathic potential of koelreuteria bipinnata var. Integrifoliola on germination of three turf grasses. Russ J Plant Physiol 65:833–841. www.doi.org/https://doi.org/10.1134/S1021443718060146
Acknowledgements
This study was funded by Science and Technology Plan Project of Colleges and Universities of Shandong Province (J13LF03). We also thank Yankui Guo (Shandong Agricultural University) for help in the transmission electron microscopy analyses.
Ethics declarations
Conflict of interest
The authors declare that they have no conflict of interest.
Additional information
Publisher's Note
Springer Nature remains neutral with regard to jurisdictional claims in published maps and institutional affiliations.
Communicated by A. Gniazdowska-Piekarska.
About this article
Cite this article
Zhang, X., Wang, Z. & Li, H. Allelopathic effects of Koelreuteria integrifoliola leaf aqueous extracts on Lolium perenne related to mesophyll ultrastructural alterations and endogenous hormone contents. Acta Physiol Plant 43, 132 (2021). https://doi.org/10.1007/s11738-021-03303-4
Received:

Revised:

Accepted:

Published:
Keywords
Koelreuteria integrifoliola
Lolium perenne

Allelopathy

Ultrastructural

Endogenous hormone