Abstract
The objective of the present study was to evaluate the effectiveness of aqueous hexanal in prolonging the storage life of apple cv. 'Royal Delicious' while maintaining its quality. The influence of different concentrations of aqueous hexanal (1 mM, 2 mM and 3 mM) as a dip treatment for 2, 3 and 4 min was tested. Fruits given no hexanal treatment were taken as control. The treated and control apple fruits were stored under 1–2 °C and 80–90% RH for a period of 90 days and evaluated for physical and biochemical changes at regular interval of 15 days. The current study demonstrated that exogenous application of 1 mM hexanal applied as dip treatment for 3 min soaking time given to 'Royal Delicious' apple fruits retained higher firmness, reduced decay and improved the overall quality of the fruits upto 3-month storage under 1–2 °C. To conclude, postharvest application of aqueous hexanal as dip treatment holds promise in prolonging postharvest storage life and preserving quality of apple cv. 'Royal Delicious'.
Access options
Buy single article
Instant access to the full article PDF.
US$ 39.95
Tax calculation will be finalised during checkout.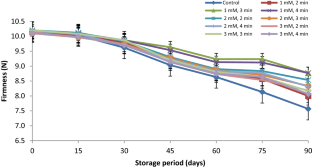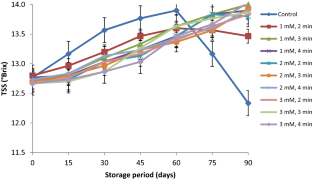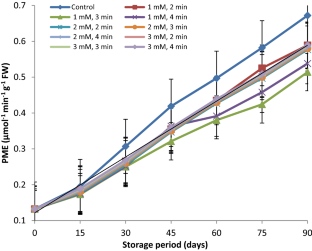 References
Alberti A, Zielinski AAF, Couto M, Judacewski P, Mafra LI, Nogueira A (2017) Distribution of phenolic compounds and antioxidant capacity in apples tissues during ripening. J Food Sci Technol 54:1511–1518

Anonymous (2017–2018) Horticultural Statistics at a Glance. National Horticulture Board. http://www.nhb.gov.in

Avissar I, Droby S, Pesis E (1990) Characterization of acetaldehyde effects on Rhizopus stolonifer and Botrytis cinerea. Ann Appl Biol 116:213–220

Cheema A, Padmanabhan P, Subramanian J, Blom T, Paliyath G (2014) Improving quality of greenhouse tomato (Solanum lycopersicum L.) by pre and post-harvest applications of hexanal-containing formulations. Postharvest Biol Technol 95:13–19

Cheema A, Padmanabhan P, Amer A, Parry MJ, Lim LT, Subramanian J, Paliyath G (2018) Post-harvest hexanal vapor treatment delays ripening and enhances shelf life of greenhouse grown sweet bell pepper (Capsicum annum L.). Postharvest Biol Technol 136:80–89

Crouch I (2003) 1-methylcyclopropene (SmartFresh) as an alternative to modified atmosphere and controlled atmosphere storage of apples and pears. Acta Hortic 600:213–219

Davey MW, Auwerkerken A, Keulemans J (2007) Relationship of apple vitamin C and antioxidant contents to harvest date and postharvest pathogen infection. J Sci Food Agric 87:802–813

EAFUS (2016) Everything added to food in the United States (EAFUS). http://www.accessdata.fda.gov/scripts/fcn/fcnnavigation.cfm

Fan L, Song J, Beaudry RM, Hildebrand PD (2006) Effect of hexanal vapor on spore viability of Penicillium expansum, lesion development on whole apples and fruit volatile biosynthesis. J Food Sci 71:105–109

Gill KS, Dhaliwal HS, Mahajan BVC, Paliyath G, Boora RS (2016) Enhancing postharvest shelf life and quality of guava (Psidium guajava L.) cv. Allahabad Safeda by pre-harvest application of hexanal containing aqueous formulation. Postharvest Biol Technol 112:224–232

Hutchinson MJ, Ouko JR, Ambuko J, Owino WO, Subramanian J (2018) Effects of hexanal dip on the post-harvest shelf life and quality of papaya (Carica papaya L.) fruit. Trop Agric 95:43–70

Jincy M, Djanaguiraman M, Jeyakumar P, Subramanian KS, Jayasankar S, Paliyath G (2017) Inhibition of phospholipase D enzyme activity through hexanal leads to delayed mango (Mangifera indica L.) fruit ripening through changes in oxidants and antioxidant enzymes activity. Sci Hortic 218:316–325

Kumar P, Sethi S, Sharma RR, Verghese E (2018a) Influence of edible coatings on physiological and biochemical attributes of Japanese plum (Prunus salicina Lindell) cv. Santa Rosa Fruits 73:31–38

Kumar P, Sethi S, Sharma RR, Singh S, Saha S, Sharma VK, Verma MK, Sharma SK (2018b) Nutritional characterization of apple as a function of genotype. J Food Sci Technol 55:2729–2738

Lanciotti R, Corbo RM, Gardini F, Sinigaglia M, Guerzoni ME (1999) Effect of hexanal on the shelf life of fresh apple slices. J Agric Food Chem 47:4769–4776

Loewus FA, Loewus MW, Seib PA (1987) Biosynthesis and metabolism of ascorbic acid in plants. Crit Rev Plant Sci 5:101–119

Nayak SL, Sethi S, Sharma RR, Singh D, Singh S (2019) Improved control on decay and postharvest quality deterioration of strawberry (Fragaria x ananassa Duch.) by microbial antagonists. Ind J Hortic 76:502–507

Paliyath G, Subramanian J (2008) Phospholipase D inhibition technology for enhancing shelf life and quality. In: Paliyath G, Murr DP, Handa AK, Lurie S (eds) Postharvest biology and technology of fruits, vegetables and flowers. Wiley-Blackwell, New York, pp 240–245

Pinhero RG, Almquist KC, Novotna Z, Paliyath G (2003) Developmental regulation of phospholipase D in tomato fruit. Plant Physiol Biochem 41:223–240

Preethi P, Soorianathasundaram K, Sadasakthi A, Subramanian KS, Paliyath G, Subramanian J (2018) Influence of hexanal formulation on storage life and post-harvest quality of mango fruits. J Environ Biol 39:1006–1014

Ranganna S (2007) Handbook of analysis and quality control for fruit and vegetable products, 4th edn. Tata McGraw Hill Publishing Company Ltd, New York

Saari NB, Fujita S, Miyazoe R, Okugawa M (1995) Distribution of ascorbate oxidase activities in the fruits of family cucurbitaceae and some of their properties. J Food Biochem 19:321–327

Sethi S, Joshi A, Arora B, Bhowmik A, Sharma RR, Kumar P (2020) Significance of FRAP, DPPH and CUPRAC assays for antioxidant activity determination in apple fruit extracts. Eur Food Res Technol 246:591–598

Sharma S, Sharma RR (2016) Impact of staggered treatments of novel molecules and ethylene absorbents on postharvest fruit physiology and enzyme activity of 'Santa Rosa' plums. Sci Hortic 198:242–248

Sharma M, Jacob JK, Subramanian J, Paliyath G (2010) Hexanal and 1-MCP treatments for enhancing the shelf life and quality of sweet cherry (Prunus avium L.). Sci Hortic 125:239–247

Sharma RR, Pal RK, Singh D, Samuel DVK, Sethi S, Kumar A (2013) Evaluation of heat shrinkable films for shelf life, and quality of individually wrapped Royal Delicious apples under ambient conditions. J Food Sci Technol 50:590–594

Solomos T, Laties GG (1973) Cellular organization and fruit ripening. Nature 245:390

Spiers M (2001) Natural product fumigation of summer fruit. Orchardist 17:10–11

Tiwari K, Paliyath G (2011) Microarray analysis of ripening-regulated gene expression and its modulation by 1-MCP and hexanal. Plant Physiol Biochem 49:329–340

Utto W, Mawson AJ, Bronlund JE (2008) Hexanal reduces infection of tomatoes by Botrytis cinerea whilst maintaining quality. Postharvest Biol Technol 47:434–437

Van Zeebroeck M, Ramon H, De Baerdemaeker J, Nicolaï BM, Tijskens E (2007) Impact damage of apples during transport and handling. Postharvest Biol Technol 45:157–167

Vaughn SF, Spencer GF, Shasha BS (1993) Volatile compounds from raspberry fruit inhibit postharvest decay fungi. J Food Sci 58:793–796

Venkatachalam K, Muthuvel I, Sundaresan S, Subramanian KS, Janaki JG, Sullivan JA, Subramanian J (2018) Post-harvest dip of enhanced freshness formulation to extend the shelf life of banana (Musa acuminate cv. Grand Naine) in India. Trop Agric 95:1–13

Zhang H, Tsao R (2016) Dietary polyphenols, oxidative stress and antioxidant and anti-inflammatory effects. Curr Opin Food Sci 8:33–42
Acknowledgements
This work is part of the Masters Degree Programme of Ziaullah Sulaimankhil. We wish to acknowledge and thank ICAR for providing financial assistance in the form of India Afghanistan Fellowship during his degree programme.
Ethics declarations
Conflict of interest
The authors declare no conflict of interest.
Additional information
Publisher's Note
Springer Nature remains neutral with regard to jurisdictional claims in published maps and institutional affiliations.
Communicated by P. K. Nagar.
Supplementary Information
Below is the link to the electronic supplementary material.
About this article
Cite this article
Sulaimankhil, Z., Sethi, S., Sharma, R.R. et al. Influence of aqueous hexanal on quality of 'Royal Delicious' apple during cold storage. Acta Physiol Plant 43, 134 (2021). https://doi.org/10.1007/s11738-021-03301-6
Received:

Revised:

Accepted:

Published:
Keywords
Apple

Hexanal

Firmness

Decay

Pectin methylesterase

Superoxide dismutase