Abstract
The development of suitable nutrient media for high-value floricultural nurseries assumes great significance. In the present investigation, the cuttings of two Chrysanthemum varieties (Pusa Aditya and Jaya) were grown in cyanobacterium-amended mixes (sand or rooting mix comprising cocopeat, vermiculite, and perlite in 3:1:1). Three cyanobacterial cultures—BF1 (Anabaena torulosa), BF4 (Anabaena doliolum) and RPAN8 (Anabaena laxa) were used to amend individually, and analyses undertaken after 30 days were compared with the indole butyric acid (IBA) treated control cuttings. Chrysanthemum cuttings grown in Anabaena laxa amended rooting mix brought about 30–40% enhancement in the concentrations of indole acetic acid (IAA) in the root tissues. Plant growth and biometrical parameters showed one-two fold enhancement in root volume, dry biomass of root and shoot tissues. Available nitrogen and micronutrients were enriched by 50–70% in the cyanobacterium amended mixes of both varieties. A significant and positive correlation was recorded between dehydrogenase activity, root biofilm formation ability of cyanobacteria with plant growth, and elicited plant enzyme activities. Scanning microscopic analyses illustrated effective colonisation by the inoculated cyanobacterium. Anabaena torulosa and Anabaena laxa performed best with Pusa Aditya and Jaya respectively. Pusa Aditya responded better to cyanobacterial cultures as compared to Jaya, in terms of overall performances based on biochemical and biometric analyses. Tripartite interactions among inoculants, medium and plant variety revealed significant effects. Such amended mixes can be integrated into nursery management practices of floricultural crops as an option, to generate more robust and healthy plants, with a reduced dosage of chemicals.
Access options
Buy single article
Instant access to the full article PDF.
US$ 39.95
Tax calculation will be finalised during checkout.
Subscribe to journal
Immediate online access to all issues from 2019. Subscription will auto renew annually.
US$ 79
Tax calculation will be finalised during checkout.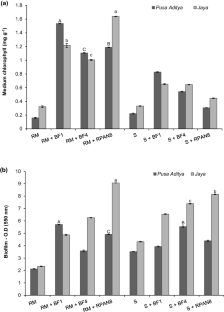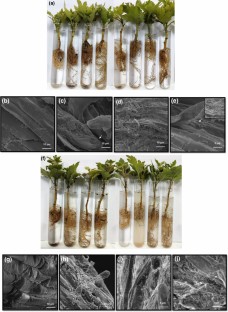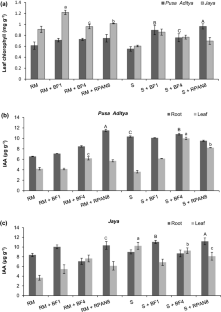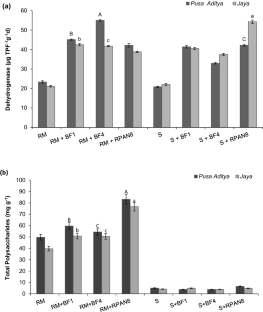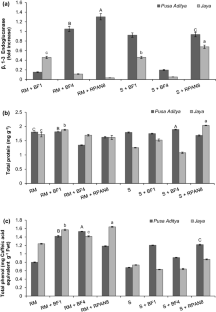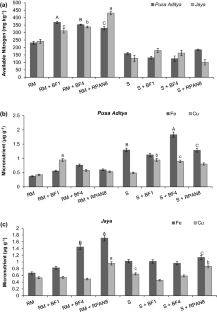 References
Aras S, Arıkan Ş, İpek M, Eşitken A, Pırlak L, Dönmez MF, Turan M (2018) Plant growth promoting rhizobacteria enhanced leaf organic acids, FC-R activity and Fe nutrition of apple under lime soil conditions. Acta Physiol Plant 40:120. https://doi.org/10.1007/s11738-018-2693-9

Arnon DI (1949) Copper enzyme polyphenoloxides in isolated chloroplast in Beta vulgaris. Plant Physiol 24:1–15. https://doi.org/10.1104/pp.24.1.1

Awang Y, Shaharom AS, Mohamad RB, Selamat A (2009) Chemical and physical characteristics of cocopeat-based media mixtures and their effects on the growth and development of Celosia cristata. Am J Agric Biol Sci 4:63–71. https://doi.org/10.3844/AJAB.2009.63.71

Berdy J (2005) Bioactive microbial metabolites. J Antibiot 58:1. https://doi.org/10.1038/ja.2005.1

Berendsen RL, Pieterse CM, Bakker PA (2012) The rhizosphere microbiome and plant health. Trends Plant Sci 17:478–486. https://doi.org/10.1016/j.tplants.2012.04.001

Bharti A, Velmourougane K, Prasanna R (2017) Phototrophic biofilms: diversity, ecology and applications. J Appl Phycol 29:2729–2744. https://doi.org/10.1007/s10811-017-1172-9

Bharti A, Prasanna R, Velmourougane K, Kumar A, Shivay YS, Nain L (2019) Development of nutrient-rich media through cyanobacterial amendment and their characterization. Waste Biomass Valor 11:6003–6016. https://doi.org/10.1007/s10658-013-0167-x

Biswas JK, Mondal M, Rinklebe J, Sarkar SK, Chaudhuri P, Rai M, Shaheen SM, Song H, Rizwan M (2017) Multi-metal resistance and plant growth promotion potential of a wastewater bacterium Pseudomonas aeruginosa and its synergistic benefits. Environ Geochem Health 39:1583–1593. https://doi.org/10.1007/s10653-017-9950-5

Brilli F, Pollastri S, Raio A, Baraldi R, Neri L, Bartolini P, Podda A, Loreto F, Maserti BE, Balestrini R (2019) Root colonization by Pseudomonas chlororaphis primes tomato (Lycopersicum esculentum) plants for enhanced tolerance to water stress. J Plant Physiol 232:82–93. https://doi.org/10.1016/j.jplph.2018.10.029

Casida LE Jr, Klein DA, Santoro T (1964) Soil dehydrogenase activity. Soil Sci 98:371–376. https://doi.org/10.12691/ijebb-2-4-8

Cipriano MA, Freitas SS (2018) Effect of Pseudomonas putida on Chrysanthemum growth under greenhouse and field conditions. Afr J Agric Res 13:302–310. https://doi.org/10.5897/AJAR2017.12839

D'Amelio R, Berta G, Gamalero E, Massa N, Avidano L, Cantamessa S, D'Agostino G, Bosco D, Marzachi C (2011) Increased plant tolerance against Chrysanthemum yellows phytoplasma ('Candidatus Phytoplasma asteris') following double inoculation with Glomus mosseae BEG12 and Pseudomonas putida S1Pf1Rif. Plant Pathol 60:1014–1022. https://doi.org/10.1111/j.1365-3059.2011.02479.x

Danhorn T, Fuqua C (2007) Biofilm formation by plant-associated bacteria. Annu Rev Microbiol 61:401–422. https://doi.org/10.1146/annurev.micro.61.080706.093316

Dubois M, Gilles KA, Hamilton JK, Rebers PT, Smith F (1956) Colorimetric method for determination of sugars and related substances. Anal Chem 28:350–356. https://doi.org/10.1021/ac60111a017

Dutta S, Morang P, Kumar SN, Kumar BD (2014) Fusarial wilt control and growth promotion of pigeon pea through bioactive metabolites produced by two plant growth promoting rhizobacteria. World J Microb Biotechnol 30:1111–1121. https://doi.org/10.1007/s11274-013-1532-9

Eid AR, Awad MN, Hamouda HA (2009) Evaluate effectiveness of bio and mineral fertilization on the growth parameters and marketable cut flowers of Matthiola incana L. Am-Eur J Agric Environ Sci 5:509–518

Garcia C, Hernandez T, Costa F (1997) Potential use of dehydrogenase activity as an index of microbial activity in degraded soils. Commun Soil Sci Plant Anal 28:123–134. https://doi.org/10.1080/00103629709369777

Geng M, Xu M, Xiao H, Wang H, He L, Zhao Z, Yu M (2012) Protective role of mucilage against Al toxicity to root apex of pea (Pisum sativum). Acta Physiol Plant 34:1261–1266. https://doi.org/10.1007/s11738-011-0919-1

Ghehsareh AM, Borji H, Jafarpour M (2011) Effect of some culture substrates (date-palm peat, cocopeat and perlite) on some growing indices and nutrient elements uptake in greenhouse tomato. Afr J Microbiol Res 5:1437–1442. https://doi.org/10.5897/AJB11.1750

Giassi V, Kiritani C, Kupper KC (2016) Bacteria as growth-promoting agents for citrus rootstocks. Microbiol Res 190:46–54. https://doi.org/10.1016/j.micres.2015.12.006

Gordon SA, Paleg LG (1957) Observations on the quantitative determination of indole acetic acid. Physiol Plantar 10:39–47. https://doi.org/10.1111/j.1399-3054.1957.tb07608.x

Gupta V, Ratha SK, Sood A, Chaudhary V, Prasanna R (2013) New insights into the biodiversity and applications of cyanobacteria (blue-green algae)—Prospects and challenges. Algal Res 2:79–97. https://doi.org/10.1016/j.algal.2013.01.006

Hatzilazarou SP, Syros TD, Yupsanis TA, Bosabalidis AM, Economou AS (2006) Peroxidases, lignin and anatomy during in vitro and ex vitro rooting of gardenia (Gardenia jasminoides Ellis) microshoots. J Plant Physiol 163:827–836. https://doi.org/10.1016/j.jplph.2005.06.018

Hiscox JT, Israelstam GF (1979) A method for the extraction of chlorophyll from leaf tissue without maceration. Can J Bot 57:1332–1334. https://doi.org/10.1139/b79-163

Jennings PH, Brannaman BL, Zscheile FP Jr (1969) Peroxidase and polyphenol oxidase activity associated with Helminthosporium leaf spot of maize. Phytopathology 59:963–967 (PMID: 5816415)

Kanchan A, Simranjit K, Ranjan K, Prasanna R, Ramakrishnan B, Singh MC, Hasan M, Shivay YS (2018) Microbial biofilm inoculants benefit growth and yield of Chrysanthemum varieties under protected cultivation through enhanced nutrient availability. Plant Biosyst 31:1–11. https://doi.org/10.1080/11263504.2018.1478904

Lee SW, Lee SH, Balaraju K, Park KS, Nam KW, Park JW, Park K (2014) Growth promotion and induced disease suppression of four vegetable crops by a selected plant growth-promoting rhizobacteria (PGPR) strain Bacillus subtilis 21–1 under two different soil conditions. Acta Physiol Plant 36:1353–1362. https://doi.org/10.1007/s11738-014-1514-z

Liu W, Sutton JC, Grodzinski B, Kloepper JW, Reddy MS (2007) Biological control of Pythium root rot of Chrysanthemum in small-scale hydroponic units. Phytoparasitica 35:159. https://doi.org/10.1007/BF02981111

Lowry OH, Rosebrough NJ, Farr AL, Randall RJ (1951) Protein measurement with the Folin phenol reagent. J Biol Chem 193:265–275 (PMID: 14907713)

MacKinney G (1941) Absorption of light by chlorophyll solutions. J Biol Chem 140:315–322

Maher M, Prasad M, Raviv M (2008) Organic soil-less media components. In: Raviv M, Lieth JH (eds) Soil-less culture, theory and practice. Elsevier, pp 459–504

Mašková T, Herben T (2018) Root: shoot ratio in developing seedlings: how seedlings change their allocation in response to seed mass and ambient nutrient supply. Ecol Evol 8:7143–7150. https://doi.org/10.1002/ece3.4238

Mechri B, Tekaya M, Cheheb H, Attia F, Hammami M (2015) Accumulation of flavonoids and phenolic compounds in olive tree roots in response to mycorrhizal colonization: a possible mechanism for regulation of defense molecules. J Plant Physiol 185:40–43. https://doi.org/10.1016/j.jplph.2015.06.015

Miller GL (1959) Use of dinitrosalicylic acid reagent for determination of reducing sugar. Anal Chem 31:426–428

Mustafa A, Imran M, Ashraf M, Mahmood K (2018) Perspectives of using l-tryptophan for improving productivity of agricultural crops, a review. Pedosphere 28:16–34. https://doi.org/10.1016/S1002-0160(18)60002-5

O'Toole GA (2011) Microtiter dish biofilm formation assay. J Visualized Expt 47:1–2. https://doi.org/10.3791/2437

Ohtakara A (1988) Chitosanase and β-N-acetyl hexosamine from Pycnosporus cinnabarinus. Meth Enzymol 168:464–468

Olanrewaju OS, Glick BR, Babalola OO (2017) Mechanisms of action of plant growth promoting bacteria. World J Microb Biotechnol 33:197. https://doi.org/10.1007/s11274-017-2364-9

Prasad R, Shivay YS, Kumar D, Sharma SN (2006) Learning by doing exercises in soil fertility (A practical manual for soil fertility). Division of Agronomy, IARI, New Delhi, p 68

Prasanna R, Nain L, Tripathi R, Gupta V, Chaudhary V, Middha S, Joshi M, Ancha R, Kaushik BD (2008) Evaluation of fungicidal activity of extracellular filtrates of cyanobacteria–possible role of hydrolytic enzymes. J Basic Microbiol 48:186–194. https://doi.org/10.1002/jobm.200700199

Prasanna R, Jaiswal P, Nayak S, Sood A, Kaushik BD (2009) Cyanobacterial diversity in the rhizosphere of rice and its ecological significance. Indian J Microbiol 49:89–97. https://doi.org/10.1007/s12088-009-0009-x

Prasanna R, Babu S, Rana A, Kabi SR, Chaudhary V, Gupta V, Kumar A, Shivay YS, Nain L, Pal RK (2013) Evaluating the establishment and agronomic proficiency of cyanobacterial consortia as organic options in wheat–rice cropping sequence. Exp Agric 49:416–434. https://doi.org/10.1017/S001447971200107X

Prasanna R, Bidyarani N, Babu S, Hossain F, Shivay YS, Nain L (2015) Cyanobacterial inoculation elicits plant defense response and enhanced Zn mobilization in maize hybrids. Cogent Food Agric 1:998507. https://doi.org/10.1080/23311932.2014.998507

Prasanna R, Kanchan A, Kaur S, Ramakrishnan B, Ranjan K, Singh MC, Hasan M, Saxena AK, Shivay YS (2016) Chrysanthemum growth gains from beneficial microbial interactions and fertility improvements in soil under protected cultivation. Hortic Plant J 2:229–239. https://doi.org/10.1016/j.hpj.2016.08.008

Prasanna R, Saxena G, Singh B, Ranjan K, Buddhadeo R, Velmourougane K, Ramakrishnan B, Nain L, Singh MC, Hasan M, Shivay YS (2018) Mode of application influences the biofertilizing efficacy of cyanobacterial biofilm formulations in Chrysanthemum varieties under protected cultivation. Open Agric 3:478–489. https://doi.org/10.1515/opag-2018-0053

Rady MM, Taha SS, Kusvuran S (2018) Integrative application of cyanobacteria and antioxidants improves common bean performance under saline conditions. Sci Hort 233:61–69. https://doi.org/10.1016/j.scienta.2018.01.047

Rai AN, Singh AK, Syiem MB (2019) Plant growth-promoting abilities in cyanobacteria. In: Mishra AK, Tiwari DN, Rai AN (eds) Cyanobacteria, Chap 23, Academic Press, pp 459-476, ISBN 9780128146675. https://doi.org/10.1016/B978-0-12-814667-5.00023-4

Renuka N, Guldhe A, Prasanna R, Singh P, Bux F (2018) Microalgae as multi-functional options in modern agriculture, current trends, prospects and challenges. Biotechnol Adv 36:1255–1273. https://doi.org/10.1016/j.biotechadv.2018.04.004

Sergeeva E, Liaimer A, Bergman B (2002) Evidence for production of the phytohormone indole-3-acetic acid by cyanobacteria. Planta 215:229–238. https://doi.org/10.1007/s00425-002-0749-x

Shariatmadari Z, Riahi H, Abdi M, Hashtroudi MS, Ghassempour AR (2015) Impact of cyanobacterial extracts on the growth and oil content of the medicinal plant Mentha piperita L. J Appl Phycol 27:2279–2287. https://doi.org/10.1007/s10811-014-0512-2

Singleton VL, Orthofer R, Lamuela-Raventos RM (1999) Analysis of total phenols and other oxidation substrates and antioxidants by means of Folin-Ciocalteau reagent. Meth Enzymol 299:152–178. https://doi.org/10.19070/2326-3350-1400028

Siqueira JO, Nair MG, Hammerschmidt R, Safir GR, Putnam AR (1991) Significance of phenolic compounds in plant-soil-microbial systems. Crit Rev Plant Sci 10:63–121. https://doi.org/10.1080/07352689109382307

Subbiah BV, Asija GL (1956) A rapid procedure for the determination of available nitrogen in soils. Curr Sci 25:259–260

Treder J (2008) The effects of cocopeat and fertilization on the growth and flowering of oriental lily 'star gazer.' J Fruit Ornam Plant Res 16:361–370

Weisburg WG, Barns SM, Pelletie DA, Lane DJ (1991) 16S ribosomal DNA amplification for phylogenetic study. J Bacteriol 173:697–703. https://doi.org/10.1128/jb.173.2.697-703.1991

Whetten RW, Sederoff RR (1992) Phenylalanine ammonia-lyase from loblolly pine, purification of the enzyme and isolation of complementary DNA clones. Plant Physiol 98:380–386. https://doi.org/10.1104/pp.98.1.38
Acknowledgements
The first author is thankful to the Post Graduate School and Director, Indian Council of Agricultural Research (ICAR)—Indian Agricultural Research Institute (IARI) and University Grant Commission (UGC), New Delhi, India for the Ph.D. program fellowship. The authors acknowledge the financial support received from the Indian Council of Agricultural Research (ICAR) Network Project on Microorganisms "Application of Microorganisms in Agricultural and Allied Sectors" (AMAAS) New Delhi. The authors are thankful to the Division of Microbiology, Division of Nematology and Division of Agronomy for providing the necessary facilities towards analyses. The technical help of Shri Gulab Singh, for elemental analyses of potting medium samples is gratefully acknowledged. The authors are also thankful to the farm personnel of Floriculture field for their kind assistance during the preparation of cuttings and establishment of nurseries inside the mist chamber unit.
Ethics declarations
Conflict of interests
The authors state no conflict of interest.
Additional information
Publisher's Note
Springer Nature remains neutral with regard to jurisdictional claims in published maps and institutional affiliations.
Communicated by M. Horbowicz.
Supplementary Information
Below is the link to the electronic supplementary material.
About this article
Cite this article
Bharti, A., Prasanna, R., Dantuluri, V.S.R. et al. Cyanobacterium-amended mixes as priming options for stimulating growth and improving nutrient availability in nursery-grown Chrysanthemum rooted stem cuttings. Acta Physiol Plant 43, 102 (2021). https://doi.org/10.1007/s11738-021-03273-7
Received:

Revised:

Accepted:

Published:
Keywords
Anabaena

IAA

Micronutrients

Microscopy

Soil-less media