Abstract
Forty-five tomato (Solanum lycopersicum) genotypes were used for evaluating chromium (Cr) tolerance and Cr accumulation in seedling by in vitro culture. Tomato seeds were cultured on Murashige-Skoog medium supplemented with 1.5 mM Cr (K2Cr2O7) for four weeks. Reduced germination percentage and delayed germination during 14 days was observed in more than 90% genotypes as compared to the control, but only half of genotypes showed obvious decrease in seedling survival rate. Chromium treatment displayed significantly negative effect on shoot length in all genotypes but significant inhibitory on shoot dry weight was recorded only in 41 genotypes. The highest Cr accumulation in shoot was 3.92 mg g−1 DW in 'M-82' and Cr accumulation greater than 2 mg g−1 DW was found in 6 genotypes. Three genotypes ('LA3708', 'CLN2777H' and 'CLN1621L') showed higher Cr uptake (more than 9.8 μg per shoot) than other genotypes because of their high biomass of shoot. Considering Cr tolerance (with higher germination rate, seedling survival rate and shoot biomass in Cr treatment) and Cr accumulation (higher Cr concentration and uptake in shoot) simultaneously, 'CLN2777H' and 'CLN1621L' can be suggested as the potential tomato genotypes for Cr phytoremediation of polluted sites.
Access options
Buy single article
Instant access to the full article PDF.
US$ 39.95
Tax calculation will be finalised during checkout.
Subscribe to journal
Immediate online access to all issues from 2019. Subscription will auto renew annually.
US$ 79
Tax calculation will be finalised during checkout.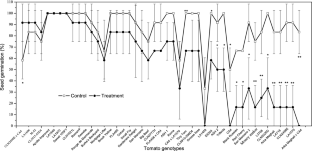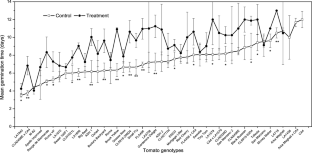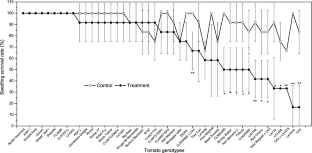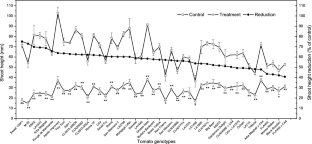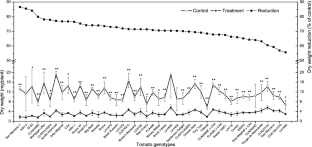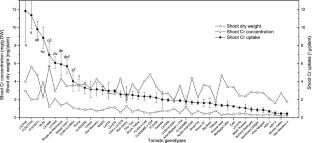 References
Akinci IE, Akinci S (2010) Effect of chromium toxicity on germination and early seedling growth in melon (Cucumis melo L.). Afri J Biotech 9:4589–4594

Aldrich MV, Gardea-Torresdey JL, Peralta-Videa JR, Parsons JG (2003) Uptake and reduction of Cr(VI) to Cr(III) by mesquite (Prosopis spp.): chromate−plant interaction in hydroponics and solid media studied using XAS. Environ Sci Technol 37:1859–1864. https://doi.org/10.1021/es0208916

Almas F, Hassan A, Bibi A, Ali M, Lateef S, Mahmood T, Rasheed A, Quraishi UM (2018) Identification of genome-wide single-nucleotide polymorphisms (SNPs) associated with tolerance to chromium toxicity in spring wheat (Triticum aestivum L.). Plant Soil 422:371–384. https://doi.org/10.1007/s11104-017-3436-1

Amin H, Arain BA, Abbasi MS, Amin F, Jahangir TM, Soomro N (2019) Evaluation of chromium phyto-toxicity, phyto-tolerance, and phyto-accumulation using biofuel plants for effective phytoremediation. Inter J Phytoremed 21:352–363. https://doi.org/10.1080/15226514.2018.1524837

Ashfaque F, Inam A, Inam A, Iqbal S, Sahay S (2017) Response of silicon on metal accumulation, photosynthetic inhibition and oxidative stress in chromium-induced mustard (Brassica juncea L.). S Afr J Bot 111:153–160. https://doi.org/10.1016/j.sajb.2017.03.002

Bishnoi NR, Dua A, Gupta VK, Sawhney SK (1993) Effect of chromium on seed germination, seedling growth and yield of peas. Agri Ecosyst Environ 47:47–57. https://doi.org/10.1016/0167-8809(93)90135-C

Borges KLR, Salvato F, Alcântara BK, Nalin RS, Piotto FÂ, Azevedo RA (2018) Temporal dynamic responses of roots in contrasting tomato genotypes to cadmium tolerance. Ecotoxicology 27:245–258. https://doi.org/10.1007/s10646-017-1889-x

Buendía-González L, Orozco-Villafuerte J, Cruz-Sosa F, Barrera-Díaz CE, Vernon-Carter EJ (2010) Prosopis laevigata a potential chromium (VI) and cadmium (II) hyperaccumulator desert plant. Bioresour Technol 101:5862–5867. https://doi.org/10.1016/j.biortech.2010.03.027

Cutright T, Gunda N, Kurt F (2010) Simultaneous hyperaccumulation of multiple heavy metals by Helianthus annuus grown in a contaminated sandy-loam soil. Inter J Phytoremed 12:562–573. https://doi.org/10.1080/15226510903353146

Di Lonardo S, Capuana M, Arnetoli M, Gabbrielli R, Gonnelli C (2011) Exploring the metal phytoremediation potential of three Populus alba L. clones using an in vitro screening. Environ Sci Pollut Res 18:82–90. https://doi.org/10.1007/s11356-010-0354-7

di Toppi LS, Fossati F, Musetti R, Mikerezi I, Faval MA (2002) Effects of hexavalent chromium on maize, tomato, and cauliflower plants. J Plant Nutri 25:701–717. https://doi.org/10.1081/PLN-120002953

Doran PM (2009) Application of plant tissue cultures in phytoremediation research: incentives and limitations. Biotechnol Bioeng 103:60–76. https://doi.org/10.1002/bit.22280

Drangert JO, Tonderski K, McConville J (2018) Extending the European Union waste hierarchy to guide nutrient-effective urban sanitation toward global food security—opportunities for phosphorus recovery. Front Sustain Food Syst 2:3. https://doi.org/10.3389/fsufs.2018.00003

Gabarrón M, Faz A, Acosta JA (2017) Effect of different industrial activities on heavy metal concentrations and chemical distribution in topsoil and road dust. Environ Earth Sci 76:129. https://doi.org/10.1007/s12665-017-6449-4

Gatti E (2008) Micropropagation of Ailanthus altissima and in vitro heavy metal tolerance. Biol Plant 52:146–148. https://doi.org/10.1007/s10535-008-0030-7

Gharaibeh MA, Albalasmeh AA, Marschner B, Saleem Y (2016) Cadmium uptake and translocation of tomato in response to simulated irrigation water containing elevated concentrations of cadmium and zinc in clayey soil. Water Air Soil Pollut 227:133. https://doi.org/10.1007/s11270-016-2829-8

Gratão PL, Monteiro CC, Tezotto T, Carvalho RF, Alves LR, Peters LP, Azevedo RA (2015) Cadmium stress antioxidant responses and root-to-shoot communication in grafted tomato plants. Biometals 28:803–816. https://doi.org/10.1007/s10534-015-9867-3

Henriques FS (2010) Changes in biomass and photosynthetic parameters of tomato plants exposed to trivalent and hexavalent chromium. Biol Plant 54:583–586. https://doi.org/10.1007/s10535-010-0105-0

Herath I, Iqbal MCM, Al-Wabel MI, Abduljabbar A, Ahmad M, Usman ARA, Ok YS, Vithanage M (2017) Bioenergy-derived waste biochar for reducing mobility, bioavailability, and phytotoxicity of chromium in anthropized tannery soil. J Soils Sediments 17:731–740. https://doi.org/10.1007/s11368-015-1332-y

Hou J, Liu G, Xue W, Fu W, Liang B, Liu X (2014) Seed germination, root elongation, root-tip mitosis, and micronucleus induction of five crop plants exposed to chromium in fluvo-aquic soil. Environ Toxi Chem 33:671–676. https://doi.org/10.1002/etc.2489

Ishchenko V (2018) Environment contamination with heavy metals contained in waste. Environ Probl 3:21–24

Jabeen N, Abbas Z, Iqbal M, Rizwan M, Jabbar A, Farid M, Ali S, Ibrahim M, Abbas F (2016) Glycinebetaine mediates chromium tolerance in mung bean through lowering of Cr uptake and improved antioxidant system. Arch Agron Soil Sci 62:648–662. https://doi.org/10.1080/03650340.2015.1082032

Jun R, Ling T, Guanghua Z (2009) Effects of chromium on seed germination, root elongation and coleoptile growth in six pulses. Inter J Environ Sci Tech 6:571–578. https://doi.org/10.1007/BF03326097

Kumar A, Maiti SK (2013) Availability of chromium, nickel and other associated heavy metals of ultramafic and serpentine soil /rock and in plants. Inter J Emerg Technol Adv Eng 3:256–268

Kumar V, Suryakant SP, Kumar S, Kumar N (2016) Effect of chromium toxicity on plants: a review. Agriways 4:107–120

Lilli MA, Moraetis D, Nikolaidis NP, Karatzas GP, Kalogerakis N (2015) Characterization and mobility of geogenic chromium in soils and river bed sediments of Asopos basin. J Hazard Mater 281:12–19. https://doi.org/10.1016/j.jhazmat.2014.07.037

Lim SL, Wu TY, Lim PN, Shak KPY (2015) The use of vermicompost in organic farming: overview, effects on soil and economics. J Sci Food Agric 95:1143–1156. https://doi.org/10.1002/jsfa.6849

López-Luna J, Silva-Silva MJ, Martinez-Vargas S, Mijangos-Ricardez OF, González-Chávez MC, Solís-Domínguez FA, Cuevas-Díaz MC (2016) Magnetite nanoparticle (NP) uptake by wheat plants and its effect on cadmium and chromium toxicological behavior. Sci Total Environ 565:941–950. https://doi.org/10.1016/j.scitotenv.2016.01.029

Lukina AO, Boutin C, Rowland O, Carpenter DJ (2016) Evaluating trivalent chromium toxicity on wild terrestrial and wetland plants. Chemosphere 162:355–364. https://doi.org/10.1016/j.chemosphere.2016.07.055

Mathur S, Kalaji H, Jajoo A (2016) Investigation of deleterious effects of chromium phytotoxicity and photosynthesis in wheat plant. Photosynthetica 54:185–192. https://doi.org/10.1007/s11099-016-0198-6

Medda S, Mondal NK (2017) Chromium toxicity and ultrastructural deformation of Cicer arietinum with special reference of root elongation and coleoptile growth. Ann Agrar Sci 15:396–401. https://doi.org/10.1016/j.aasci.2017.05.022

Mohanty M, Patra HK (2016) Tolerance potential and physiological responses of Helianthus annuus L. exposed to varying doses of hexavalent chromium. J Mater Environ Sci 7:2221–2228

Moral R, Pedreno JN, Gomez I, Mataix J (1995) Effects of chromium on the nutrient element content and morphology of tomato. J Plant Nutr 18:815–822. https://doi.org/10.1080/01904169509364940

Munn J, January M, Cutright TJ (2008) Greenhouse evaluation of EDTA effectiveness at enhancing Cd, Cr, and Ni uptake in Helianthus annuus and Thlaspi caerulescens. J Soils Sediments 8:116–122. https://doi.org/10.1065/jss2008.02.274

Murashige T, Skoog F (1962) A revised medium for rapid growth and bio assays with tobacco tissue cultures. Physiol Plant 15:473–497. https://doi.org/10.1111/j.1399-3054.1962.tb08052.x

Pajević S, Borišev M, Nikolić N, Arsenov DD, Orlović S, Župunski M (2016) Phytoextraction of heavy metals by fast-growing trees: a review. In: Ansari AA, Gill SS, Gill R, Lanza GR, Newman L (eds) Phytoremediation: Management of environmental contaminants, Vol. 3. Springer, Switzerland, pp 29–64. doi: https://doi.org/10.1007/978-3-319-40148-5_2

Pandey VC, Bajpai O (2019) Phytoremediation: From theory toward practice. In: Pandey VC, Bauddh K (eds) Phytomanagement of polluted sites. Elsevier Inc., pp 1–49. doi: https://doi.org/10.1016/B978-0-12-813912-7.00001-6

Patil SS, Kaushik G (2016) Heavy metal assessment in water and sediments at Jaikwadi dam (Godavari river) Maharashtra, India. Inter J Environ 5:75–88. https://doi.org/10.3126/ije.v5i2.15008

Paul D, Choudhary B, Gupta T, Jose MT (2015) Spatial distribution and the extent of heavy metal and hexavalent chromium pollution in agricultural soils from Jajmau, India. Environ Earth Sci 73:3565–3577. https://doi.org/10.1007/s12665-014-3642-6

Piotto FA, Carvalho MEA, Souza LA, Rabêlo FHS, Franco MR, Batagin-Piotto KD, Azevedo RA (2018) Estimating tomato tolerance to heavy metal toxicity: cadmium as study case. Environ Sci Pollut Res 25:27535–27544. https://doi.org/10.1007/s11356-018-2778-4

Prabhu SG, Srinikethan G, Hegde S (2019) Spontaneous Cr(VI) and Cd(II) biosorption potential of native pinnae tissue of Pteris vittata L., a tropical invasive pteridophyte. Inter J Phytoremed 21:380–390. https://doi.org/10.1080/15226514.2018.1524845

Ramírez V, Baez A, López P, Bustillos R, Villalobos MÁ, Carreño R, Contreras JL, Muñoz-Rojas J, Fuentes LE, Martínez J, Munive JA (2019) Chromium hyper-tolerant Bacillus sp. MH778713 assists phytoremediation of heavy metals by mesquite Trees (Prosopis laevigata). Front Microbiol 10:1833. https://doi.org/10.3389/fmicb.2019.01833

Redondo-Gómez S, Mateos-Naranjo E, Vecino-Bueno I, Feldman SR (2011) Accumulation and tolerance characteristics of chromium in a cordgrass Cr-hyperaccumulator, Spartina argentinensis. J Hazard Mater 185:862–869. https://doi.org/10.1016/j.jhazmat.2010.09.101

Saha P, Shinde O, Sarkar S (2017) Phytoremediation of industrial mines wastewater using water hyacinth. Inter J Phytoremediat 19:87–96. https://doi.org/10.1080/15226514.2016.1216078

Saleh J, Ghasemi H, Shahriari A, Alizadeh F, Hosseini Y (2017) Phytoremediation potential of tomato for Cd and Cr removal from polluted soils. Inter J Agri Biosyst Eng 11:268–271

Sampanpanish P, Pongsapich W, Khaodhiar S, Khan E (2006) Chromium removal from soil by phytoremediation with weed plant species in Thailand. Water Air Soil Pollut: Focus 6:191–206. https://doi.org/10.1007/s11267-005-9006-1

Scoccianti V, Crinelli R, Tirillini B, Mancinelli V, Speranza A (2006) Uptake and toxicity of Cr(III) in celery seedlings. Chemosphere 64:1695–1703. https://doi.org/10.1016/j.chemosphere.2006.01.005

Shahid M, Shamshad S, Rafiq M, Khalid S, Bibi I, Niazi NK, Dumat C, Rashid MI (2017) Chromium speciation, bioavailability, uptake, toxicity and detoxification in soil-plant system: a review. Chemosphere 178:513–533. https://doi.org/10.1016/j.chemosphere.2017.03.074

Sharma I, Pati PK, Bhardwaj R (2011) Effect of 28-homobrassinolide on antioxidant defence system in Raphanus sativus L. under chromium toxicity. Ecotoxicol 20:862–874. https://doi.org/10.1007/s10646-011-0650-0

Smykalova I, Vrbova M, Tejklova E, Vetrovcova M, Griga M (2010) Large scale screening of heavy metal tolerance in flax/linseed (Linum usitatissimum L.) tested in vitro. Ind Crop Prod 32:527–533

Soltani E, Ghaderi-Far F, Baskin CC, Baskin JM (2015) Problems with using mean germination time to calculate rate of seed germination. Aust J Bot 63:631–635. https://doi.org/10.1071/BT15133

Sousa RS, Nunes LAPL, Lima AB, Melo WJ, Antunes JEL, Araujo ASF (2018) Chromium accumulation in maize and cowpea after successive applications of composted tannery sludge. Acta Sci Agron 40:e35361. https://doi.org/10.4025/actasciagron.v40i1.35361

Steinbrecher T, Leubner-Metzger G (2017) The biomechanics of seed germination. J Exp Bot 68:765–783. https://doi.org/10.1093/jxb/erw428

Stoikou V, Andrianos V, Stasinos S, Kostakis MG, Attiti S, Thomaidis NS, Zabetakis I (2017) Metal uptake by sunflower (Helianthus annuus) irrigated with water polluted with chromium. Foods 6:51. https://doi.org/10.3390/foods6070051

Tóth G, Hermann T, Da Silva MR, Montanarella L (2016) Heavy metals in agricultural soils of the European Union with implications for food safety. Environ Int 88:299–309. https://doi.org/10.1016/j.envint.2015.12.017

Trebolazabala J, Maguregui M, Morillas H, García-Fernandez Z, de Diego A, Madariaga JM (2017) Uptake of metals by tomato plants (Solanum lycopersicum) and distribution inside the plant: field experiments in Biscay (Basque Country). J Food Compos Anal 59:161–169. https://doi.org/10.1016/j.jfca.2017.02.013

Venkatachalam P, Priyanka N, Manikandan K et al (2017) Enhanced plant growth promoting role of phycomolecules coated zinc oxide nanoparticles with P supplementation in cotton (Gossypium hirsutum L.). Plant Physiol Biochem 110:118–127. https://doi.org/10.1016/j.plaphy.2016.09.004

Vwioko E, Digwe K (2018) Comparing effects of copper and chromium treatments on growth of Cyperus esculentus L. in field and in vitro studies and further explanation by restriction fragment length polymorphism analysis. East Afri J Sci 12:41–50

Wu CC, Liu J, Zhang XH, Wei SG (2018) Phosphorus enhances Cr(VI) uptake and accumulation in Leersia hexandra Swartz. Bull Environ Contam Tox 101:738–743. https://doi.org/10.1007/s00128-018-2445-y

Xiao S, Zhang Q, Chen X, Dong F, Chen H, Liu M, Ali I (2019) Speciation distribution of heavy metals in uranium mining impacted soils and impact on bacterial community revealed by high-throughput sequencing. Front Microbiol 10:1867. https://doi.org/10.3389/fmicb.2019.01867

Zhang X, Zhang X, Chen Z (2017) Biosorption of Cr(VI) from aqueous solution by biochar derived from the leaf of Leersia hexandra Swartz. Environ Earth Sci 76:67. https://doi.org/10.1007/s12665-016-6336-4

Zheng Y, Xu W, He Z, Ma M (2008) Plant regeneration of the arsenic hyperaccumulator Pteris vittata L. from spores and identification of its tolerance and accumulation of arsenic and copper. Acta Physiol Plant 30:249–255. https://doi.org/10.1007/s11738-007-0114-6
Acknowledgements
The authors are thankful to China Scholarship Council for financial support. The authors are also greatly thankful to Prof. Nanjappa Ashwath and Dr. Surya Bhattarai from Central Queensland University of Australia for their kind help.
Additional information
Publisher's Note
Springer Nature remains neutral with regard to jurisdictional claims in published maps and institutional affiliations.
Communicated by P. Wojtaszek.
About this article
Cite this article
Hafiz, M.F., Ma, L. Effect of chromium on seed germination, early seedling growth and chromium accumulation in tomato genotypes. Acta Physiol Plant 43, 100 (2021). https://doi.org/10.1007/s11738-021-03267-5
Received:

Revised:

Accepted:

Published:
Keywords
Tomato (Solanum lycopersicum)

Chromium

Germination

Seedling growth

In vitro culture