Abstract
Plant growth and yield are affected often by stress conditions including drought, which is the most important abiotic stress to reduce crop production worldwide. Milk thistle is one of the momentous medicinal crops with high potential as a multiple-purpose plant for low-efficient cultivation systems in the arid and semiarid areas. In this experiment, the effect of Chitosan (100 and 200 mg/l) and salicylic acid (0.5 and 1 mM) was investigated on plant traits (morphological, physiological, and phytochemical) under different levels of water deficit (Field capacity (F.C), 70% F.C, 40% F.C). Data were recorded in a time course (3, 7, 14, and 21 days after stress) and subjected to statistical analyses. According to the results, morphological, physiological, and phytochemical traits of the plant were significantly affected by water deficit, elicitors, and stress durations. Comparing the stress levels showed that severe water stress (40% F.C) significantly reduced growth and yield, while mild stress (70% F.C) did not show significant difference to non-stress treatment (F.C). The results showed that both chitosan and salicylic acid elicitors increased growth and yield, stress tolerance of plants under water-deficit conditions, and promotion of flavonoids, but chitosan has a more prominent effect. Under severe stress conditions, chitosan increased the yield of fresh and dry weight by 76.4% and 72.4%, but salicylic acid increased fresh weight and dry weight by 27.1% and 58.8%, respectively. Conversely, salicylic acid resulted in a 77.8% increase in grain yield, while that of chitosan was 75.0%. On the other hand, the content of silybin A in treatments of salicylic acid and chitosan, was increased by 2.9 and 9.2 mg/g, respectively, while the content of silybin B was increased by 6.48 and 9.48 mg/g, respectively. The role of the elicitors in reducing the negative effects of water stress and plant tolerance is due to stimulation of osmoregulation through proline and soluble sugar accumulation, reduction of malondialdehyde level, and production of antioxidant enzymes.
Access options
Buy single article
Instant access to the full article PDF.
US$ 39.95
Tax calculation will be finalised during checkout.
Subscribe to journal
Immediate online access to all issues from 2019. Subscription will auto renew annually.
US$ 79
Tax calculation will be finalised during checkout.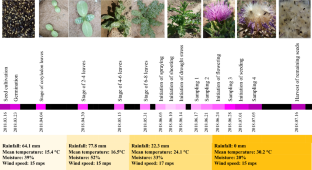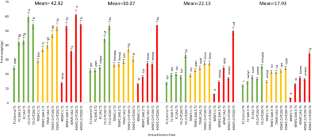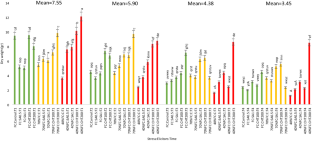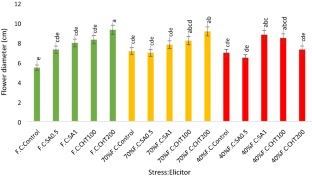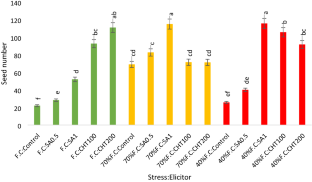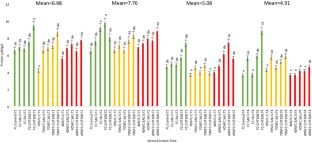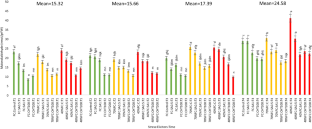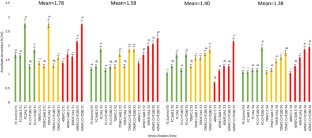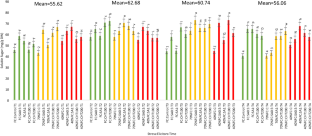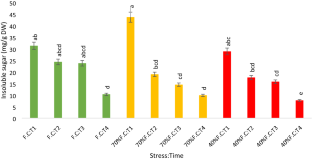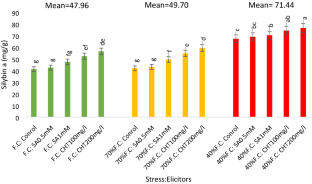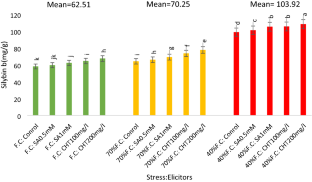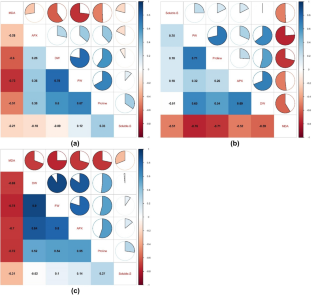 Availability of data and material
All of data and material are available.
Code availability
All software used was free.
Abbreviations
CHT:

Chitosan

SA:

Salicylic acid

F.C:

Field capacity

FW:

Fresh weight

DW:

Dry weight

APX:

Ascorbate peroxidase

MDA:

Malondialdehyde
References
Abu-Muriefah SS (2013) Effect of chitosan on common bean (Phaseolus vulgaris L.) plants grown under water stress conditions. Int J Res Agric Sci 3:192–199

Ali EA, Mahmoud AM (2013) Effect of foliar spray by different salicylic acid and zinc concentrations on seed yield and yield components of Mungbean in sandy soil. Asian Journal of Crop Science 5:33–40. https://doi.org/10.3923/ajcs.2013.33.40

Aliabadi-Farahani H, Valadabadi SA, Daneshian J, Khalvati MA (2009) Evaluation changing of essential oil of balm (Melissa officinalis L.) under water deficit stress conditions. J Med Plant Res 3:329–333

Alves M, Chicau P, Matias H, Passarinho J, Pinheiro C, Ricardo CP (2011) Metabolic analysis revealed altered amino acid profiles in Lupinus albus organs as a result of boron deficiency. Physiol Plant 142:224–232. https://doi.org/10.1111/j.1399-3054.2011.01462.x

Andrzejewska J, Martinelli T, Sadowska K (2015) Silybum marianum: non-medical exploitation of the species. Ann Appl Biol 167:285–297. https://doi.org/10.1111/aab.12232

Bates L, Waldren RP, Teare ID (1973) Rapid determination of free proline for water-stress studies. Plant Soil 39:205–207. https://doi.org/10.1007/BF00018060

Bethke PC, Sabba R, Bussan AJ (2009) Tuber water and pressure potentials decrease and sucrose contents increase in response to moderate drought and heat stress. Am J Pot Res 86:519–532. https://doi.org/10.1007/s12230-009-9109-8

Bijak M (2017) Silybin, a major bioactive component of milk thistle (Silybum marianum L. Gaernt.) chemistry, bioavailability, and metabolism. Molecules 22(11):1942. https://doi.org/10.3390/molecules22111942

Bing Y, Yu-fei Z, Ming-yue G, Zhuang Z, Yi H, Guang-dong Y, Wen-juan X, Rui-dong H (2014) Effect of drought stress during flowering stage on starch accumulation and starch synthesis enzymes in sorghum grains. J Integr Agric 13:2399–2406. https://doi.org/10.1016/S2095-3119(13)60694-2

Bitelli M, Flury M, Campbell GS, Nichols EJ (2001) Reduction of transpiration through foliar application of chitosan. Agric for Meteorol 107:167–175

Bolouri-Moghaddam MR, Le Roy K, Xiang L, Rolland F, Van den Ende W (2010) Sugar signalling and antioxidant network connections in plant cells. FEBS J 277:2022–2037. https://doi.org/10.1111/j.1742-4658.2010.07633.x

Boutraa T, Akhkha A, Al-Shoaibi A, Alhejeli A (2010) Effect of water stress on growth and water use efficiency (WUE) of some wheat cultivars (Triticum durum) grown in Saudi Arabia. J Taibah Univ Sci 3:39–48. https://doi.org/10.1016/S1658-3655(12)60019-3

Catola S, Marino G, Emiliani G, Huseynova T, Musayev M, Akparov Z, Maserti BE (2016) Physiological and metabolomic analysis of Punica granatum (L.) under drought stress. Planta 243:441–449. https://doi.org/10.1007/s00425-015-2414-1

Chegah S, Chehrazi M, Albaji M (2013) Effects of drought stress on growth and development frankenia plant (Frankenia Leavis). Bulg J Agric Sci 19:659–665

Correa-Aragunde N, Foresi N, Delladonne M, Lamattina L (2013) Auxin induces redox regulation of ascorbate peroxidase 1 activity by s-nitrosylation/denitrosylation balance resulting in changes of root growth pattern of Arabidopsis. J Exp Bot 64:3339–3349. https://doi.org/10.1093/jxb/ert172

Cunhua S, Wei D, Xiangling C, Xinna X, Yahong Z, Dong S, Jianjie S (2010) The effects of drought stress on the activity of acid phosphatase and its protective enzymes in Pigweed leaves. Afr J Biotechnol 9:825–833. https://doi.org/10.5897/AJB09.1253

Dabrowska G, Alexandra K, Anna G, Magdalena SH, Edyta S (2007) Characteristics of the plant ascorbate peroxidase family. Acta Biol Cracov Bot 49:7–17

De Mendiburu F (2017) Agricolae: statistical procedures for agricultural research. R Package Version 1:2–7

Dubois M, Gilles KA, Hamilton JK, Rebers PA, Smith F (1956) Colorimetric method for determination of sugars and related substances. Anal Chem 28:350–356. https://doi.org/10.1021/ac60111a017

Dzung NA, Khanh VTP, Dzung TT (2011) Research on impact of chitosan oligomers on biophysical characteristics, growth, development and drought resistance of coffee. Carbohydr Polym 84:751–755. https://doi.org/10.1016/j.carbpol.2010.07.066

ElSayed AI, El-Hamahmy M, Rafudeen MS, Mohamed AH, Omar AA (2019) The impact of drought stress on antioxidant responses and accumulation of flavonolignans in milk thistle (Silybum marianum (L.) Gaertn). Plants 8(12):611. https://doi.org/10.3390/plants8120611

El-Tanahy AMM, Mahmoud AR, Abde-Mouty MM, Ali AH (2012) Effect of chitosan doses and nitrogen sources on the growth, yield and seed quality of cowpea. Aust J Basic Appl Sci 6:115–121

Emami Bistgani Z, Siadat SA, Bakhshandeh A, Ghasemi Pirbalouti A, Hashemi M (2017) Interactive effects of drought stress and chitosan application on physiological characteristics and essential oil yield of Thymus daenensis Celak. Crop J 5:407–415. https://doi.org/10.1016/j.cj.2017.04.003

Erdei L, Tari I, Csiszár J, Pécsváradi A, Horváth F, Szabó M, Ördög M, Cseuz L, Zhiponova M, Szilák L, Györgyey J (2002) Osmotic stress responses of wheat species and cultivars differing in drought tolerance: Some interesting genes (advices for gene hunting). Acta Biol Szeged 46:63–65

Falk KL, Tokuhisa JG, Gershenzon J (2007) The effect of sulfur nutrition on plant glucosinolate content: Physiology and molecular mechanisms. Plant Biol 9:573–581. https://doi.org/10.1055/s-2007-965431

Farooq M, Gogoi N, Barthakur S, Baroowa B, Bharadwaj N, Alghamdi SS, Siddique KHM (2017a) Drought stress in grain legumes during reproduction and grain filling. J Agron Crop Sci 203:81–102. https://doi.org/10.1111/jac.12169

Farooq M, Nadeem F, Gogoi N, Ullah A, Alghamdi SS, Nayyar H, Siddique KHM (2017b) Heat stress in grain legumes during reproductive and grain-filling phases. Crop Pasture Sci 68:985–1005. https://doi.org/10.1071/CP17012

Farouk S, Ramadan A (2012) Improving growth and yield of cowpea by foliar application of chitosan under water stress. Egypt J Biol 14:14–26. https://doi.org/10.4314/ejb.v14i1.2

Fischer C, Höll W (1991) Food reserves in Scots pine (Pinus sylvestris L.). I. Seasonal changes in the carbohydrate and fat reserves of pine needles. Trees 5:187–195. https://doi.org/10.1007/BF00227524

Gabr A, Ghareeb H, El-Shabrawi H, Smetanska I, Bekheet Sh (2016) Enhancement of silymarin and phenolic compound accumulation in tissue culture of Milk thistle using elicitor feeding and hairy root cultures. J Genet Eng Biotechnol. https://doi.org/10.1016/j.jgeb.2016.10.003

Gamze O, Mehmet DK, Mehmet A (2005) Effects of salt and drought stresses on germination and seedling growth of pea (Pisum sativum L.). Turk J Agric for 29:237–242

Gill SS, Tuteja N (2010) Reactive oxygen species and antioxidant machinery in abiotic stress tolerance in crop plants. Plant Physiol Bioch 48:909–930. https://doi.org/10.1016/j.plaphy.2010.08.016

Glick BR (2014) Bacteria with ACC deaminase can promote plant growth and help to feed the world. Microbiol Res 169:30–39. https://doi.org/10.1016/j.micres.2013.09.009

Guan YJ, Hu J, Wang XJ, Shao CX (2009) Seed priming with chitosan improves maize germination and seedling growth in relation to physiological changes under low temperature stress. J Zhejiang Univ Sci B 10:427–433. https://doi.org/10.1631/jzus.B0820373

Guo YY, Yu HY, Yang MM, Kong DS, Zhang YJ (2018) Effect of drought stress on lipid peroxidation, osmotic adjustment and antioxidant enzyme activity of leaves and roots of (Lycium ruthenicum Murr.) seedling. Russ J Plant Physiol 65:244–250. https://doi.org/10.1134/S1021443718020127

Hajiaghaee R, Rezazadeh Sh, Mohamadnejad A, Tavakoli M (2018) Effect of different incoming feeds, defatting procedures and solvents on producing of standard silymarin extract. J Medicinal Plants 17(66):167–175

Hessini DM, Delong JM, Gandour M, Albouchi A, Soltani A, Abdelly C (2009) Effect of water stress on growth, osmotic adjustment, cell wall elasticity and water use efficiency in Spartina alterniflora. Environ Exp Bot 67:312–319. https://doi.org/10.1016/j.envexpbot.2009.06.010

Hidangmayum A, Dwivedi P, Katiyar D, Hemantaranjan A (2019) Application of chitosan on plant responses with special reference to abiotic stress. Physiol Mol Biol Plants 25:313–326. https://doi.org/10.1007/s12298-018-0633-1

Hoekstra FA, Golovina EA, Buitink J (2001) Mechanisms of plant desiccation tolerance. Trends Plant Sci 6:431–438

Hossain MA, Hoque MA, Burritt DJ, Fujita M (2014) Proline protects plants against abiotic oxidative stress: biochemical and molecular mechanisms. Oxidat Damage Plants. https://doi.org/10.1016/B978-0-12-799963-0.00016-2

Hu XJ, Yu FY, Liu JB, Wan J (2009) Effect of drought stress on soluble sugar content in needles of Pinus massoniana seedlings from different provenances. Nanjing Forest Univ 33:55–59. https://doi.org/10.3923/ajps.2012.44.51

Iriti M, Picchi V, Rossoni M, Gomarasca S, Ludwig N, Gargano M, Faoro F (2009) Chitosan antitranspirant activity is due to abscisic acid-dependent stomatal closure. Environ Exp Bot 66:493–500. https://doi.org/10.1016/j.envexpbot.2009.01.004

Jalal RS, Moftah AE, Bafeel SO (2012) Effect of salicylic acid on soluble sugars, proline and protein patterns of shara (Plectranthus tenuiflorus) plants grown under water stress conditions. Int Res J Agric Sci Soil Sci 2:400–407

Ji ZB, Wang JX, Li JW, Xue S, Zhang ML (2009) Dynamic changes of soluble sugar in the seedlings of Robinia pseudoacacia under drought stress and rewatering in different seasons. Acta Bot Boreal-Occid Sin 29(5):1358–1363

Kavi-Kishor PB, Sreenivasulu N (2014) Proline homeostasis. Plant Cell Environ 37:300–311. https://doi.org/10.1111/pce.12157

Khaleghi A, Naderi R, Brunetti C, Maserti BE, Salami SA, Babalar M (2019) Morphological, physiochemical and antioxidant responses of Maclura pomifera to drought stress. Sci Rep 9:19250. https://doi.org/10.1038/s41598-019-55889-y

Khan N, Zandi P, Ali S, Mehmood A, Shahid MA (2018) Impact of salicylic acid and PGPR on the drought tolerance and phytoremediation potential of Helianthus annus. Front Microbiol 9:2507. https://doi.org/10.3389/fmicb.2018.02507

Krapp A, Stitt M (1995) An evaluation of direct and indirect mechanisms for the "sink-regulation" of photosynthesis in spinach: changes in gas exchange, carbohydrates, metabolites, enzyme activities and steady state transcript levels after cold-girdling source leaves. Planta 195:313–323

Lee DY, Liu Y (2003) Molecular structure and stereochemistry of silybin A, silybin B, isosilybin A, and isosilybin B, isolated from Silybum marianum (milk thistle). J Nat Prod 66:1171–1174. https://doi.org/10.1021/np030163b

Lei CY, Ma DM, Pu GB, Qiu XF, Du ZG, Wang H, Li GF, Ye HC, Liu BY (2011) Foliar application of chitosan activates artemisinin biosynthesis in (Artemisia annua L.). Ind Crop Prod 33:176–182. https://doi.org/10.1016/j.indcrop.2010.10.001

Loguercio C, Festi D (2011) Silybin and the liver: From basic research to clinical practice. World J Gastroenterol 17(18):2288–2301. https://doi.org/10.3748/wjg.v17.i18.2288

Lotfi N, Vahdati K, Kholdebarin B, Amiri R (2010) Soluble sugars and proline accumulation play a role as effective indices for drought tolerance screening in Persian walnut (Juglans regia L.) during germination. Fruits 65:97–112. https://doi.org/10.1051/fruits/20010005

Luo ZB, Li K, Jiang X, Polle A (2009) Ectomycorrhizal fungus (Paxillus involutus) and hydrogels affect performance of Populus euphratica exposed to drought stress. Ann for Sci 66:106. https://doi.org/10.1051/forest:2008073

Mahdavi B, Sanavy SAMM, Aghaalikhani M, Sharifi M, Dolatabadian A (2011) Chitosan improves osmotic potential tolerance in safflower (Carthamus tinctorius L.) seedlings. J Crop Improv 4:728–741. https://doi.org/10.1080/15427528.2011.606354

Mahmud AA, Hossain M, Kadian MS, Hoque MA (2015) Physiological and biochemical changes in potato under water stress condition. Ind J Plant Physiol 20:297–303. https://doi.org/10.1007/s40502-015-0173-4

Malerba M, Cerana R (2015) Reactive oxygen and nitrogen species in defense/stress responses activated by chitosan in sycamore cultured cells. Int J Mol Sci 16(2):3019–3034. https://doi.org/10.3390/ijms16023019

Mittler R (2002) Oxidative stress, antioxidants and stress tolerance. Trends Plant Sci 7(9):405–410. https://doi.org/10.1016/S1360-1385(02)02312-9

Mittler R, Vanderauwera S, Gollery M, Van Breusegem F (2004) Reactive oxygen gene network of plants. Trends Plant Sci 9(10):490–498. https://doi.org/10.1016/j.tplants.2004.08.009

Mohamed SA, Ahmed HS, El-Baowab AA (2018) Effect of chitosan, putrescine and irrigation levels on the drought tolerance of sour orange seedlings. Egypt J Hort 45:257–273. https://doi.org/10.21608/ejoh.2018.3063.1050

Nakano Y, Asada K (1981) Hydrogen peroxide is scavenged by ascorbate-specific peroxidase in spinach chloroplasts. Plant Cell Physiol 22:867–880. https://doi.org/10.1093/oxfordjournals.pcp.a076232

Namdeo AG (2007) Plant cell elicitation for production of secondary metabolites: a review. Pharmacogn Rev 1(1):69–79

Negi AS, Kumar J, Luqman S, Shanker K, Gupta M, Khanuja S (2008) Recent advances in plant hepatoprotectives: A chemical and biological profile of some important leads. Med Res Rev 28:746–772. https://doi.org/10.1002/med.20115

Palma JM, Jiménez A, Sandalio LM, Corpas FJ, Lundqvist M, Gómez M, Sevilla F, del Río LA (2006) Antioxidative enzymes from chloroplasts, mitochondria, and peroxisomes during leaf senescence of nodulated pea plants. J Exp Bot 57(8):1747–1758. https://doi.org/10.1093/jxb/erj191

Parvaiz A, Satyawati S (2008) Salt stress and phyto-biochemical responses of plants. Plant Soil Environ 54:89–99. https://doi.org/10.17221/2774-PSE

R Core Team (2019) R: R Foundation for Statistical Computing; Vienna, Austria: 2014

Rabêlo VM, Magalhães PC, Bressanin LA, Carvalho DT, dos Reis CO, Karam D, Doriguetto AC, dos Santos MH, dos Santos Santos Filho PR, de Souza TC, (2019) The foliar application of a mixture of semisynthetic chitosan derivatives induces tolerance to water deficit in maize, improving the antioxidant system and increasing photosynthesis and grain yield. Sci Rep 9:8164. https://doi.org/10.1038/s41598-019-44649-7

RStudio Team (2016) RStudio: Integrated Development Environment for R

Sade B, Soylu S, Yetim E (2011) Drought and oxidative stress. Afr J Biotechnol 10:11102–11109. https://doi.org/10.5897/AJB11.1564

Safikhana S, Khoshbakhta K, Chaichib MR, Aminic A, Motesharezadehd B (2018) Role of chitosan on the growth, physiological parameters and enzymatic activity of milk thistle (Silybum marianum (L.) Gaertn.) in a pot experiment. J Appl Res Med Aromat Plants 10:49–58. https://doi.org/10.1016/j.jarmap.2018.06.002

Sairam RK, Srivastava GC, Saxena DC (2000) Increased antioxidant activity under elevated temperatures: a mechanism of heat stress tolerance in wheat genotypes. Biol Plant 43:245–251. https://doi.org/10.1023/A:1002756311146

Sakhabutdinova AR, Fatkhutdinova DR, Shakirova FM (2004) Effect of salicylic acid on the activity of antioxidant enzymes in wheat under conditions of salination. Appl Microbiol Biotechnol 40:501–505. https://doi.org/10.1023/B:ABIM.0000040675.29736.91

Salehi-Lisar SY, Bakhshayeshan-Agdam H (2016) Drought stress in plants: causes, consequences, and tolerance. In: Hossain MA, Wani S, Burritt DJ, Tran LSP (eds) Drought stress tolerance in plants, vol 1, pp 1–16

Saller R, Meier R, Brignoli R (2001) The use of silymarin in the treatment of liver diseases. Drugs 61:2035–2063. https://doi.org/10.2165/00003495-200161140-00003

Selmar D, Kleinwächter M (2013) Influencing the product quality by deliberately applying drought stress during the cultivation of medicinal plants. Ind Crops Prod 42:558–566. https://doi.org/10.1016/j.indcrop.2012.06.020

Smeekens S (2000) Sugar-induced signal transduction in plants. Annu Rev Plant Physiol Plant Mol Biol 51:49–81. https://doi.org/10.1146/annurev.arplant.51.1.49

Stewart RR, Bewley JD (1980) Lipid peroxidation associated with accelerated aging of soybean axes. Plant Physiol 65:245–248. https://doi.org/10.1104/pp.65.2.245

Szabados L, Savoure A (2010) Proline: a multifunctional amino acid. Trends Plant Sci 15:89–97. https://doi.org/10.1016/j.tplants.2009.11.009

Turtola S, Manninen A, Rikala R, Kainulainen P (2003) Drought stress alters the concentration of wood terpenoids in scots pine and Norway spruce seedling. J Chem Ecol 29:1981–1995. https://doi.org/10.1023/A:1025674116183

Vázquez-Hernández MC, Parola-Contreras I, Montoya-Gómez LM, Torres-Pacheco I, Schwarz D, Guevara-González RG (2019) Eustressors: chemical and physical stress factors used to enhance vegetables production. Sci Hortic 250:223–229. https://doi.org/10.1016/j.scienta.2019.02.053

Vieira SS, Emiliani DD, G, Michelozzi M, Centritto M, Luro F, Morillon R, Loreto F, Gesteira A, Maserti B, (2016) Polyploidization alters constitutive content of volatile organic compounds (VOC) and improves membrane stability under water deficit in Volkamer lemon (Citrus limonia Osb.) leaves. Environ Exp Bot 126:1–9. https://doi.org/10.1016/j.envexpbot.2016.02.010

Wang M, Chen Y, Zhang R, Wang W, Zhao X, Du Y, Yin H (2015) Effects of chitosan oligosaccharides on the yield components and production quality of different wheat cultivars (Triticum aestivum L.) in Northwest China. Field Crops Res 172:11–20. https://doi.org/10.1016/j.fcr.2014.12.007

Ward JF, Blakely W, Joner EI (1985) Mammalian cells are not killed by DNA single-strand breaks caused by hydroxyl radicals from hydrogen peroxide. Radiation Res 103:383–392. https://doi.org/10.2307/3576760

Yan Y, Pan C, Du Y, Li D, Liu W (2018) Exogenous salicylic acid regulates reactive oxygen species metabolism and ascorbate–glutathione cycle in Nitraria tangutorum Bobr. under salinity stress. Physiol Mol Biol Plants 24(4):577–589. https://doi.org/10.1007/s12298-018-0540-5

Yang F, Hu J, Li J, Wu X, Qian Y (2009) Chitosan enhances leaf membrane stability and antioxidant enzyme activities in apple seedlings under drought stress. Plant Growth Regul 58:131–136. https://doi.org/10.1007/s10725-009-9361-4

Zahir A, Abbasi BH, Adil M, Anjum S, Zia M (2014) Synergistic effects of drought stress and photoperiods on phenology and secondary metabolism of Silybum marianum. Appl Biochem Biotech 174:693–707. https://doi.org/10.1007/s12010-014-1098-5

Zhao P, Lu GH, Yang YH (2017) Salicylic acid signaling and its role in responses to stresses in plants. In: Pandey G (ed) Mechanism of plant hormone signaling under stress, 1st edn, vol 11

Zheng J, Ma X, Zhang X, Hu Q, Qian R (2018) Salicylic acid promotes plant growth and salt-related gene expression in Dianthus superbus L. (Caryophyllaceae) grown under different salt stress conditions. Physiol Mol Biol Plants 24(2):231–238. https://doi.org/10.1007/s12298-017-0496-x
Funding
This study does not funded by any organ.
Ethics declarations
Ethics approval
All the ethical principles in this study are respected.
Consent to participate
All authors' contributions are approved.
Consent for publication
All authors agree to publish the work.
Conflict of interest
The authors declare that they have no conflict of interest.
Additional information
Publisher's Note
Springer Nature remains neutral with regard to jurisdictional claims in published maps and institutional affiliations.
Communicated by Z.-L. Zhang.
About this article
Cite this article
Ghanbari Moheb Seraj, R., Behnamian, M., Ahmadikhah, A. et al. Chitosan and salicylic acid regulate morpho-physiological and phytochemical parameters and improve water-deficit tolerance in milk thistle (Silybum marianum L.). Acta Physiol Plant 43, 101 (2021). https://doi.org/10.1007/s11738-021-03264-8
Received:

Revised:

Accepted:

Published:
Keywords
Water deficit

Elicitor

Chitosan

Salicylic acid

Milk thistle