Abstract
Phenolic compounds play important roles in plant defences against both biotic and abiotic stressors, and many in crop plants are highly beneficial for human health, but their quantities and profiles are influenced by numerous factors. Thus, the purpose of this study was to quantify free and glycosylated phenolic acids in apples (important sources of beneficial phenolics) in the course of fruit development, at harvest and during 5 months of storage. We selected three scab-resistant and powdery mildew-tolerant varicoloured cultivars for testing, and found they had qualitatively similar spectra of phenolic acids. The major free phenolic acid in both peel and flesh of the apples was chlorogenic acid, followed by (at much lower concentrations) three hydroxybenzoic acid derivatives (protocatechuic, vanillic and gallic acids) and three hydroxycinnamic acid derivatives (p-coumaric, ferulic and caffeic acids). Spectra of phenolic glycosides were broader, and included glycosylated forms of protocatechuic acid (most abundantly) and four other hydroxybenzoic acids (gallic, p-hydroxybenzoic, gentisic and syringic acids). Dynamic changes in phenolic acid contents during apple development and storage were also observed. Contents of free chlorogenic and glycosylated protocatechuic acids were highest at the beginning of apple fruit growth and markedly declined during ripening. Levels of chlorogenic acid in both peel and flesh continually increased during storage, accompanied by marked increases in contents of glycosylated protocatechuic acid in all studied cultivars. Both of these acids have strong radical scavenging activity and contribute considerably to apples' antioxidant capacities.
Access options
Buy single article
Instant access to the full article PDF.
US$ 39.95
Tax calculation will be finalised during checkout.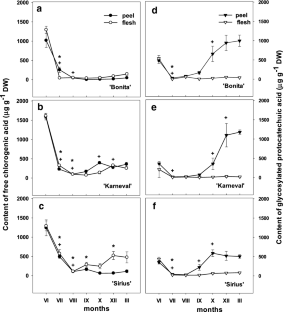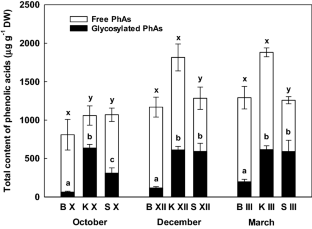 References
Alberti A, Zielinski AAF, Couto M, Judacewski P, Mafra LI, Nogueira A (2017) Distribution of phenolic compounds and antioxidant capacity in apples tissues during ripening. J Food Sci Technol Mysore 54:1511–1518. https://doi.org/10.1007/s13197-017-2582-z

Awad MA, de Jager A, van der Plas LHW, van der Krol AR (2001) Flavonoid and chlorogenic acid changes in skin of 'Elstar' and 'Jonagold' apples during development and ripening. Sci Hortic 90:69–83. https://doi.org/10.1016/s0304-4238(00)00255-7

Bazzalo ME, Heber EM, Martinez MAD, Caso OH (1985) Phenolic compounds in stems of sunflower plants inoculated with Sclerotinia sclerotiorum and their inhibitory effects on the fungus. J Phytopathol 112:322–332

Bessemans N, Verboven P, Verlinden BE, Nicolai BM (2016) A novel type of dynamic controlled atmosphere storage based on the respiratory quotient (RQ-DCA). Postharvest Biol Technol 150:91–102. https://doi.org/10.1016/j.postharvbio.2015.12.019

Boyer J, Liu RH (2004) Apple phytochemicals and their health benefits. Nutr J. https://doi.org/10.1186/1475-2891-3-5

Bravo L (1998) Polyphenols: chemistry, dietary sources, metabolism, and nutritional significance. Nutr Rev 56:317–333

Bushway AA, Hu W, Schupp JR, Work T, Koller SI (2002) Quality characteristics of five disease-resistant apple cultivars. J Am Pomol Soc 56:94–105

Carbone K, Giannini B, Picchi V, Lo Scalzo R, Cecchini F (2011) Phenolic composition and free radical scavenging activity of different apple varieties in relation to the cultivar, tissue type and storage. Food Chem 127:493–500. https://doi.org/10.1016/j.foodchem.2011.01.030

Cetin-Karaca H, Newman MC (2015) Antimicrobial efficacy of plant phenolic compounds against Salmonella and Escherichia coli. Food Biosci 11:8–16. https://doi.org/10.1016/j.fbio.2015.03.002

Chinnici F, Gaiani A, Natali N, Riponi C, Galassi S (2004) Improved HPLC determination of phenolic compounds in cv. golden delicious apples using a monolithic column. J Agric Food Chem 52:3–7. https://doi.org/10.1021/jf030459n

Cvikrová M, Hrubcová M (1999) The role of phenolic substances in the processes of differentiation and morphogenesis. In: Strnad M, Peč P, Beck E (eds) Advances in regulation of plant development. Peres Publications, Prague, pp 213–220

Dixon RA, Paiva NL (1995) Stress-induced phenylpropanoid metabolism. Plant Cell 7:1085–1097. https://doi.org/10.1105/tpc.7.7.1085

Drogoudi PD, Michailidis Z, PantelidiSa G (2008) Peel and flesh antioxidant content and harvest quality characteristics of seven apple cultivars. Sci Hortic 115:149–153. https://doi.org/10.1016/j.scienta.2007.08.010

Eliasova K, Vondrakova Z, Malbeck J, Travnickova A, Pesek B, Vagner M, Cvikrova M (2017) Histological and biochemical response of Norway spruce somatic embryos to UV-B irradiation. Trees Struct Funct 31:1279–1293. https://doi.org/10.1007/s00468-017-1547-1

Felipini RB, Boneti JI, Katsurayama Y, Neto ACR, Veleirinho B, Maraschin M, Di Piero RM (2016) Apple scab control and activation of plant defence responses using potassium phosphite and chitosan. Eur J Plant Pathol 145:929–939. https://doi.org/10.1007/s10658-016-0881-2

Gwanpua SG, Verlinden BE, Hertog M, Nicolai BM, Geeraerd AH (2017) A mechanistic modelling approach to understand 1-MCP inhibition of ethylene action and quality changes during ripening of apples. J Sci Food Agric 97:3802–3813. https://doi.org/10.1002/jsfa.8244

Hahlbrock K, Grisebach H (1979) Enzymic controls in the biosynthesis of lignin and flavonoids. Annu Rev Plant Physiol 30:105–130. https://doi.org/10.1146/annurev.pp.30.060179.000541

Huber GM, Rupasinghe HPV (2009) Phenolic profiles and antioxidant properties of apple skin extracts. J Food Sci 74:C693–C700. https://doi.org/10.1111/j.1750-3841.2009.01356.x

Jiang H, Ji BP, Liang JF, Zhou F, Yang ZW, Zhang GZ (2006) Changes of contents and antioxidant activities of polyphenols during fruit development of four apple cultivars. Eur Food Res Technol 223:743–748. https://doi.org/10.1007/s00217-006-0262-8

Kalinowska M, Bielawska A, Lewandowska-Siwkiewicz H, Priebe W, Lewandowski W (2014) Apples: content of phenolic compounds vs. variety, part of apple and cultivation model, extraction of phenolic compounds, biological properties. Plant Physiol Biochem 84:169–188. https://doi.org/10.1016/j.plaphy.2014.09.006

Kondo S, Tsuda K, Muto N, Ueda J (2002) Antioxidative activity of apple skin or flesh extracts associated with fruit development on selected apple cultivars. Sci Hortic 96:177–185. https://doi.org/10.1016/s0304-4238(02)00127-9

Kumar P, Sethi S, Sharma RR, Singh S, Saha S, Sharma VK, Verma MK, Sharma SK (2018) Nutritional characterization of apple as a function of genotype. J Food Sci Technol Mysore 55:2729–2738. https://doi.org/10.1007/s13197-018-3195-x

Leccese A, Bartolini S, Viti R (2009) Antioxidant properties of peel and flesh in 'GoldRush' and 'Florina' scab-resistant apple (Malus domestica) cultivars. N Z J Crop Hortic Sci 37:71–78. https://doi.org/10.1080/01140670909510251

Lee KW, Kim YJ, Kim DO, Lee HJ, Lee CY (2003) Major phenolics in apple and their contribution to the total antioxidant capacity. J Agric Food Chem 51:6516–6520. https://doi.org/10.1021/jf034475w

Lee J, Chan BLS, Mitchell AE (2017) Identification/quantification of free and bound phenolic acids in peel and pulp of apples (Malus domestica) using high resolution mass spectrometry (HRMS). Food Chem 215:301–310. https://doi.org/10.1016/j.foodchem.2016.07.166

Lee J, Kang IK, Nock JF, Watkins CB (2019) Effects of preharvest and postharvest applications of 1-methylcyclopropene on fruit quality and physiological disorders of 'Fuji' apples during storage at warm and cold temperatures. HortScience 54:1375–1383. https://doi.org/10.21273/HORTSCI14062-19

MacLean DD, Murr DP, Deell JR, Mackay AB, Kupferman EM (2007) Inhibition of PAL, CHS, and ERS1 in 'Red d'Anjou' pear (Pyrus communis L.) by 1-MCP. Postharvest Biol Technol 45:46–55. https://doi.org/10.1016/j.postharvbio.2007.01.007

Manach C, Scalbert A, Morand C, Remesy C, Jimenez L (2004) Polyphenols: food sources and bioavailability. Am J Clin Nutr 79:727–747

Mayr U, Michalek S, Treutter D, Feucht W (1997) Phenolic compounds of apple and their relationship to scab resistance. J Phytopathol 145:69–75. https://doi.org/10.1111/j.1439-0434.1997.tb00366.x

Mikulic-Petkovsek M, Stampar F, Veberic R (2008) Increased phenolic content in apple leaves infected with the apple scab pathogen. J Plant Pathol 90:49–55

Mikulic-Petkovsek M, Stampar F, Veberic R (2009) Accumulation of phenolic compounds in apple in response to infection by the scab pathogen, Venturia inaequalis. Physiol Mol Plant Pathol 74:60–67. https://doi.org/10.1016/j.pmpp.2009.09.003

Molgaard P, Ravn H (1988) Evolutionary aspects of caffeoyl ester distribution in dicotyledons. Phytochemistry 27:2411–2421. https://doi.org/10.1016/0031-9422(88)87005-5

Mostafavi HA, Mirmajlessi SM, Mirjalili SM, Fathollahi H, Askari H (2012) Gamma radiation effects on physico-chemical parameters of apple fruit during commercial post-harvest preservation. Radiat Phys Chem 81:666–671. https://doi.org/10.1016/j.radphyschem.2012.02.015

Pacheco-Ordaz R, Wall-Medrano A, Goni MG, Ramos-Clamont-Montfort G, Ayala-Zavala JF, Gonzalez-Aguilar GA (2018) Effect of phenolic compounds on the growth of selected probiotic and pathogenic bacteria. Lett Appl Microbiol 66:25–31. https://doi.org/10.1111/lam.12814

Panzella L, Petriccione M, Rega P, Scortichini M, Napolitano A (2013) A reappraisal of traditional apple cultivars from Southern Italy as a rich source of phenols with superior antioxidant activity. Food Chem 140:672–679. https://doi.org/10.1016/j.foodchem.2013.02.121

Renard CMGC, Dupont N, Guillermin P (2007) Concentrations and characteristics of procyanidins and other phenolics in apples during fruit growth. Phytochem 68:1128–1138. https://doi.org/10.1016/j.phytochem.2007.02.012

Rothwell JA, Knaze V, Zamora-Ros R (2017) Polyphenols: dietary assessment and role in the prevention of cancers. Curr Opin Clin Nutr Metabol Care 20:512–521. https://doi.org/10.1097/mco.0000000000000424

Rysman T, Utrera M, Morcuende D, Van Royen G, Van Weyenberg S, De Smet S, Estevez M (2016) Apple phenolics as inhibitors of the carbonylation pathway during in vitro metal-catalyzed oxidation of myofibrillar proteins. Food Chem 211:784–790. https://doi.org/10.1016/j.foodchem.2016.05.126

Shahidi F, Ambigaipalan P (2015) Phenolics and polyphenolics in foods, beverages and spices: antioxidant activity and health effects—a review. J Funct Foods 18:820–897. https://doi.org/10.1016/j.jff.2015.06.018

Singh KP, Singh A, Singh UP (2015) Phenolic acid content of some apple cultivars with varying degrees of resistance to apple scab. Int J Fruit Sci 15:267–280. https://doi.org/10.1080/15538362.2015.1022113

Slatnar A, Mikulic-Petkovsek M, Halbwirth H, Stampar F, Stich K, Veberic R (2012) Polyphenol metabolism of developing apple skin of a scab resistant and a susceptible apple cultivar. Trees Struct Funct 26:109–119. https://doi.org/10.1007/s00468-011-0577-3

Sun J, Chu YF, Wu XZ, Liu RH (2002) Antioxidant and antiproliferative activities of common fruits. J Agric Food Chem 50:7449–7454. https://doi.org/10.1021/jf0207530

Tarozzi A, Marchesi A, Cantelli-Forti G, Hrelia P (2004) Cold-storage affects antioxidant properties of apples in Caco-2 cells. J Nutr 134:1105–1109

Tsao R, Yang R, Xie S, Sockovie E, Khanizadeh S (2005) Which polyphenolic compounds contribute to the total antioxidant activities of apple? J Agric Food Chem 53:4989–4995. https://doi.org/10.1021/jf048289h

van Sumere JF (1989) Phenols and phenolic acids. In: Harborne JB (ed) Methods in plant biochemistry. Plant phenolics, vol 1. Academic Press Limited, London, pp 29–73

van der Sluis AA, Dekker M, de Jager A, Jongen WMF (2001) Activity and concentration of polyphenolic antioxidants in apple: effect of cultivar, harvest year, and storage conditions. J Agric Food Chem 49:3606–3613. https://doi.org/10.1021/jf001493u

Vieira FGK, Borges GDC, Copetti C, Di Pietro PF, Nunes ED, Fett R (2011) Phenolic compounds and antioxidant activity of the apple flesh and peel of eleven cultivars grown in Brazil. Sci Hortic 128:261–266. https://doi.org/10.1016/j.scienta.2011.01.032

Vrhovsek U, Rigo A, Tonon D, Mattivi F (2004) Quantitation of polyphenols in different apple varieties. J Agric Food Chem 52:6532–6538. https://doi.org/10.1021/jf049317z

Williams RS, Benkeblia N (2018) Biochemical and physiological changes of star apple fruit (Chrysophyllum cainito) during different "on plant" maturation and ripening stages. Sci Hortic 236:36–42. https://doi.org/10.1016/j.scienta.2018.03.007

Winkel-Shirley B (2001) Flavonoid biosynthesis: a colorful model for genetics, biochemistry, cell biology, and biotechnology. Plant Physiol 126:485–493. https://doi.org/10.1104/pp.126.2.485

Wolfe KL, Liu RH (2003) Apple peels as a value-added food ingredient. J Agric Food Chem 51:1676–1683. https://doi.org/10.1021/jf025916z

Zhao ZC, Hu GB, Hu FC, Wang HC, Yang ZY, Lai B (2012) The UDP glucose: flavonoid-3-O-glucosyltransferase (UFGT) gene regulates anthocyanin biosynthesis in litchi (Litchi chinesis Sonn.) during fruit coloration. Mol Biol Rep 39:6409–6415. https://doi.org/10.1007/s11033-011-1303-3

Zhao JR, Liu GJ, Chang RF, Cao K, Shen F, Wu T, Wang Y, Han ZH, Zhang XZ (2015) Diversity of flesh polyphenols and their progressive dilution during fruit expansion in Malus germplasm. Sci Hortic 197:461–469. https://doi.org/10.1016/j.scienta.2015.10.003
Acknowledgements
This work was supported by the Ministry of Education, Youth and Sports of the Czech Republic (project LTC 17034; within CA COST Action CA 15136—Eurocaroten). The authors thank Sees-editing Ltd. for linguistic editing.
Ethics declarations
Conflict of interest
The authors declare that they have no conflict of interest.
Additional information
Publisher's Note
Springer Nature remains neutral with regard to jurisdictional claims in published maps and institutional affiliations.
Communicated by M. Horbowicz.
Electronic supplementary material
Below is the link to the electronic supplementary material.
About this article
Cite this article
Vondráková, Z., Malbeck, J., Trávníčková, A. et al. Phenolic acids in selected scab-resistant and mildew-tolerant apple cultivars. Acta Physiol Plant 42, 43 (2020). https://doi.org/10.1007/s11738-020-3031-6
Received:

Revised:

Accepted:

Published:
Keywords
Chlorogenic acid

Free and glycosylated phenolic acids

Protocatechuic acid

Scab-resistant apple cultivars