Abstract
Crop protection against phyto-pathogens has become a global challenge that can be tackled efficiently through natural resources, including endophytic fungi. Endophytes serve as a reservoir for the vast array of potent bioactive metabolites. We investigated the antioxidant and antibacterial potency of endophytes from the roots of Solanum surattense. The non-polar fraction of the cultural filtrate from the isolated strains was tried for antibacterial potency through agar plate diffusion assay. Among the isolated strains, Penicillium roqueforti (CGF-1) and Trichoderma reesei (CGF-11) had broad-spectrum antibacterial activity against phyto-pathogenic bacteria (Xanthomonas oryzae, Pseudomonas syringae, Agrobacterium tumefaciens, and Ralstonia solanacearum). The extracts of CGF-1 and CGF-11 achieved the best result against A. tumefaciens. Similarly, qualitative analysis of the ethyl acetate extracts P. roqueforti and T. reesei exposed the occurrence of alkaloids, flavonoids, phenols, steroids, and tannins. HPLC analysis also confirmed the presence ferulic acid, cinnamic acid, quercetin, and rutin in the non-polar fraction of the cultural filtrate from the isolated strains. The results conclude that P. roqueforti and T. reesei can play an active role against the plant pathogens by secreting the bioactive compounds to protect host plant. Furthermore, the antibacterial and antioxidant potential of the P. roqueforti and T. reesei suggests its use in agriculture and pharmaceutical industry.
Access options
Buy single article
Instant access to the full article PDF.
USD 39.95
Price excludes VAT (USA)
Tax calculation will be finalised during checkout.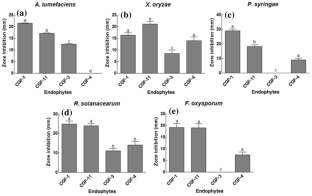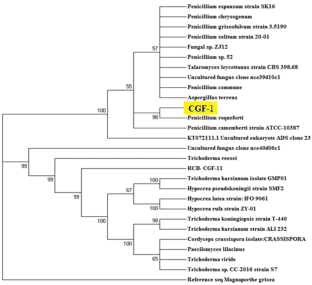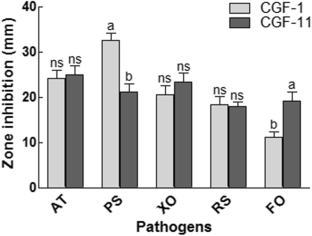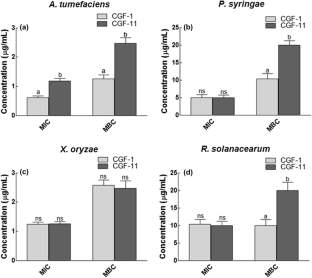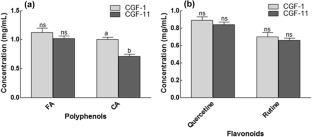 Data availability statement
The 1TS rDNA sequence was submitted to NCBI GenBank and was assigned Accession No. KY173360 for CGF-1 and KY100257.1 for CGF-11. All other data are included in the manuscript.
References
Alvin A, Miller KI, Neilan BA (2014) Exploring the potential of endophytes from medicinal plants as sources of antimycobacterial compounds. Microbiol Res 169:483–495

Aly AH, Debbab A, Kjer J, Proksch P (2010) Fungal endophytes from higher plants: a prolific source of phytochemicals and other bioactive natural products. Fungal Divers 41:1–16

Bhardwaj A, Sharma D, Jadon N, Agrawal P (2015) Antimicrobial and phytochemical screening of endophytic fungi isolated from spikes of Pinus roxburghii. Arch Clin Microbiol 6:1–9

Busby PE, Ridout M, Newcombe G (2016) Fungal endophytes: modifiers of plant disease. Plant Mol Biol 90:645–655

Cai Y, Luo Q, Sun M, Corke H (2004) Antioxidant activity and phenolic compounds of 112 traditional Chinese medicinal plants associated with anticancer. Life Sci 74:2157–2184

Contreras-Cornejo HA, Macías-Rodríguez L, del-Val E, Larsen J (2016) Ecological functions of Trichoderma spp. and their secondary metabolites in the rhizosphere: interactions with plants. FEMS Microbiol Ecol 1:92

Deshmukh SK, Verekar SA, Bhave SV (2015) Endophytic fungi: a reservoir of antibacterials. Front Microbiol 5:715

Devi NN, Shankar D, Sutha S (2012) Biomimetic synthesis of silver nanoparticles from an endophytic fungus and their antimicrobial efficacy. Int J Biomed Adv Res 3:409–415

Fang Y, Ramasamy RP (2015) Current and prospective methods for plant disease detection. Biosensors 5:537–561

Hamayun M et al (2017) Gibberellins producing endophytic fungus Porostereum spadiceum AGH786 rescues growth of salt affected soybean. Front Microbiol 8:686. https://doi.org/10.3389/fmicb.2017.00686

Haraguchi H, Kataoka S, Okamoto S, Hanafi M, Shibata K (1999) Antimicrobial triterpenes from Ilex integra and the mechanism of antifungal action. Phytother Res Int J Devot Pharmacol Toxicol Eval Nat Prod Deriv 13:151–156

Hermosa R, Viterbo A, Chet I, Monte E (2012) Plant-beneficial effects of Trichoderma and of its genes. Microbiology 158:17–25

Hussain A, Shah ST, Rahman H, Irshad M, Iqbal A (2015) Effect of IAA on in vitro growth and colonization of Nostoc in plant roots. Front Plant Sci 6:46

Hussain A et al (2018) Bioremediation of hexavalent chromium by endophytic fungi; safe and improved production of Lactuca sativa L. Chemosphere 211:653–663. https://doi.org/10.1016/j.chemosphere.2018.07.197

Ichikawa T, Date M, Ishikura T, Ozaki A (1971) Improvement of kasugamycin-producing strain by the agar piece method and the prototroph method. Folia Microbiol 16:218–224

Ikram M, Ali N, Jan G, Jan FG, Rahman IU, Iqbal A, Hamayun M (2018) IAA producing fungal endophyte Penicillium roqueforti Thom., enhances stress tolerance and nutrients uptake in wheat plants grown on heavy metal contaminated soils. PloS One 13:e0208150. https://doi.org/10.1371/journal.pone.0208150

Iqbal M et al (2014) Antimicrobial, cytotoxic and phytotoxic potency of ethyl acetate extract of Rhizopus stolonifer culture. Trop J Pharmaceut Res 13:87–92

Ismail Hamayun M, Hussain A, Iqbal A, Khan SA, Lee I-J (2018) Endophytic fungus Aspergillus japonicus mediates host plant growth under normal and heat stress conditions. BioMed Res Int. https://doi.org/10.1155/2018/7696831

Jaber LR, Ownley BH (2017) Can we use entomopathogenic fungi as endophytes for dual biological control of insect pests and plant pathogens? Biol Control

Jan FG, Hamayun M, Hussain A, Jan G, Iqbal A, Khan A, Lee I-J (2019) An endophytic isolate of the fungus Yarrowia lipolytica produces metabolites that ameliorate the negative impact of salt stress on the physiology of maize. BMC Microbiol 19:3. https://doi.org/10.1186/s12866-018-1374-6

Johann S, Rosa LH, Rosa CA, Perez P, Cisalpino PS, Zani CL, Cota BB (2012) Antifungal activity of altenusin isolated from the endophytic fungus Alternaria sp. against the pathogenic fungus Paracoccidioides brasiliensis. Revista iberoamericana de micologia 29:205–209

Kaul S, Gupta S, Ahmed M, Dhar MK (2012) Endophytic fungi from medicinal plants: a treasure hunt for bioactive metabolites. Phytochem Rev 11:487–505

Khan AL, Waqas M, Hamayun M, Al-Harrasi A, Al-Rawahi A, Lee I-J (2013a) Co-synergism of endophyte Penicillium resedanum LK6 with salicylic acid helped Capsicum annuum in biomass recovery and osmotic stress mitigation. BMC Microbiol 13:51

Khan GJ, Omer MO, Ashraf M, Rehman HU, Khan ZUD (2013b) Effect of Punica granatum (pomegranate) fruit extract on angiogenesis. J App Pharm 4:764–780

Khan AL, Hussain J, Al-Harrasi A, Al-Rawahi A, Lee I-J (2015) Endophytic fungi: resource for gibberellins and crop abiotic stress resistance. Crit Rev Biotechnol 35:62–74

Kumar S, Stecher G, Tamura K (2016) MEGA7: molecular evolutionary genetics analysis version 7.0 for bigger datasets. Mol Biol Evol 33:1870–1874

Kusari S, Hertweck C, Spiteller M (2012) Chemical ecology of endophytic fungi: origins of secondary metabolites. Chem Biol 19:792–798

Kusari S, Pandey SP, Spiteller M (2013) Untapped mutualistic paradigms linking host plant and endophytic fungal production of similar bioactive secondary metabolites. Phytochemistry 91:81–87

Laghari AQ, Memon S, Nelofar A, Laghari AH (2011) Extraction, identification and antioxidative properties of the flavonoid-rich fractions from leaves and flowers of cassia angustifolia. Am J Anal Chem 2:871

Lareen A, Burton F, Schäfer P (2016) Plant root-microbe communication in shaping root microbiomes. Plant Mol Biol 90:575–587

Mehmood A, Hussain A, Irshad M, Hamayun M, Iqbal A, Khan N (2018) In vitro production of IAA by endophytic fungus Aspergillus awamori and its growth promoting activities in Zea mays. Symbiosis 1:1–11. https://doi.org/10.1007/s13199-018-0583-y

Mehmood A et al (2019) Cinnamic acid as an inhibitor of growth, flavonoids exudation and endophytic fungus colonization in maize root. Plant Physiol Biochem 135:61–68. https://doi.org/10.1016/j.plaphy.2018.11.029

Mousa WK, Raizada MN (2013) The diversity of anti-microbial secondary metabolites produced by fungal endophytes: an interdisciplinary perspective. Front Microbiol 4:65

Nagamani A, Kunwar IK, Manoharachary C (2006) Handbook of soil fungi. IK international

Nieto-Jacobo MF et al (2017) Environmental growth conditions of Trichoderma spp. affects indole acetic acid derivatives, volatile organic compounds, and plant growth promotion. Front Plant Sci 8:102

Nisa H, Kamili AN, Nawchoo IA, Shafi S, Shameem N, Bandh SA (2015) Fungal endophytes as prolific source of phytochemicals and other bioactive natural products: a review. Microbial Pathog 82:50–59

Passari AK et al (2017) Insights into the functionality of endophytic actinobacteria with a focus on their biosynthetic potential and secondary metabolites production. Sci Rep 7:11809

Petrini O, Fisher P (1988) A comparative study of fungal endophytes in xylem and whole stem of Pinus sylvestris and Fagus sylvatica. Trans Br Mycol Soc 91:233–238

Porras-Alfaro A, Bayman P (2011) Hidden fungi, emergent properties: endophytes and microbiomes. Ann Rev Phytopathol 49:5

Porte D (2017) Interactive effect of rhizosphere bacterial consortia on performance of Chickpea. Indira Gandhi Krishi Vishwavidhyalaya, Raipur

Portillo A, Vila R, Freixa B, Adzet T, Cañigueral S (2001) Antifungal activity of Paraguayan plants used in traditional medicine. J Ethnopharmacol 76:93–98

Qin S et al (2009) Isolation, diversity, and antimicrobial activity of rare actinobacteria from medicinal plants of tropical rain forests in Xishuangbanna. Chin Appl Environ Microbiol 75:6176–6186

Raaijmakers JM, Paulitz TC, Steinberg C, Alabouvette C, Moënne-Loccoz Y (2009) The rhizosphere: a playground and battlefield for soilborne pathogens and beneficial microorganisms. Plant Soil 321:341–361

Radji M, Sumiati A, Rachmayani R, Elya B (2011) Isolation of fungal endophytes from Garcinia mangostana and their antibacterial activity. Afr J Biotech 10:103–107

Ravensberg WJ (2015) Commercialisation of microbes: present situation and future prospects. Principles of plant-microbe interactions. Springer, Berlin, pp 309–317

Santos IPD, Silva LCND, Silva MVD, Araújo JMD, Cavalcanti MDS, Lima VLDM (2015) Antibacterial activity of endophytic fungi from leaves of Indigofera suffruticosa Miller (Fabaceae). Front Microbiol 6:350

Sashikumar J, Remya M, Janardhanan K (2003) Antimicrobial activity of ethno medicinal plants of Nilgiri biosphere reserve and Western Ghats. Asian J Microbiol Biotechnol Environ Sci 5:183–185

Savary S, Ficke A, Aubertot J-N, Hollier C (2012) Crop losses due to diseases and their implications for global food production losses and food security. Springer, Berlin

Waqas M, Khan AL, Hamayun M, Shahzad R, Kang S-M, Kim J-G, Lee I-J (2015) Endophytic fungi promote plant growth and mitigate the adverse effects of stem rot: an example of Penicillium citrinum and Aspergillus terreus. J Plant Interact 10:280–287

Yadav M, Yadav A, Yadav JP (2014) vitro antioxidant activity and total phenolic content of endophytic fungi isolated from Eugenia jambolana Lam Asian Pac. J Trop Med 7:S256–S261

Zhao K et al (2011) The diversity and anti-microbial activity of endophytic actinomycetes isolated from medicinal plants in Panxi plateau. China Curr Microbiol 62:182–190
Acknowledgements
The research work was supported by the Department of Botany, Abdul Wali Khan University Mardan. The authors are also thankful to PCSIR and NARC for providing the pathogens for this study.
Ethics declarations
Conflict of interest
The authors declare no competing interest.
Ethics approval and consent to participate
Our study does not involve any human, animal, or endangered species.
Consent for publication
No consent/approval at the national or international level or appropriate permissions and/or licenses for the study were required.
Additional information
Communicated by M. J. Reigosa.
Publisher's Note
Springer Nature remains neutral with regard to jurisdictional claims in published maps and institutional affiliations.
Electronic supplementary material
Below is the link to the electronic supplementary material.
About this article
Cite this article
Ikram, M., Ali, N., Jan, G. et al. Novel antimicrobial and antioxidative activity by endophytic Penicillium roqueforti and Trichoderma reesei isolated from Solanum surattense. Acta Physiol Plant 41, 164 (2019). https://doi.org/10.1007/s11738-019-2957-z
Received:

Revised:

Accepted:

Published:

DOI: https://doi.org/10.1007/s11738-019-2957-z
Keywords
Endophytic fungi

18S rDNA

Antimicrobial activity

MIC/MBC

Antioxidant compounds