Abstract
Nepeta is a perennial herbal plant that belongs to the Lamiaceae mint family. Nepta has different species that are widely used in the agriculture, medicine, and pharmaceutical industries. A field experiment was conducted in 2015 and 2016 to determine the effects of potassium humate foliar application [0 (control) and 400 ppm] on growth, essential oil and constituents of three Nepta species [Nepeta cataria (catnip), Nepeta cataria var. citriodora (lemon catnip), and Nepeta grandiflora (giant catmint)] under Egyptian conditions. In all three species, the application of potassium humate increased growth indicators, essential oil content (%) and yield (mL/plant), and flavonoids in each of the two harvests. However, the height of giant catmint was significantly higher than that of lemon catnip, which was higher than that of catnip. Lemon catnip that received potassium humate and harvested second gave the highest essential oil content and yield. The major constituents were geraniol and nepetalactone in catnip; citronellol and geraniol in lemon catnip; and o-cymene, c-terpinene, p-cymene and carvacrol in giant catmint. The highest p-cymene in giant catmint, citronellol in lemon catnip, and geraniol in catnip were obtained from the application of potassium humate, while the highest o-cymene, c-terpinene and carvacrol in giant catmint, geraniol in lemon catnip, and nepetalactone in catnip were obtained from control plants. This study demonstrated the variations among species of nepeta, and how they respond to the application of potassium humate. The findings of this study can guide the customization of potassium humate applications to the three species for achieving desired growth and essential oil production outcomes.
Access options
Buy single article
Instant access to the full article PDF.
US$ 39.95
Tax calculation will be finalised during checkout.
Subscribe to journal
Immediate online access to all issues from 2019. Subscription will auto renew annually.
US$ 79
Tax calculation will be finalised during checkout.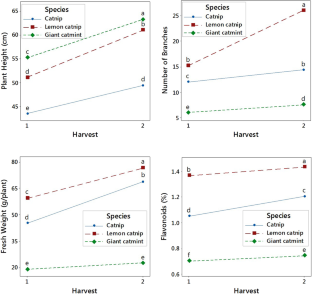 References
Abdel-Salam MM (2016) Effect of foliar Application with humic acid and two antioxidants on ruby seedless grapevine. Middle East J Agric Res 05:123–131

Adams RP (2007) Identification of essential oils components by gas chromatography/quadruple mass spectroscopy, 4th edn. Allured Publishing Corporation, Carol Stream

Araniti F, Lupini A, Mercati F, Statti GA, Abenavoli MR (2013) Calamintha nepeta L. (Savi) as source of phytotoxic compounds: bio-guided fractionation in identifying biological active molecules. Acta Physiol Plant 35:1979–1988

Baranauskiene R, Venskutonis RP, Demyttenaere Jan CR (2003) Sensory and instrumental evaluation of catnip (Nepeta cataria L.) aroma. J Agric Food Chem 51:3840–3848

Basu SK, Acharya SN, Bandara MS, Friebel D, Thomas JE (2009) Effects of genotype and environment on seed and forage yield in fenugreek (Trigonella foenum-graecum L.) grown in western Canada. Aust J Crop Sci 3:305–314

Befrozfar MR, Habibi D, Asgharzadeh A, SadeghiShoae M, Tookalloo MR (2013) Vermicompost, plant growth promoting bacteria and humic acid can affect the growth and essence of basil (Ocimum basilicum L.). Ann Biol Res 4:8–12

Bohm AB, Koupai-Abyazani MR (1994) Flavonoids and condensed tannins from leaves of Hawaiian Vaccinium reticulatum and V. calycinum (Ericaceae). Pac Sci 48:458–463

Boira H, Blanquer A (1998) Environmental factors affecting chemical variability of essential oils in Thymus piperella L. Biochem Syst Ecol 26:811–822

Bosabalidis AM (2002) Structural features of Origanum sp. In: Kintzios SE (ed) Oregano. The genera Origanum and Lippia. Taylor and Francis, London, pp 11–64

Bourrel C, Perineau F, Michel G, Bessiere JM (1993) Catnip (Nepeta cataria L.) essential oil: analysis of chemical constituents, bacteriostatic and fungistatic properties. J Essent Oil Res 5:159–167

Bowes KM, Zheljazkov VD (2004) Factors affecting yields and essential oil quality of Ocimum sanctum L. and Ocimum basilicum L. cultivars. J Amer Soc Hort Sci 129:789–794

Bowes KM, Zheljazkov VD (2005) Essential oil yields and quality of fennel grown in Nova Scotia. HortScience 39:1640–1643

Chalchat JC, Lamy J (1997) Chemical composition of the essential oil isolated from wild catnip Nepeta cataria L. cv. citriodora from the Drome region of France. J Essent Oil Res 9:527–532

El-Sayed AA, El-Hanafy SH, El-Ziat RA (2015) Effect of chicken manure and humic acid on herb and essential oil production of Ocimum sp. Am Eurasian J Agric Environ Sci 15:367–379

Eyheraguibel B, Silvestre J, Morard P (2008) Effects of humic substances derived from organic waste enhancement on the growth and mineral nutrition of maize. Bioresour Technol 99:4206–4212

Grognet J (1990) Catnip: its uses and effects, past and present. Can Vet J 31:455–456

Handjieva NV, Popov SS, Evstatieva LN (1996) Constituents of essential oils from Nepeta cataria L., N. grandiflora M.B. and N. nuda L. J Essent Oil Res 8:639–643

Hegazy MH, Alzuaibr FMA, Mahmoud AA, Mohamed HFY, Said-Al Ahl HAH (2016) The effects of zinc application and cutting on growth, herb, essential oil and flavonoids in three medicinal Lamiaceae plants. Eur J Med Plants 12(3):1–12

Jackson ML (1973) Soil chemical analysis. Prentice–Hall of India, New Delhi, pp 144–197

Juárez CR, Craker LE, Mendoza NSR, Aguilar-Castillo JA (2011) Humic substances and moisture content in the production of biomass and bioactive constituents of Thymus vulgaris L. Rev Fitotec Mex 34:183–188

Kizil S (2010) Determination of essential oil variations of Thymbra spicata var spicata L. naturally growing in the wild flora of East Mediterranean and Southeastern Anatolia regions of Turkey. Ind Crop Prod 32(3):593–600

Klimek B, Modnicki D (2005) Terpenoids and sterols from Nepeta cataria L. var. citriodora (Lamiaceae). Acta Pol Pharm 62:231–235

Kolalite MR (1998) Comparative analysis of ultrastructure of glandular trichomes in two Nepeta cataria chemotypes. Nord J Bot 18(5):589–598

Kothari SK, Bhattacharya AK, Ramesh S (2004) Essential oil yield and quality of methyl eugenol rich Ocimum tenuiflorum L.f. (syn. O. sanctum L.) grown in south India as influenced by method of harvest. J Chromatogr 1054(1–2):67–72

Langton FA, Adams SR, Cockshull KE (2003) Effects of photoperiod on leaf greenness of four bedding plant species. J Hortic Sci Biotechnol 78(3):400–404

Letchamo W, Xu HL, Gosseline A (1995) Variation in photosynthesis and essential oil in thyme. J Plant Physiol 147:29–37

Loziene K, Venskutonis PR (2005) Influence of environmental and genetic factors on the stability of essential oil composition of Thymus pulegioides. Biochem Syst Ecol 33:517–525

Mahmoud AA, Gendy AS, Said-Al Ahl HAH, Grulova D, Astatkie T, Abdelrazik TM (2018) Impacts of harvest time and water stress on the growth and essential oil components of horehound (Marrubium vulgare). Sci Hort 232:139–144

Malizia RA, Molli JS, Cardell DA, Retmar JA (1996) Volatile constituents of the essential oil of Nepeta cataria L. grown in Cordoba province Argentina. J Essent Oil Res 8(5):565–567

Masada Y (1976) Analysis of essential oils by gas chromatography and mass spectrometry. Wiley, New York

Miquel JD, Richard HMJ, Sandret FG (1976) Volatile constituents of Moroccan thyme oil. J Agric Food Chem 24:833–835

Montgomery DC (2017) Design and analysis of experiments, 9th edn. Wiley, New York

Morteza-Semnani K, Saeed M (2004) Essential oils composition of Nepeta cataria L. and Nepeta crassifolia Boiss. and Buhse from Iran. J Essent Oil Bear Pl 7(2):120–124

Rahimmalek M, Bahreininejad B, Khorrami M, Sayed Tabataei BE (2009) Genetic variability and geographical differentiation in Thymus daenensis subsp. daenensis Cleak, an endangered aromatic and medicinal plant as revealed by inter simple sequence repeat (ISSR) markers. Biochem Genet 47:831–842

Rauthan BS, Schnitzer M (1981) Effects of soil fulvic acid on the growth and nutrient content of cucumber (Cucumis sativus) plants. Plant Soil 63:491–495

Sabra AS, Astatkie T, Alataway A, Mahmoud AA, Gendy ASH, Said-Al Ahl HAH, Tkachenko KG (2018) Response of biomass development, essential oil and composition of Plectranthus amboinicus to irrigation frequency and harvest time. Chem Biodivers 15(3):e1800005. https://doi.org/10.1002/cbdv.201800005

Said-Al Ahl HAH, Hussein MS (2010) Effect of water stress and potassium humate on the productivity of oregano plant using saline and fresh water irrigation. Ozean J Appl Sci 3(1):125–141

Said-Al Ahl HAH, Hussien MS (2016) Effect of drying period and harvesting times on herb, essential oil content and its constituent's from different parts of Melissa officinalis. J Chem Pharm Res 8(5):919–933

Said-Al Ahl HAH, Gendy EL, Omer AG EA (2016a) Humic acid and indole acetic acid affect yield and essential oil of dill grown under two different locations in Egypt. Int J Pharm Pharm Sci 8(8):146–157

Said-Al Ahl HAH, Sabra AS, Hegazy MH (2016b) Salicylic acid improves growth and essential oil accumulation in two Nepeta cataria chemotypes under water stress conditions. Ital J Agrometeorol 21(1):25–36

SAS Institute Inc (2014) SAS/STAT 9.4 user's guide. SAS Institute Inc., Cary

Tucker AO, Tucke SS (1988) Catnip and the catnip response. Econ Bot 42:214–231

Varshney SC (1991) Agro-technology with respect to quality control of essential oils. Indian Perfumer 35(4):241–247

Weiss EA (1997) Essential oil crops. Centre for Agriculture and Biosciences (CAB) International, New York

Weryszko-Chmielewska E, Chwil M (2002) Blooming and nectar secretion of Nepeta grandiflora Bieb. Under the condition of lead excess. J Api Sci 46(1):59–65

Wojciak-Kosior M, Paduch R, Matysik-Woz´niak A, Niedziela P, Donica H (2011) The effect of ursolic and oleanolic acids on human skin fibroblast cells. Folia Histochem Cytobiol 49:664–669

Yang CM, Wang MH, Lu YF, Chang IF, Chou CH (2004) Humic substances affect the activity of chlorophyllase. J Chem Ecol 30:1057–1065
Additional information
Communicated by F. Araniti.
About this article
Cite this article
Mohamed, H.F.Y., Mahmoud, A.A., Alatawi, A. et al. Growth and essential oil responses of Nepeta species to potassium humate and harvest time. Acta Physiol Plant 40, 204 (2018). https://doi.org/10.1007/s11738-018-2778-5
Received:

Revised:

Accepted:

Published:
Keywords
Essential oil

Nepeta cataria
Nepeta cataria var. citriodora
Nepeta grandiflora

Flavonoids

Geraniol