Abstract
The present study investigated the role of sugar beet extract (SBE) as a bio-stimulant to ameliorate the adverse effects of drought on seed germination and growth of wheat (Triticum aestivum L.). Different concentrations of SBE (0, 10, 20, 30, 40 and 50%) were used for priming the wheat seeds. The experiment was conducted in laboratory (PEG-8000 was used to create water stress) as well as under natural environmental conditions (using soil with 100 and 60% field capacity). Significant ameliorating effects of seed priming with SBE were recorded on different germination attributes, i.e., time to 50% emergence (E50), germination index (GI), mean emergence time (MET), germination percentage (G%), coefficient of uniformity of emergence (CUE) and germination energy (GE) under water stress. Without priming, the plants exhibited symptoms of water stress like decreased biomass, reduction in photosynthetic pigments, e.g., chlorophyll, carotenoids. Seed pre-conditioning with SBE improved the plant growth, photosynthetic pigments, antioxidants' activities and nutrient homeostasis of plants facing water deficit and grown under well-watered conditions. The maximum increase in biomass, content of chlorophyll, carotenoids and activities of superoxide dismutase (SOD) and peroxidase (POD) was 13.4, 8.5, 11.9, 7.6, 13.6, 42.0, 19.8%, respectively, with SBE seed priming under water stress. In conclusion, SBE seed priming effectively reduced the negativities of water stress on seed germination which resulted in better plant growth in terms of enhanced biomass, photosynthetic pigments, antioxidant defense mechanism and better nutrient homeostasis. Overall, the findings suggest that seed pre-conditioning with SBE as a bio-stimulant will be helpful for better crop stand establishment under low field capacity, especially in semi-arid and arid agricultural fields.
Access options
Buy single article
Instant access to the full article PDF.
US$ 39.95
Tax calculation will be finalised during checkout.
Subscribe to journal
Immediate online access to all issues from 2019. Subscription will auto renew annually.
US$ 79
Tax calculation will be finalised during checkout.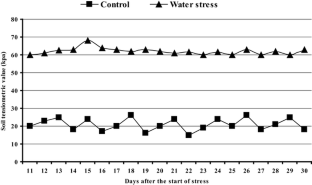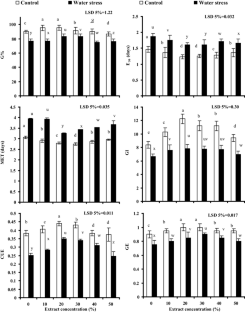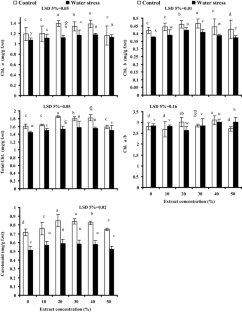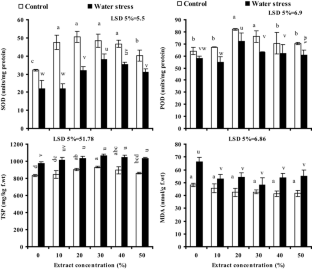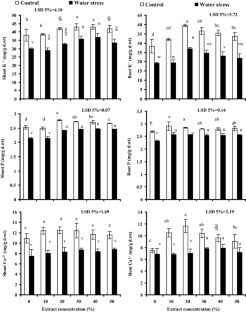 References
Abbas W, Ashraf M, Akram NA (2010) Alleviation of salt-induced adverse effects in eggplant (Solanum melongena L) by glycine betaine and sugar beet extracts. Sci Hort 125(3):188–195

Aldesuquy HS, Abbas MA, Hamed AA (2012) Glycine betaine and salicylic acid induced modification in productivity of two different cultivars of wheat grown under water stress. J Stress Physiol Biochem 8(2):72–89

Ali MA, Abbas A, Awan SI, Jabran K, Gardezi SDA (2011) Correlated response of various morpho-physiological characters with grain yield in sorghum landraces at different growth phases. J Anim Plant Sci 21:671–679

Ali Q, Haider MZ, Iftikhar W, Jamil S, Javed MT, Noman A, Iqbal M, Perveen R (2016) Drought tolerance potential of Vigna mungo L. lines as deciphered by modulated growth, antioxidant defense, and nutrient acquisition patterns. Braz J Bot 39(3):801–808

Ali Q, Javed MT, Noman A, Haider MZ, Waseem M, Iqbal N, Perveen R (2018) Assessment of drought tolerance in mung bean cultivars/lines as depicted by the activities of germination enzymes, seedling's antioxidative potential and nutrient acquisition. Arch Agron Soil Sci 64(1):84–102

Ansari O, Zadeh FS (2012) Osmo and hydro priming mediated germination improvement under cold stress conditions in mountain rye (Secale montanum). Agron Res Mold 3(151):53–62

Arjenaki FG, Dehaghi MA, Jabbari R (2011) Effects of priming on seed germination of Marigold (Calendula officinalis). Adv Environ Biol 5:276–280

Arnon DI (1949) Copper enzymes in isolated chloroplast Polyphenoloxidase in Beta vulgaris. Plant Physiol 24:1–15

Arshad M, Ali S, Noman A, Ali Q, Rizwan M, Farid M, Irshad MK (2015) Phosphorus amendment decreased cadmium (Cd) uptake and ameliorates chlorophyll contents, gas exchange attributes, antioxidants, and mineral nutrients in wheat (Triticum aestivum L.) under Cd stress. Arch Agron Soil Sci 62(4):533–546

Ashraf M (2011) Induction of drought tolerance in maize (Zea mays L.) due to exogenous application of trehalose: growth, photosynthesis, water relations and oxidative defense mechanism. J Agron Crop Sci 197:258–271

Backer H, Frank O, De Angells B, Feingold S (1980) Plasma tocopherol in man at various times after ingesting free or ocetylaned tocopherol. Nut Rep Int 21:531–536

Baenas N, García-Viguera C, Moreno DA (2014) Elicitation: A tool for enriching the bioactive composition of foods. Mol 19:13541–13563

Bibi A, Sadaqat HA, Tahir MHN, Akram HM (2012) Screening of sorghum (Sorghum bicolor var moench) for drought tolerance at seedling stage in polyethylene glycol. J Anim Plant Sci 22:671–678

Bushra S, Farooq A, Muhammad A (2009) Effect of extraction solvent/technique on the antioxidant activity of selected medicinal plant extracts. Mol 14:2167–2180

Camak I, Horst WJ (1991) Effect of aluminum on lipid peroxidation, superoxide dismutase, catalase and peroxidase activities in root tips of soyabean (Glycine max). Physiol Plant 83:463–468

Canas RA, Canovas FM, Canton FR (2006) High levels of asparagines synthetase in hypocotyls of pine seedlings suggest a role of the enzyme in re-allocation of seed-stored nitrogen. Planta 224:83–89

Chance B, Maehly AC (1955) Assay of catalase and peroxidase. Meth Enzymol 2:764–775

Chen THH, Murata N (2008) Glycine betaine, an effective protectant against a biotic stress in plants. Trends Plant Sci 13:499–505

Chimenti CA, Pearson J, Hall AJ (2002) Osmotic adjustment and yield maintenance under drought in sunflower. Field Crops Res 10:235–246

Colla G, Rouphael Y (2015) Biostimulants in horticulture. Sci Hort 196:1–2

Coolbear P, Francis A, Grierson D (1984) The effect of low temperature pre-sowing treatment under germination performance and membrane integrity of artificially aged tomato seeds. J Exp Bot 35:1609–1617

DENG X, FU F, NI N, LI W (2009) Differential gene expression in response to drought stress in maize seedling. Agri Sci China 8(7):767–776

Du Jardin P (2015) Plant biostimulants: Definition, concept, main categories and regulation. Sci Hort 196:3–14

Ellis RA, Roberts EH (1981) The qualification of aging and survival in orthodox seeds. Seed Sci Technol 9:373–409

Farooq M, Irfan M, Aziz T, Ahmad I, Cheema SA (2013) Seed priming with ascorbic acid improves drought resistance of wheat. J Agron Crop Sci 199(1):12–22

Garcia-Mina JM, Hadavi E (2016) Editorial: Organic-based foliar biostimulation and nutrition in plants. Front Plant Sci 6:11–31

Ge TD, Sun NB, Bai LP, Tong CL, Sui FG (2012) Effect of drought stress on phosphorous and potassium uptake dynamics in summer maize (Zea mays) throughout the growth cycle. Acta Physiol Plant 34:2179–2186

Giannopolitis CN, Ries SK (1977) Superoxide dismutases occurrence in higher plants. Plant Physiol 59:309–314

Giri J (2011) Glycine betaine and abiotic stress tolerance in plants. Plant Signal Behav 6(11):1746–1751

Gitelson AA, Merzlyak MN (2004) Non-destructive assessment of chlorophyll carotenoid and anthocyanin content in higher plant leaves. Principles and Algorithms Papers in Natural Resources 263

Graf BL, Rojas-Silva P, Rojo LE, Delatorre-Herrera J, Baldeon ME, Raskin I (2015) Innovations in health value and functional food development of Quinoa (Chenopodium quinoa Willd.). Comp Rev Food Sci Food Safe 14:434–439

Grieve CM, Grattan SR (1983) Rapid assay for the determination of water soluble quaternary ammonium compounds. Plant Soil 70:303–307

Habib N, Ashraf M, Ali Q, Perveen R (2012) Response of salt stressed okra (Abelmoschus esculentus Moench.) plants to foliar-applied glycine betaine and glycine betaine containing sugar beet extract. South Afr J Bot 83:151–158

Hammad SAR, Ali OAM (2014) Physiological and biochemical studies on drought tolerance of wheat plants by application of amino acids and yeast extract. Ann Agric Sci 59(1):133–145

Hasheminasab H, Assad MT, Aliakbari A, Sahhafi SR (2012) Influence of drought stress on oxidative damage and antioxidant defense systems in tolerant and susceptible wheat genotypes. J Agric Sci 4(8):20–30

Jaleel CA, Gopi R, Sankar B, Gomathinayagam M, Panneerselvam R (2008) Differential responses in water use efficiency in two varieties of Catharanthus roseus under drought stress. C R Biol 331(1):42–47

Jamil S, Ali Q, Iqbal M, Iftikhar W, Shahzad F, Javed MT, Perveen R (2015) Modulations in plant water relations and tissue specific osmoregulation by foliar-applied ascorbic acid and the induction of salt tolerance in maize plants. Braz J Bot 38(3):527–538

Khalid N, Noman A, Sanaullah T, Akram MA, Aqeel M (2018) Vehicle pollution toxicity induced changes in physiology, defence system and biochemical characteristics of Calotropis procera L. Chem Ecol. https://doi.org/10.1080/02757540.2018.1452917

Loggini B, Scartazza A, Brugnoli E, Navari-Izzo F (1999) Antioxidative defense system, pigment composition, and photosynthetic efficiency in two wheat cultivars subjected to drought. Plant Physiol 119(3):1091–1100

Lowry OH, Rosebrough NJ, Farr AL, Randall RJ (1951) Protein measurement with the folin phenol reagent. J Biol Chem 193:265–275

Makela P (2004) Agro-industrial uses of glycine betaine. Sugar Tech 6(4):207–212

Mollern IM, Jensen PE, Hansson A (2007) Oxidative modifications to cellular components in plants. Ann Rev Plant Biol 58:459–481

Muscolo A, Sidari M, Anastasi U, Santonoceto C. Maggio A (2014) Effect of PEG-induced drought stress on seed germination of four lentil genotypes. J Plant Int 9(1):354–363

Naidu BP, Morris PR, Cameron DF (1996) Treatment with glycine betaine to increase seed germination, seedling vigour and yield of cotton. Proceedings of the 8th Australian Cotton Conference, Broad beach, pp 677–681

Nilsson T (1970) Studies into the pigments in beetroot (Beta vulgaris L. ssp. Vulgaris var. Rubra L.) Antbrukshõgskolans. Annaler 36:179–219

Noman A, Aqeel M (2017) miRNA-based heavy metal homeostasis and plant growth. Environ Sci Poll Res. https://doi.org/10.1007/s11356-017-8593-5

Noman A, Ali Q, Naheed F, Farid M, Rizwan M. Irshad MK (2015) Foliar application of ascorbate enhances the physiological and biochemical attributes of maize (Zea mays L.) cultivars under drought stress. Arch Agron Soil Sci 61(12):1659–1672

Noman A, Fahad S, Aqeel M, Ali U, Ullah A, Anwer S, Khan S, Zainab M (2017) miRNAs: major modulators for crop growth and development under abiotic stresses. Biotechnol Lett DOI. https://doi.org/10.1007/s10529-017-2302-9

Noman A, Ali Q, Maqsood J, Iqbal N, Javed MT, Rasool N, Naseem J (2018) Deciphering physio-biochemical, yield, and nutritional quality attributes of water-stressed radish (Raphanus sativus L.) plants grown from Zn-Lys primed seeds. Chemosphere 195:175–189

Patane C, Saita A, Sortino O (2013) Comparative effects of salt and water stress on seed germination and early embryo growth in two cultivars of sweet sorghum. J Agron Crop Sci 199:30–37

Rizwan M, Ali S, Hussain A, Ali Q, Shakoor MB, Zia-ur-Rehman M, Asma M (2017) Effect of zinc-lysine on growth, yield and cadmium uptake in wheat (Triticum aestivum L.) and health risk assessment. Chemosphere 187:35–42

Ruan S, Xue Q, Tylhowska K, Murata N (2002) The influence of priming on germination of rice (Oryza sativa L.) seeds and seedlings emergence and performance in flooded soils. Seed Sci Technol 30:61–67

Sakamoto A (2002) The role of glycine betaine in the protection of plants from stress, clues from transgenic plants. Plant Cell Environ 25:163–171

Shafei S (2005) Study on water shortage effect at some of physiological traits, yield and yield components in some genotypes of soybean MSc. thesis Faculty of Agriculture and Natural Resources, Karaj-Branch, Islamic Azad University

Shirasawa K, Takabe T, Kishitani S (2006) Accumulation of glycine betaine in rice plants that overexpress choline monooxygenase from spinach and evaluation of their tolerance to abiotic stress. Ann Bot 98:565–71

Singh G, Chaudhary H (2006) Selection parameters and yield enhancement of wheat (Triticum aestivum L.) under different moisture stress condition. Asia J Plant Sci 5:894–898

Singh H, Jassal RK, Kang JS, Sandhu SS, Kang H, Grewal K (2015) Seed priming techniques in field crops-A review. Agri Rev 36(4):251–264

Sticklen MB (2008) Plant genetic engineering for biofuel production: towards affordable cellulosic ethanol. Nat Rev Genet 9:433–443

Treutter D (2005) Significance of flavonoids in plant resistance and enhancement of their biosynthesis. Plant Biol 7:581–591

Wang GP, Li F, Zhang J, Zhao MR, Hui Z, Wang W (2010) Over-accumulation of glycine betaine enhances tolerance of the photosynthetic apparatus to drought and heat stress in wheat leaves in the protection of photosynthesis. Photosynthetica 48(1):30–41

Wang M, Zheng Q, Shen Q, Guo S (2013) The critical role of potassium in plant stress response. Int J Mol Sci 14(4):7370–7390

Waseem M, Athar HR, Ashraf M (2006) Effect of salicylic acid applied through rooting medium on drought tolerance of wheat. Pak J Bot 38(4):1127–1136

Wolf B (1982) A comprehensive system of leaf analysis and its use for diagnosing crop nutrient status. Comm Soil Sci 13:1035–1059

Yasmeen A, Basra SMA, Wahid A, Nouman W (2013) Exploring the potential of Moringa oleifera leaf extract (MLE) as a seed priming agent in improving wheat performance. Turk J Bot 37(3):512–520

Zafar S, Ashraf MY, Anwar S, Ali Q, Noman A (2016) Yield enhancement in wheat by soil and foliar fertilization of K and Zn under saline environment. Soil Environ 35(1):46–55

Zaynab M, Kanwal S, Furqan M, Islam W, Noman A, Ali GM, Rehman N, Zafar S, Sughra K, Jahanzab M (2017) Proteomic approach to address low seed germination in Cyclobalnopsis gilva. Biotechnol Lett 39(10):1441–1451

Zhang Q, Rue K (2014) The effect of glycine betaine priming on seed germination of six turfgrass species under drought, salinity, or temperature stress. Hort Sci 49(11):1454–1460

Zhao XX, Ma QQ, Liang C, Wang YQ, Wang W (2007) Effect of glycine-betaine on function of thylakoid membranes in wheat flag leaves under drought stress. Biol Plant 51:584–588

Zhu XC, Song FB, Liu SQ, Liu TD, Zhou X (2012) Arbuscular mycorrhizae improves photosynthesis and water status of Zea mays L under drought stress. Plant Soil Environ 58:186–191
Additional information
Communicated by F Araniti.
About this article
Cite this article
Noman, A., Ali, Q., Naseem, J. et al. Sugar beet extract acts as a natural bio-stimulant for physio-biochemical attributes in water stressed wheat (Triticum aestivum L.). Acta Physiol Plant 40, 110 (2018). https://doi.org/10.1007/s11738-018-2681-0
Received:

Revised:

Accepted:

Published:
Keywords
Biomass

Oxidative stress

Photosynthetic pigments

Seed priming

Seed germination.