Abstract
Ruscus hypophyllum L. is a rare Mediterranean plant which is used in the traditional medicine. We studied its phenolic content and in vitro toxicity and genotoxicity using the neutral red uptake (NRU) test, the bacterial Vitotox test, and the comet assay in human C3A hepatic cells. Aqueous leaf and fruit extracts were investigated. Antigenotoxicity against 4-nitroquinoline-oxide (4NQO, 0.4 µg/mL) and Benzo(α)pyrene (BaP, 800 µg/mL) was also investigated with the Vitotox test. The extracts appeared to be genotoxic only at high exposure levels in the comet assay. There was no indication of a genotoxic activity in the Vitotox test and also no indication of antigenotoxicity. The moderate polyphenol content may provide an explanation for the absence of antigenotoxicity.
Access options
Buy single article
Instant access to the full article PDF.
US$ 39.95
Tax calculation will be finalised during checkout.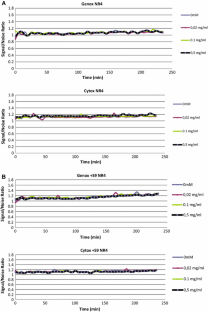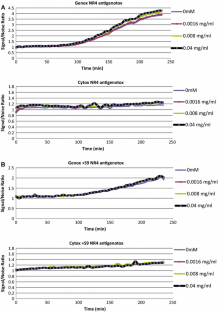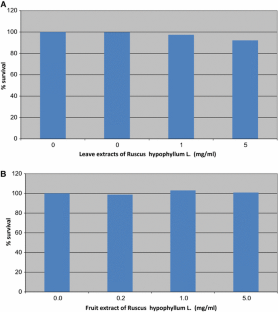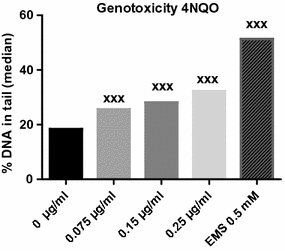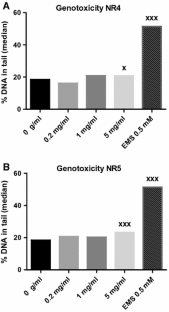 References
Ames BM (1983) Dietary carcinogens and anticarcinogens oxygen radical and degenerative diseases. Science 221:1256–1263

Avila MA, Velasco JA, Cansado J, Notario V (1994) Quercetin mediates the down-regulation of mutant p53 in the human breast cancer cell line MDA-MB468. Cancer Res 54:2424–2428

Borenfreund E, Puerner JA (1985) Toxicity determination in vitro by morphological alterations and neutral red absorption. Toxicol Lett 24:119–124

Casagrande F, Darbon JM (2000) Effects of structurally related flavonoids on cell cycle progression of human melanoma cells: regulation of cyclin-dependent kinases CDK2 and CDK1. Biochem Pharmacol 61:1205–1215

Constantinou AI, Kamath N, Murley JS (1998) Genistein inactivates bcl-2, delays the G2/M phase of the cell cycle, and induces apoptosis of human breast adenocarcinoma MCF-7 cells. Eur J Cancer 34:1927–1934

Dewanto V, Wu X, Adom KK, Liu RH (2002) Thermal processing enhances the nutritional value of tomatoes by increasing total antioxidant activity. J Agric Food Chem 50:3010–3014

Edziri H, Mastouri M, Mahjoub MA, Patrich G, Matieu M, Ammard S, Alid SM, Laurent G, Zine M, Aouni M (2010) Antibacterial, antiviral and antioxidant activities of aerial part extracts of Peganum harmala growing in Tunisia. Toxicol Environ Chem 92:1283–1292

Edziri H, Mastouri M, Mahjoub MA, Ammar S, Zine M, Laurent G, Aouni M (2011a) Antiviral activity of leaves extracts of Marrubium alysson L. J Med Plant Res 5:360–363

Edziri H, Mastouri M, Mahjoub A, Anthonissen R, Mertens B, Cammaerts S, Gevaert L, Verschaeve L (2011b) Toxic and mutagenic properties of extracts from Tunisian traditional medicinal plants investigated by the neutral red uptake-, VITOTOX- and alkaline comet assays. S Afr J Bot 77:703–710

Ehtesham-Gharaee M, Eshaghi A, Shojaee S, Asili J, Emami SA, Behravan J, Mosaffa F (2015) Protective effects of Scutellaria lindbergii root extract against oxidative-induced cell and DNA damage in mouse fibroblast-like cells. Drug Chem Toxicol 38:293–299

Elliger GA, Henika PR, MacGregor JT (1984) Mutagenicity of flavones, chromones and acetophenones in Salmonella typhimurium. New structure–activity relationships. Mutat Res 135:77–86

Ferry DR, Smith A, Malkhandi J, Fyfe DW, deTakats PG, Anderson D (1996) Phase I clinical trial of the flavonoids quercetin: pharmacokinetics and evidence for in vivo tyrosine kinase inhibition. Clin Cancer Res 2:659–668

Hadžifejzović N, Kukić-Marković J, Petrović S, Soković M, Glamočlija J, Stojković D, Nahrstedt A (2013) Bioactivity of the extracts and compounds of Ruscus aculeatus L. and Ruscus hypoglossum L. Ind Crop Prod 49:407–411

Hertog MG, Feskeens EJ, Hollman CH, Katan MB, Kromhout D (1993) Dietary antioxidant flavonoids and risk of coronary heart disease: de Zutphen elderly study. Lancet 342:100711

Kültür S (2007) Medicinal plants used in Kirklareli Province (Turkey). J Ethnopharmacol 111:341–364

Kumaravel TS, Jha AN (2006) Reliable comet assay measurements for detecting DNA damage induced by ionising radiation and chemicals. Mutat Res 605:7–16

Mabberley DJ (1997) The plant book: a portable dictionary of the vascular plants. Cambridge University Press, Cambridge

Mihailovic V, Matic S, Mišic D, Solujic S, Stanic S, Katanic J, Mladenovic M, Stankovic N (2013) Chemical composition, antioxidant and antigenotoxic activities of different fractions of Gentiana asclepiadea L. roots extract. EXCLI J 12:807–823

Nagao M, Morita N, Yahagi T, Shimizu M, Kuroyanag M, Fukuoka M (1981) Mutagenicities of 61 flavonoids and 11 related compounds. Environ Mutagen 3:401–419

Repetto G, Del Peso A, Zurita JL (2008) Neutral red uptake assay for the estimation of cell viability/cytotoxicity. Nat Protoc 3:1125–1131

Ribeiro JC, Antunes LM, Aissa AF, Darin JD, De Rosso VV, Mercadante AZ, Bianchi MDL (2010) Evaluation of the genotoxic and antigenotoxic effects after acute and subacute treatments with açai pulp (Euterpe oleracea Mart.) on mice using the erythrocytes micronucleus test and the comet assay. Mutat Res 695:22–28

Sghaier MB, Skandrania I, Nasra N, Dijoux FM-G, Chekir-Ghedira L, Ghedira K (2011a) Flavonoids and sesquiterpenes from Tecurium ramosissimum promote anti proliferation of human cancer cells and enhance antioxidant activity: a structure–activity relationship study. Environ Toxicol Pharmacol 32:336–348

Sghaier MB, Boubaker J, Skandrania I, Bouhlel I, Limen I, Ghedira K, Chekir-Ghedira L (2011b) Antimutagenic, antigenotoxic and antioxidant activities of phenolic-enriched extracts from Teucrium ramosissimum: combination with their phytochemical composition. Environ Toxicol Pharmacol 32:220–232

Singleton VL, Rosi JA (1965) Colorimetry of total phenolics with phosphomolybdic–phosphotungstic acid reagents. Am J Enol Vitic 16:144–158

Taruscio G, Barney DL, Exon J (2004) Content and profile of flavonoids and phenolic acid compounds in conjunction with antioxidant capacity for a variety of Northwest Vaccinium berries. J Agric Food Chem 52:3169–3176

Tice RR, Agurell E, Anderson D, Burlinson B, Hartmann A, Kobayashi H, Miyamae Y, Rojas E, Ryu J-C, Sasaki YF (2000) Single cell gel/comet assay: guidelines for in vitro and in vivo genetic toxicology testing. Environ Mol Mutagen 35:206–221

Tuzlaci E, Aymaz PE (2001) Turkish folk medicinal plants, Part IV: Gönen (Balike-sir). Fitoterapia 72:323–343

Verschaeve L (2005) The VITOTOX® genotoxicity test. In: Pandali SG (ed) Recent research developments in applied microbiology and biotechnology. Research Signpost, Trivandrum, pp 33–49

Verschaeve L (2013) High-throughput bacterial mutagenicity testing: Vitotox™ assay. In: Steinberg P (ed) High throughput screening methods in toxicity testing. Wiley, Hoboken, pp 213–232

Verschaeve L (2015) Investigations of plant-derived products with the in vitro comet assay. In: Front Genetic conference abstract: ICAW 2015—11th international comet assay workshop. doi:10.3389/conf.fgene.2015.01.00073

Verschaeve L, Van Gompel J, Regniers L, Van Parys P, van der Lelie D (1999) VITOTOX® genotoxicity and toxicity test for the rapid screening of chemicals. Environ Mol Mutagen 33:240–248

Verschaeve L, Mertens B, Nhlala AR, Anthonissen R, Gorissen B, Van Staden J (2013) Investigation of the genotoxicity of water extracts from Hypoxis species and a commercially available hypoxis preparation. Phytother Res 27:350–356

Westerink WMA, Stevenson JCR, Lauwers A, Griffioen G, Horbach GJ, Schoonen WGEJ (2009) Evaluation of the Vitotox™ and RadarScreen assays for the rapid assessment of genotoxicity in the early research phase of drug development. Mutat Res 676:113–130

Yeo PF (1968) A contribution to the taxonomy the genus Ruscus. Notes R Bot Garden Edinburgh 28:237–269

Zhu BT, Lier JG (1994) Quercetin increases the severity of estradiol-induced tumorigenesis in hamster kidney. Toxicol Appl Pharmacol 125:149–158
Acknowledgements
This work was supported by the faculty of Pharmacy (Laboratory of Transmissible Diseases and biological Active Substances) of the University of Monastir.
Ethics declarations
Conflict of interest
The authors declare that they have no conflict of interest.
Additional information
Communicated by MJ Reigosa.
About this article
Cite this article
Verschaeve, L., Edziri, H., Anthonissen, R. et al. In vitro toxicity and genotoxic activity of aqueous leaf and fruit extracts of Ruscus hypophyllum L.. Acta Physiol Plant 39, 206 (2017). https://doi.org/10.1007/s11738-017-2505-7
Received:

Revised:

Accepted:

Published:
Keywords
Ruscus hypophyllum L.

Phenolic content

Genotoxicity

Antigenotoxicity

Vitotox test

Comet assay