Abstract
The study was conducted to assess whether selenium (Se) application modulates fertility to alter grain yield in bread wheat grown under different moisture regimes. Seeds of wheat cultivar Millat-2011 were sown in the plots using a randomized complete block design with three replicates per treatment. After germination, the plants were exposed to six moisture regimes, viz. no irrigation after germination, irrigation at boot stage, irrigations at boot and grain-filling stages, irrigations at crown root, boot and grain-filling stages, irrigations at crown root, boot, heading and grain-filling stages and irrigations at crown root, stem elongation, boot, heading and grain-filling stages. At the heading stage, foliar spray of sodium selenate (0, 2 and 4 mg Se L−1) was done. Withholding water at early growth stages significantly increased oxidative stress and decreased growth and grain yield. Irrespective of moisture regimes, foliar application of Se (2 mg L−1) decreased oxidative stress, modulated photosynthetic pigments and fertility and increased grain yield in wheat. The Se-mediated increase in grain yield was attributed to the increase in chlorophyll and ascorbic acid contents and fertility coupled with decrease of oxidative stress under different moisture regimes. The results could be helpful to manage wheat production in the semi-arid environments.
Access options
Buy single article
Instant access to the full article PDF.
US$ 39.95
Tax calculation will be finalised during checkout.
Subscribe to journal
Immediate online access to all issues from 2019. Subscription will auto renew annually.
US$ 79
Tax calculation will be finalised during checkout.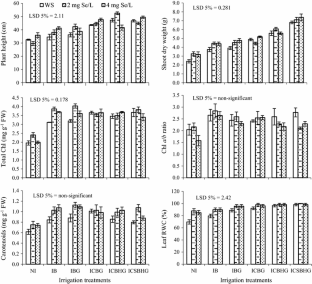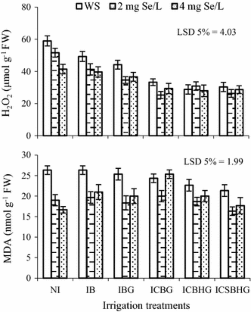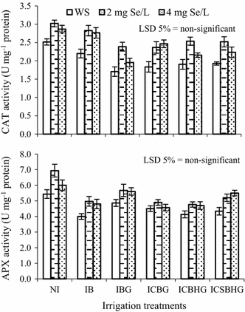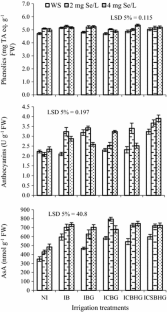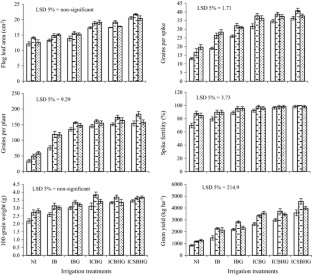 References
Abid M, Tian Z, Ata-Ul-Karim ST, Liu Y, Cui Y, Zahoor R, Jiang D, Dai T (2016) Improved tolerance to post-anthesis drought stress by pre-drought priming at vegetative stages in drought-tolerant and -sensitive wheat cultivars. Plant Physiol Biochem 106:218–227. doi:10.1016/j.plaphy.2016.05.003

Aebi H (1984) Catalase in vitro. Methods Enzymol 105:121–126. doi:10.1016/S0076-6879(84)05016-3

Anjum F, Yaseen M, Rasool E, Wahid A, Anjum S (2003) Water stress in barley (Hordeum vulgare L.). I. Effect on morphological characters. Pak J Agri Sci 40:43–44

Anwar S, Iqbal M, Raza SH, Iqbal N (2013) Efficacy of seed preconditioning with salicylic and ascorbic acid in increasing vigor of rice (Oryza sativa L.) seedling. Pakistan J Bot 45:157–162

Arnon DI (1949) Copper enzymes in isolated chloroplasts. Polyphenol oxidase in Beta vulgaris. Plan Physiol 24:1–15

Asada K, Takahashi M (1987) Production and scavenging of active oxygen in chloroplasts. In: Kyle DJ, Osmond CB, Arntzen CJ (eds) Photoinhibition. Elsevier Science Pub. Co., London, pp 227–287

Ashraf MA, Rasheed R, Hussain I, Iqbal M, Haider MZ, Parveen S, Sajid MA (2014) Hydrogen peroxide modulates antioxidant system and nutrient relation in maize (Zea mays L.) under water-deficit conditions. Arch Agron Soil Sci 61:507–523. doi:10.1080/03650340.2014.938644

Asseng S, Foster I, Turner NC (2011) The impact of temperature variability on wheat yields. Glob Chang Biol 17:997–1012. doi:10.1111/j.1365-2486.2010.02262.x

Barr H, Weatherley P (1962) A re-examination of the relative turgidity technique for estimating water deficit in leaves. Aust J Biol Sci 15:413–428

Bradford MM (1976) A rapid and sensitive method for the quantitation of microgram quantities of protein utilizing the principle of protein-dye binding. Anal Biochem 72:248–254. doi:10.1016/0003-2697(76)90527-3

Cartes P, Gianfreda L, Mora ML (2005) Uptake of selenium and its antioxidant activity in ryegrass when applied as selenate and selenite forms. Plant Soil 276:359–367. doi:10.1007/s11104-005-5691-9

Cheynier V, Comte G, Davies KM, Lattanzio V, Martens S (2013) Plant phenolics: recent advances on their biosynthesis, genetics, andecophysiology. Plant Physiol Biochem 72:1–20. doi:10.1016/j.plaphy.2013.05.009

Chu J, Yao X, Zhang Z (2010) Responses of wheat seedlings to exogenous selenium supply under cold stress. Biol Trace Elem Res 136:355–363. doi:10.1007/s12011-009-8542-3

Conklin PL, Barth C (2004) Ascorbic acid, a familiar small molecule intertwined in the response of plants to ozone, pathogens, and the onset of senescence. Plant Cell Environ 27:959–970. doi:10.1111/j.1365-3040.2004.01203.x

Dhindsa RS, Plumb-Dhindsa P, Thorpe TA (1981) Leaf senescence: correlated with increased levels of membrane permeability and lipid peroxidation, and decreased levels of superoxide dismutase and catalase. J Exp Bot 32:93–101. doi:10.1093/jxb/32.1.93

Dolferus R, Ji X, Richards R (2011) Abiotic stress and control of grain number in cereals. Plant Sci 181:331–341. doi:10.1016/j.plantsci.2011.05.015

Feng R, Wei C, Tu S (2013) The roles of selenium in protecting plants against abiotic stresses. Environ Exp Bot 87:58–68. doi:10.1016/j.envexpbot.2012.09.002

Filek M, Keskinen R, Hartikainen H, Szarejko I, Janiak A, Miszalski Z, Golda A (2008) The protective role of selenium in rape seedlings subjected to cadmium stress. J Plant Physiol 165:833–844. doi:10.1016/j.jplph.2007.06.006

Gallie DR (2013) l-Ascorbic acid: a multifunctional molecule supporting plant growth and development. Scientifica (Cairo) 2013:795964. doi:10.1155/2013/795964

Gourdji SM, Mathews KL, Reynolds MP, Crossa J, Lobell DB (2013) An assessment of wheat yield sensitivity and breeding gains in hot environments. Proc R Soc B Biol Sci 280:8. doi:10.1098/rspb.2012.2190

Hajiboland R, Amjad L (2007) Does antioxidant capacity of leaves play a role in growth response to selenium at different sulfur nutritional status? Plant Soil Environ 53:207–215

Hammad SAR, Ali OAM (2014) Physiological and biochemical studies on drought tolerance of wheat plants by application of amino acids and yeast extract. Ann Agric Sci 59:133–145. doi:10.1016/j.aoas.2014.06.018

Hartikainen H, Xue T, Piironen V (2000) Selenium as an anti-oxidant and pro-oxidant in ryegrass. Plant Soil 225:193–200. doi:10.1023/A:1026512921026

Hasanuzzaman M, Fujita M (2011) Selenium pretreatment upregulates the antioxidant defense and methylglyoxal detoxification system and confers enhanced tolerance to drought stress in rapeseed seedlings. Biol Trace Elem Res 143:1758–1776. doi:10.1007/s12011-011-8998-9

Hu K, Zhang L, Wang J, You Y (2013a) Influence of selenium on growth, lipid peroxidation and antioxidative enzyme activity in melon (Cucumis melo L.) seedlings under salt stress. Acta Soc Bot Pol 82:193–197. doi:10.5586/asbp.2013.023

Hu X, Li T, Wang J, Wang Y, Baskin CC, Baskin JM (2013b) Seed dormancy in four Tibetan Plateau Vicia species and characterization of physiological changes in response of seeds to environmental factors. Seed Sci Res 23:133–140. doi:10.1017/S0960258513000019

Huseynova IM, Rustamova SM, Suleymanov SY, Aliyeva DR, Mammadov AC, Aliyev JA (2016) Drought-induced changes in photosynthetic apparatus and antioxidant components of wheat (Triticum durum Desf.) varieties. Photosynth Res. doi:10.1007/s11120-016-0244-z

Iqbal M, Ashraf M (2013) Gibberellic acid mediated induction of salt tolerance in wheat plants: growth, ionic partitioning, photosynthesis, yield and hormonal homeostasis. Environ Exp Bot 86:76–85. doi:10.1016/j.envexpbot.2010.06.002

Iqbal M, Hussain I, Liaqat H, Ashraf MA, Rasheed R, Rehman AU (2015) Exogenously applied selenium reduces oxidative stress and induces heat tolerance in spring wheat. Plant Physiol Biochem PPB/Société Fr Physiol végétale 94:95–103. doi:10.1016/j.plaphy.2015.05.012

Khattab H (2004) Metabolic and oxidative responses associated with exposure of Eruca sativa (Rocket) plants to different levels of selenium. Int J Agric Biol 6:1101–1106

Kubo A, Aono M, Nakajima N, Saji H, Tanaka K, Kondo N (1999) Differential responses in activity of antioxidant enzymes to different environmental stresses in Arabidopsis thaliana. J Plant Res 112:279–290. doi:10.1007/PL00013884

Kuznetsov VV, Kholodova VP, Kuznetsov VV, Yagodin BA (2003) Selenium regulates the water status of plants exposed to drought. Dokl Biol Sci 390:266–268. doi:10.1023/A:1024426104894

Latif M, Akram NA, Ashraf M (2016) Regulation of some biochemical attributes in drought-stressed cauliflower (Brassica oleracea L.) by seed pre-treatment with ascorbic acid. J Hortic Sci Biotechnol 91:129–137. doi:10.1080/14620316.2015.1117226

Lyons GH, Genc Y, Soole K, Stangoulis JCR, Liu F, Graham RD (2009) Selenium increases seed production in Brassica. Plant Soil 318:73–80. doi:10.1007/s11104-008-9818-7

Malik JA, Kumar S, Thakur P, Sharma S, Kaur N, Kaur R, Pathania D, Bhandhari K, Kaushal N, Singh K, Srivastava A, Nayyar H (2011) Promotion of growth in mungbean (Phaseolus aureus Roxb.) by selenium is associated with stimulation of carbohydrate metabolism. Biol Trace Elem Res 143:530–539. doi:10.1007/s12011-010-8872-1

Mukherjee SP, Choudhuri MA (1983) Implications of water stress-induced changes in the levels of endogenous ascorbic acid and hydrogen peroxide in Vigna seedlings. Physiol Plant 58:166–170. doi:10.1111/j.1399-3054.1983.tb04162.x

Nawaz F, Ahmad R, Ashraf MY, Waraich EA, Khan SZ (2015a) Effect of selenium foliar spray on physiological and biochemical processes and chemical constituents of wheat under drought stress. Ecotoxicol Environ Saf 113:191–200. doi:10.1016/j.ecoenv.2014.12.003

Nawaz F, Ashraf MY, Ahmad R, Waraich EA, Shabbir RN, Bukhari MA (2015b) Supplemental selenium improves wheat grain yield and quality through alterations in biochemical processes under normal and water deficit conditions. Food Chem 175:350–357. doi:10.1016/j.foodchem.2014.11.147

Ortiz R, Sayre KD, Govaerts B, Gupta R, Subbarao GV, Ban T, Hodson D, Dixon JM, Iván Ortiz-Monasterio J, Reynolds M (2008) Climate change: can wheat beat the heat? Agric Ecosyst Environ 126:46–58. doi:10.1016/j.agee.2008.01.019

Osman HS (2015) Enhancing antioxidant–yield relationship of pea plant under drought at different growth stages by exogenously applied glycine betaine and proline. Ann Agric Sci 60:389–402. doi:10.1016/j.aoas.2015.10.004

Pennanen A, Xue T, Hartikainen H (2002) Protective role of selenium in plant subjected to severe UV irradiation stress. J Appl Bot 76:66–76

Perveen S, Iqbal M, Nawaz A, Parveen A, Mahmood S (2016) Induction of drought tolerance in Zea mays L. by foliar application of triacontanol. Pakistan J Bot 48:907–915

Pilon-Smits EH, Souza MPD, Lytle CM, Shang C, Lugo T, Terry N (1998) Selenium volatilization and assimilation by hybrid poplar (Populus tremula × alba). J Exp Bot 49:1889–1892. doi:10.1093/jxb/49.328.1889

Pukacka S, Ratajczak E, Kalemba E (2011) The protective role of selenium in recalcitrant Acer saccharum L. seeds subjected to desiccation. J Plant Physiol 168:220–225. doi:10.1016/j.jplph.2010.07.021

Saffaryazdi A, Lahouti M, Ganjeali A, Bayat H (2012) Impact of selenium supplementation on growth and selenium accumulation on spinach (Spinacia oleracea L.) plants. Not Sci Biol 4:95–100

Sajedi N, Madani H, Naderi A (2011) Effect of microelements and selenium on superoxide dismutase enzyme, malondialdehyde activity and grain yield maize (Zea mays L.) under water deficit stress. Not Bot Horti Agrobot Cluj-Napoca 39:153–159

Samarah N, Alqudah A (2011) Effects of late-terminal drought stress on seed germination and vigor of barley (Hordeum vulgare L.). Arch Agron Soil Sci 57:27–32. doi:10.1080/03650340903191663

Sams CE, Panthee DR, Charron CS, Kopsell DA, Yuan JS (2011) Selenium regulates gene expression for glucosinolate and carotenoid biosynthesis in Arabidopsis. J Amer Soc Hort Sci 136:23–34

Shah NH, Paulsen GM (2003) Interaction of drought and high temperature on photosynthesis and grain-filling of wheat. Plant Soil 257:219–226. doi:10.1023/A:1026237816578

Shao H, Chu L, Shao M, Jaleel CA, Hong-mei M (2008) Higher plant antioxidants and redox signaling under environmental stresses. Comptes Rendus Biol 331:433–441

Sieprawska A, Kornaś A, Filek M (2015) Involvement of selenium in protective mechanisms of plants under environmental stress conditions—review. Acta Biol Cracoviensia s Bot 57:9–20. doi:10.1515/abcsb-2015-0014

Su Z, Ma X, Guo H et al (2013) Flower development under drought stress: morphological and transcriptomic analyses reveal acute responses and long-term acclimation in Arabidopsis. Plant Cell 25:3785–3807. doi:10.1105/tpc.113.115428

Tan DX, Hardeland R, Manchester LC, Korkmaz A, Ma S, Rosales-Corral S, Reiter RJ (2012) Functional roles of melatonin in plants, and perspectives in nutritional and agricultural science. J Exp Bot 63:577–597

Tedeschini E, Proietti P, Timorato V, D'Amato R, Nasini L, Dei Buono D, Businelli D, Frenguelli G (2015) Selenium as stressor and antioxidant affects pollen performance in Olea europaea. Flora Morphol Distrib Funct Ecol Plants 215:16–22. doi:10.1016/j.flora.2015.05.009

Velikova V, Yordanov I, Edreva A (2000) Oxidative stress and some antioxidant systems in acid rain-treated bean plants. Plant Sci 151:59–66. doi:10.1016/S0168-9452(99)00197-1

Wang CQ (2011) Water-stress mitigation by selenium in Trifolium repens L. J Plant Nutr Soil Sci 174:276–282. doi:10.1002/jpln.200900011

Wolfe K, Wu X, Liu RH (2003) Antioxidant activity of apple peels. J Agric Food Chem 51:609–614. doi:10.1021/jf020782a

Xu J, Hu Q (2004) Effect of foliar application of selenium on the antioxidant activity of aqueous and ethanolic extracts of selenium-enriched rice. J Agric Food Chem 52:1759–1763. doi:10.1021/jf0349836

Yao X, Chu J, Wang G (2009) Effects of drought stress and selenium supply on growth and physiological characteristics of wheat seedlings. Acta Physiol Plant 31:1031–1036. doi:10.1007/s11738-009-0322-3

Yao X, Chu J, Ba C (2010) Antioxidant responses of wheat seedlings to exogenous selenium supply under enhanced ultraviolet-B. Biol Trace Elem Res 136:96–105. doi:10.1007/s12011-009-8520-9
Acknowledgements
The research presented in this paper was partially supported by Higher Education Commission (HEC), Islamabad, Pakistan through Project Grant no. 20-1522/R&D/09.
Ethics declarations
Conflict of interest
The authors have no conflict of interest.
Electronic supplementary material
Below is the link to the electronic supplementary material.
About this article
Cite this article
Shahzadi, I., Iqbal, M., Rasheed, R. et al. Foliar application of selenium increases fertility and grain yield in bread wheat under contrasting water availability regimes. Acta Physiol Plant 39, 173 (2017). https://doi.org/10.1007/s11738-017-2477-7
Received:

Revised:

Accepted:

Published:
Keywords
Antioxidative potential

Sodium selenate

Semi-arid environment

Sustainable agriculture

Wheat