Abstract
Heavy infestation of large areas in China by the root parasitic sunflower broomrape (Orobanche cumana Wallr.) constitutes a major threat to sunflower production. This study was conducted to investigate the potential of foxtail millet as a trap crop for the management of sunflower broomrape (SB). To assay the ability of foxtail millet to stimulate germination of SB seeds, the rhizosphere soil of six foxtail millet cultivars cultured in various sand/soil ratios and fertilizer levels were employed to directly induce SB germination. Among all sand/soil treatments, Hong Guzi grown in a 1:1 sand/soil ratio induced the highest germination of SB (30.1%). Phosphorus resulted in a small but significantly higher germination of SB compared with the control without any fertilizer, while in contrast, nitrogen greatly suppressed the germination inducing capacity of foxtail millet even at concentrations as low as 28 mg kg−1 soil (based on N). Cropping rotation experiment was undertaken to quantify the effect of foxtail millet on SB infection in a subsequent sunflower crop. All foxtail millet rotation treatments reduced broomrape infection and gave higher shoot and flower disk dry mass of sunflowers than the control grown without a fore-rotating crop. These results suggest that efficacious cultivars of foxtail millet reduce SB parasitism and increase sunflower yields and that using foxtail millet as trap crop is probably an effective way to reduce the broomrape weed problem in China, especially in the dry, infertile, and sandy soils of the Loess Plateau.
This is a preview of subscription content,
to check access.
Access this article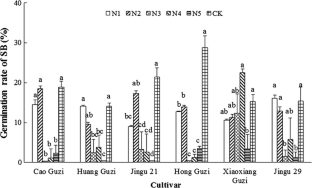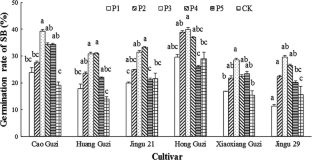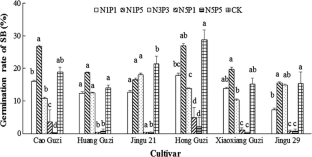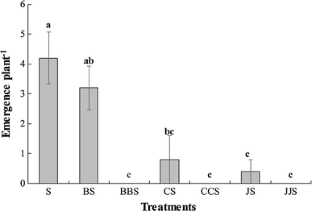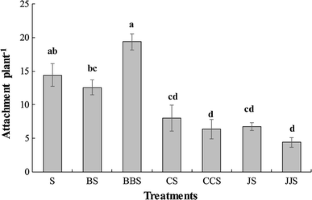 References
Abebe G, Sahile G, Al-Tawaha A (2005) Evaluation of potential trap crops on Orobanche soil seed bank and tomato yield in the Central Rift Valley of Ethiopia. World J Agric Sci 1:148–151

Aflakpui GK, Gregory P, Froud-Williams R (1998) Effect of temperature on seed germination rate of Striga hermonthica (Del.) Benth. Crop Protect 17:129–133

Al-Menoufi O (1989) Crop rotation as a control measure of Orobanche crenata in Vicia faba fields. In: Proceedings of the international workshop on Orobanche research, Obermarchtal, pp 241–247

Al-thahabi SA (2006) Small broomrape (Orobanche minor) management using wheat (Triticum aestivum) as a false host. Dissertation, Oregon State University

Ayongwa G, Stomph T, Emechebe A, Kuyper T (2006) Root nitrogen concentration of sorghum above 2% produces least Striga hermonthica seed stimulation. Ann Appl Biol 149:255–262

Barker ER, Press MC, Scholes JD, Quick WP (1996) Interactions between the parasitic angiosperm Orobanche aegyptiaca and its tomato host: growth and biomass allocation. New Phytol 133:637–642

Bartlett MS (1937) Some examples of statistical methods of research in agriculture and applied biology. Suppl J R Stat Soc 4:137–183

Bertin C, Yang X, Weston LA (2003) The role of root exudates and allelochemicals in the rhizosphere. Plant Soil 256:67–83

Bouwmeester HJ, Roux C, Lopez-Raez JA, Becard G (2007) Rhizosphere communication of plants, parasitic plants and AM fungi. Trends Plant Sci 12:224–230. doi:10.1016/j.tplants.2007.03.009

China Agriculture Statistical Yearbook (2013) National Bureau of statistics of China. China Statistics, Beijing

Dale H, Press MC (1998) Elevated atmospheric CO2 influences the interaction between the parasitic angiosperm Orobanche minor and its host Trifolium repens. New Phytol 140:65–73

Dong SQ, Ma YQ, Wu HW, Shui JF, Hao ZQ (2012) Stimulatory effects of wheat (Triticum aestivum L.) on seed germination of Orobanche minor Sm. Allelopath J 30:247–258

Emechebe A, Ellis-Jones J, Schulz S, Chikoye D, Douthwaite B, Kureh I, Tarawali G, Hussaini M, Kormawa P, Sanni A (2004) Famers' perceptiom of the Striga problem and its control in northern Nigeria. Exp Agric 40:215–232

FAO (Food and Agriculture Organization of the United Nations) (2011) The state of world fisheries and aquaculture 2009. FAO, Rome

Fate G, Chang M, Lynn DG (1990) Control of germination in Striga asiatica: chemistry of spatial definition. Plant Physiol 93:201–207

Fernández-Aparicio M, Flores F, Rubiales D (2009) Recognition of root exudates by seeds of broomrape (Orobanche and Phelipanche) species. Ann Bot 103:423–431. doi:10.1093/aob/mcn236

Fernández-Aparicio M, Westwood JH, Rubiales D (2011) Agronomic, breeding, and biotechnological approaches to parasitic plant management through manipulation of germination stimulant levels in agricultural soils. Botany 89:813–826. doi:10.1139/b11-075

Fischer NH, Weidenhamer JD, Bradow JM (1989) Dihydroparthenolide and other sesquiterpene lactones stimulate witchweed germination. Phytochemistry 28:2315–2317. doi:10.1016/s0031-9422(00)97974-3

Hearne SJ (2009) Control–the Striga conundrum. Pest Manag Sci 65:603–614

Hibberd JM, Quick WP, Press MC, Scholes JD (1998) Can source–sink relations explain responses of tobacco to infection by the root holoparasitic angiosperm Orobanche cernua? Plant Cell Environ 21:333–340

Jamil M, Rodenburg J, Charnikhova T, Bouwmeester HJ (2011) Pre-attachment Striga hermonthica resistance of new rice for Africa (NERICA) cultivars based on low strigolactone production. New Phytol 192:964–975. doi:10.1111/j.1469-8137.2011.03850.x

Jing W, Chao C, Yazhen L, Na D, Haiyan W (2015) Present situation and prospect of the parasitic weed sunflower broomrape research. Jiangsu Agric Sci 43:144–147 (in Chinese)

Joel DM, Chaudhuri SK, Plakhine D, Ziadna H, Steffens JC (2011) Dehydrocostus lactone is exuded from sunflower roots and stimulates germination of the root parasite Orobanche cumana. Phytochemistry 72:624–634. doi:10.1016/j.phytochem.2011.01.037

Joel DM, Gressel J, Musselman LJ (2013) Parasitic Orobanchaceae: parasitic mechanisms and control strategies. Springer Science & Business Media, Berlin

Kannan C, Zwanenburg B (2014) A novel concept for the control of parasitic weeds by decomposing germination stimulants prior to action. Crop Protect 61:11–15. doi:10.1016/j.cropro.2014.03.008

Kebreab E, Murdoch A (1999) Modelling the effects of water stress and temperature on germination rate of Orobanche aegyptiaca Seeds. J Exp Bot 50:655–664

Kebreab E, Murdoch A (2001) Simulation of integrated control strategies for Orobanche spp. based on a life cycle model. Exp Agric 37:37–51

Kureh I, Kamara A, Tarfa B (2006) Influence of cereal-legume rotation on Striga control and maize grain yield in farmers' fields in the Northern Guinea Savanna of Nigeria. J Agric Rural Dev Trop 107:41–54

Li Y, Wu S (1996) Traditional maintenance and multiplication of foxtail millet (Setaria italica (L.) P. Beauv.) landraces in China. Euphytica 87:33–38

Liu J, He H, Vitali M, Visentin I, Charnikhova T, Haider I, Schubert A, Ruyter-Spira C, Bouwmeester HJ, Lovisolo C (2015) Osmotic stress represses strigolactone biosynthesis in Lotus japonicus roots: exploring the interaction between strigolactones and ABA under abiotic stress. Planta 241:1435–1451

Lopez-Granados F, Garcia-Torres L (1996) Effects of environmental factors on dormancy and germination of crenate broomrape (Orobanche crenata). Weed Sci 44:284–289

Lopez-Raez JA, Matusova R, Cardoso C, Jamil M, Charnikhova T, Kohlen W, Ruyter-Spira C, Verstappen F, Bouwmeester H (2009) Strigolactones: ecological significance and use as a target for parasitic plant control. Pest Manag Sci 65:471–477. doi:10.1002/ps.1692

López-Ráez JA, Charnikhova T, Gómez-Roldán V, Matusova R, Kohlen W, De Vos R, Verstappen F, Puech-Pages V, Bécard G, Mulder P (2008) Tomato strigolactones are derived from carotenoids and their biosynthesis is promoted by phosphate starvation. New Phytol 178:863–874

Ma YQ, Lang M, Dong SQ, Shui JF, Zhao JX (2012) Screening of some cotton varieties for allelopathic potential on clover broomrape germination. Agron J 104:569–574. doi:10.2134/agronj2011.0372

Ma YQ, Jia JN, An Y, Wang Z, Mao JC (2013) Potential of some hybrid maize lines to induce germination of sunflower broomrape. Crop Sci 53:260–270. doi:10.2135/cropsci2012.03.0197

Mabrouk Y, Zourgui L, Sifi B, Belhadj O (2007) The potential of Rhizobium strains for biological control of Orobanche crenata. Biologia 62:139–143

Nefzi F, Trabelsi I, Amri M, Triki E, Kharrat M, Abbes Z (2016) Response of some chickpea (Cicer arietinum L.) genotypes to Orobanche foetida Poir. parasitism. Chil J Agric Res 76:170–178

Parker C (2009) Observations on the current status of Orobanche and Striga problems worldwide. Pest Manag Sci 65:453–459

Parker C (2013) The parasitic weeds of the Orobanchaceae. In: Parasitic Orobanchaceae. Springer, pp 313–344

Parker C, Hitchcock AM, Ramaiah KV (1977) The germination of striga species by crop root exudates; techniques for selecting resistant crop cultivars. In: Proceedings of the Asian-Pacific Weed Science Society 6th conference. Weed Science Society, Asian-Pacific, Jakarta, pp 67–74

Pujadas-Salva AJ, Velasco L (2000) Comparative studies on Orobanche cernua L. and O. cumana Wallr. (Orobanchaceae) in the Iberian Peninsula. Bot J Linn Soc 134:513–527

Raju P, Osman M, Soman P, Peacock J (1990) Effects of N, P and K on Striga asiatica (L.) Kuntze seed germination and infestation of sorghum. Weed Res 30:139–144

Riley D, Barber SA (1969) Bicarbonate accumulation and pH changes at the soybean (Glycine max (L.) Merr.) root-soil interface. Soil Sci Soc Am Proc 33:905–908. doi:10.2136/sssaj1969.03615995003300060031x

Riley D, Barber SA (1970) Salt accumulation at the soybean (Glycine max (L.) Merr.) root-soil interface. Soil Sci Soc Am Proc 34:154–155. doi:10.2136/sssaj1970.03615995003400010042x

Ross KC, Colquhoun JB, Mallory-Smith CA (2009) Small broomrape (Orobanche minor) germination and early development in response to plant species. Weed Sci 52:260–266

Rubiales D, FernÁNdez-Aparicio M, Wegmann K, Joel DM (2009) Revisiting strategies for reducing the seedbank of Orobanche and Phelipanche spp. Weed Res 49:23–33. doi:10.1111/j.1365-3180.2009.00742.x

Sato D, Awad AA, Chae SH, Yokota T, Sugimoto Y, Takeuchi Y, Yoneyama K (2003) Analysis of strigolactones, germination stimulants for Striga and Orobanche, by high-performance liquid chromatography/tandem mass spectrometry. J Agric Food Chem 51:1162–1168

Shi B, Chen G, Zhang Z, Hao J, Jing L, Zhou H, Zhao J (2015) First report of race composition and distribution of sunflower broomrape, Orobanche cumana, in China. Plant Dis 99:291

Sunderland N (1960) The production of the Striga and Orobanche germination stimulants by maize roots I. The number and variety of stimulants. J Exp Bot 11:236–245

Tang QY, Zhang CX (2013) Data processing system (DPS) software with experimental design, statistical analysis and data mining developed for use in entomological research. Insect Sci 20:254–260. doi:10.1111/j.1744-7917.2012.01519.x

Tarfa B, Kurch I, Kamara A, Maigida D (2006) Influence of cereal-legume rotation on soil chemical properties, crop yield and Striga control. J Agron 5:362–368

Taylor A, Martin J, Seel W (1996) Physiology of the parasitic association between maize and witchweed (Striga hermonthica): is ABA involved? J Exp Bot 47:1057–1065

Venturi V, Keel C (2016) Signaling in the rhizosphere. Trends Plant Sci 21:187–198

Wan SQ, Jiao YP, Kang YH, Jiang SF, Tan JL, Liu W, Meng J (2013) Growth and yield of oleic sunflower (Helianthus annuus L.) under drip irrigation in very strongly saline soils. Irrig Sci 31:943–957

Xie XN, Yoneyama K, Yoneyama K (2010) The strigolactone story. Annu Rev Phytopathol 48:93–117

Ye XX, Zhang M, Dong SQ, Ma YQ (2016) Conditioning duration and agents involved in broomrape seeds responding to germination stimulants. Plant Growth Regul. doi:10.1007/s00425-007-0600-5

Yoneyama K, Xie XN, Kusumoto D, Sekimoto H, Sugimoto Y, Takeuchi Y, Yoneyama K (2007) Nitrogen deficiency as well as phosphorus deficiency in sorghum promotes the production and exudation of 5-deoxystrigol, the host recognition signal for arbuscular mycorrhizal fungi and root parasites. Planta 227:125–132. doi:10.1007/s00425-007-0600-5

Zehhar N, Labrousse P, Arnaud M-C, Boulet C, Bouya D, Fer A (2003) Study of resistance to Orobanche ramosa in host (oilseed rape and carrot) and non-host (maize) plants. Eur J Plant Pathol 109:75–82

Zhang W, Ma YQ, Wang Z, Ye XX, Shui JF (2013) Some soybean cultivars have ability to induce germination of sunflower broomrape. PLoS One 8:e59715. doi:10.1371/journal.pone.0059715

Zhang M, Ma YQ, Zhong W, Jia XT, Wu DR, Yu R, Ye XX (2015) N–P–K ratio affects exudation of germination stimulants and resistance of tobacco seedlings to broomrapes. Plant Growth Regul 76:281–288
Ethics declarations
Funding
This study was supported by the National Science and Technology Support Program (2011BAD31B05).
Conflict of interest
The authors declare that they have no conflict of interest.
Additional information
Communicated by M. J. Reigosa.
Electronic supplementary material
Below is the link to the electronic supplementary material.
About this article
Cite this article
Ye, X., Chen, J., McErlean, C.S.P. et al. The potential of foxtail millet as a trap crop for sunflower broomrape. Acta Physiol Plant 39, 1 (2017). https://doi.org/10.1007/s11738-016-2300-x
Received:

Revised:

Accepted:

Published:

DOI: https://doi.org/10.1007/s11738-016-2300-x
Keywords