Abstract
The presented work describes good quality DNA isolation method from mature leaves of some medicinally important plant species, viz. Asparagus racemosus, Withania somnifera, Abrus precatorius, Commiphora wightii and Carissa carandas. These plants hold immense medicinal values due to presence of certain secondary metabolites like polyphenols, terpenes, flavonoids, alkaloids, gums, resins, etc. Although these metabolites are accountable for important medicinal properties and authorize these plants to precedence over others, the same compounds disappoint the researcher while isolating high quality DNA. To overcome this problem, we propose a simple method in which DNA is adroitly bounded to diatomaceous earth in a solution of different chaotropic agent and alienated from intrusive compounds. Presented method affirms that secondary products, along with polysaccharides and proteins, can be perceptibly reduced by using silica matrix along with chaotropic agents. The described method is fast, simple and highly reliable for the isolation of DNA from obstinate plant species.
This is a preview of subscription content, log in to check access.
Access options
Buy single article
Instant access to the full article PDF.
US$ 39.95
Price includes VAT for USA
Subscribe to journal
Immediate online access to all issues from 2019. Subscription will auto renew annually.
US$ 99
This is the net price. Taxes to be calculated in checkout.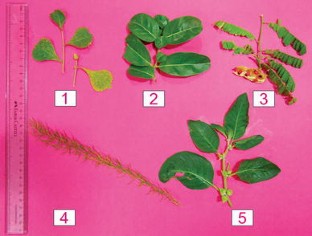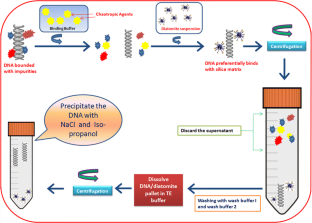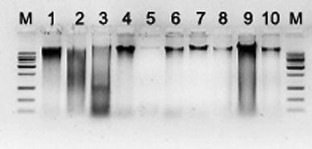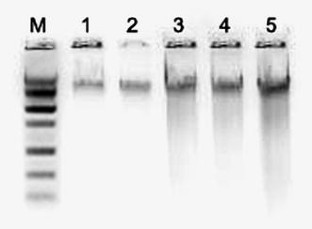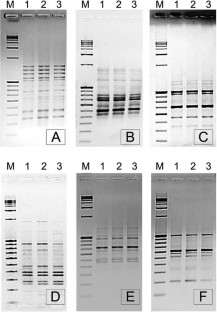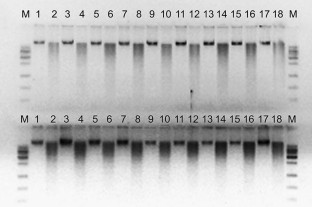 References
Ahmad SM, Ganai MM, Qazi PH, Verma V, Basir SF, Qazi GN (2004) Rapid DNA isolation protocol for angiospermic plants. Bulg J Plant Physiol 30:25–33

Ahmed I, Islam M, Arshad W, Mannan A, Ahmad W, Mirza B (2009) High-quality plant DNA extraction for PCR: an easy approach. J Appl Genet 50:105–107

Alok S, Jain SK, Verma A, Kumar M, Mahor A, Sabharwal M (2013) Plant profile, phytochemistry and pharmacology of Asparagus racemosus (Shatavari): a review. Asian Pacific J Trop Dis 3:242–251

Amani J, Kazemi R, Abbasi AR, Salmanian AH (2011) A simple and rapid leaf genomic DNA extraction method for polymerase chain reaction analysis. Iran J Biotech 9:69–71

Angeles JGC, Laurena AC, Tecson-Mendoza EM (2005) Extraction of genomic DNA from the lipid-, polysaccharide-, and polyphenol-rich coconut (Cocos nucifera L.). Plant Mol Biol Rep 23:297–298

Bi VI, Harvengt L, Chandelier A, Mergeai G, Jardin PD (1996) Improved RAPD amplification of recalcitrant plant DNA by the use of activated charcoal during DNA extraction. Plant Breed 115:205–206

Boom RC, Sol JA, Salimans CJ, Jansen MM, Wertheim-van Dillen CL, Van der Noordaa ME (1990) Rapid and simple method for purification of nucleic acids. J Clin Microbiol 28:495–503

Bozarth A, Maier UG, Zauner S (2009) Diatoms in biotechnology: modern tools and applications. Appl Microbiol Biotechnol 82:195–201

Choi YH, Hussain RA, Pezzuto JM, Kingborn AD, Morton JF (1989) Abrusosides AD, four novel sweet-tasting triterpene glycosides from the leaves of Abrus precatorius. J Nat Products 52:1118–1127

Dellaporta SL, Wood J, Hicks JB (1983) A plant DNA minipreparation: version II. Plant Mol Biol Report 1:19–21

Devmurari V, Shivanand P, Goyani MB, Vaghani S, Jivani NP (2009) Carissa Congesta: phytochemical constituents, traditional use and pharmacological properties. Pharmacogn Rev 3:375–377

Echevarría-Zomeño S, Abril N, Ruiz-Laguna J, Jorrín-Novo J, Maldonado-Alconada AM (2012) Simple, rapid and reliable methods to obtain high quality RNA and genomic DNA from Quercus ilex L. leaves suitable for molecular biology studies. Acta Physiol Plant 34:793–805

Flieger J (2007) Effect of mobile phase composition on the retention of selected alkaloids in reversed-phase liquid chromatography with chaotropic salts. J Chromatogr A 1175:207–216

Garaniya N, Bapodra A (2014) Ethno botanical and Phytophrmacological potential of Abrus precatorius L.: a review. Asian Pac J Trop Biomed 4:27–34

Gilmore S, Weston PH, Thomson JA (1993) A simple, rapid, inexpensive and widely applicable technique for purifying plant DNA. Aust Syst Bot 6:139–148

Guillemaut P, Maréchal-Drouard L (1992) Isolation of plant DNA: a fast, inexpensive, and reliable method. Plant Mol Biol Report 10:60–65

Haque I, Bandopadhyay R, Mukhopadhyay K (2008) An optimized protocol for fast genomic DNA isolation from high secondary metabolites and gum containing plants. Asian J Plant Sci 7:304–308

Hatefi Y, Hanstein WG (1969) Solubilization of particulate proteins and nonelectrolytes by chaotropic agents. Proc Natl Acad Sci USA 62:1129–1136

Hernández P, de la Rosa R, Rallo L, Martín A, Dorado G (2001) First evidence of a retrotransposon-like element in olive (Olea europaea): implications in plant variety identification by SCAR-marker development. Theor Appl Genet 102:1082–1087

Katterman FR, Shattuck VI (1983) An effective method of DNA isolation from the mature leaves of Gossypium species that contain large amounts of phenolics terpenoids and tannins. Prep Biochem 13:347–359

Khare CP (2008) Indian medicinal plants: an illustrated dictionary. Springer Science and Business Media, Berlin

Kim KS, Pallaghy CK (1996) Purification of plasmid DNA (miniprep) with high yields using diatomaceous earth. http://alexandrevallet.free.fr/alex/avallet03/miniprep2.htm

Kim TH, Hwang MS, Song J, Oh M, Moon Y, Chung IK, Lee C (2006) A simple method for extraction of high molecular weight DNA from Porphyra tenera (Rhodophyta) using diatomaceous earth. Algae 21:261–266

Kulloli RN, Kumar S (2013) Commiphora wightii (Arnott) Bhandari: a threatened plant of conservation concern. J Med Plants Res 7(28):2043–2052

Kumar S, Shankar V (1982) Medicinal plants of the Indian desert: Commiphora wightii (Arnott) Bhand. J Arid Env 5:1–11

Loomis WD (1974) Overcoming problems of phenolics and quinones in the isolation of plant enzymes and organelles. Method Enzymol 31:528–544

Maliyakal EJ (1992) An efficient method for isolation of RNA and DNA from plants containing polyphenolics. Nuc Acids Res 20:2381

Martellossi C, Taylor EJ, Lee D, Graziosi G, Donini P (2005) DNA extraction and analysis from processed coffee beans. J Agri Food Chem 53:8432–8436

Mirjalili HM, Fakhr-Tabatabaei SM, Bonfill M, Alizadeh H, Cusido RM, Ghassempour A, Palazon J (2009) Morphology and withanolide production of Withania coagulans hairy root cultures. Eng Life Sci 9:197–204

Murray M, Thompson W (1980) Rapid isolation of high molecular weight plant DNA. Nucleic Acids Res 8:4321–4325

Negi JS, Singh P, Joshi GP, Rawat MS, Bisht VK (2010) Chemical constituents of Asparagus. Pharmacogn Rev 4:215–220

Peterson DG, Boehm KS, Stack SM (1997) Isolation of milligram quantities of nuclear DNA from tomato (Lycopersicon esculentum), a plant containing high levels of polyphenolic compounds. Plant Mol Biol Rep 15:148–153

Porebski S, Bailey LG, Baum BR (1997) Modification of a CTAB DNA extraction protocol for plants containing high polysaccharide and polyphenol components. Plant Mol Biol Rep 15:8–15

Saghai-Maroof MA, Soliman KM, Jorgensen RA, Allard RW (1984) Ribosomal DNA sepacer-length polymorphism in barley: mendelian inheritance, chromosomal location, and population dynamics. Proc Natl Acad Sci USA 81:8014–8019

Salvi G, De Los Rios P, Vendruscolo M (2005) Effective interactions between chaotropic agents and proteins. Proteins 61:492–499

Siddiqui BS, Ghani U, Ali ST, Usmani SB, Begum S (2003) Triterpenoidal constituents of the leaves of Carissa carandas. Nat Product Res 17:153–158

Taylor LS, York P, Williams AC, Edwards HGM, Mehta V, Jackson GS, Badcoe IG, Clarke AR (1995) Sucrose reduces the efficiency of protein denaturation by a chaotropic agent. Biochim Biophys Acta 1253(1):39–46

Vogelstein B, Gillespie D (1979) Preparative and analytical purification of DNA from agarose. Proc Natl Acad Sci USA 76:615–619

Weishing K, Nybom H, Wolff K, Meyer W (1995) DNA isolation and purification. In: DNA fingerprinting in plants and Fungi. CRC Press, Boca Raton, FL, pp 44–59
Acknowledgments
Authors (PJ, AKS and TK) would like to acknowledge the financial assistance provided by Gujarat State Biotechnology Mission (GSBTM) under FAP-2014 (GSBTM/MD/PROJECTS/SSA/1400/2014-15). One of the authors (BG) is thankful to Department of Biotechnology-New Delhi, for providing financial support under its DBT-Star College Scheme.
Additional information
Communicated by J. V. Jorrin-Novo.
About this article
Cite this article
Ghadia, B., Singh, A.K., Khatnani, T. et al. An improved method of DNA purification from secondary metabolites rich medicinal plants using certain chaotropic agents. Acta Physiol Plant 38, 207 (2016). https://doi.org/10.1007/s11738-016-2223-6
Received:

Revised:

Accepted:

Published:
Keywords
DNA isolation

Medicinal plants

CTAB

Chaotropic agents

Diatomaceous earth