Abstract
Pinus pinaster and P. pinea are two important pine species in Portugal. These two pine species show different susceptibility to Bursaphelenchus xylophilus, the nematode causing pine wilt disease, as well as a diverse volatile composition. To clarify the role of terpenes in plant–nematode interactions, the α-pinene synthase gene expression was studied, using P. pinaster and P. pinea in vitro axenic shoot cultures. Identification and isolation of α-pinene synthase genes from both pine species was performed, together with functional characterization of the genes, revealing that the translated amino acid sequences between both species shared 97.3 % pairwise identity. Heterologous expression of full and truncated sequences, devoid of the 48 amino acids of the transit peptide, proved the functionality of both, with the production of α-pinene as the major final product. Relative quantification of protein activity showed a twofold increase of α-pinene production at 4 °C in comparison to assays performed at 21 and 37 °C. Both MnCl2 and KCl were required for substrate conversion. Furthermore, the variation in gene expression was studied by RT-PCR, using both axenic in vitro shoot pine cultures and co-cultures with B. xylophilus. In P. pinaster there was no difference between co-cultures and control cultures, while in P. pinea α-pinene synthase gene was upregulated in the co-cultures, with a peak of expression at 24 hpi (h post inoculation).
This is a preview of subscription content, log in to check access.
Access options
Buy single article
Instant access to the full article PDF.
US$ 39.95
Price includes VAT for USA
Subscribe to journal
Immediate online access to all issues from 2019. Subscription will auto renew annually.
US$ 99
This is the net price. Taxes to be calculated in checkout.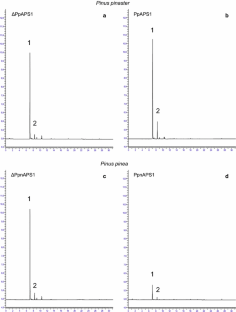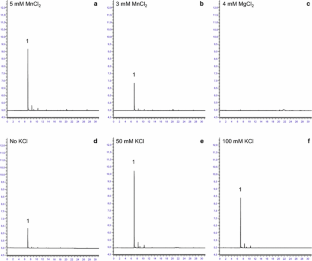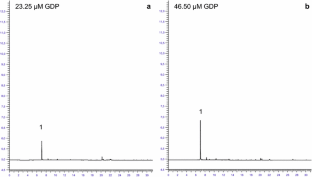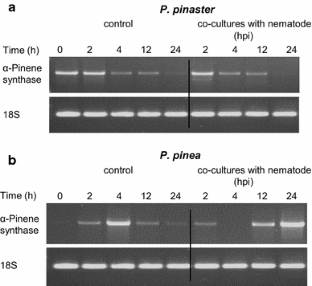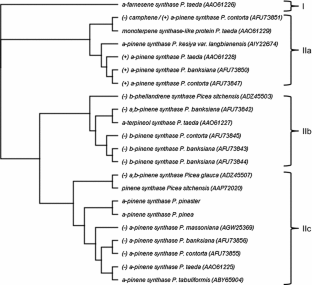 Abbreviations
3′-UTR:

3′-Untranslated region

5′-UTR:

5′-Untranslated region

aa:

Amino acid

CTAB:

Cetyl trimethyl ammonium bromide

DEPC:

Diethyl pyrocarbonate

dNTPs:

Deoxynucleotides

DTT:

1,4-Dithiothreitol

FDP (also known as FPP):

Farnesyl diphosphate (also known as farnesyl pyrophosphate)

GC:

Gas chromatography

GC–MS:

Gas chromatography–mass spectrometry

GDP (also known as GPP):

Geranyl diphosphate (also known as geranyl pyrophosphate)

LB:

Luria–Bertani medium

ORF:

Open reading frame

PCR:

Polymerase chain reaction

PMSF:

Phenylmethylsulfonyl fluoride

PpAPS:

Pinus pinaster α-pinene synthase

PpnAPS:

Pinus pinea α-pinene synthase

PWD:

Pine wilt disease

PWN:

Pinewood nematode (Bursaphelenchus xylophilus)

RT:

Reverse transcription

SH:

Schenk and Hildebrandt culture medium

SPME:

Solid phase micro extraction

WV5:

Westvaco culture medium
References
Abbott E, Hall D, Hamberger B, Bohlmann J (2010) Laser microdissection of Conifer stem tissues: Isolation and analysis of high quality RNA, terpene synthase enzyme activity and terpenoid metabolites from resin ducts and cambial zone tissue of white spruce (Picea glauca). BMC Plant Biol 10:106–122

Azevedo H, Lino-Neto T, Tavares RM (2003) An improved method for high quality RNA isolation from needles of adult maritime pine trees. Plant Mol Biol Report 21:333–338

Bohlmann J, Gershenzon J, Aubourg S (2000) Biochemical, molecular, genetic and evolutionary aspects of defense-related terpenoid metabolism in Conifers. In: Romeo JT, Ibrahim R, Varin L, De Luca V (eds) Evolution of metabolic pathways, Chapter 5. Elsevier Science, Oxford, pp 109–150

Bohlmann J, Meyer-Gauen G, Croteau R (1998) Plant terpenoid synthases: molecular biology and phylogenetic analysis. Proc Natl Acad Sci USA 95:4126–4133

Bohlmann J, Steele CL, Croteau R (1997) Monoterpene synthases from Grand Fir (Abies grandis) cDNA isolation, characterization, and functional expression of myrcene synthase, (2)-(4s)-limonene synthase, and (2)-(1s,5s)-pinene synthase. J Biol Chem 272:21784–21792

CELPA (Associação da indústria Papeleira) (2014) Boletim Estatístico/Indústria Papeleira Portuguesa

Coke JE (1996) Basal nutrient medium for in vitro cultures of loblolly pines. USA Patent 5.534.434

Croteau R (1987) Biosynthesis and catabolism of monoterpenoids. Chem Rev 87:929–954

Drummond AJ, Ashton B, Buxton S, Cheung M, Cooper A, Heled J, Kearse M, Moir R, Stones-Havas S, Sturrock S, Thierer T, Wilson A (2010) Geneious v5.3. http://www.geneious.com. Accessed 4 Dec 2015

Emanuelsson O, Nielsen H, Brunak S, von Heijne G (2000) Predicting subcellular localization of proteins based on their N-terminal amino acid sequence. J Mol Biol 300:1005–1016

Fäldt J, Martin D, Miller B, Rawat S, Bohlmann J (2003) Traumatic resin defense in Norway spruce (Picea abies): methyl jasmonate-induced terpene synthase gene expression, and cDNA cloning and functional characterization of (+)-3-carene synthase. Plant Mol Biol 51:119–133

Faria JM, Sena I, da Silva IV, Ribeiro B, Barbosa P, Ascensão L, Figueiredo AC (2015a) In vitro co-cultures of Pinus pinaster with Bursaphelenchus xylophilus: a biotechnological approach to study pine wilt disease. Planta 241:1325–1336

Faria JM, Sena I, Moiteiro C, Bennett RN, Mota M, Figueiredo AC (2015b) Nematotoxic and phytotoxic activity of Satureja montana and Ruta graveolens essential oils on Pinus pinaster shoot cultures and P. pinaster with Bursaphelenchus xylophilus in vitro co-cultures. Ind Crops Prod 77:59–65

Ferreira de Sousa P (2000) A fileira silvo-industrial do pinheiro-bravo. In: Vieira JN, Pinto MJ, Pereira R (eds) Florestas de Portugal/Forests of Portugal. Direcção Geral das Florestas, Lisboa, pp 193–197

Figueiredo AC, Pedro LG, Barroso JG, Trindade H, Sanches J, Oliveira C, Correia M (2014) Pinus pinaster Aiton e Pinus pinea L. Agrotec 12:23–27

Keeling CI, Bohlmann J (2006) Genes, enzymes and chemicals of terpenoid diversity in the constitutive and induced defence of conifers against insects and pathogens. New Phytol 170:657–675

Keeling CI, Weisshaar S, Ralph SG, Jancsik S, Hamberger B, Dullat HK, Bohlmann J (2011) Transcriptome mining, functional characterization, and phylogeny of a large terpene synthase gene family in spruce (Picea spp.). BMC Plant Biol 11:43–57

Mendes AC (2007) A importância económico-social do pinheiro-bravo. In: Silva JS (ed) Árvores e florestas de Portugal, vol 4., Pinhais e eucaliptais. A floresta cultivadaPúblico-FLAD, Lisboa, pp 35–46

Mendes AC, Feliciano DM (2007) A importância económico-social do pinheiro-manso. In: Silva JS (ed) Árvores e florestas de Portugal, vol 4., Pinhais e eucaliptais. A floresta cultivadaPúblico-FLAD, Lisboa, pp 121–132

Mendes MD, Barroso JG, Oliveira MM, Trindade H (2014) Identification and characterization of a second isogene encoding γ-terpinene synthase in Thymus caespititius. J Plant Physiol 171:1017–1027

Mota MM, Vieira PC (2008) Pine wilt disease in Portugal. In: Zhao BG, Futai K, Sutherland JR, Takeuchi Y (eds) Pine wilt disease. Springer, Japan, pp 33–38

Mota L, Figueiredo AC, Pedro LG, Barroso JG, Ascensão L (2014) Volatile oils composition and bioactivity of the essential oils of Plectranthus barbatus, P. neochilus and P. ornatus grown in Portugal. Chem Biodivers 11:719–732

Naves P, Sousa E, Quartau JA (2006) Reproductive traits of Monochamus galloprovincialis (Coleoptera: Cerambycidae) under laboratory conditions. Bull Entomol Res 96:289–294

Phillips MA, Savage TJ, Croteau R (1999) Monoterpene synthases of loblolly pine (Pinus taeda) produce pinene isomers and enantiomers. Arch Biochem Biophys 372:197–204

Phillips MA, Wildung MR, Williams DC, Hyatt DC, Croteau R (2003) DNA isolation, functional expression, and characterization of (+)-α-pinene synthase and (−)-α-pinene synthase from loblolly pine (Pinus taeda): Stereocontrol in pinene biosynthesis. Arch Biochem Biophys 411:267–276

Rodrigues AM, Mendes MD, Lima AS, Barbosa PM, Ascensão LM, Barroso JG, Pedro LG, Mota MM, Figueiredo AC (2016) Pinus halepensis, Pinus pinaster, Pinus pinea and Pinus sylvestris essential oils and monoterpene hydrocarbon enantiomers changes following inoculation with the pinewood nematode Bursaphelenchus xylophilus [submitted]

Santos CS, Pinheiro M, Silva AI, Egas C, Vasconcelos MW (2012) Searching for resistance genes to Bursaphelenchus xylophilus using high throughput screening. BMC Genom 13:599–614

Santos CS, Vasconcelos MW (2012) Identification of genes differentially expressed in Pinus pinaster and Pinus pinea after infection with the pine wood nematode. Eur J Plant Pathol 132:407–418

Savage TJ, Hatch MW, Croteau R (1994) Monoterpene synthases of Pinus contorta and related conifers. A new class of terpenoid cyclase. J Biol Chem 269:4012–4020

Schenk UR, Hildebrandt AC (1972) Medium and techniques for induction and growth of monocotyledonous and dicotyledonous plant cell cultures. Can J Bot 50:199–204

Song W, Staudt M, Bourgeois I, Williams J (2014) Laboratory and field measurements of enantiomeric monoterpene emissions as a function of chemotype, light and temperature. Biogeosciences 11:1435–1447

Starks CM, Back KW, Chappell J, Noel JP (1997) Structural basis for cyclic terpene biosynthesis by tobacco 5-epi-aristolochene synthase. Science 277:1815–1820

Tingey DT, Manning M, Grothaus LC, Burns WF (1980) Influence of light and temperature on monoterpene emission rates from slash pine. Plant Physiol 65:797–801

Vacas de Carvalho MA (2000) O solar do pinheiro-manso de Alcácer. In: Vieira JN, Pinto MJ, Pereira R (eds) Florestas de Portugal/Forests of Portugal. Direcção Geral das Florestas, Lisboa, pp 77–83

Webster J, Mota M (2008) Pine wilt disease: global issues, trade and economic impact. In: Mota M, Vieira P (eds) Pine wilt disease: a worldwide threat to forest ecosystems. Springer Science, Dordrecht, pp 1–3

Williams DC, McGarvey DJ, Katahira EJ, Croteau R (1998) Truncation of limonene synthase preprotein provides a fully active "pseudomature" form of this monoterpene cyclase and reveals the function of the amino-terminal arginine pair. Biochemistry 37:12213–12220

Wise ML, Croteau R (1999) Monoterpene biosynthesis. In: Cane DE (ed) Comprehensive natural products chemistry: isoprenoids, including steroids and carotenoids. Elsevier, Oxford, pp 97–153
Acknowledgments
The authors would like to thank Fernando Dias from BioISI for providing the TOP10 E. coli competent cells. The authors would also like to thank the reviewers for their valuable suggestions that contributed to improve the discussion of the manuscript. This study was partially funded by Fundação para a Ciência e a Tecnologia (FCT) under research contracts PEst-OE/EQB/LA0023/2011, UID/AMB/50017/2013, FEDER PT2020-Compete 2020, and PTDC/AGR CFL/117026/2010.
Additional information
H. Trindade and I. Sena equally contributed to this work.
Communicated by E. Kuzniak-Gebarowska.
Electronic supplementary material
Below is the link to the electronic supplementary material.
About this article
Cite this article
Trindade, H., Sena, I. & Figueiredo, A.C. Characterization of α-pinene synthase gene in Pinus pinaster and P. pinea in vitro cultures and differential gene expression following Bursaphelenchus xylophilus inoculation. Acta Physiol Plant 38, 143 (2016). https://doi.org/10.1007/s11738-016-2159-x
Received:

Revised:

Accepted:

Published:
Keywords
Pinus

In vitro culture

Co-cultures

Nematode invasion

Monoterpenes

Terpene synthases