Abstract
Banana fruit are highly sensitive to chilling injury (CI), while the effect of different degrees of CI on the subsequent fruit ripening is largely unknown. In the present work, ripening characteristic of banana fruit after storage at 7 °C for 3 days or for 8 days, and expression levels of eight genes associated with ethylene biosynthetic and signaling, including MaACS1, MaACO1, MaERS1, MaERS3, and MaEIL1–4, were investigated. The results showed that banana fruit stored at 7 °C for 8 days exhibited more severe chilling symptoms than those at 7 °C for 3 days. Compared with banana fruit stored at 7 °C for 8 days, which showed abnormal ripening, more decrease in fruit firmness, while higher increase in ethylene production and hue angle were observed in banana fruit stored at 7 °C for 3 days, which could ripening normally. Moreover, gene expression profiles during ripening revealed that ethylene biosynthetic and signaling genes were differentially expressed in peel and pulp of banana fruit after storage at 7 °C for 3 days and 7 °C for 8 days. In the peel of fruit storage at 7 °C for 3 days, expression levels of MaACS1, MaACO1, MaEIL1, and MaEIL2 increased remarkably while MaERS3, MaEIL1, and MaEIL4 were enhanced in the fruit after storage at 7 °C for 8 days. In the pulp, with the exception of MaACO1 and MaERS3, expression levels of other genes did not exhibit a significant difference, between the banana fruit storage at 7 °C for 3 days and 7 °C for 8 days. Taken together, our results suggest that differential expression of ethylene biosynthetic and signaling genes such as MaERS3, MaACO1, and MaEIL2, may be related to ripening behavior of banana fruit with different degrees of CI after cold storage.
This is a preview of subscription content, log in to check access.
Access options
Buy single article
Instant access to the full article PDF.
US$ 39.95
Price includes VAT for USA
Subscribe to journal
Immediate online access to all issues from 2019. Subscription will auto renew annually.
US$ 99
This is the net price. Taxes to be calculated in checkout.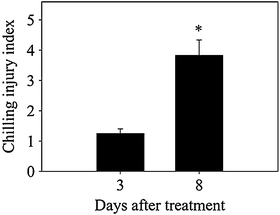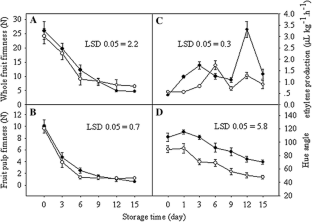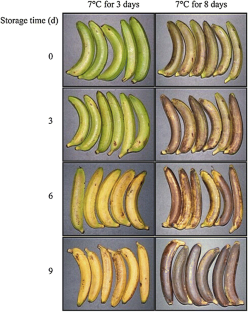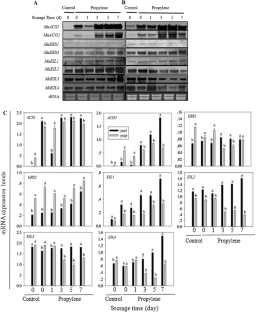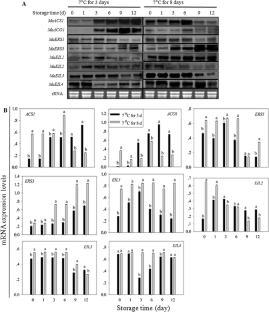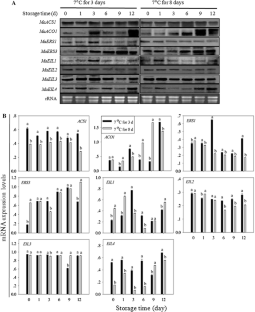 References
Balandrán-Quintana RR, Mendoza-Wilson AM, Gardea-Béjar AA, Vargas-Arispuro I, Martknez-Téllez MA (2003) Irreversibility of chilling injury in zucchini squash (Cucurbita pepo L.) could be a programmed event long before the visible symptoms are evident. Biochem Biophys Res Commun 307:553–557

Ben-Amor M, Flores B, Latché A, Bouzayen M, Pech JC, Romojaro F (1999) Inhibition of ethylene biosynthesis by antisense ACC oxidase RNA prevents chilling injury in Charentais cantaloupe melons. Plant Cell Environ 22:1579–1586

Bleecker AB, Kende H (2000) Ethylene: a gaseous signal molecule in plants. Annu Rev Cell Dev Biol 16:1–18

Choudhury SR, Roy S, Nag A, Singh SK, Sengupta DN (2012) Characterization of an AGAMOUS-like MADS box protein, a probable constituent of flowering and fruit ripening regulatory system in banana. PLoS One 7:e44361

Fluhr R, Mattoo AK (1996) Ethylene biosynthesis and perception. Crit Rev Plant Sci 15:479–523

Guo HW, Ecker JR (2004) The ethylene signaling pathway: new insights. Curr Opin Plant Biol 7:40–49

He QG, Hong KQ, Zou R, Liao F, Cui SF, Zhang EZ, Huang MK (2014) The role of jasmonic acid and lipoxygenase in propylene-induced chilling tolerance on banana fruit. Eur Food Res Technol 238:71–78

Hong KQ, Gong DQ, Xu HB, Wang SB, Jia ZW, Chen J, Zhang LB (2014) Effects of salicylic acid and nitric oxide pretreatment on the expression of genes involved in the ethylene signaling pathway and the quality of postharvest mango fruit. New Z J Crop Hortic 42:205–216

Huang SZ, Sawaki T, Takahashi A, Mizuno S, Takezawa K, Matsumura A (2010) Melon EIN3-like transcription factors (CmEIL1 and CmEIL2) are positive regulators of an ethylene- and ripening-induced 1-aminocyclopropane-1-carboxylic acid oxidase gene (CM-ACO1). Plant Sci 178:251–257

Jiang YM, Joyce DC, Jiang WB, Lu WJ (2004) Effects of chilling temperatures on ethylene binding by banana fruit. Plant Growth Regul 43:109–115

Joseph AC, Jill D, Michael DO (1997) Increased ethylene synthesis enhances chilling tolerance in tomato. Physiol Plant 101:333–340

Kent MW, Andersen CR, Pike LM (1988) Chilling injury in cucumber fruit varieties. HortScience 23:727

Lederman IE, Zauberman G, Weksler A, Rot I, Fuchs Y (1997) Ethylene-forming capacity during cold storage and chilling injury development in 'Keitt' mango fruit. Postharvest Biol Technol 10:107–112

Lelièvre JM, Latché A, Jones B, Bouzayen M, Pech JC (1997) Ethylene and fruit ripening. Physiol Plant 101:727–739

Lipton WJ, Wang CY (1987) Chilling exposures and ethylene treatment change the level of ACC in 'Honey Dew' melons. J Am Soc Hortic Sci 112:109–112

Majeed M, Jeffrey KB (2002) Reduction of chilling injury in 'Tommy Atkins' mangoes during ripening. Sci Hortic 95:297–308

Marangoni AG, Palma T, Sanley DW (1996) Membrane effects in postharvest physiology. Postharvest Biol Technol 7:193–217

Marriott J (1980) Bananas—physiology and biochemistry of storage and ripening for optimum quality. Crit Rev Food Sci Nutr 13:41–88

Mbéguié-A-Mbéguie D, Hubert O, Fils-Lycaon B, Chillet M, Baurens FC (2008) EIN3-like gene expression during fruit ripening of Cavendish banana (Musa acuminata cv. Grande naine). Physiol Plant 133:435–448

McCollum TG, McDonald RE (1991) Electrolyte leakage, respiration, and ethylene production as indices of chilling injury in grapefruit. HortScience 26:1191–1192

McGuire RG (1992) Reporting of objective color measurements. HortScience 27:1254–1255

Nair S, Singh Z, Tan SC (2004) Chilling injury in relation to ethylene biosynthesis in 'Kensington Pride' mango fruit. J Hortic Sci Biotechnol 79:82–90

Pantastico EB, Azizan MA, Abdullah H, Acedo AL, Dasuki IM, Kosiyachinda S (1990) Physiological disorders of banana fruit. In: Hassan A, Pantastico EB (eds) Banana: fruit development, postharvest physiology, handling and marketing in ASEAN. ASEAN Food Handling Bureau, Kuala Lumpur, pp 85–103

Rodriguez SC, López B, Chaves AR (2001) Effect of different treatments on the evolution of polyamines during refrigerated storage of eggplants. J Agric Food Chem 49:4700–4705

Rugkong A, McQuinn R, Giovannoni JJ, Rose JKC, Watkins CB (2011) Expression of ripening-related genes in cold-stored tomato fruit. Postharvest Biol Technol 61:1–14

Shan W, Kuang JF, Chen L, Xie H, Peng HH, Xiao YY, Li XP, Chen WX, He QG, Chen JY, Lu WJ (2012) Molecular characterization of banana NAC transcription factors and their interactions with ethylene signaling component EIL during fruit ripening. J Exp Bot 63:5171–5187

Wade NL, Kavanagh EE, Sepiah M (1993) Effects of modified atmosphere storage on banana postharvest diseases and the control of bunch main-stalk rot. Postharvest Biol Technol 3:143–154

Wan CY, Wilkin TA (1994) A modified hot borate method significantly enhances the yield of high quality RNA from cotton (Gossypium hirsutum L.). Anal Biochem 223:7–12

Wang YC, Adams DO (1982) Chilling-induced ethylene production in cucumber (Cucumis sativa L.). Plant Physiol 69:424–427

Wang CY, Sams CE, Gross KC (1985) Ethylene, ACC, soluble polyuronide, and cell wall non cellulosic neutral sugar content in 'Eldorado' pears during cold storage and ripening. J Am Soc Hortic Sci 110:687–691

Wills RBH, Warton MA, Mussa D, Chew LP (2001) Ripening of climacteric fruits initiated at low ethylene levels. Aust J Exp Agric 41:89–92

Xiao YY, Chen JY, Kuang JF, Shan W, Xie H, Jiang YM, Lu WJ (2013) Banana ethylene response factors are involved in fruit ripening through their interactions with ethylene biosynthesis genes. J Exp Bot 64:2499–2510

Yan SC, Chen JY, Yu WM, Kuang JF, Chen WX, Li XP, Lu WJ (2011) Expression of genes associated with ethylene-signalling pathway in harvested banana fruit in response to temperature and 1-MCP treatment. J Sci Food Agric 91:650–657

Yang SF, Hoffman NE (1984) Ethylene biosynthesis and its regulation in higher plants. Annu Rev Plant Physiol 35:155–189

Yin XR, Allan AC, Chen KS, Ferguson IB (2010) Kiwifruit EIL and ERF genes involved in regulating fruit ripening. Plant Physiol 153:1280–1292
Acknowledgments
This work was supported in part by the National Natural Science Foundation of China (grant no. 31160406) and Guangxi Natural Science Foundation (grant no. 2012GXNSFBA053058).
Additional information
K. Hong and J. Xie contributed equally to this work.
Communicated by P. K. Nagar.
About this article
Cite this article
Hong, K., Xie, J., Zou, R. et al. Expression of ethylene biosynthetic and signaling genes in relation to ripening of banana fruit after cold storage. Acta Physiol Plant 37, 252 (2015). https://doi.org/10.1007/s11738-015-2005-6
Received:

Revised:

Accepted:

Published:
Keywords
Banana fruit

Chilling injury

Ripening

Ethylene biosynthetic and signaling genes