Abstract
Brassinolide (BL) is a plant growth regulator. This study analyzes the effects of BL on cotton growth, Na+ accumulation, proline content, MDA content, antioxidant enzyme activities, and differentially expressed genes (DEGs) of cotton roots under NaCl stress. We grew two cotton cultivars, Sumian 12 (salt sensitive) and Sumian 22 (salt tolerant), in continuously aerated Hoagland's nutrient solution supplemented with 200 mM NaCl. NaCl stress increased the Na+, proline, and MDA content and decreased root activity and protein content in the roots of Sumian 12 and 22, and the change rang of Sumian 12 was higher than that of Sumian 22. The application of BL counteracted the NaCl stress-induced growth inhibition in the two tested cotton cultivars. It reduced the accumulation of Na+, enhanced proline content, and resulted in an overall change in the activities of antioxidant enzymes causing a decrease in the MDA content of NaCl-stressed roots, and the influence of BL on salt-stressed Sumian 12 plants was more pronounced than that on Sumian 22. The digital gene expression analysis in Sumian 12 indicated that BL application significantly influenced the gene expression in NaCl-stressed roots. The majority of 7659 (3661 up-regulated/3998 down-regulated) DEGs of NaCl/CK in roots of Sumian 12 were regulated by BL, and the gene expression pattern as a result of the root-applied BL on NaCl-stressed cotton treatment (BL + NaCl) was similar to the control. Our results indicate that the root-applied brassinolide alleviates NaCl stress on cotton through improving root activity, physiology, and gene expression.
Access options
Buy single article
Instant access to the full article PDF.
USD 39.95
Price excludes VAT (USA)
Tax calculation will be finalised during checkout.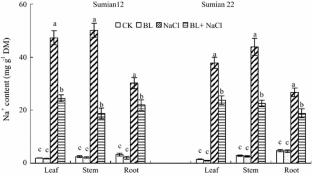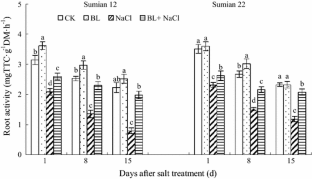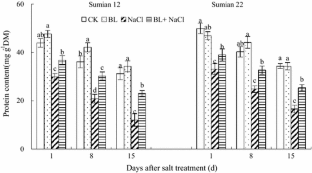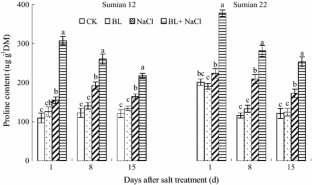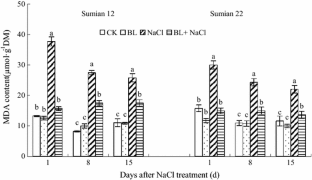 Abbreviations
BL:

Brassinolide

BRs:

Brassinosteroids

DEGs:

Differentially expressed genes

MDA:

Malondialdehyde

SOD:

Superoxide dismutase

CAT:

Catalase

POD:

Peroxidase
References
Ahammed GJ, Choudhary SP, Chen S, Xia X, Shi K, Zhou Y, Yu J (2013) Role of brassinosteroids in alleviation of phenanthrene-cadmium co-contamination-induced photosynthetic inhibition and oxidative stress in tomato. J Exp Bot 63(1):199–213

Ali B, Hasan SA, Hayat S, Hayat Q, Yadav S, Fariduddin Q, Ahmad A (2001) A role for brassinosteroids in the amelioration of aluminium stress through antioxidant system in mung bean (Vigna radiata L. Wilczek). Environ Exp Bot 62:153–159

Ali Q, Athar HR, Ashraf M (2008) Modulation of growth, photosynthetic capacity and water relations in salt stressed wheat plants by exogenously applied 24-epibrassinolide. Plant Growth Regul 56(2):107–116

Amalo K, Chen GX, Asade K (1994) Separate assays specific for ascorbate peroxidase and guaiacol peroxidase and for the chloroplastic and cytosolic isozymes of ascorbate peroxidase in plants. Plant Cell Physiol 35:497–504

Ashraf M, Ahmad S (2000) Influence of sodium chloride on ion accumulation, yield components and fibre characteristics in salt-tolerant and salt-sensitive lines of cotton (Gossypium hirsutum L.). Field Crops Res 66:115–127

Bajguz A (2000) Effect of brassinosteroids on nucleic acid and protein content in cultured cells of Chlorella vulgaris. Plant Physiol Biochem 38:209–215

Bajguz A, Hayat S (2009) Effects of brassinosteroids on the plant responses to environmental stresses. Plant Physiol Biochem 47:1–8

Bandeh-hagh A, Toorchi M, Mohammadi A, Chaparzadeh N, Salekdeh GH, Kazemnia H (2008) Growth and osmotic adjustment of canola genotypes in response to salinity. J Food Agric Environ 6(2):201–208

Bates LS, Waldeen RP, Teare ID (1973) Rapid determination of free proline for water stress studies. Plant Soil 39:205–207

Chen Z, Pottosin II, Cuin TA, Fuglsang AT, Tester M, Jha D, Zepeda-Jazo I, Zhou M, Palmgren MG, Newman IA, Shabala S (2007) Root plasma membrane transporters controlling K+/Na+ homeostasis in salt stressed barley. Plant Physiol 145:1714–1725

Clouse SD, Sasse J (1998) Brassinosteroids: essential regulators of plant growth and development. Annu Rev Plant Physiol Plant Mol Biol 49:427–451

Dhaubhadel S, Krishna P (2008) Identification of differentially expressed genes in brassinosteroid-treated brassica napus seedlings. J Plant Growth Regul 27:297–300

Divi UK, Krishna P (2009) Brassinosteroid: a biotechnological target for enhancing crop yield and stress tolerance. New Biotechnol 36:131–136

Foster JG, Hess JL (1980) Responses of superoxide dismutase and glutathione reductase activities in cotton leaf tissue exposed to an atmosphere enriched in oxygen. Plant Physiol 66:482–487

Gill SS, Tuteja N (2010) Reactive oxygen species and antioxidant machinery in abiotic stress tolerance in crop plants. Plant Physiol Bioch 48:909–930

Goetz M, Godt DE, Roitsch T (2000) Tissue-specific induction of the mRNA for an extracellular invertase isoenzyme of tomato by brassinosteroids suggests a role for steroid hormones in assimilate partitioning. Plant J 22:515–522

Hayat S, Maheshwari P, Wani AS, Irfan M, Alyemeni MN, Ahmad A (2012) Comparative effect of 28 homobrassinolide and salicylic acid in the amelioration of NaCl stress in Brassica juncea L. Plant Physiol Bioch 53:61–68

Jaarsma R, Vries RSM, Boer AH (2013) Effect of salt stress on growth, Na+ accumulation and proline metabolism in potato (Solanum tuberosum) cultivars. PLoS One 8(3):e60183. doi:10.1371/journal.pone.0060183

Kang YY, Guo SR, Li J, Duan JJ (2009) Effect of root applied 24-epibrassinolide on carbohydrate status and fermentative enzyme activities in cucumber (Cucumis sativus L.) seedlings under hypoxia. Plant Growth Regul 57:259–269

Kartal G, Temel A, Arican E, Gozukirmizi N (2009) Effects of brassinosteroids on barley root growth, antioxidant system and cell division. Plant Growth Regul 58:261–267

Li HS (2000) Principles and techniques of plant physiological experiments. Higher Education Press, Beijing, pp 119–167 (in Chinese)

Li ZJ, Xie XY, Zhang SQ, Liang YC (2011) Negative effects of oxytetracycline on wheat (Triticum aestivum L.) growth, root activity, photosynthesis, and chlorophyll contents. Agric Sci China 10:1545–1553

Liu Y, Zhao Z, Si J, Di C, Han J, An L (2009) Brassinosteroids alleviate chilling -induced oxidative damage by enhancing antioxidant defense system in suspension cultured cells of Chorispora bungeana. Plant Growth Regul 59:207–214

Mortazavi A, Williams BA, McCue K, Schaeffer L, Wold B (2008) Mapping and quantifying mammalian transcriptomes by RNA-Seq. Nat Methods 5:621–628

Neto ADA, Prisco JT, Eneas-Filho J, Abreu CEB, Gomez-Filho E (2006) Effect of salt stress on antioxidative enzymes and lipid peroxidation in leaves and roots of salt-tolerant and salt-sensitive maize genotypes. Environ Exp Bot 56:87–94

Oueslati S, Karray-Bouraoui N, Attia H, Rabhi M, Ksouri R, Lachaal M (2010) Physiological and antioxidant responses of Mentha pulegium (Pennyroyal) to salt stress. Acta Physiol Plant 32:289–296

Sairam PK, Srivastava GC (2002) Changes in antioxidant activity in sub-cellular fractions of tolerant and susceptible wheat genotypes in response to long term salt stress. Plant Sci 162:897–904

Shahbaz M, Ashraf M, Athar HR (2008) Does exogenous application of 24-epibrassinolide ameliorate salt induced growth inhibition in wheat (Triticum aestivum L.)? Plant Growth Regul 55:51–64

Sharma I, Bhardwaj R, Pati PK (2012) Mitigation of adverse effects of chlorpyrifos by 24-epibrassinolide and analysis of stress markers in a rice variety Pusa Basmati-1. Ecotox Environ Safe 85:72–81

Sharma I, Ching E, Saini R, Bhardwaj S, Pati PK (2013) Exogenous application of brassinosteroid offers tolerance to salinity by altering stress responses in rice variety Pusa Basmati-1. Plant Physiol Biochem 69:17–26

Shu HM, Guo SQ, Shen XL, Ni WC (2011) Effects of brassinosteroid on cotton physiology under NaCl stress. Jiangsu J Agr Sci 27(6):1198–1202 (in Chinese)

Symons GM, Reid JB (2004) Brassinosteroids do not undergo long-distance transport in pea. Implications for the regulation of endogenous brassinosteroid levels. Plant Physiol 135:2196–2206

Wu CY, Trieu A, Radhakrishnan P, Kwok SF, Harris S, Zhang K, Wang J, Wan J, Zhai H, Takatsuto S, Matsumoto S, Fujioka S, Feldmann KA, Pennella RI (2008) Brassinosteroids regulate grain filling in rice. Plant Cell 20:2130–2145

Yao D, Zhang X, Zhao X, Liu C, Wang C, Zhang Z, Zhang C, Wei Q, Wang Q, Yan H, Li F, Su Z (2011) Transcriptome analysis reveals salt-stress-regulated biological processes and key pathways in roots of cotton (Gossypium hirsutum L.). Genomics 98(1):47–55

Zeng H, Tang Q, Hua X (2010) Arabidopsis brassinosteroid mutants det 2-1 and bin 2-1 display altered salt tolerance. J Plant Growth Regul 29:44–52

Zhang GW, Lu HL, Zhang L, Chen BL, Zhou ZG (2011a) Salt tolerance evaluation of cotton (Gossypium hirsutum L.) at its germinating and seedling stages and selection of related indices. Chin J Appl Ecol 22:2045–2053 (in Chinese)

Zhang H, Shen G, Kuppu S, Gaxiola R, Payton P (2011b) Creating drought- and salt-tolerant cotton by overexpressing a vacuolar pyrophosphatase gene. Plant Signal Behav 6(6):861–863

Zhang L, Chen B, Zhang G, Li J, Wang Y, Meng Y, Zhou Z (2013a) Effect of soil salinity, soil drought, and their combined action on the biochemical characteristics of cotton roots. Acta Physiol Plant 35:3167–3179

Zhang L, Zhang G, Wang Y, Zhou Z, Meng Y, Chen B (2013b) Effect of soil salinity on physiological characteristics of functional leaves of cotton plants. J Plant Res 126:293–304
Acknowledgments
This work was funded by the National Natural Science Foundation of China (31201139), National R&D Project of Transgenic Crops of Ministry of Science and Technology of China (2011ZX08005-001), and Jiangsu Agricultural science and technology innovation funds (CX (13) 5011).
Additional information
Communicated by R. Aroca.
About this article
Cite this article
Shu, H., Ni, W., Guo, S. et al. Root-applied brassinolide can alleviate the NaCl injuries on cotton. Acta Physiol Plant 37, 75 (2015). https://doi.org/10.1007/s11738-015-1823-x
Received:

Revised:

Accepted:

Published:

DOI: https://doi.org/10.1007/s11738-015-1823-x
Keywords
Brassinolide

Cotton

NaCl stress

Growth

Root physiology

Differentially expressed genes