Abstract
A proteomic analysis combining photosynthesis-related key enzymes measurement and mRNA level analysis was used to investigate the variations of proteins involved in the photosynthetic apparatus in flag leaves of high-yield rice LYPJ during senescence under field conditions. The stability of chlorophyll-protein complexes of thylakoid membranes was measured by BN-PAGE system. Our findings revealed that the LHCII complexes were more stable than F0F1-ATPase and Cyb 6 /f complexes. Thylakoid membranes proteins during the senescence stage were separated by two-dimensional gel electrophoresis. We identified 13 photosynthesis-related proteins (a fivefold or greater variation), including electron transport, Calvin–Benson cycle and chloroplast protease during senescence of flag leaves. Moreover, our data showed that Ca2+-ATPase was more stable during senescence of flag leaves in rice, compared to Mg2+-ATPase. In enzymes activities analyses, it was observed that a little increment of C4 photosynthetic enzymes activities at the beginning of flag leaves senescence might compensate, to some degree, for the larger reductions in Rubisco activity, confirmed by quantitative RT-PCR analysis.
Access options
Buy single article
Instant access to the full article PDF.
USD 39.95
Price excludes VAT (USA)
Tax calculation will be finalised during checkout.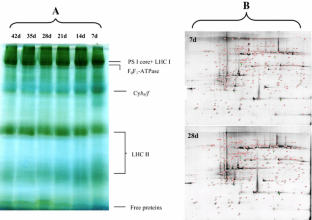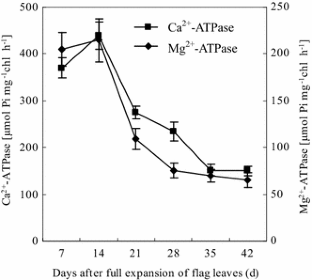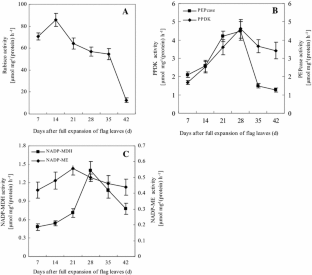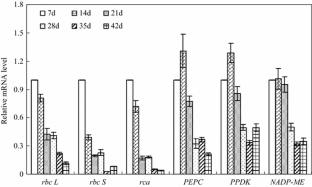 References
Bate NJ, Rothstein SJ, Thompson JE (1991) Expression of nuclear and chloroplast photosynthesis specific genes during leaf senescence. J Exp Bot 42:801–811

Bertamini M, Nedunchezhian N (2002) Leaf age effects on chlorophyll, Rubisco, photosynthetic electron transport activities and thylakoid membrane protein in field grown grapevine leaves. J Plant Physiol 159:799–803

Bradford MM (1976) A rapid and sensitive method for the quantization of microgram quantities of protein utilizing the principle of protein-dye binding. Anal Biochem 72:248–254

Brady CJ (1981) A coordinated decline in the synthesis of subunits of Ribulosebisphosphate carboxylase in aging wheat leaves. I. Analysis of isolated protein, subunits and ribosomes. Aust J Plant Physiol 8:591–602

Crafts-Brandner SJ, Salvucci ME, Egli DB (1990) Changes in ribulosebisphosphate carboxylase/oxygenase and ribulosebisphosphate 5-phosphate kinase abundances and photosynthetic capacity during leaf senescence. Photosynth Res 23:223–230

Crecelius F, Streb P, Feierabend J (2003) Malate metabolism and reactions of oxidoreduction in cold-hardened winter rye (Secale cereale L.) leaves. J Exp Bot 54:1075–1083

Doubnerová V, Ryšlavá H (2011) What can enzymes of C4 photosynthesis do for C3 plants under stress? Plant Sci 180:575–583

Doubnerová V, Jirásková A, Janosková M, Müller K, Bat'ková P, Synková H, Cerovská N, Ryslavá H (2007) The activity and isoforms of NADP-malic enzyme in Nicotiana benthamiana plants under biotic stress. Gen Physiol Biophys 26:281–289

Doubnerová V, Miedzińska L, Dobrá J, Vankova R, Ryšlavá H (2014) Phosphoenolpyruvate carboxylase, NADP-malic enzyme, and pyruvate, phosphate dikinase are involved in the acclimation of Nicotiana tabacum L. to drought stress. J Plant Physiol 171:19–25

Evans IM, Rus AM, Belanger EM, Kimoto M, Brusslan JA (2010) Dismantling of Arabidopsis thaliana mesophyll cell chloroplasts during natural leaf senescence. Plant Biol 12:1–12

Ferguson DL, Al-khatib K, Guikema JA, Paulsen GM (1993) Degradation of proteins from thylakoid membranes in senescing wheat leaves at high temperature. Plant Cell Environ 16:421–428

Ghosh S, Mahoney SR, Penterman JN, Peirson D, Dumbroff EB (2001) Ultrastructural and biochemical changes in chloroplasts during Brassica napus senescence. Plant Physiol Biochem 39:777–784

Gregersen PL, Holm PB, Krupinska K (2008) Leaf senescence and nutrient remobilisation in barley and wheat. Plant Biol 10:37–49

Guha A, Sengupta D, Reddy AR (2013) Polyphasic chlorophyll a fluorescence kinetics and leaf protein analyses to track dynamics of photosynthetic performance in mulberry during progressive drought. J Photochem Photobiol B 119:71–83

Hao L, Wang Y, Zhang J, Xie Y, Zhang M, Duan L, Li Z (2013) Coronatine enhances drought tolerance via improving antioxidative capacity to maintaining higher photosynthetic performance in soybean. Plant Sci 210:1–9

Hojka M, Thiele W, Tóth SZ, Lein W, Bock R, Schöttler MA (2014) Inducible repression of nuclear-encoded subunits of the cytochrome b6f complex in tobacco reveals an extraordinarily long lifetime of the complex. Plant Physiol 165:1632–1646

Humbeck K, Krupinska K (2003) The abundance of minor chlorophyll a/b-binding proteins CP29 and LHCI of barley (Hordeum vulgare L.) during leaf senescence is controlled by light. J Exp Bot 54:375–383

Humbeck K, Quast S, Krupinska K (1996) Functional and molecular changes in the photosynthetic apparatus during senescence of flag leaves from field-grown barley plants. Plant Cell Environ 19:337–344

Johnson HS, Hatch MD (1970) Properties and regulation of leaf NADP malate dehydrogenase and malic enzyme in plants with C4-carboxylic pathway of photosynthesis. Biochem J 119:273–280

Kang K, Kim YS, Park S, Back K (2009) Evaluation of light-harvesting complex proteins as senescence-related protein markers in detached rice leaves. Photosynthetica 47:638–640

Komenda J, Knoppová J, Krynická V, Nixon PJ, Tichý M (2010) Role of FtsH2 in the repair of Photosystem II in mutants of the cyanobacterium Synechocystis PCC 6803 with impaired assembly or stability of the Ca Mn (4) cluster. Biochim Biophys Acta 1797:566–575

Krupinska K, Mulisch M, Hollmann J, Tokarz K, Zschiesche W, Kage H, Humbeck K, Bilger W (2012) An alternative strategy of dismantling of the chloroplasts during leaf senescence observed in a high-yield variety of barley. Physiol Plant 144:189–200

Kügler M, Jänsch L, Kruft V, Schmitz UK, Braun HP (1997) Analysis of the chloroplast protein complexes by blue-native polyacrylamide gel electrophoresis (BN-PAGE). Photosynthesis Res 53:35–44

Lu QT, Lu CM, Zhang JH, Kuang TY (2002) Photosynthesis and chlorophyll a fluorescence during flag leaf senescence of field-grown wheat plants. J Plant Physiol 159:1173–1178

Lu QT, Wen XG, Lu CM, Zhang QD, Kuang TY (2003) Photoinhibition and photoprotection in senescent leaves of field-grown wheat plants. Plant Physiol Biochem 41:749–754

Martínez DE, Costa ML, Guiamet JJ (2008) Senescence-associated degradation of chloroplast proteins inside and outside the organelle. Plant Biol 10:15–22

Nilo-Poyanco R, Olivares D, Orellana A, Hinrichsen P, Pinto M (2013) Proteomic analysis of grapevine (Vitis vinifera L.) leaf changes induced by transition to autotrophy and exposure to high light irradiance. J Proteomics 91:309–330

Roberts DR, Thompson JE, Dumbroff EB, Gepstein S, Mattoo AK (1987) Differential changes in the synthesis and steady-state levels of thylakoid proteins during bean leaf senescence. Plant Mol Biol 9:343–353

Ryslava H, Muller K, Semoradova S, Synkova H, Cerovska N (2003) Photosynthesis and activity of phosphoenolpyruvate carboxylase in Nicotiana tabacum L. leaves infected by Potato virus A and Potato virus Y. Photosynthetica 41:357–363

Sayeed SA, Behera BK, Mohanty P (1985) Interaction of light quality and benzimidazole on pigment contents and on photochemical activity of chloroplasts isolated from detached senescing wheat (Triticum aestivum) leaves. Physiol Plant 64:383–388

Schiltz S, Gallardo K, Huart M, Negroni L, Sommerer N, Burstin J (2004) Proteome reference maps of vegetative tissues in pea. An investigation of nitrogen mobilization from leaves during seed filling. Plant Physiol 135:2241–2260

Shao J, Zhang Y, Yu J, Guo L, Ding Y (2011) Isolation of thylakoid membrane complexes from rice by a new double-strip BN/SDS-PAGE and bioinformatics prediction of stromal ridge subunits interaction. PLoS One 6:e20342

Smeets K, Cuypers A, Lambrechts A, Semane B, Hoet P, Van Laere A, Vangronsveld J (2005) Induction of oxidative stress and antioxidative mechanisms in Phaseolus vulgaris after Cd application. Plant Physiol Biochem 43:437–444

Sobhanian H, Aghaei K, Komatsu S (2011) Changes in the plant proteome resulting form salt stress: toward the creation of salt-tolerant crops? J Proteomics 74:1323–1337

Soussi M, Ocana A, Lluch C (1998) Effects of salt stress on growth, photosynthesis and nitrogen fixation in chick-pea (Cicer arietinum L.). J Exp Bot 49:1329–1337

Tang YL, Wen XG, Lu CM (2005) Differential changes in degradation of chlorophyll-protein complexes of photosystem I and photosystem II during flag leaf senescence of rice. Plant Physiol Biochem 43:193–201

Wu XY, Kuai BK, Jia JZ, Jing HC (2012) Regulation of leaf senescence and crop genetic improvement. J Integr Plant Biol 54:936–952

Yang XH, Chen XY, Ge QY, Li B, Tong YP, Li ZS, Kuang TY, Lu CM (2007) Characterization of photosynthesis of flag leaves in a wheat hybrid and its parents grown under field conditions. J Plant Physiol 164:318–326

Zhang A, Lu Q, Yin Y, Ding S, Wen X, Lu C (2010) Comparative proteomic analysis provides new insights into the regulation of carbon metabolism during leaf senescence of rice grown under field conditions. J Plant Physiol 167:1380–1389

Zheng CF, Jiang D, Liu FL, Dai TB, Jing Q, Cao WX (2009) Effects of salt and waterlogging stresses and their combination on leaf photosynthesis, chloroplast ATP synthesis, and antioxidant capacity in wheat. Plant Sci 176:575–582
Acknowledgments
This research was supported by the National Natural Science Foundation of China (No. 31271621), Natural Science Foundation of Jiangsu Province, China (No. 11KJA180001), the Priority Academic Program Development of Jiangsu Higher Education Institutions (PAPD) and NSFC for Talents Training in Basic Science (J1103507, J1210025).
About this article
Cite this article
Wang, Y., Yu, J., Jiang, X. et al. Analysis of thylakoid membrane protein and photosynthesis-related key enzymes in super high-yield hybrid rice LYPJ grown in field condition during senescence stage. Acta Physiol Plant 37, 1 (2015). https://doi.org/10.1007/s11738-014-1746-y
Received:

Revised:

Accepted:

Published:

DOI: https://doi.org/10.1007/s11738-014-1746-y
Keywords