Abstract
The chlorinal-1 (ch1-1) mutant of Arabidopsis thaliana lacks the light-harvesting complexes in photosystem II (LHCII) due to deficiency of ability to synthesize chlorophyll (Chl) b. To investigate if a lack of LHCII affects plant growth and water loss, the Chl content, Chl fluorescence, glutathione (GSH) content, plant growth, water loss and stomatal aperture were measured using wild-type (WT) and ch1-1 mutant plants. The leaves of ch1-1 mutants accumulated significantly lower Chl content, Chl fluorescence and GSH content than WT plants. Plant growth and the leaf area of ch1-1 plants were also lower when compared to WT plants. The ch1-1 plant showed delayed flowering and higher a number of rosette leaves compared to the WT plants. The treatment of N-acetyl-cysteine increased Chl content and Chl fluorescence in leaves of both plants. Stomatal aperture was significantly lower in guard cells of the ch1-1 mutant than that of WT plants. Dark treatment increased stomatal closure which was corrected followed by the light treatment. Abscisic acid (ABA)-induced stomatal aperture was significantly lower in ch1-1 mutant than WT plants. Water loss through stomatal opening in ch1-1 plants was significantly lower than WT plants regardless of ABA treatment. This study suggests that a lack of LHCII might control plant growth and water loss in ch1-1 mutant of Arabidopsis thaliana.
Access options
Buy single article
Instant access to the full article PDF.
US$ 39.95
Tax calculation will be finalised during checkout.
Subscribe to journal
Immediate online access to all issues from 2019. Subscription will auto renew annually.
US$ 79
Tax calculation will be finalised during checkout.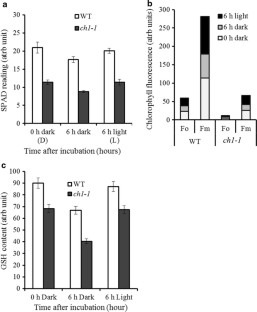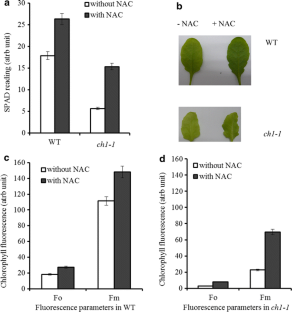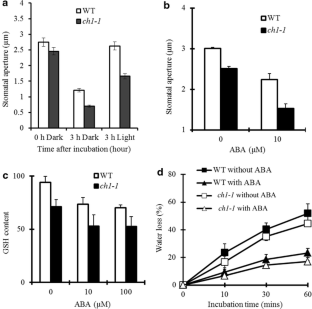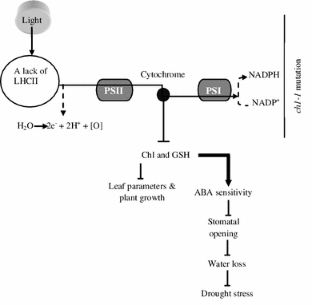 References
Alscher RG (1989) Biosynthesis and antioxidant function of glutathione in plants. Physiolog Planta 77:457–464

Assmann SM, Wang XQ (2001) From milliseconds to millions of years: guard cells and environmental responses. Curr Opin Plant Biol 4:421–428

Baena-González E, Aro EM (2002) Biogenesis, assembly and turnover of photosystem II units. Phil Trans R Soc Lond B Biol Sci 357:1451–1460

Barber J (2006) Photosystem II: an enzyme of global significance. Biochem Soc Trans 34:619–631

Bernier G, Havelange A, Houssa C, Petitjean A, Lejeune P (1993) Physiological signals that induce flowering. Plant Cell 5:1147–1155

Caffarri S, Kouril R, Kereïche S, Boekema EJ, Croce R (2009) Functional architecture of higher plant photosystem II supercomplexes. The EMBO J 28:3052–3063

CheLah MBK, Nordin MBM, Isa MM, Khanif YM, Jahan MS (2011) Composting increase BRIS soil health and sustain rice production on BRIS soil. Sci Asia 37:291–295

Edelman M, Mattoo AK (2008) D1-protein dynamics in photosystem II: the lingering enigma. Photosynth Res 98:609–620

Foyer CH, Noctor G (2005) Redox homeostasis and antioxidant signaling: a metabolic interface between stress perception and physiological responses. Plant Cell 17:1866–1975

Havaux M, Eymery F, Porfirova S, Rey P, Doermann P (2005) Vitamin E protects against photoinhibition and photooxidative stress in Arabidopsis thaliana. Plant Cell 17:3451–3469

Hwang ES, Lee HJ (2006) Induction of quinine reductase by allylisothiocyanate (AITC) and the N-acetylecysteine conjugate of AITC in Hepalc1c7 mouse hepatoma cells. Biofactors 26:7–15

Jahan MS, Ogawa K, Nakamura Y, Shimoishi Y, Mori IC, Murata Y (2008) Deficient glutathione in guard cells facilitates abscisic acid-induced stomatal closure but does not affect light-induced stomatal opening. Biosci Biotechnol Biochem 72:2795–2798

Jahan MS, Nakamura Y, Murata Y (2011) Histochemical quantification of GSH contents in guard cells of Arabidopsis thaliana. Sci Asia 37:291–295

Jahan MD, CheLah MKB, Nordin MNB, Kamarulzaman SSBS (2012) Glutathione is not involved in light-, Dark-, Ca- and H2O2-induced stomatal movement in Arabidopsis. J Stress Physiol Biochem 8:240–246

Jahan MS, Nordin MNB, CheLah MKB, Khanif YM (2013) Effects of water stress on rice production: bioavailability of potassium in soil. J Stress Physiol Biochem 9:97–107

Jansson S, Stefansson H, Nystrom U, Gustafsson P, Albertsson PA (1997) Antenna protein composition of PS I and PS II in thylakoid sub- domains. Biochim Biophys Acta 1320:297–309

Jiang HW, Liu MJ, Chen IC, Huang CH, Chao LY, Hsieh HL (2010) A glutathione S-transferase regulated by light and hormones participates in the modulation of Arabidopsis seedling development. Plant Physiol 154:1646–1658

Khokon MAR, Jahan MS, Rahman T, Hossain MA, Munemasa S, Mori IC, Nakamura Y, Murata Y (2011) Allylisothiocyanate (AITC) induces stomatal closure in Arabidopsis. Plant Cell Environ 34:1900–1906

Kinoshita T, Doi M, Suetsugu N, Kagawa T, Wada M, Shimazaki K (2001) Phot1 and phot2 mediate blue light regulation of stomatal opening. Nature 414:656–660

Koornneef M, Leon-Kloosterziel KM, Schwartz SH, Zeevaart JAD (1998) The genetic and molecular dissection of abscisic acid biosynthesis and signal transduction in Arabidopsis. Plant Physiol Biochem 36:83–89

Lasc`eve G, Leymarie J, Vavasseur A (1997) Alterations in light-induced stomatal opening in a starch-deficient mutant of Arabidopsis thaliana L. deficient in chloroplast phosphoglucomutase activity. Plant Cell Environ 20:350–358

Leung J, Giraudat J (1998) Abscisic acid signal transduction. Annu Rev Plant Physiol Plant Mol Biol 49:199–222

May MJ, Vernoux T, Leaver C, Van Montagu M, Inze D (1998) Glutathione homeostasis in plants: implications for environmental sensing and plant development. J Exp Bot 49:649–667

Meinhard M, Rodriguez PL, Grill E (2002) The sensitivity of ABI2 to hydrogen peroxide links the abscisic acid-response regulator to redox signalling. Planta 214:775–782

Miao Y, Lv D, Wang P, Wang XC, Chen J, Miao C, Song CP (2006) An Arabidopsis glutathione peroxidase functions as both a redox transducer and a scavenger in abscisic acid and drought stress responses. Plant Cell 18:2749–2766

Nelson N, Yocum CF (2006) Structure and function of photosystems I and II. Annu Rev Plant Biol 57:521–565

Noctor G, Gornez L, Vanacker H, Foyer CH (2002) Interactions between biosynthesis, compartmentation and transport in the control of glutathione homeostasis and signaling. J Expt Bot 53:1283–1304

Ogawa K, Tasaka Y, Mino M, Tanaka Y, Iwabuchi M (2001) Association of glutathione with flowering in Arabidopsis thaliana. Plant Cell Physiol 42:524–530

Ogawa K, Hatano-Iwasaki A, Yanagida M, Iwabuchi M (2004) Level of glutathione is regulated by ATP-dependent ligation of glutamate and cysteine through in Arabidopsis thaliana: mechanism of strong interaction of light intensity with flowering. Plant Cell Physiol 45:1–8

Okuma E, Jahan MS, Munemasa S, Ogawa K, Watanabe-Sugimoto M, Nakamura Y, Shimoishi Y, Mori IC, Murata Y (2011) Negative regulation of abscisic acid-induced stomatal closure by glutathione in Arabidopsis. J Plant Physiol 168:2048–2055

Ort DR, Yocum CF (1996) Oxygenic photosynthesis: the light reaction. Kluwer Academic Publishers, Dordrecht

Oster U, Tanaka R, Tanaka A, Rüdiger W (2000) Cloning and functional expression of the gene encoding the key enzyme for chlorophyll b biosynthesis (CAO) from Arabidopsis thaliana. Plant J 21:305–310

Purves WK, Orians GH, Heller HC, Sadava D (1997) Life: the science of biology, 5th edn. Sinauer Associates, Inc. Sunderland, pp 165–188

Ruban AV (2009) Plants in light. Commun Integr Biol 2:50–55

Sánchez-Fernández R, Fricker M, Corben LB, White NS, Sheard N, Leaver CJ, Van Montagu M, Inzé D, May MJ (1997) Cell proliferation and hair tip growth in the Arabidopsis root are under mechanistically different forms of redox control. Proc Natl Acad Sci USA 94:2745–2750

Schmid VHR (2008) Light-harvesting complexes of vascular plants. Cell Mol Life Sci 65:3619–3639

Schroeder JI, Kwak JM, Allen GJ (2001) Guard cell abscisic acid signaling and engineering drought hardiness in plants. Nature 410:327–330

Shimazaki K, Doi M, Assmann SM, Kinoshita T (2007) Light regulation of stomatal movement. Ann Rev Plant Biol 58:219–247

Shivalingappa PC, Jin H, Anantharam V, Kanthasamy A, Kanthasamy A (2012) N-acetyl cysteine protects against methamphetamine-induced dopaminergic neurodegeneration via modulation of redox status and autophagy in dopaminergic cells. Parkinson's Dis. doi:10.1155/2012/424285

Yamasato A, Nagata N, Tanaka R, Tanaka A (2005) The N-terminal domain of chlorophyllide a oxygenase confers protein instability in response to chlorophyll B accumulation in Arabidopsis. Plant Cell 17:1585–1597

Zhang Y, Xu W, Li Z, Deng XW, Wu W, Xue Y (2008) F-box protein DOR functions as a novel inhibitory factor for abscisic acid-induced stomatal closure under drought stress in Arabidopsis. Plant Physiol 148:2121–2133
Acknowledgments
This work was supported by the SEED fund project [UniSZA/12/GU(008)], Universiti Sultan Zainal Abidin, Kuala Terengganu, Malaysia.
Additional information
Communicated by M. Garstka.
About this article
Cite this article
Jahan, M.S., Nozulaidi, M., Khandaker, M.M. et al. Control of plant growth and water loss by a lack of light-harvesting complexes in photosystem II in Arabidopsis thaliana ch1-1 mutant. Acta Physiol Plant 36, 1627–1635 (2014). https://doi.org/10.1007/s11738-014-1538-4
Received:

Revised:

Accepted:

Published:

Issue Date:
Keywords
Photosystems

Glutathione

Guard cells

Abscisic acid

Chlorophyll content

Ch1-1 mutation