Abstract
This study examined the effects of the combination of UV radiation and water limitation on the leaf photosynthesis, stomatal conductance, and terpene emissions of four Mediterranean species. 1-year-old seedlings of these Mediterranean species [Daphne gnidium L., Pistacia lentiscus L., Ilex aquifolium L. and Laurus nobilis L.] were grown under one of three UV treatments (without UV, with UVA, or with UVA + UVB) and two watering regimes (high and low water supply). In general, UV treatments did not affect significantly leaf photosynthesis or stomatal conductance, although UVA and UVB radiation in September led to a reduction in leaf stomatal conductance in D. gnidium. Leaf photosynthesis rates did not differ significantly between the two watering treatments, even though, in three of the species, leaf stomatal conductance was significantly higher among the well-watered plants. The effects of UV on terpene emissions were species-specific; D. gnidium had the highest terpene emission rates when grown under UVA + UVB radiation, which was also true for L. nobilis in September. Overall, UV treatments did not have a significant effect on total terpene emission rates in I. aquifolium, but UVB and UVA in July and September, respectively, reduced emission rates in P. lentiscus. A limited water supply reduced the terpene emission rates in D. gnidium, increased emissions in L. nobilis, and did not affect the emission rates in the other two species.
Access options
Buy single article
Instant access to the full article PDF.
US$ 39.95
Tax calculation will be finalised during checkout.
Subscribe to journal
Immediate online access to all issues from 2019. Subscription will auto renew annually.
US$ 79
Tax calculation will be finalised during checkout.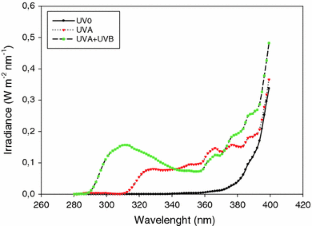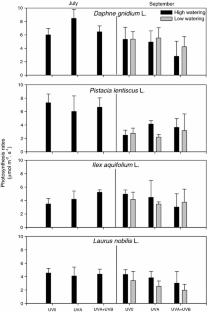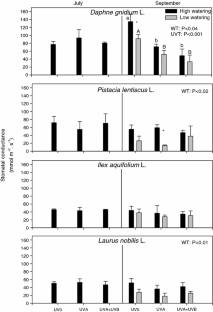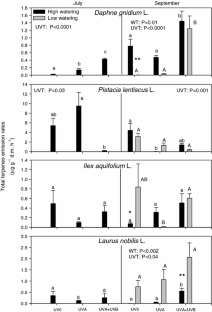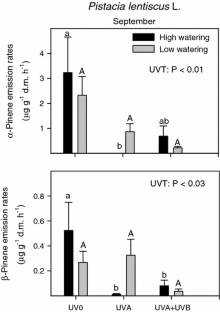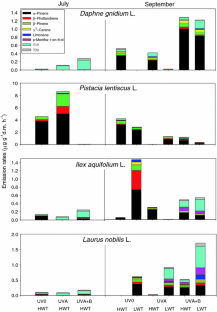 Abbreviations
UVA:

Ultraviolet A

UVB:

Ultraviolet B

UV0:

Without UV

HWT:

High water treatment

LWT:

Low water treatment
References
Agrawal SB, Singh S, Agrawal M (2009) Ultraviolet-B induced changes in gene expression and antioxidants in plants. Advances in botanical research: oxidative stress and redox regulation in plants. Adv Bot Res 52:47–86

Albert KR, Rinnan R, Ro-Poulsen H, Mikkelsen TN, Hakansson KB, Arndal MF, Michelsen A (2008) Solar ultraviolet-B radiation at Zackenberg: the impact on higher plants and soil microbial communities. Adv Ecol Res 40:421–440

Allen DJ, Nogues S, Baker NR (1998) Ozone depletion and increased UV-B radiation: is there a real threat to photosynthesis? J Exp Bot 49:1775–1788

Ballaré CL, Barnes PW, Kendrick RE (1991) Photomorphogenic effects of UV-B radiation on hypocotyl elongation in wild-type and stable-phytochrome-deficient mutant seedlings of cucumber. Physiol Plant 83:652–658

Barta C, Kalai T, Hedig K, Vass I, Hedig E (2004) Differences in the ROS-generating efficacy of various ultravioletwavelengths in detached spinach leaves. Funct Plant Biol 31:23–28

Bernal M, Llorens L, Badosa J, Verdaguer D. Interactive effects of UVB radiation and water availability on seedlings of 6 woody Mediterranean species (in preparation)

Blande JD et al (2009) Pine weevil feeding on Norway spruce bark has a stronger impact on needle VOC emissions than enhanced UV-B irradiation. Environ Pollut 157:174–180

Brown BA, Jenkins GI (2008) UV-B signaling pathways with different fluence-rate. Response profiles are distinguished in mature arabidopsis leaf tissue by requirement for UVR8, HY5, and HYH1[W][OA]. Plant Physiol 146:576–588

Caldwell MM (1971) Solar ultraviolet radiation and the growth and development of higher plants. In: Giese AC (ed) Photophysiology. Academic Press, New York, pp 131–177

Day TA, Ruhland CT, Grobe CW, Xiong F (1999) Growth and reproduction of Antarctic vascular plants in response to warming and UV radiation reductions in the field. Oecologia 119:24–35

Dsurney SJ, Tschaplinski TJ, Edwards NT et al (1993) Biological responses of 2 soybean cultivars exposed to enhanced UVB radiation. Environ Exp Bot 33:347–356

Filella I, Peñuelas J (1999) Altitudinal differences in UV absorbance, UV reflectance and related morphological traits of Quercus ilex and Rhododedron ferrugineum in the Mediterranean region. Plant Ecol 145:157–162

Fortunati A et al (2008) Isoprene emission is not temperature dependent during and after severe drought-stress: a physiological and biochemical analysis. Plant J 55:687–697

Guenther A, Zimmerman PR, Harley PC, Monson RK, Fall R (1993) Isoprene and monoterpene emission rate variability: model evaluations and sensitivity analyses. J Geophys Res 93:12609–12617

Guenther A, Zimmerman P, Wildermuth M (1994) Natural volatile organic compound emission rate estimates for U.S. woodland landscapes. Atmos Environ 28:1197–1210

Guenther A, Hewitt CN, Erickson D, Fall R, Geron C (1995) A global model of natural volatile organic compound emissions. J Geophys Res 100:8873–8892

Hansen U, Van Eijk J, Bertin N, Staudt M, Kotzias D, Seufert G, Fugit JL, Torres L, Cecinato A, Brancaleoni E, Cicciolo P, Bomboi T (1997) Biogenic emissions and CO2 gas exchange investigated on four Mediterranean shrubs. Atmos Environ 31((SI)):157–167

Harley P, Deem G, Flint S, Caldwell M (1996) Effects of growth under elevated UV-B on photosynthesis and isoprene emission in Quercus gambelii and Mucuna pruriens. Global Change Biol 2:149–154

IPCC (2007) The physical science basis. Contribution of working group I. In: Solomon S et al (eds) Fourth assessment report of the intergovernmental panel on climate change. Cambridge University Press, USA, pp 1–996

Jenkins GI (2009) Signal transduction in responses to UV-B radiation. Annual Rev Plant Biol 60:407–431

Kalbina I, Li S, Kalbin G, Bjorn LO BJ, Strid A (2008) Two separate UV-B radiation wavelength regions control expression of different molecular markers in Arabidopsis thaliana. Funct Plant Biol 35:222–227

Lingakumar K, Kulandaivelu G (2006) UV-B radiation: its effects and defense mechanism. J. Plant Biol 33:3–14

Llusia J, Peñuelas J (1998) Changes in terpene content and emissions in potted Mediterranean woody plants under severe drought. Can J Bot 76:1366–1373

Llusia J, Peñuelas J (2000) Seasonal patterns of terpene content and emissions from seven Mediterranean woody species in field conditions. Am J Bot 87:133–140

Llusia J, Peñuelas J, Alessio GA, Estiarte M (2008) Contrasting Species-specific, coumpound-specific, seasonal, and interannual response of foliar isoprenoid emissions to experimental drought in a Mediterranean shrubland. Int J Plant Sci 169:637–645

Loreto F, Velikova V (2001) Isoprene produced by leaves protects the photosynthetic apparatus against ozone damage, quenches ozone products, and reduces lipid peroxidation of cellular membranes. Plant Physiol 127:1781–1787

Loreto F, Pinelli P, Manes F, Kollist H (2004) Impact of ozone on monoterpene emissions and evidence for an isoprene-like antioxidant action of monoterpenes emitted by Quercus ilex leaves. Tree Physiol 24:361–367

Lud D, Buma AGJ, Moerdijk TCW, Huiskes AHL (2003) DNA damage and photosynthesis in Prasiola crispa ssp. antarctica and Sanionia uncinata in response to manipulated UV-B radiation. In: Huiskes AHL, Gieskes WWC, Rozema J, Schorno RML, VanDerVies SM, Wolff WJ (eds) Antarctic biology in a global context. Proceedings of the VIIIth SCAR international biology symposium 27 August–1 September 2001, Vrije Universiteit, Amsterdam, The Netherlands, vol 3154. Backhuys Publications, Leiden, pp 69–73

Manetas Y, Petropoulou Y, Stamatakis K, Nikolopoulos D, Levizou E, Psaras G, Karabourniotis G (1997) Beneficial effects of enhanced UV-B radiation under field conditions: improvement of needle water relations and survival capacity in Pinus pinea L. seedlings during the dry Mediterranean summer. Plant Ecol 128:100–108

McKinlay AF, Diffey BL (1987) A reference action spectrum for ultra-violet induced erythema in human skin. In: Passchier WF, Bosnjakovic BFM (eds) Human exposure to ultraviolet radiation: risks and regulations. Elsevier, Amsterdam, pp 83–87

Milchunas DG, King JY, Mosier AR, Moore JC, Morgan JA, Quirk MH, Slusser JR (2004) UV radiation effects on plant growth and forage quality in a shortgrass steppe Ecosystem. Photochem Photobiol 79:404–410

Munné-Bosch S, Peñuelas J, Asensio D, Llusià J (2004) Airborne ethylene may alter antioxidant protection and reduce tolerance of Holm Oak to heat and drought stress. Plant Physiol 136:2937–2947

Newsham KK, Robinson SA (2009) Responses of plants in polar regions to UVB exposure: a meta-analysis. Global Change Biol 15:2574–2589

Nogués S, Allen DJ, Morison JIL, Baker NR (1998) Ultraviolet-B radiation effects on water relations, leaf development, and photosynthesis in droughted pea plants. Plant Physiol 117:173–181

Nogués, S, Allen, DJ, Morison, JIL, Baker, NR (1999) Characterization of stomatal closure caused by Ultraviolet-B radiation. Plant Physiol 121:489–496

Owen S (1998) PhD Thesis, Lancaster University

Paoletti E (2005) UV-B and Mediterranean forest species: Direct effects and ecological consequences. Environ Poll 137:372–379

Peñuelas J, Llusia J (1999) Short-term responses of terpene emission rates to experimental changes of PFD in Pinus halepensis and Quercus ilex in summer field conditions. Environ Exp Bot 42:61–68

Peñuelas J, Llusia J (2002) Linking photorespiration, monoterpenes and thermotolerance in Quercus. New Phytol 155(2):227–237

Peñuelas J, Llusia J (2003) BVOCs: plant defense against climate warming? Trends in Plant Sci 8:105–109

Peñuelas J, Munné-Bosch S (2005) Isoprenoids: an evolutionary pool for photoprotection. Trends in Plant Sci 10(4):166–169

Peñuelas J, Staudt M (2010) BVOCs and global change. Trends in Plant Sci 15:133–144

Peñuelas J et al (2009) Phenology feedbacks on climate change. Science 324:887–888

Pio CA, Nunes TV, Brito S (1993) Volatile hydrocarbon emissions from common and native species of vegetation in Portugal. In: Slanina J et al (eds) Proc of Joint Workshop of CEC/BIATEX of EUROTRAC, General assessment of biog emissions and deposition of nitrogen compounds, sulphur compounds and oxidants in Europe. Air pollution research report 47, Aveiro, Portugal, pp 291–298, ISBN 2-87263-095-3

Prieto P, Peñuelas J, Llusia J, Asensio D, Estiarte M (2009) Effects of long-term experimental night-time warming and drought on photosynthesis, Fv/Fm and stomatal conductance in the dominant species of a Mediterranean shrubland. Acta Physiol Plantarum 31:729–739

Ren J, Dai WR, Xuan ZY et al (2007) The effect of drought and enhanced UV-B radiation on the growth and physiological traits of two contrasting poplar species. For Ecol Man 239:112–119

Rozema J, Boelen P, Blokker P (2005) Depletion of stratospheric ozone over the Antarctic and Arctic: Responses of plants of polar terrestrial ecosystems to enhanced UV-B, an overview. Environ Poll 137:428–442

Teramura AH, Tevini M, Iwanzik W (1983) Effects of UV-B irradiation on plants during mild water stress. 1. Effects on diurnal stomatal resistance. Physiol Plantarum 58:175–180

Tiiva P, Rinnan R, Faubert P, Räsänen J, Holopainen T, Kyrö E, Holopainen JK (2007) Isoprene emission from a subarctic peatland under enhanced UV-B radiation. New Phytol 176:346–355

Tingey DT, Manning M, Grothaus LC, Burns WF (1980) Influence of light and temperature on monoterpene emission rates from slash pine. Plant Physiol 5:797–801

Van de Staaij JWM, Bolink E, Rozema J, Ernst W (1997) The impact of elevated UV-B (280–320 nm) radiation levels on the reproductive biology of a highland and a lowland population of Silene vulgaris. Plant Ecol 128:172–179

Yao Y, Yang Y, Ren J, Li C (2006) UV-spectra dependence of seedling injury and photosynthetic pigment change in Cucumis sativus and Glycine max. Environ Exp Bot 57:160–167
Acknowledgments
Grants from the Spanish Government (CGL2006-04025/BOS, CGL2007-64583/BOS, and CGC2010-17172), Consolider-Ingenio Montes (CSD2008-00040), and the Catalan government (SGR2009-458) supported the research.
Additional information
Communicated by J. Zwiazek.
About this article
Cite this article
Llusia, J., Llorens, L., Bernal, M. et al. Effects of UV radiation and water limitation on the volatile terpene emission rates, photosynthesis rates, and stomatal conductance in four Mediterranean species. Acta Physiol Plant 34, 757–769 (2012). https://doi.org/10.1007/s11738-011-0876-8
Received:

Revised:

Accepted:

Published:

Issue Date:
Keywords
UV radiation

Mediterranean plants

Monoterpenes

Sesquiterpenes

Terpene emission rates