Abstract
The role of enzyme amylase in two germinating seed morphs, i.e. black and brown, of Halopyrum mucronatum in saline and non-saline environment was examined. Both seed morphs of this halophytic grass have variations in their moisture content, total lipid, protein, sugar, phenol and tannin contents. Black seed exhibited higher activity compared to brown in saline medium. Sugar mobilization in both seed morphs was also affected due to the difference in amylase activity. However, exogenous application of GA3 in saline medium enhanced the amylase activity and sugar mobilization. Phenolic contents were similar except for vanillic acid which was found only in brown seeds while catechol was present only in black seeds. Phenols extracted from both seed morphs were applied to determine their effects on amylase activity. Phenolic extracts obtained from brown seeds showed higher degree of inhibition of amylase activity. Results are discussed in relation to seed coat phenols, leaching, amylase activity and sugar mobilization.
Access options
Buy single article
Instant access to the full article PDF.
USD 39.95
Price excludes VAT (USA)
Tax calculation will be finalised during checkout.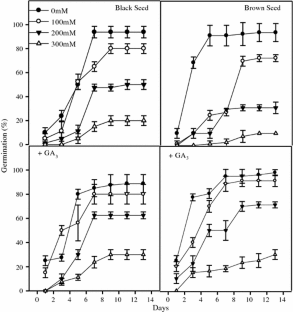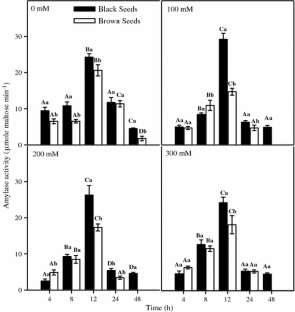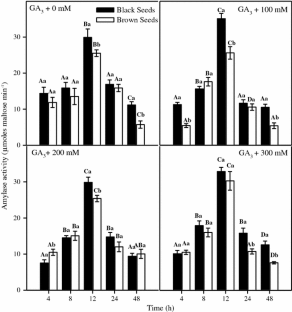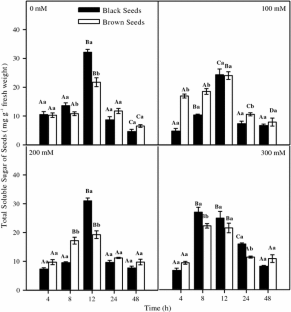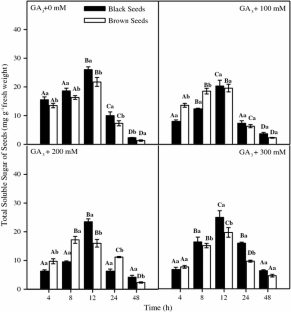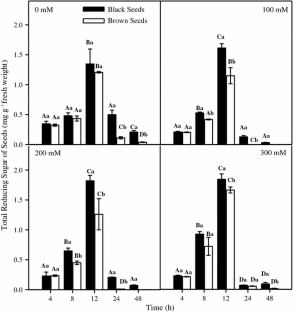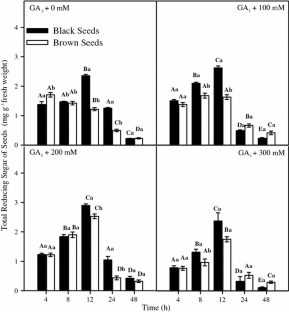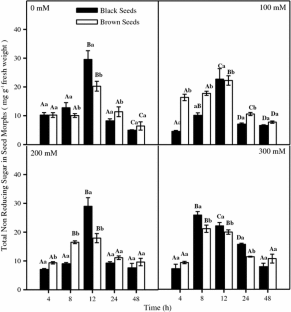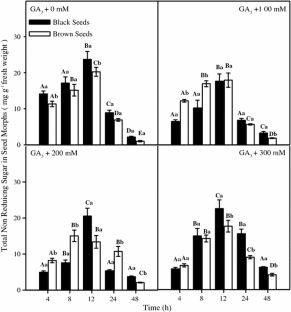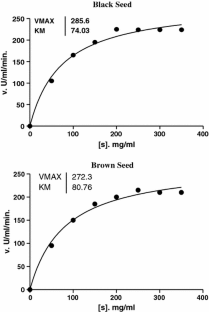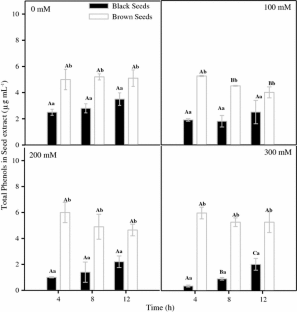 References
Asiedu EA, Powell AA, Stuchbury T (2000) Cowpea seed coat chemical analysis in relation to storage seed quality. Afr Crop Sci J 8:283–294

Asoyri H (2003) Effect of phenol and naphthol as soluble fractions of crude oil on seed germination and seedling growth of some vegetable crops. M.Sc. thesis. Garyounis University, Benghazi

Baskin JM, Baskin CC (2000) Evolutionary considerations of claims for physical dormancy-break by microbial action and abrasion by soil particles. Seed Sci Res 10:409–413

Becker WM, Leaver CJ, Weir EM, Riezman H (1978) Regulation of glyoxysomal enzymes during germination of Cucumber. I. Developmental changes in cotyledonary protein, RNA, and enzyme activities during germination. Plant Physiol 62:542–549

Bernfeld P (1955) Amylases α and β. In: Colowick SP, Kaplan NO (eds) Methods in enzymology. Academic Press, New York, pp 149–157

Bewley JD (1997) Seed germination and dormancy. Plant Cell 9:1055–1066

Bohnert HJ, Nelson DE, Jensen RG (1995) Adaptations to environmental stresses. Plant Cell 7:1099–1111

Bos K, Jetten J (1989) Determination of tannins in Faba beans. In: Recent advances of research in anti-nutritional factors in legume seeds. Proceedings of the first international workshop on anti-nutritional factors (ANF) in legume seeds, Wageningen, The Netherlands

Bradford MM (1976) A rapid and sensitive method for the quantitation of microgram quantities of protein utilizing the principle of protein–dye binding. Ann Biochem 72:248–254

Carmona A, Seidl SD, Faffe WG (1991) Comparison of extraction methods and assay procedures for the determination of the apparent tannin content of common beans. J Sci Food Agric 56:291–301

Chetan S, Sreerama YN, Malleshi NG (2008) Mode of inhibition of finger millet malt amylases by millet phenolics. Food Chem 111:187–191

Conners KA (1999) A textbook of pharmaceutical analysis. Wiley, New York

Debeaujon I, Koornneef M (2000) Gibberellin requirement for Arabidopsis seed germination is determined both by testa characteristics and embryonic abscisic acid. Plant Physiol 122:415–424

Debeaujon I, Léon-Kloosterziel KM, Koornneef M (2000) Influence of the testa on seed dormancy, germination, and longevity in Arabidopsis. Plant Physiol 122:403–413

Deckers BJ, Schuurmans JA, Smeekens SC (2004) Glucose delays seed germination in Arabidopsis thaliana. Planta 218:579–588

Díaz-Batalla L, Widholm JM, Fahey GC, Castaño-Tostado E, Paredes-López O (2006) Chemical components with health implications in wild and cultivated Mexican common bean seeds (Phaseolus vulgaris L.). J Agric Food Chem 54:2045–2052

Duran JM, Retamal N (1989) Coat structure and regulation of dormancy in Sinapis arvensis L. seeds. J Plant Physiol 135:218–222

Dvorakova M, Guido LF, Dostálek P, Skulilova1 Z, Moreira MM, Barrus AA (2008) Antioxidant properties of free, soluble ester and insoluble-bound phenolic compounds in different barley varieties and corresponding malts. J Inst Brew 114:27–33

EL-Barghathi M, Asoyri H (2007) Effect of phenol, naphthol and gibberellic acid on seed germination of Allium cepa L. (Onion). J Sci Appl 1:6–13

EL-Barghathi MF, Benhamida AA, Sharma VK (1989) Effect of naphthol and phenol on seed germination, seedling elongation and growth of wheat crop plant in Libya. Adv Biosci 8:1–10

Fengshan MA, Cholewa EWA, Mohamed T, Peterson CA, Gijzen M (2004) Cracks in the palisade cuticle of soybean seed coat with their permeability to water. Ann Bot 94:213–228

Flowers TJ, Flowers SA (2005) Why does salinity pose such a difficult problem for plant breeders? Agric Water Manag 78:15–24

Harborne JB (1984) Phytochemical methods. Chapman and Hall, New York

Hassid WZ, Abraham S (1957) Chemical procedure for analysis of polysaccharides. In: Colowick SP, Kaplan NO (eds) Methods in enzymology. Academic Press, New York, pp 34–50

Heimler D, Vignolini P, Dini MG, Romani A (2005) Rapid tests to assess the antioxidant activity of Phaseolus vulgaris L. dry beans. J Agric Food Chem 53:3053–3056

Imbert E, Escarre J, Lepart J (1997) Seed hetero-morphism in Crepis sancta (Asteraceae): performance of two morphologies in different environments. Oikos 79:325–332

Kantar F, Pilbeam CJ, Hebblethwaite PD (1996) Effect of tannin contents of faba bean (Vicia faba) seed on seed vigour, germination and field emergence. Ann Appl Biol 128:85–93

Khan MA, Gul B (1998) High salt-tolerance in germinating dimorphic seeds of Arthrocnemum indicum. Int J Plant Sci 159:826–832

Khan MA, Ungar IA (1986) Inhibition of germination in Atriplex triangularis seeds by application of phenols reversal of inhibition by growth regulators. Bot Gaz 147:148–151

Lin C, Kao CH (1995) NaCl stressing rice seedling: starch mobilization and the influence of gibberellic acid on seedling growth. Bot Bull Acad Sin 36:169–173

Lineweaver H, Burk D (1934) The determination of enzyme dissociation constants. J Am Chem Soc 56:658–666

Lovegrove A, Hooley R (2000) Gibberellin and abscisic acid signalling in aleurone. Trends Plant Sci 5:102–110

Maxwell CD, Zobel A, Woodfine D (1994) Somatic polymorphism in the achenes of Tragopogon dubius. Can J Bot 72:1282–1288

Mayer AM, Pojakoff-Mayber A (1975) The germination of seeds. Pergamon Press, New York

Mei YQ, Song SQ (2008) Early morphological and physiological events occurring during germination of maize seeds. Agric Sci China 7:950–957

Mölken TV, Jorritsma-Wienk LD, van Hoek PHW, de-Kroon H (2005) Only seed size matters for germination in different populations of the dimorphic Tragopogon pratensis subsp. pratensis (Asteraceae). Ecology 92:432–437

Munns R, Tester M (2008) Mechanisms of salinity tolerance. Annu Rev Plant Biol 59:651–681

Muralikrishna G, Nirmala M (2005) Cereal alpha amylases: an overview. Carbohydr Polym 60:163–173

Nelson NA (1944) Photometric adaptation of the Somoygi method for the determination of glucose. J Biol Chem 153:375–380

Noubigh A, Cherif M, Provost E, Abderrabba M (2008) Solubility of some phenolic compounds in aqueous alkali metal nitrate solutions from (293.15–318.15) pK. J Chem Thermodyn 40:1612–1616

Plyler DB, Proseus TE (1996) A comparison of seed dormancy characteristics of Spartina alterniflora (Poaceae). Am J Bot 83:11–14

Powell AA (1989) The importance of genetically determined seed coat characteristics to seed quality in grain legumes. Ann Bot 63:169–195

Prado FE, Boero C, Gallardo M, Gonzalez JA (2000) Effect of NaCl on germination, growth and soluble sugars content in Chenopodium quinoa Wild. seed. Bot Bull Acad Sin 41:27–34

Prakash L, Prathapasenan G (1988) Putrescine reduces NaCl induced inhibition of germination and early seedling growth of rice (Oryza sativa L.). Aust J Plant Physiol 15:761–767

Rohn S, Rawel HM, Kroll J (2002) Inhibitory effects of plant phenols on the activity of selected enzymes. J Agric Food Chem 50:3566–3571

Serrato-Valenti G, Cornara L, Ferrando M, Modenesi P (1993) Structural and histochemical features of Stylosanthes scaba (Leguminoseae; Papilionoideae) seed coat as elated to water entry. Can J Bot 71:834–840

Siddiqui ZS, Khan MA (2010) The role of seed coat phenols on water uptake and early protein synthesis during germination of dimorphic seeds of Halopyrum mucronatum (L.) Stapf. Pak J Bot 42:227–238

Singh J, Vohra RM, Sahoo DK (2004) Enhanced production of alkaline protease by Bacillus sphaericus using fed-batch culture. Process Biochem 39:1093–1101

Swain T, Hillis WE (1959) The phenolic constituent of Prunus domestica. J Sci Food Agric 10:63–68

Tyler JM (1997) Effect of impermeable seed coat on germination of seed for early maturing soybean. Seed Technol 19:45–50

Venable DL, Levin DA (1985) Ecology of achene dimorphism in Heterotheca Latifolia. 1. Achene structure, germination and dispersal. J Ecol 73:133–145

Wyatt JE (1977) Seed coat and water absorption properties of seed of near-isogenic snap bean lines differing in seed coat color. J Am Soc Hort Sci 102:478–480

Zhang JH (1994) Early seedling development in relation to seed mass and morph in Cakile edentula. Can J Bot 72:402–406

Zhou L, Jang JC, Jones TL, Sheen J (1998) Glucose and ethylene signal transduction crosstalk revealed by an Arabidopsis glucose-insensitive mutant. Proc Natl Acad Sci USA 95:10294–10299
Acknowledgments
ZSS is thankful to Dean, Faculty of Science, University of Karachi who provided financial assistance for research works.
Additional information
Communicated by J. Zwiazek.
About this article
Cite this article
Siddiqui, Z.S., Khan, M.A. The role of enzyme amylase in two germinating seed morphs of Halopyrum mucronatum (L.) Stapf. in saline and non-saline environment. Acta Physiol Plant 33, 1185–1197 (2011). https://doi.org/10.1007/s11738-010-0646-z
Received:

Revised:

Accepted:

Published:

Issue Date:

DOI: https://doi.org/10.1007/s11738-010-0646-z
Keywords