Abstract
The role of different growth regulators in callus induction, shoot regeneration, floral induction and chlorophyll content of the obligatory parasitic plant Cuscuta reflexa has been studied. Callus development was excellent from the nodal part of the shoot explants in modified Murashige and Skoog (MMS) media supplemented with 2 mg L−1 benzyl adenine (MMS1c). Supplementation of 2 mg L−1 naphthalene acetic acid (NAA) along with MMS1c (MMS2c) was responsible for estimable shoot induction and development in callus. 2,4-Dichloro acetic acid (2,4-D) played a crucial role in the floral induction of C. reflexa in vitro. MMS supplemented with 2 mg L−1 NAA and 2 mg L−1 2,4-D (MMS3b) supported floral induction after shooting in vitro. MMS supplemented with 3 mg L−1 2,4-D (MMS4a) rapidly induced flower directly from the stem explants without showing any elongation of shoot. MMS1c along with MMS3b (MMS5a) showed callus proliferation followed by shoot elongation and floral induction. In vitro MMS5a grown plants show a sharp increase in the chlorophyll contents. Cytokinin treatment further increases the chlorophyll level of the plant.
Access options
Buy single article
Instant access to the full article PDF.
USD 39.95
Price excludes VAT (USA)
Tax calculation will be finalised during checkout.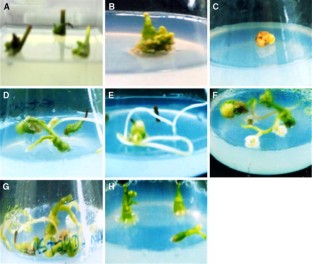 References
Bakos A, Fari M, Toldi O, Lados M (1995) Plant regeneration from seedling-derived callus of dodder (Cuscuta trifolli Bab et Giggs). Plant Sci 109:95–101

Baldev B (1962) In vitro studies of floral induction on stem apices of Cuscuta reflexa Roxb, a short day plant. Ann Bot 26:173–180

Biswal B (1985) Indian review. Life Sci 5:35

Chakraborty N, Tripathy BC (1992a) 5-aminolevulinic acid induced photodynamic reactions in thylakoid membranes of cucumber (Cucumis sativus L.) cotyledons. J Plant Biochem Biotechnol 1:65–68

Chakraborty N, Tripathy BC (1992b) Involvement of singlet oxygen in 5-aminolevulinic acid induced photodynamic damage of cucumber (Cucumis sativus L.) chloroplasts. Plant Physiol 98:7–11

Furuhashi K (1991) Establishment of a successive culture of an obligatory parasitic flowering plant, Cuscuta japonica, in vitro. Plant Sci 79:241–246

Gupta I, Tripathy BC (1999) Oxidative stress in cucumber (Cucumis sativus L.) seedlings treated with Acifluorfen. Z Naturforsch 54C:771–781

Hibberd JM, Bungard RA, Press MC, Jeschke WD, Scholes JD, Quick WP (1998) Localization of photosynthetic metabolism in the parasitic angiosperm Cuscuta reflexa. Planta 205:506–513

Kuijt J (1969) Cuscuta, Cassytha, Lenoaceae, and kramereaceae. In: Kuijt J (ed) The Biology of parasitic flowering plants. University of California Press, Berkeley, pp 136–143

Macleod DG (1961) Some anatomical and physiological observations on two species of Cuscuta. Trans Bot Soc Edinb 39:302–315

Maheshwari R, Shreekrishna S (1980) The apical control of lateral bud development in excised shoot tips of Cuscuta reflexa cultured in vitro. Plant Physiol 65:186–192

Maheshwari R, Shailini C, Veluthambi K, Mahadevan S (1980) Interaction of gibberellic acid and indole-3-acetic acid in the growth of excised Cuscuta shoot tips in vitro. Plant Physiol 65:186–192

Maheshweri R, Baldev B (1961) Artificial production of buds from the embryos of Cuscuta reflexa. Nature 191:197–198

Nun NB, Mayer AM (1999) Culture of pectine methylesterase and polyphenol oxidase in Cuscuta campestris. Phytochemistry 50:452–453

Porra RJ, Thompson WA, Kriedemann PE (1989) Determination of accurate extinction coefficients and simultaneous equations for assaying chlorophylls a and b extracted with four different solvents: verification of the concentration of chlorophyll standards by atomic absorption spectroscopy. Biochim Biophys Acta 975:384–394

Sherman TD, Vaughn KC (1992) Dodder (Cuscuta pentagona) roots lack microtubules and tubulin protein. Weed Science Society of America Abstracts 32:54

Srivastava S, Dwivedi UN (2001) Plant regeneration from callus of Cuscuta reflexa—an angiospermic parasite—and modulation of catalase and peroxidase activity by salicylic acid and naphthalene acetic acid. Plant Physiol Biochem 39:529–538

Stewart GR, Press MC (1990) The physiology and biochemistry of parasitic angiosperm. Annu Rev Plant Physiol Plant Mol Biol 41:127–151

Sundqvist C, Bjorn LO, Virgin HI (1980) In: Reinert J (ed) Results and problems in cell differentiation, vol 10. Springer, Berlin, p 202

Tripathy BC, Chakraborty N (1991) 5-aminolevulinic acid induced photodynamic damage of the photosynthetic electron transport chain of cucumber (Cucumis sativus L.) cotyledons. Plant Physiol 96:761–767

Van Huystee RB (1987) Some molecular aspects of plant peroxidase biosynthetic studies. Annu Rev Plant Physiol 38:205–219
Additional information
Communicated by E. Lojkowska.
About this article
Cite this article
Das, P., Kar, M. & Sahoo, S. In vitro hormone-regulated growth and floral induction of Cuscuta reflexa: a parasitic angiosperm. Acta Physiol Plant 33, 1031–1035 (2011). https://doi.org/10.1007/s11738-010-0613-8
Received:

Revised:

Accepted:

Published:

Issue Date:

DOI: https://doi.org/10.1007/s11738-010-0613-8
Keywords
Benzyl adenine

Callus

Explants

Naphthalene acetic acid

2,4-Dichloro acetic acid