Modeling of oil near-infrared spectroscopy based on similarity and transfer learning algorithm
Abstract
Near-infrared spectroscopy mainly reflects the frequency-doubled and total-frequency absorption information of hydrogen-containing groups (O‒H, C‒H, N‒H, S‒H) in organic molecules for near-infrared lights with different wavelengths, so it is applicable to testing of most raw materials and products in the field of petrochemicals. However, the modeling process needs to collect a large number of laboratory analysis data. There are many oil sources in China, and oil properties change frequently. Modeling of each raw material is not only unfeasible but also will affect its engineering application efficiency. In order to achieve rapid modeling of near-infrared spectroscopy and based on historical data of different crude oils under different detection conditions, this paper discusses about the feasibility of the application of transfer learning algorithm and makes it possible that transfer learning can assist in rapid modeling using certain historical data under similar distributions under a small quantity of new data. In consideration of the requirement of transfer learning for certain similarity of different datasets, a transfer learning method based on local similarity feature selection is proposed. The simulation verification of spectral data of 13 crude oils measured by three different probe detection methods is performed. The effectiveness and application scope of the transfer modeling method under different similarity conditions are analyzed.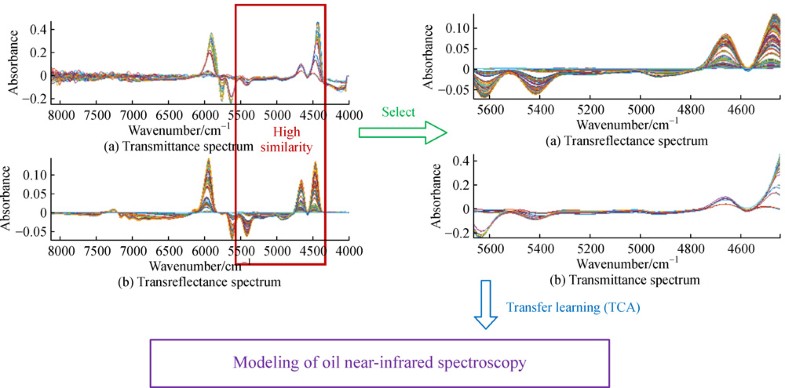 Keywords
near-infrared spectroscopy 
transfer learning 
similarity 
modeling 
Notes
Acknowledgements
The financial supports from the National Natural Science Foundation of China (Grant No. 61590923), National Science Fund for Distinguished Young Scholars (No. 61725301), the Fundamental Research Funds for the Central Universities and the Programme of Introducing Talents of Discipline to Universities (the 111 Project) under Grant B17017 are gratefully acknowledged.
Copyright information
© Higher Education Press and Springer-Verlag GmbH Germany, part of Springer Nature 2019