Synthesis of aluminum nanoparticles as additive to enhance ignition and combustion of high energy density fuels
Abstract
High energy density fuels are critical for hypersonic aerospace propulsion but suffer from difficulties of ignition delay and incomplete combustion. This research reports aluminum nanoparticles (Al NPs) assisted ignition and combustion of high energy density JP-10 fuel. Al NPs with a size of 16 nm were fabricated through a mild and simple method by decomposing AlH3·Et2O with the addition of a surfactant ligand. The uniform size distribution, nanoscaled size and surface ligand make Al NPs stably suspend in JP-10, with 80% NPs being dispersed in the liquid fuel after six months. A shock tube test shows that the presence of 1 wt-% Al NPs can significantly shorten ignition delay time at temperature of 1500 to 1750 K, promote the combustion, and enhance energy release of JP-10. This work demonstrates the potential of Al NPs as ignition and combustion additive for high energy density fuel in hypersonic applications.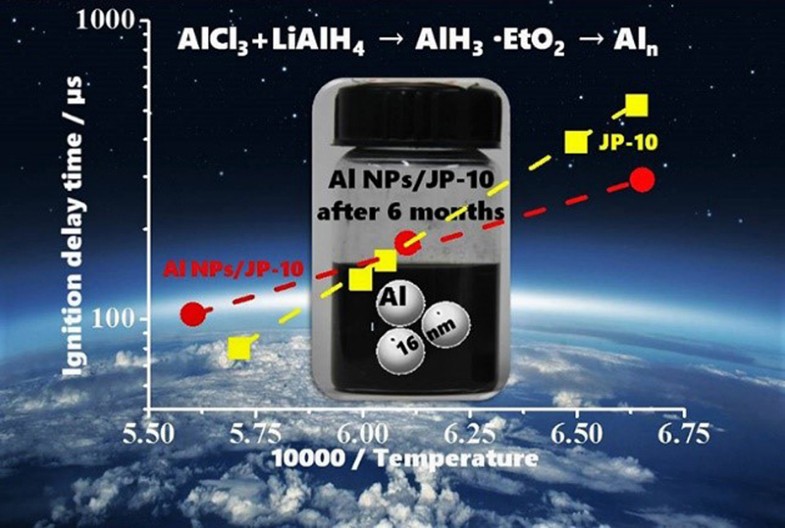 Keywords
aluminum nanoparticles 
combustion 
ignition 
shock tube test 
high energy density fuel 
Notes
Acknowledgments
The authors appreciate the supports from the National Natural Science Foundation of China (Grant Nos. U1462119 and 21476168).
Copyright information
© Higher Education Press and Springer-Verlag GmbH Germany, part of Springer Nature 2018