Novel polyethyleneimine/TMC-based nanofiltration membrane prepared on a polydopamine coated substrate
Abstract
Most commercial NF membranes are negatively charged at the pH range of a typical feed solution. In order to enhance the removal of cations (such as Mg2+ or Ca2+), we utilized polyethyleneimine (PEI) and trimesoyl chloride (TMC) to perform interfacial polymerization reaction on a polydopamine coated hydrolyzed polyacrylonitrile substrate to obtain a positively charged nanofiltration membrane. Effects of polydopamine coating time, PEI concentration, TMC reaction time and concentration on the membrane physicochemical properties and separation performance were systematically investigated using scanning electron microscopy, streaming potential and water contact angle measurements. The optimal NF membrane showed high rejection for divalent ions (93.6±2.6% for MgSO4, 92.4±1.3% for MgCl2, and 90.4±2.1% for Na2SO4), accompanied with NaCl rejection of 27.8±2.5% with a permeation flux of 17.2±2.8 L∙m–2∙h–1 at an applied pressure of 8 bar (salt concentrations were all 1000 mg∙L–1). The synthesized membranes showed promising potentials for the applications of water softening.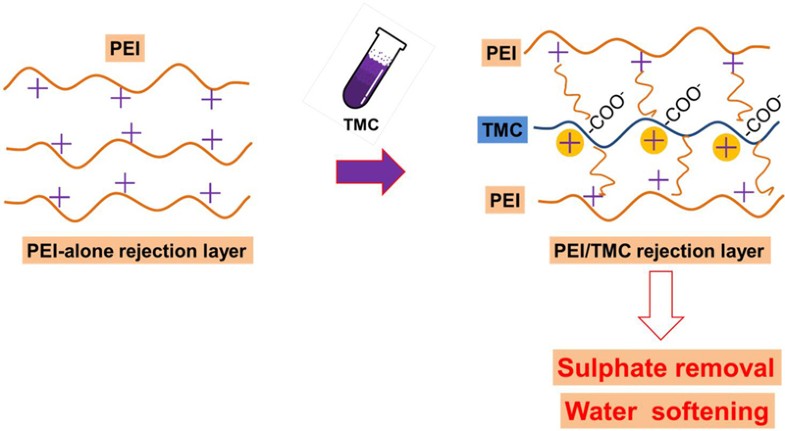 Keywords
nanofiltration 
polyethyleneimine 
trimesoyl chloride 
polydopamine 
positively charged rejection layer 
Notes
Acknowledgements
The authors gratefully acknowledge the General Research Fund (Project number 17207514) by the Research Grants Council of Hong Kong. We also thank the partial support received from Strategic Research Theme (Clean Energy) and the Seed Grant for Basic Research (104003453) of the University of Hong Kong.
Copyright information
© Higher Education Press and Springer-Verlag GmbH Germany, part of Springer Nature 2018