Novel 1,2,3-triazole-based compounds: Iodo effect on their gelation behavior and cation response
Abstract
Two new series of 1,2,3-triazole derivatives, with and without iodo substitution, were synthesized and their gelation properties were measured. It was found that the iodo substitution at position 5 of triazole ring could greatly enhance the gelation ability. Scanning electron microscopy and X-ray diffraction reveal that the structures of the organogels from iodo and hydrogenous gelators are totally different. Iodo gels are selectively responsive to the stimuli of Hg2+, whereas hydrogenous gels can respond to Hg2+ and Cu2+. Moreover, the reversible gel-sol transition of hydrogenous gels can be controlled by redox reaction or tuned with suitable chemicals. The single crystal analysis of reference compound (C2) suggests that there are intermolecular and intramolecular non-classical hydrogen bonding interactions but no π-π interaction in hydrogenous gelator. The great difference between the two series of compounds results from the iodo effect and implies the existence of halogen bonding interaction in the iodo compounds.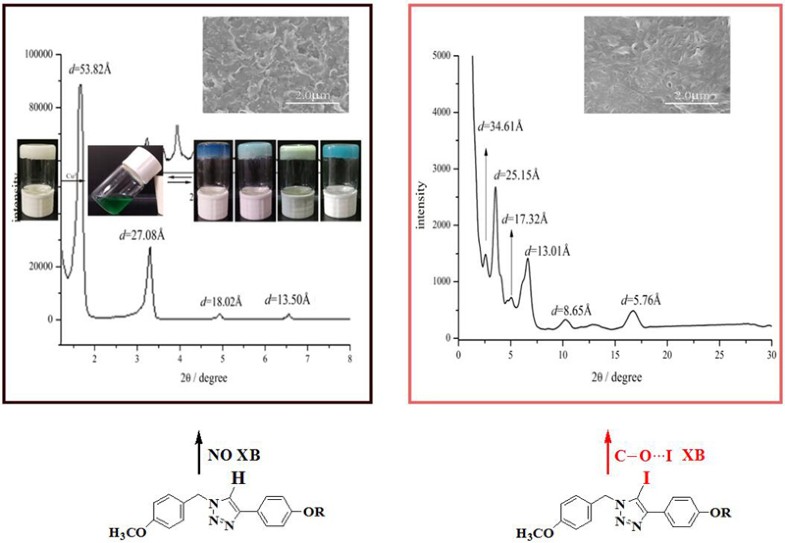 Keywords
organogelator 
1,2,3-triazole derivatives 
self-assembly 
halogen bonding 
cation response 
Notes
Acknowledgements
This work was supported by the Natural Science Foundation of Tianjin (No. 15JCYBJC20100).
Copyright information
© Higher Education Press and Springer-Verlag GmbH Germany 2017