Engineering of β-carotene hydroxylase and ketolase for astaxanthin overproduction in Saccharomyces cerevisiae
Abstract
The conversion of
β
-carotene to astaxanthin is a complex pathway network, in which two steps of hydroxylation and two steps of ketolation are catalyzed by
β
-carotene hydroxylase (CrtZ) and
β
-carotene ketolase (CrtW) respectively. Here, astaxanthin biosynthesis pathway was constructed in
Saccharomyces cerevisiae
by introducing heterologous CrtZ and CrtW into an existing high
β
-carotene producing strain. Both genes
crtZ
and
crtW
were codon optimized and expressed under the control of constitutive promoters. Through combinatorial expression of CrtZ and CrtW from diverse species, nine strains in dark red were visually chosen from thirty combinations. In all the selected strains, strain SyBE_Sc118060 with CrtW from
Brevundimonas vesicularis
DC263 and CrtZ from
Alcaligenes
sp. strain PC-1 achieved the highest astaxanthin yield of 3.1 mg/g DCW. Protein phylogenetic analysis shows that the shorter evolutionary distance of CrtW is, the higher astaxanthin titer is. Further, when the promoter of
crtZ
in strain SyBE_Sc118060 was replaced from FBA1p to TEF1p, the astaxanthin yield was increased by 30.4% (from 3.4 to 4.5 mg/g DCW). In the meanwhile, 33.5-fold increase on
crtZ
transcription level and 39.1-fold enhancement on the transcriptional ratio of
crtZ
to
crtW
were observed at early exponential phase in medium with 4% (w/v) glucose. Otherwise, although the ratio of
crtZ
to
crtW
were increased at mid-, late-exponential phases in medium with 2% (w/v) glucose, the transcription level of both
crtZ
and
crtW
were actually decreased during the whole time course, consequently leading to no significant improvement on astaxanthin production. Finally, through high cell density fed-batch fermentation using a carbon source restriction strategy, the production of astaxanthin in a 5-L bioreactor reached to 81.0 mg/L, which was the highest astaxanthin titer reported in yeast. This study provides a reference to greatly enhance desired compounds accumulation by employing the key enzyme(s) in microbes.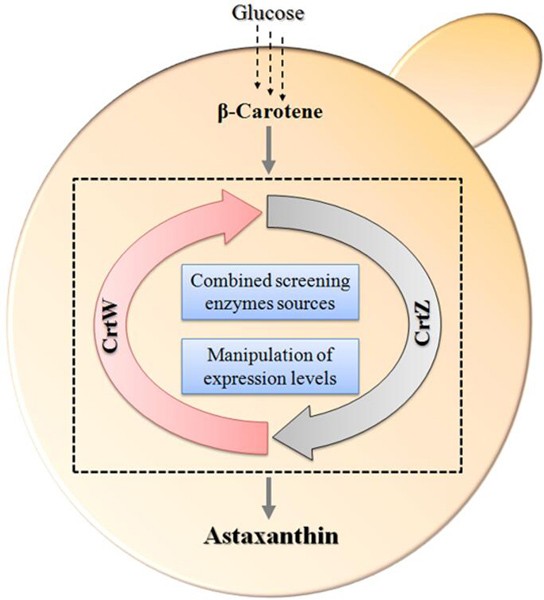 Keywords
synthetic biology 
astaxanthin 
β-carotene hydroxylase 
β-carotene ketolase 
Saccharomyces cerevisiae
Notes
Acknowledgements
This work was supported by the International S&T Cooperation Program of China (2015DFA00960), the National Natural Science Foundation of China (Grant Nos. 31600052 and 21676192) and Innovative Talents and Platform Program of Tianjin (16PTSYJC00050).
Copyright information
© Higher Education Press and Springer-Verlag Berlin Heidelberg 2017