Construction, characterization and application of a genome-wide promoter library in Saccharomyces cerevisiae
Abstract
Promoters are critical elements to control gene expression but could behave differently under various growth conditions. Here we report the construction of a genome-wide promoter library, in which each native promoter in
Saccharomyces cerevisiae
was cloned upstream of a yellow fluorescent protein (YFP) reporter gene. Nine libraries were arbitrarily defined and assembled in bacteria. The resulting pools of promoters could be prepared and transformed into a yeast strain either as centromeric plasmids or integrated into a genomic locus upon enzymatic treatment. Using fluorescence activated cell sorting, we classified the yeast strains based on YFP fluorescence intensity and arbitrarily divided the entire library into 12 bins, representing weak to strong promoters. Several strong promoters were identified from the most active bins and their activities were assayed under different growth conditions. Finally, these promoters were applied to drive the expression of genes in xylose utilization to improve fermentation efficiency. Together, this library could provide a quick solution to identify and utilize desired promoters under user-defined growth conditions.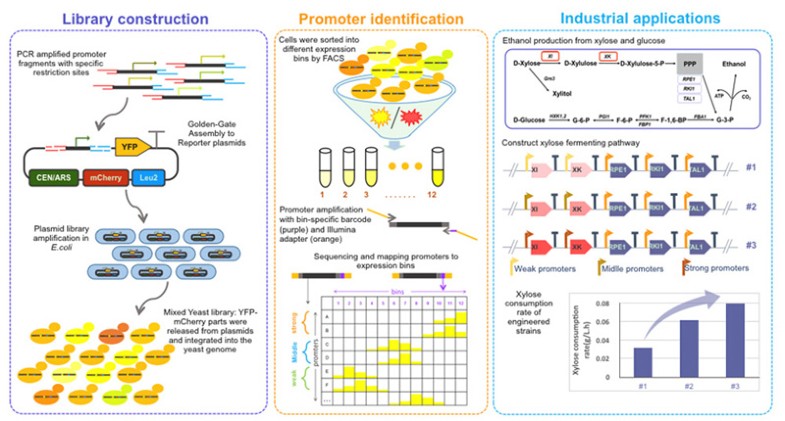 Keywords
synthetic biology 
yeast 
promoter activity 
metabolic engineering 
xylose utilization 
Notes
Acknowledgements
We thank Jianhuo Fang at DNA sequencing facility in Tsinghua University for providing the sequencing service. This work was supported by the National Natural Science Foundation of China (Grant No. 31471254), Chinese Ministry of Science and Technology grant 2012CB725201 and Tsinghua University Initiative grant 20161080088.
Copyright information
© Higher Education Press and Springer-Verlag Berlin Heidelberg 2017