Enzyme-instructed self-assembly of peptides containing phosphoserine to form supramolecular hydrogels as potential soft biomaterials
Abstract
Enzyme-instructed self-assembly (EISA) offers a facile approach to explore the supramolecular assemblies of small molecules in cellular milieu for a variety of biomedical applications. One of the commonly used enzymes is phosphatase, but the study of the substrates of phosphatases mainly focuses on the phosphotyrosine containing peptides. In this work, we examine the EISA of phosphoserine containing small peptides for the first time by designing and synthesizing a series of precursors containing only phosphoserine or both phosphoserine and phosphotyrosine. Conjugating a phosphoserine to the C-terminal of a well-established selfassembling peptide backbone, (naphthalene-2-ly)-acetyldiphenylalanine (NapFF), affords a novel hydrogelation precursor for EISA. The incorporation of phosphotyrosine, another substrate of phosphatase, into the resulting precursor, provides one more enzymatic trigger on a single molecule, and meanwhile increases the precursors' propensity to aggregate after being fully dephosphorylated. Exchanging the positions of phosphorylated serine and tyrosine in the peptide backbone provides insights on how the specific molecular structures influence self-assembling behaviors of small peptides and the subsequent cellular responses. Moreover, the utilization of D-amino acids largely enhances the biostability of the peptides, thus providing a unique soft material for potential biomedical applications.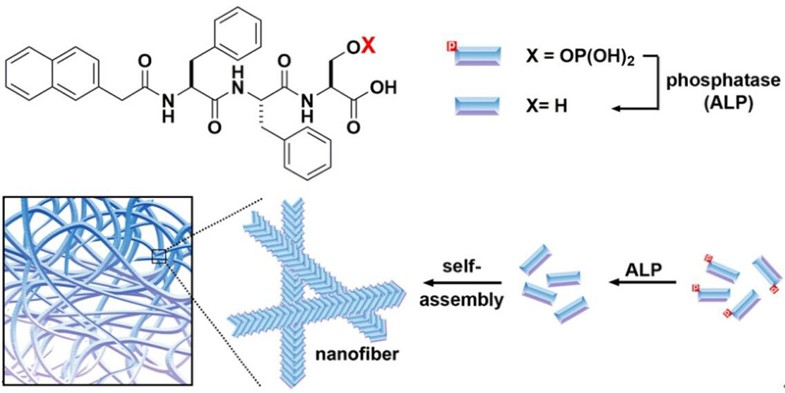 Keywords
enzyme-instructed self-assembly 
phosphoserine 
phosphatase 
supramolecular hydrogel 
Notes
Acknowledgements
This work was partially supported by NIH (CA142746), NSF (MRSEC-1420382) and the W. M. Keck Foundation. We thank Brandeis EM and Optical Imaging facilities for TEM. JZ is an HHMI student fellow.
Copyright information
© Higher Education Press and Springer-Verlag Berlin Heidelberg 2017