Gene delivery into isolated Arabidopsis thaliana protoplasts and intact leaves using cationic, α-helical polypeptide
Abstract
The application of gene delivery materials has been mainly focused on mammalian cells while rarely extended to plant engineering. Cationic polymers and lipids have been widely utilized to efficiently deliver DNA and siRNA into mammalian cells. However, their application in plant cells is limited due to the different membrane structures and the presence of plant cell walls. In this study, we developed the cationic, α-helical polypeptide that can effectively deliver DNA into both isolated Arabidopsis thaliana protoplasts and intact leaves. The PPABLG was able to condense DNA to form nanocomplexes, and they exhibited significantly improved transfection efficiencies compared with commercial transfection reagent Lipofectamine 2000 and classical cell penetrating peptides such as poly(L-lysine), HIV-TAT, arginine9, and poly(L-arginine). This study therefore widens the utilities of helical polypeptide as a unique category of gene delivery materials, and may find their promising applications toward plant gene delivery.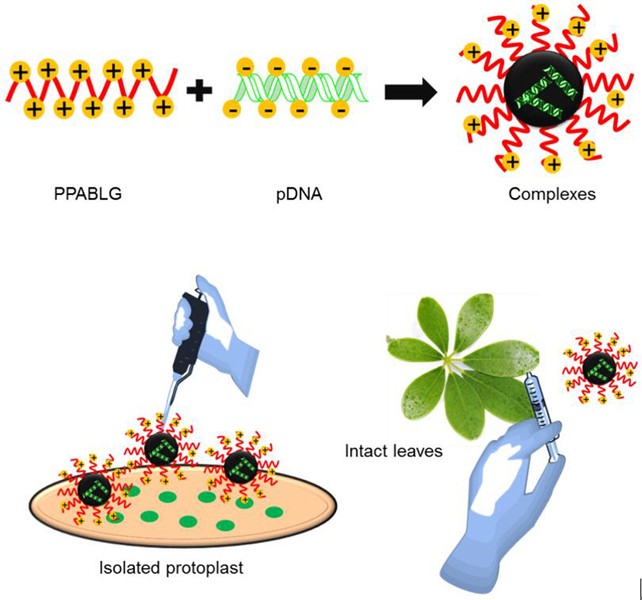 Keywords
α-helical polypeptide 
plant gene delivery 
protoplast 
intact leaves 
transfection 
Notes
Acknowledgements
L. Y. acknowledges the support from the National Natural Science Foundation of China (Grant Nos.51403145 and 51573123), the Science and Technology Department of Jiangsu Province (BK20140333), and Priority Academic Program Development of Jiangsu Higher Education Institutions (PAPD). J. C. acknowledges support from the NSF (CHE-1153122), the NIH (NIH Director's New Innovator Award 1DP2OD007246 and 1R21EB013379). J. C. also acknowledges support from Dr. Ray Zielinski (Department of Plant Biology, University of Illinois at Urbana–Champaign) for the provision of plants and plasmid DNA, as well as the technic of protoplasts isolation.
Copyright information
© Higher Education Press and Springer-Verlag Berlin Heidelberg 2017