Identification of transporter proteins for PQQ-secretion pathways by transcriptomics and proteomics analysis in Gluconobacter oxydans WSH-003
Abstract
Pyrroloquinoline quinone (PQQ) plays a significant role as a redox cofactor in combination with dehydrogenases in bacteria. These dehydrogenases play key roles in the oxidation of important substrates for the biotechnology industry, such as vitamin C production. While biosynthesis of PQQ genes has been widely studied, PQQ-transport mechanisms remain unclear. Herein, we used both two-dimensional fluorescence-difference gel electrophoresis tandem mass spectrometry and RNA sequencing to investigate the effects of
pqqB
overexpression in an industrial strain of
Gluconobacter oxydans
WSH-003. We have identified 73 differentially expressed proteins and 99 differentially expressed genes, a majority of which are related to oxidation-reduction and transport processes by gene ontology analysis. We also described several putative candidate effectors that responded to increased PQQ levels resulting from
pqqB
overexpression. Furthermore, quantitative PCR was used to verify five putative PQQ-transport genes among different PQQ producing strains, and the results showed that
ompW
,
B932_1930
and
B932_2186
were upregulated in all conditions. Then the three genes were over-expressed in
G. oxydans
WSH-003 and PQQ production were detected. The results showed that extracellular PQQ of B932_1930 (a transporter) and B932_2186 (an ABC transporter permease) overexpression strains were enhanced by 1.77-fold and 1.67-fold, respectively. The results suggest that the proteins encoded by PqqB, B932_1930 and B932_2186 might enhance the PQQ secretion process.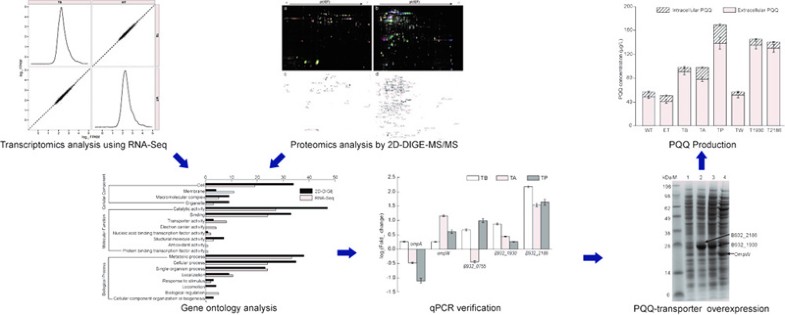 Keywords
2D-DIGE 
pqqB
pyrroloquinoline quinone 
RNA-Seq 
Vitamin C 
Notes
Acknowledgements
This work was supported by grants from the National High Technology Research and Development Program of China (863 Program, 2012AA022103), the National Basic Research Program of China (973 Program, 2013CB733602, 2014CB745100), the Major Program of National Natural Science Foundation of China (Grant No. 21390204), the Program for New Century Excellent Talents in University (NCET-12-0876), the Foundation for the Author of National Excellent Doctoral Dissertation of China (FANEDD, 201256), the Priority Academic Program Development of Jiangsu Higher Education Institutions, and the 111 Project (111-2-06).
Copyright information
© Higher Education Press and Springer-Verlag Berlin Heidelberg 2017