Abstract
The main objective of this study was to assess in a series of 30 patients, the feasibility, oncological safety and efficacy of radical hysterectomy by a new robotic system. Prospective study design. Galaxy Care Laparoscopy Institute and Multispeciality Hospital. We performed Robotic Radical Hysterectomy in patients from August 2019 through February 2020. All the surgeries were performed by a single surgeon (Puntambekar S). Since August 2019, 30 patients with early cervical cancer/endometrial cancer were selected for radical hysterectomy. All patients were in good general condition with controlled medical comorbidities. The mean operative time was 104 min, with mean total lymph node yield of 24.7. The average blood loss was 60 ml and the hospital stay was 2.1 days, and majority of the patients were catheter free by 1 week. Two patients developed uretero-vaginal fistula on the 8th day of surgery. One was managed with Double J stenting and in the other we did laparoscopic ureteroneocystostomy. Our study has demonstrated the feasibility, safety and efficacy of RRH by the Versius robotic systems.
Access options
Buy single article
Instant access to the full article PDF.
USD 39.95
Price excludes VAT (USA)
Tax calculation will be finalised during checkout.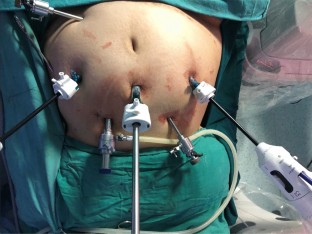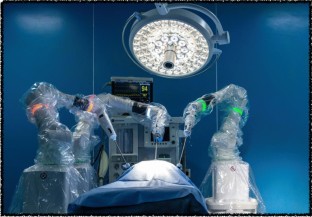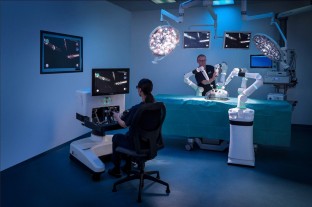 References
Nezhat CR, Burrell MO, Nezhat FR, Benigno BB, Welander CE (1992) Laparoscopic radical hysterectomy with paraaortic and pelvic node dissection. Am J Obstet Gynecol 166(3):864–865

Nezhat C (1993) Laparoscopic radical hysterectomy with paraaortic and pelvic lymph node dissection? Am J Obstet Gynecol 168:1644–1645

Weinberg L, Rao S, Escobar PF (2011) Robotic surgery in gynecology: an updated systematic review. Obstet Gynecol Int 2011:852061

Park DA, Yun JE, Kim SW et al (2017) Science direct. Eur J Surg Oncol. 2017:1–9

Magrina JF (2007) Robotic surgery in gynecology. Eur J Gynaecol Oncol. 28:77–82

Koh WJ, Greer BE, Abu-Rustum NR et al (2015) Cervical cancer, version 22015. J Natl Compr Canc Netw. 13:395–404

Puntambekar et al (2007) Laparoscopic total radical hysterectomy by the Pune technique: our experience of 248 cases. J Minimally Invasive Gynecol 14:682–689

Ko EM, Muto MG, Berkowitz RS, Feltmate CM (2008) Robotic versus open radical hysterectomy: a comparative study at a single institution. Gynecol Oncol. 111:425–430

Ahlering TE, Skarecky D, Lee D, Clayman RV (2003) Successful transfer of open surgical skills to a laparoscopic environment using a robotic interface: initial experience with laparoscopic radical prostatectomy. J Urol 170(5):1738–1741

Galaal K, Bryant A, Fisher AD, Al-Khaduri M, Kew F, Lopes AD (2012) Laparoscopy versus laparotomy for the management of early stage endometrial cancer. Cochr Database Syst Rev 9:006655

Walker JL, Piedmonte MR, Spirtos NM, Eisenkop SM, Schlaerth JB, Mannel RS et al (2012) Recurrence and survival after random assignment to laparoscopy versus laparotomy for comprehensive surgical staging of uterine cancer: gynaecologic Oncology Group LAP2 Study. J clin oncol 30(7):695–700

Jorgensen SL, Mogensen O, Wu CS, Korsholm M, Lund K, Jensen PT (2019) Survival after a nationwide introduction of robotic surgery in women with early-stage endometrial cancer: a population-based prospective cohort study. Eur J cancer 109:1–11

Shah CA, Beck T, Liao JB, Giannakopoulos NV, Veljovich D, Paley P (2017) Surgical and oncologic outcomes after robotic radical hysterectomy as compared to open radical hysterectomy in the treatment of early cervical cancer. J Gynecol Oncol 28(6):e82

Sert BM, Boggess JF, Ahmad S, Jackson AL, Stavitzski NM, Dahl AA et al (2016) Robot-assisted versus open radical hysterectomy: a multi-institutional experience for early-stage cervical cancer. Eur J Surg Oncol 42(4):513–522

Hoogendam JP, Verheijen RH, Wegner I, Zweemer RP (2014) Oncological outcome and long-term complications in robot-assisted radical surgery for early stage cervical cancer: an observational cohort study. BJOG Int J Obstet Gynaecol 121(12):1538–1545

Mendivil AA, Rettenmaier MA, Abaid LN, Brown JV 3rd, Micha JP, Lopez KL et al (2016) Survival rate comparisons amongst cervical cancer patients treated with an open, robotic-assisted or laparoscopic radical hysterectomy: a five year experience. Surg Oncol 25(1):66–71

Segaert A, Traen K, Van Trappen P, Peeters F, Leunen K, Goffin F et al (2015) Robot-assisted radical hysterectomy in cervicalcarcinoma: the Belgian experience. Int J Gynecol Cancer 25(9):1690–1696

Ramirez PT, Frumovitz M, Pareja R, Lopez A, Vieira M, Ribeiro R et al (2018) Minimally invasive versus abdominal radical hysterectomy for cervical cancer. N Engl J Med 379(20):1895–1904

Melamed A, Margul DJ, Chen L, Keating NL, Del Carmen MG, Yang J et al (2018) Survival after minimally invasive radical hysterectomy for early-stage cervical cancer. N Engl J Med 379(20):1905–1914

Nie J-C, Yan A-Q, Liu X-S (2017) Robotic-assisted radical hysterectomy results in better surgical outcomes compared with the traditional laparoscopic radical hysterectomy for the treatment of cervical cancer. Int J Gynecol Cancer 27:1990–1999

Puntambekar et al (2010) Robotic radical hysterectomy: applying principles of the laparoscopic Pune technique. J Robotic Surg 4:259–264
Ethics declarations
Conflicts of interest
Arjun Goel, Shailesh. P. Puntambekar, Shruti Chandak, Honey Chahal, Mihir Chitale, Rajesh KN, Kshitij Manerikar and Mangesh Hivre declare that they have no conflicts of interest.
Informed consent
All procedures followed were in accordance with the ethical standards of the responsible committee on human experimentation (institutional and national) with the Helsinki Declaration of 1975, as revised in 2000. Informed consent was obtained from all patients included in the study.
IRB approval
Received approval from the state ethical committee for the study.
Additional information
Publisher's Note
Springer Nature remains neutral with regard to jurisdictional claims in published maps and institutional affiliations.
About this article
Cite this article
Puntambekar, S.P., Goel, A., Chandak, S. et al. Feasibility of robotic radical hysterectomy (RRH) with a new robotic system. Experience at Galaxy Care Laparoscopy Institute. J Robotic Surg 15, 451–456 (2021). https://doi.org/10.1007/s11701-020-01127-x
Received:

Accepted:

Published:

Issue Date:

DOI: https://doi.org/10.1007/s11701-020-01127-x
Keywords