Abstract
Introduction
Robotic-assisted techniques are widespread in urology. However, prolonged preparation time for robotic cases hinders operating room (OR) efficiency and frustrates robotic surgeons. Pre-operative times are an opportunity for quality improvement (QI) and enhancing OR throughput. We have previously shown that pre-operative times in robotic cases are highly variable and that increasing patient complexity was associated with longer times. Our objective was to characterize set-up times in robotic urology cases and to determine whether prolongation was due to robot set-up, in particular.
Materials and methods
Patients undergoing robotic-assisted urology procedures at our academic institution had routine peri-operative collection of demographic data and OR time stamps. Following IRB approval, we retrospectively reviewed set-up times from an OR database. Multivariable analysis was used to assess the influence of independent patient variables—gender (M/F), smoking history, age, BMI, American Society of Anesthesiologists (ASA) Physical Status Classification, and Charlson Comorbidity Index (CCI)—on robot set-up times. Institutional factors including procedure, surgeon, and case year were also assessed.
Results
A total of 808 patients undergoing 816 robotic-assisted procedures from 2013 to 2018 met inclusion criteria. Robot set-up times varied only by gender (F > M) but not by general patient complexity. Age, BMI, smoking status, ASA, and CCI did not play a role in prolonging robot set-up times. There was marked variability of robot set-up times, even within procedure type. Robot set-up times generally improved over time for a given surgeon.
Conclusions
Robot set-up time is not affected by patient complexity, in contrast to pre-operative time. It is affected by procedure type and does improve with experience. There is wide variability of robot set-up times and this is an important target for surgical QI.
This is a preview of subscription content, log in to check access.
Access options
Buy single article
Instant access to the full article PDF.
US$ 39.95
Price includes VAT for USA
Subscribe to journal
Immediate online access to all issues from 2019. Subscription will auto renew annually.
US$ 99
This is the net price. Taxes to be calculated in checkout.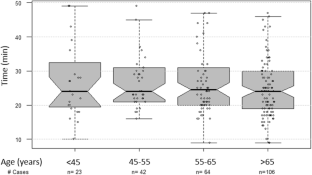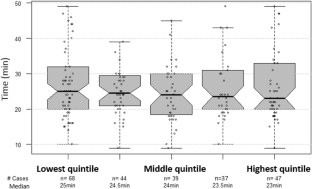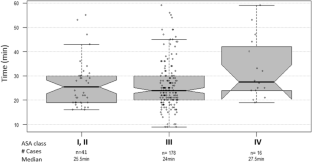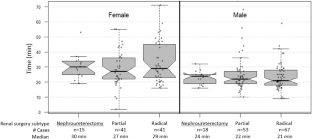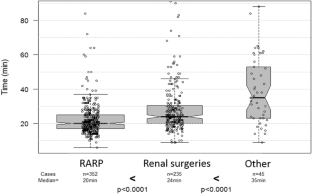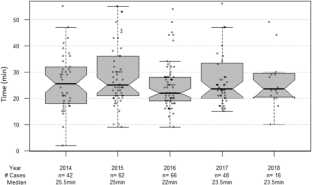 References
1.

Ahmed K, Ibrahim A, Wang TT et al (2012) Assessing the cost effectiveness of robotics in urological surgery—a systematic review. BJU Int 110:1544

2.

Catchpole K, Perkins C, Bresee C et al (2016) Safety, efficiency and learning curves in robotic surgery: a human factors analysis. Surg Endosc 30:3749

3.

Dru CJ, Anger JT, Souders CP et al (2017) Surgical flow disruptions during robotic-assisted radical prostatectomy. Can J Urol 24:8814

4.

Iranmanesh P, Morel P, Wagner OJ et al (2010) Set-up and docking of the da Vinci surgical system: prospective analysis of initial experience. Int J Med Robot 6:57

5.

Kozminski DJ, Cerf MJ, Loman D, Feustel PJ, Kogan BA (2019) The role of patient and procedure specific factors in urology operating room perioperative times. Urol Pract 6(1):6–12. https://doi.org/10.1016/j.urpr.2018.02.004

6.

Lenihan JP (2017) How to set up a robotic-assisted laparoscopic surgery center and training of staff. Best Pract Res Clin Obstet Gynaecol 45:19

7.

Rebuck DA, Zhao LC, Helfand BT et al (2011) Simple modifications in operating room processes to reduce the times and costs associated with robot-assisted laparoscopic radical prostatectomy. J Endourol 25:955

8.

Souders CP, Catchpole KR, Wood LN et al (2017) Reducing operating room turnover time for robotic surgery using a motor racing pit stop model. World J Surg 41:1943

9.

Williams SB, Prado K, Hu JC (2014) Economics of robotic surgery: does it make sense and for whom? Urol Clin N Am 41:591

10.

Yu HY, Hevelone ND, Lipsitz SR et al (2012) Use, costs and comparative effectiveness of robotic assisted, laparoscopic and open urological surgery. J Urol 187:1392
Funding
There were no extra-institutional sources of funding.
Ethics declarations
Conflict of interest
There are no reported conflicts of interest for any author. David Kozminski, Matthieu Cerf, Paul Feustel, and Barry Kogan each declare that they have no conflict of interest.
Ethical approval
This article does not contain any studies with animals performed by any of the authors.
Informed consent
Informed consent was obtained from all individual participants included in the study.
Additional information
Publisher's Note
Springer Nature remains neutral with regard to jurisdictional claims in published maps and institutional affiliations.
About this article
Cite this article
Kozminski, D.J., Cerf, M.J., Feustel, P.J. et al. Robot set-up time in urologic surgery: an opportunity for quality improvement. J Robotic Surg (2020). https://doi.org/10.1007/s11701-020-01049-8
Received:

Accepted:

Published:
Keywords
Robotic-assisted surgery

Robot set-up

Quality improvement

Operating room

Efficiency