Abstract
Introduction
Laparoscopic surgery (LS) may lead to musculoskeletal disorders (MSDs) and an increase in physical and mental workloads to the surgeon. Robot-assisted surgery (RAS) should improve the ergonomy of the surgeon. This study assesses the experience influence in surgical ergonomics between LS and RAS.
Methods
LS and RAS lasting more than 60 min of effective operative time were compared. During the surgical procedure, the physical discomfort was evaluated using the Borg scale. At the end, the mental workload was evaluated using the NASA-TLX index. After global analysis, the experienced and young surgeons were assessed.
Results
88 RAS and 82 LS were evaluated. During LS, the physical discomfort was significantly higher in all segments, and the pain increased significantly during the procedure in all segments compared to that evaluated in the RAS (p < 0.05). Forearms and the back were the most painful. The young surgeons did not display any improvement in the physical ergonomics of the RAS compared to the LS. Concerning the mental ergonomics, the overall workload and performance were significantly greater during the LS compared to the RAS (p < 0.05). For the young surgeons, the overall workload, the effort, the mental and the physical demands were greater during LS (p < 0.05). For the experienced surgeons, the physical demand was lower during the RAS compared to the LS (p < 0.05). However, the experienced surgeons expressed a feeling of greater performance after the LS (p < 0.01). RAS significantly reduces the onset of MSDs compared to LS, especially for the experienced surgeons.
Conclusion
RAS significantly reduces the onset of MSDs compared to LS, especially for the experienced surgeons.
Access options
Buy single article
Instant access to the full article PDF.
US$ 39.95
Tax calculation will be finalised during checkout.
Subscribe to journal
Immediate online access to all issues from 2019. Subscription will auto renew annually.
US$ 79
Tax calculation will be finalised during checkout.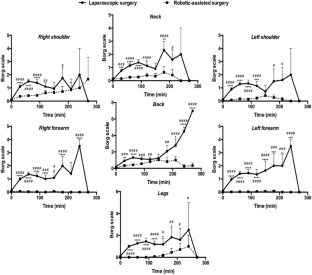 References
1.

Reyes DA, Tang B, Cuschieri A (2006) Minimal access surgery (MAS)-related surgeon morbidity syndromes. Surg Endosc 20:1–13

2.

Park A, Lee G, Seagull FJ, Meenaghan N, Dexter D (2010) Patients benefit while surgeons suffer: an impending epidemic. J Am Coll Surg 210:306–313

3.

Lee G, Lee T, Dexter D, Godinez C, Meenaghan N, Catania R et al (2009) Ergonomic risk associated with assisting in minimally invasive surgery. Surg Endosc 23:182–188

4.

Carswell CM, Clarke D, Seales WB (2005) Assessing mental workload during laparoscopic surgery. Surg Innov 12:80–90

5.

Lee GI, Lee MR, Clanton T, Sutton E, Park AE, Marohn MR (2013) Comparative assessment of physical and cognitive ergonomics associated with robotic and traditional laparoscopic surgeries. Surg Endosc 28:456–465

6.

Keyserling WM (2010) A computer-aided system to evaluate postural stress in the workplace. Am Ind Hyg Assoc J 47:641–649

7.

Lee YH, Chiou WK (1995) Ergonomic analysis of working posture in nursing personnel: example of modified Ovako Working Analysis System application. Res Nurs Health 18:67–75

8.

Esposito C, Najmaldin A, Schier F, Yamataka A, Ferro M, Riccipetitoni G et al (2014) Work-related upper limb musculoskeletal disorders in pediatric minimally invasive surgery: a multicentric survey comparing laparoscopic and sils ergonomy. Pediatr Surg Int 30:395–399

9.

Lawson EH, Curet MJ, Sanchez BR, Schuster R, Berguer R (2007) Postural ergonomics during robotic and laparoscopic gastric bypass surgery: a pilot project. J Robot Surg 1:61–67

10.

Lee G, Kavic SM, George IM, Park AE (2007) Postural instability does not necessarily correlate to poor performance: case in point. Surg Endosc 21:471–474

11.

Tarr ME, Brancato SJ, Cunkelman JA, Polcari A, Nutter B, Kenton K (2015) Comparison of postural ergonomics between laparoscopic and robotic sacrocolpopexy: a pilot study. J Minim Invasive Gynecol 22:234–238

12.

Stefanidis D, Hope WW, Scott DJ (2011) Robotic suturing on the FLS model possesses construct validity, is less physically demanding, and is favored by more surgeons compared with laparoscopy. Surg Endosc 25:2141–2146

13.

Klein MI, Warm JS, Riley MA, Matthews G, Doarn C, Donovan JF et al (2012) Mental workload and stress perceived by novice operators in the laparoscopic and robotic minimally invasive surgical interfaces. J Endourol Endourol Soc 26:1089–1094

14.

Borg G (1990) Psychophysical scaling with applications in physical work and the perception of exertion. Scand J Work Environ Health 16(Suppl 1):55–58

15.

Lee Y-H, Liu B-S (2003) Inflight workload assessment: comparison of subjective and physiological measurements. Aviat Space Environ Med 74:1078–1084

16.

Hart S, Staveland L (1988) Development of NASA-TLX (task load index): result of empirical and theoretical research. In: Human mental workload. Hancock PA, Meshkati N. North Holland Press, Amsterdam

17.

Hubert N, Gilles M, Desbrosses K, Meyer JP, Felblinger J, Hubert J (2013) Ergonomic assessment of the surgeon's physical workload during standard and robotic assisted laparoscopic procedures. Int J Med Robot Comput Assist Surg MRCAS 9:142–147

18.

Lee MR, Lee GI (2017) Does a robotic surgery approach offer optimal ergonomics to gynecologic surgeons ? a comprehensive ergonomics survey study in gynecologic robotic surgery. J Gynecol Oncol 28:e70

19.

Holloway RW, Ahmad S (2012) Robotic-assisted surgery in the management of endometrial cancer. J Obstet Gynaecol Res 38:1–8

20.

Ballantyne GH, Moll F (2003) The da Vinci telerobotic surgical system: the virtual operative field and telepresence surgery. Surg Clin North Am 83:1293–1304

21.

Ballantyne GH (2002) Robotic surgery, telerobotic surgery, telepresence, and telementoring. Review of early clinical results. Surg Endosc 16:1389–1402

22.

Stefanidis D, Wang F, Korndorffer JR, Dunne JB, Scott DJ (2010) Robotic assistance improves intracorporeal suturing performance and safety in the operating room while decreasing operator workload. Surg Endosc 24:377–382

23.

Zihni AM, Ohu I, Cavallo JA, Cho S, Awad MM (2014) Ergonomic analysis of robot-assisted and traditional laparoscopic procedures. Surg Endosc 28:3379–3384

24.

Mouraviev V, Klein M, Schommer E, Thiel DD, Samavedi S, Kumar A et al (2016) Urology residents experience comparable workload profiles when performing live porcine nephrectomies and robotic surgery virtual reality training modules. J Robot Surg 10:49–56
Acknowledgements
The authors thank Dr. M. Derieppe (Department of Radiology, Leiden UMC, Leiden, the Netherlands) for proofreading the manuscript, and the colleagues of the Department of Urology, the Department of Paediatric Surgery and the Department of Gynaecology of CHU Tours for their fruitful contributions.
Funding
This study was realized without any funding, only with surgeon personal investment.
Ethics declarations
Conflict of interest
Dr. Hebert reports personal fees from Nordic Pharma, personal fees from Intuitive Surgical, during the conduct of the study; personal fees from Nordic Pharma, personal fees from Intuitive Surgical, outside the submitted work. Drs. Mendes, Bruyere, Escoffre, Binet, Lardy, Marchal and Marret have no conflicts of interest or financial ties to disclose.
Ethical approval
This study assessed only the ergonomy of the surgeon, so hospital institutional review board indicate no patient approvals are required. This article does not contain any studies with animals performed by any of the authors.
Additional information
Publisher's Note
Springer Nature remains neutral with regard to jurisdictional claims in published maps and institutional affiliations.
About this article
Cite this article
Mendes, V., Bruyere, F., Escoffre, J.M. et al. Experience implication in subjective surgical ergonomics comparison between laparoscopic and robot-assisted surgeries. J Robotic Surg 14, 115–121 (2020). https://doi.org/10.1007/s11701-019-00933-2
Received:

Accepted:

Published:

Issue Date:
Keywords
Ergonomics

Robot-assisted surgery

Laparoscopic surgery

Borg scale

NASA-TLX index