Abstract
Most robotic curriculum requires simulation on a console prior to operative exposure. This practice does not permit experiencing the physical collisions with the robotic tools, which occurs during surgery. We designed and evaluated an innovative curriculum to address cognitive components and trouble-shoot robotic collisions when the surgeon lacks haptic feedback. We adapted our previous curriculum, designed to teach and document proficiency of robotic docking and instrument exchange, to include robotic collisions. Participants received a 10-min, didactic presentation describing finger grips, internal and external collisions, and instruction on how to trouble-shoot each type. Residents worked in pairs, one at the console and the other at bedside, to complete two simulation exercises. Participants manipulated the robot to determine how best to resolve the situations. Residents completed retrospective post-course surveys and instructors completed a final survey. For comparison, non-participants, PGY-matched surgical trainees, also completed a survey. All participants demonstrated proficiency in docking and instrument exchange. Compared to pre-session, post-session knowledge and confidence improved in five domains reflecting session objectives (p < 0.05). Participants could list and troubleshoot collisions more than the non-participant matched peers (p < 0.05). Instructors supported the additional collision components, but noted learners needed more time. Two of three non-participants expressed interest in a teaching session to address these components. Collisions occur using robotic technology and rarely get addressed in surgical training. We describe an opportunity for surgeons to trouble-shoot robotic collisions in a safe, simulated environment. This easily transferable curriculum represents one of the first industry-independent robotic teaching sessions for surgical trainees.
This is a preview of subscription content, log in to check access.
Access options
Buy single article
Instant access to the full article PDF.
US$ 39.95
Price includes VAT for USA
Subscribe to journal
Immediate online access to all issues from 2019. Subscription will auto renew annually.
US$ 99
This is the net price. Taxes to be calculated in checkout.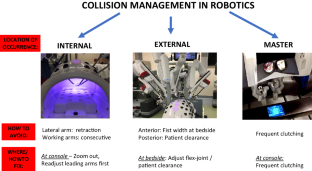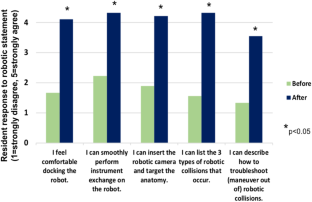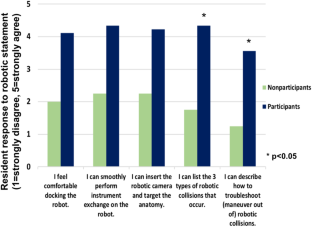 References
1.

Ratnapalan S, Uleryk E (2014) Organizational learning in health care organizations. Systems 2:24–33

2.

Cousins JB, Earl LM (1992) The case for participatory evaluation. Educ Eval Policy Anal 14(4):397–418

3.

Green CA, Abrahamson D, Chern H, O'Sullivan P (2018) Is robotic surgery highlighting critical gaps in resident training? J Grad Med Educ 10(5):491–493

4.

Green CA, Chern H, Sullivan P (2018) Current robotic curricula for surgery residents: a need for additional cognitive and psychomotor focus. Am J Surg 215(2):277–281

5.

Cao CGL, Taylor H (2004) Effects of new technology on the operating room team. In: Work with computer system, pp 309–312,

6.

Hsieh H-F, Shannon SE (2005) Three approaches to qualitative content analysis. Qual Health Res 15(9):1277–1288

7.

Evans CH, Schenarts KD (2016) Evolving educational techniques in surgical training. Surg Clin N Am 96(1):71–88

8.

Bashankaev B, Baido S, Wexner SD (2011) Review of available methods of simulation training to facilitate surgical education. Surg Endosc 25:28–35

9.

Samia H, Khan S, Lawrence J, Delaney CP (2013) Simulation and its role in training. Clin Colon Rectal Surg 26(1):47–55

10.

Tsuda S, Scott D, Doyle J, Jones DB (2009) Surgical skills training and simulation. Curr Probl Surg 46(4):271–370

11.

Willis RE, Van Sickle KR (2015) Current status of simulation-based training in graduate medical education. Surg Clin N Am 95(4):767–779

12.

Scott DJ, Pugh CM, Ritter EM, Jacobs LM, Pellegrini CA, Sachdeva AK (2011) New directions in simulation-based surgical education and training: validation and transfer of surgical skills, use of nonsurgeons as faculty, use of simulation to screen and select surgery residents, and long-term follow-up of learners. Surgery 149(6):735–744

13.

Cox T, Seymour N (2015) Moving the needle: simulation's impact on patient outcomes. Surg Clin N Am 95:827–838

14.

Cooke D et al (2017) Technology-enhanced simulation for health professions education: a systematic review and meta-analysis. JAMA 306(9):978–988

15.

Stefanidis D et al (2015) Simulation in surgery: what's needed next? Ann Surg 261(5):846–853

16.

Kumar A, Smith R, Patel VR (2015) Current status of robotic simulators in acquisition of robotic surgical skills. Curr Opin Urol 25(2):168–174

17.

Antonoff MB, Swanson JA, Green CA, Mann BD, Maddaus MA, D'Cunha J (2012) The significant impact of a competency-based preparatory course for senior medical students entering surgical residency. Acad Med 87(3):308–319
Funding
This work received no financial support.
Ethics declarations
Conflict of interest
All authors (Courtney A Green, MD, Patricia S. O'Sullivan, EdD and Hueylan Chern, MD) declare that they have no conflict of interest.
Ethical approval
All procedures performed in studies involving human participants were in accordance with the ethical standards of the institutional and/or national research committee and with the 1964 Helsinki declaration and its later amendments or comparable ethical standards. Ethical approval has been deemed "Exempt" by the University of California, San Francisco Human Research Protection Program's Institutional Review Board (IRB). (IRB # 17-23095; Reference # 200241, 10/02/2017).
About this article
Cite this article
Green, C.A., O'Sullivan, P.S. & Chern, H. A robotic teaching session: separating tool from technique to emphasize a cognitive focused teaching environment. J Robotic Surg 13, 735–739 (2019). https://doi.org/10.1007/s11701-019-00921-6
Received:

Accepted:

Published:

Issue Date:
Keywords
Surgical education

Robotic surgery

Resident training

Integrating robotic technology