Abstract
Although they comprise a small number of primary tumors of the heart, papillary fibroelastomas (PFEs) are the second most common type of benign cardiac tumor. PFEs of the right heart are uncommon, and those arising from the right-ventricular (RV) wall are extremely rare, with only a handful of reported cases in the literature. Removal of these tumors has been described, primarily through a median sternotomy approach, with only one report of using a right-sided mini-thoracotomy technique. The advantages of endoscopic robotic-assisted cardiac surgery have been demonstrated and described extensively. We report on a case of an incidentally found PFE in the RV that was successfully removed with a totally endoscopic robotic-assisted approach. The focus of our report is on the uniqueness of both the right-sided nonvalvular PFE and the treatment with a robotic totally endoscopic surgical approach.
This is a preview of subscription content, log in to check access.
Access options
Buy single article
Instant access to the full article PDF.
US$ 39.95
Price includes VAT for USA
Subscribe to journal
Immediate online access to all issues from 2019. Subscription will auto renew annually.
US$ 99
This is the net price. Taxes to be calculated in checkout.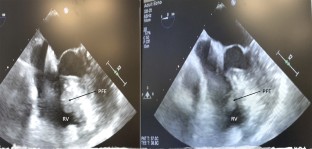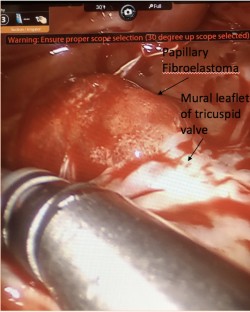 References
1.

Hoffmeier A, Sindermann JR, Scheld HH, Martens S (2014) Cardiac tumors—diagnosis and surgical treatment. Dtsch Arztebl Int 111:205–211

2.

Bossert T, Gummert JF, Battellini R, Richter M, Barten M, Walther T et al (2005) Surgical experience with 77 primary cardiac tumors. Interact Cardiovasc Thorac Surg 4:311–315

3.

Niino T, Satoshi U (2014) Papillary fibroelastoma of the right ventricular free wall. Case Rep Surg 2014:654641

4.

Gowda RM, Khan IA, Nair CK, Mehta NJ, Vasavada BC, Sacchi TJ (2003) Cardiac papillary fibroelastoma: a comprehensive analysis of 725 cases. Am Heart J 146:404–410

5.

Ngaage DL, Mullany CJ, Daly RC, Dearani JA, Edwards WD, Tazelaar HD et al (2005) Surgical treatment of cardiac papillary fibroelastoma: a single center experience with eighty-eight patients. Ann Thorac Surg 80:1712–1718

6.

Balkhy HH, Wann LS, Krienbring DJ, Arnsdorf SE (2011) Integrating coronary anastomotic connectors and robotics toward a totally endoscopic beating heart approach: review of 120 cases. Ann Thorac Surg 92:821–827

7.

Maciolek K, Asfaw ZE, Krienbring DJ, Arnsdorf SE, Balkhy HH (2016) Robotic endoscopic off-pump total pericardiectomy in constrictive pericarditis. Innovations (Phila) 11:134–137

8.

Kitahara H, Patel B, McCrorey M, Nisivaco S, Balkhy HH (2017) Morbid obesity does not increase morbidity or mortality in robotic cardiac surgery. Innovations (Phila) 12:434–439

9.

Poston RS, Tran R, Collins M, Reynolds M, Connerney I, Reicher B et al (2008) Comparison of economic and patient outcomes with minimally invasive versus traditional off-pump coronary artery bypass grafting techniques. Ann Surg 248:638–646

10.

Chitwood WR Jr (2016) Robotic mitral valve surgery: overview, methodology, results and perspective. Ann Surg 5:544–555

11.

Giambruno V, Chu MW, Fox S, Swinamer SA, Rayman R, Markova Z et al (2018) Robotic-assisted coronary artery bypass surgery: an 18-year single-centre experience. Int J Med Robot 14:e1891
Ethics declarations
Conflict of interest
Author Husam Balkhy, MD is a proctor for Intuitive Surgical, manufacturer of the Da Vinci robot. Author Sarah Nisivaco declares that she has no conflict of interest. Author Michael Henry, MD declares that he has no conflict of interest. Author Parker Ward, MD declares that he has no conflict of interest.
Ethical approval
This article does not contain any studies with human participants or animals performed by any of the authors.
Informed consent
All procedures followed were in accordance with the ethical standards of the responsible committee on human experimentation (institutional and national) with the Helsinki Declaration of 1975, as revised in 2000. Informed consent was obtained from all patients for being included in the study. Written informed consent was obtained from the patient for publication of this Case Report and any accompanying images. A copy of the written consent is available for review by the Editor-in-Chief of this journal.
About this article
Cite this article
Nisivaco, S., Henry, M., Ward, R.P. et al. Totally endoscopic robotic-assisted excision of right ventricular papillary fibroelastoma. J Robotic Surg 13, 779–782 (2019). https://doi.org/10.1007/s11701-018-00913-y
Received:

Accepted:

Published:

Issue Date:
Keywords
Cardiac tumor

Papillary fibroelastoma

Robotics

Minimally invasive surgery

Cardiac surgery

Right ventricle mass