Abstract
There is a lack of information regarding malpractice claims and indemnity payments associated with robotic cases in surgery. Malpractice claims and indemnity payouts will elucidate and mitigate harms of future adoption of new technology into surgery. We analyzed claims filed against Intuitive Surgical, Inc. from 2000 to 2017. A law librarian identified product liability claims from 2000 to 2017 with the defendant "Intuitive Surgical, Inc." using the Bloomberg Law database. We reviewed all available legal documents pertaining to identified claims, and extracted data points including filing date, surgery date, surgery type, robot type, instrument type, complications, and case outcomes. Since 2000, 123 claims were filed; 108 met criteria for inclusion. Gynecologic surgeries comprised the majority of claims (62%, 67 claims), followed by urologic surgeries (20%, 22 claims). Number of claims filed peaked in 2013 (30%, 32 claims) and then decreased each year, with 6% (7 claims) filed in 2016, and only 1% (1 claim) filed in 2017. Of the 22 claims regarding robotic urologic surgeries, 19 claims (86%) pertained to prostatectomy. Commonly alleged injuries in urologic cases were bowel injury (8 claims), erectile dysfunction (5 claims), bowel fistulas (4 claims), and incontinence (4 claims). Device failure was cited in only 2 claims. Early adopters of robotic surgery were at highest risk of litigation. This risk subsequently decreased despite the wide spread adoption of this technology. Almost all claims were secondary to surgical complications and not device failure, thus demonstrating a need for more systematic training for novel devices and early adopters.
This is a preview of subscription content, log in to check access.
Access options
Buy single article
Instant access to the full article PDF.
US$ 39.95
Price includes VAT for USA
Subscribe to journal
Immediate online access to all issues from 2019. Subscription will auto renew annually.
US$ 99
This is the net price. Taxes to be calculated in checkout.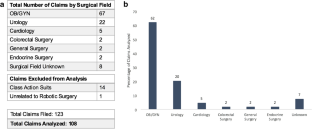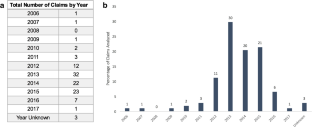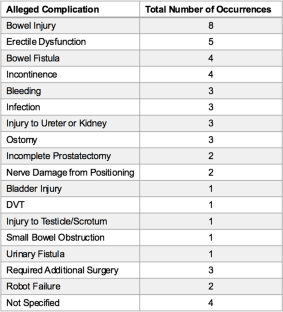 References
1.

Intuitive Surgical, Inc. (2017) Annual Report. 2017

2.

Cooper MA, Ibrahim A, Lyu H et al (2015) Underreporting of robotic surgery complications. J Healthc Qual 37(2):133–138

3.

Ficarra V, Novara G, Ahlering TE et al (2012) Systematic review and meta-analysis of studies reporting potency rates after robot-assisted radical prostatectomy. Eur Urol 62(3):418–430

4.

Ficarra V, Novara G, Rosen RC et al (2012) Systematic review and meta-analysis of studies reporting urinary continence recovery after robot-assisted radical prostatectomy. Eur Urol 62(3):405–417

5.

Schiavone MB, Kuo EC, Naumann RW et al (2012) The commercialization of robotic surgery: unsubstantiated marketing of gynecologic surgery by hospitals. Am J Obstet Gynecol 207(3):174.e1–174.e7
Ethics declarations
Conflict of interest
Farnoosh Nik-Ahd, Colby P. Souders, Hanson Zhao, Justin Houman, Lynn McClelland, Bilal Chughtai, and Jennifer T. Anger declare that they have no conflict of interest.
About this article
Cite this article
Nik-Ahd, F., Souders, C.P., Zhao, H. et al. Robotic urologic surgery: trends in litigation over the last decade. J Robotic Surg 13, 729–734 (2019). https://doi.org/10.1007/s11701-018-00905-y
Received:

Accepted:

Published:

Issue Date:
Keywords
Robotic surgery

Da Vinci

Litigation

Claim

Lawsuit