Abstract
The reports on the performance of robotic surgery in patients with dwarfism are anecdotal; anesthesiological issues and a challenging anatomy are the main factors that lead most of surgeons to prefer a more traditional approach. We present a case of bilateral robotic partial nephrectomy in a patient affected by achondroplastic dwarfism and aim to evaluate risks and issues in this type of surgery.
This is a preview of subscription content, log in to check access.
Access options
Buy single article
Instant access to the full article PDF.
US$ 39.95
Price includes VAT for USA
Subscribe to journal
Immediate online access to all issues from 2019. Subscription will auto renew annually.
US$ 99
This is the net price. Taxes to be calculated in checkout.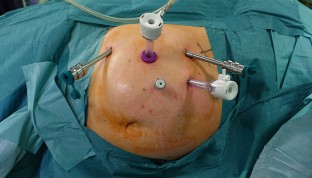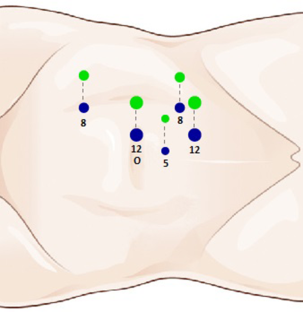 References
1.

Cacciamani GE, Medina LG, Gill T, Abreu A, Sotelo R, Artibani W, Gill IS (2018) Impact of surgical factors on robotic partial nephrectomy outcomes: comprehensive systematic review and meta-analysis. J Urol 200(2):258–274

2.

Choi K, Hill S, Hale N, Phillips S, Deem S (2018) Intraoperative mannitol during robotic-assisted-laparoscopic partial nephrectomy. J Robot Surg. https://doi.org/10.1007/s11701-018-0868-4

3.

Mattevi D, Luciani LG, Mantovani W, Cai T, Chiodini S, Vattovani V, Puglisi M, Malossini G (2018) Fluorescence-guided selective arterial clamping during RAPN provides better early functional outcomes based on renal scan compared to standard clamping. J Robot Surg. https://doi.org/10.1007/s11701-018-0862-x

4.

Farber NJ, Dubin J, Parihar J, Han C, Lasser MS (2016) Partial nephrectomy in a patient with dwarfism. Can J Urol 23(4):8375–8378

5.

Gyomber D, Angus D, Lawrentschuk N (2009) Anatomic considerations for radical retropubic prostatectomy in an achondroplastic dwarf. Sci World J 9:204–8

6.

Yao SY, Ikeda A, Tada Y (2015 Jul) Reduced port laparoscopic surgery for colon cancer in a patient with tuberculous kyphosis and dwarfism: a rare case and literature review. Wideochir Inne Tech Maloinwazyjne 10(2):275–281

7.

Yadav P, Mahajan A, Kandpal DK, Chowdhary SK (2018) Nephron-sparing surgery for syndromic Wilms' tumor: robotic approach. Urology 116:172–175

8.

Mattioli G, Pini Prato A, Razore B, Leonelli L, Pio L, Avanzini S, Boscarelli A, Barabino P, Disma NM, Zanaboni C, Garzi A, Martigli SP, Buffi NM, Rosati U, Petralia P (2017) Da Vinci robotic surgery in a pediatric hospital. J Laparoendosc Adv Surg Tech A 27(5):539–545

9.

Zorn KC (2010) Robotic surgery techniques for obese patients. Can Urol Assoc J 4(4):255–256

10.

Tajima Y, Kuroki T, Kitasato A et al (2011) Prediction and management of a low-lying costal arch which restricts the operative working space during laparoscopic cholecystectomy. J Hepatobiliary Pancreat Sci 18(1):60–66

11.

Hunter AGW, Bankier A, Rogers JG, Sillence D, Scott CI Jr (1998) Medical complications of achondroplasia: a multicentre patient review. J Med Genet 35:705–712
Ethics declarations
Conflict of interest
Authors declare that they have no competing interest.
Informed consent
Written informed consent was obtained from the patient for publication of this case report/any accompanying images. A copy of the written consent is available for review by the Editor-in-Chief of this journal.
About this article
Cite this article
Smelzo, S., Mantica, G., Suardi, N. et al. Robotic surgery in patients with achondroplastic dwarfism: evaluation of risks and issues in an anatomical challenging bilateral partial nephrectomy. J Robotic Surg 13, 783–786 (2019). https://doi.org/10.1007/s11701-018-00904-z
Received:

Accepted:

Published:

Issue Date:
Keywords
Achondroplasia

Robotic partial nephrectomy

RAPN

Robotic surgery

Dwarfism