Abstract
The range of urological procedures performed with robotic assistance has widened with increasing experience with the da Vinci robotic system. We describe the use of the da Vinci SI Surgical System for excision of a seminal vesicle cyst in a patient who had associated ipsilateral renal agenesis (Zinner's syndrome). The robotic platform afforded a minimally invasive procedure with precise dissection and no collateral damage to neighbouring vital anatomy.
Access options
Buy single article
Instant access to the full article PDF.
USD 39.95
Price excludes VAT (USA)
Tax calculation will be finalised during checkout.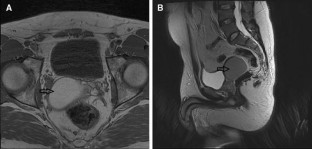 References
Gonzalez CM, Dalton DP (1998) Endoscopic incision of a seminal vesicle cyst. Urology 51(5):831–832

Van den Ouden D, Blom JH, Bangma C, De Spiegeleer AH (1998) Diagnosis and management of seminal vesicle cysts associated with ipsilateral renal agenesis: a pooled analysis of 52 cases. Eur Urol 33(5):433–440

Zinner A (1914) Ein Fall von intravesikaler Samenblasenzyste. Wien Med Wochenschr 64:605–676

Seminara SB, Hayes FJ, Crowley WF (1998) Gonadotropin-releasing hormone deficiency in the human (idiopathic hypogonadotropic hypogonadism and Kallmann's syndrome): pathophysiological and genetic considerations. Endocr Rev 19(5):521–539

Behringer RR (1994) The in vivo roles of müllerian-inhibiting substance. Curr Top Dev Biol 29:171–187

Cherullo EE, Meraney AM, Bernstein LH, Einstein DM, Thomas AJ, Gill IS (2002) Laparoscopic management of congenital seminal vesicle cysts associated with ipsilateral renal agenesis. J Urol 167(3):1263–1267

Boron WF, Boulpaep EL (2003) Medical physiology: a cellular and molecular approach. Saunders, Philadelphia. 1114

Lee BH, Seo JW, Han YH, Kim YH, Cha SJ (2007) Primary mucinous adenocarcinoma of a seminal vesicle cyst associated with ectopic ureter and ipsilateral renal agenesis: a case report. Korean J Radiol: Off J Korean Radiol Soc 8(3):258–261

Carmignani G, Gallucci M, Puppo P, De Stefani S, Simonato A, Maffezzini M (1995) Video laparoscopic excision of a seminal vesicle cyst associated with ipsilateral renal agenesis. J Urol 153(2):437–439

McDougall EM, Afane JS, Dunn MD, Shalhav AL, Clayman RV (2001) Laparoscopic management of retrovesical cystic disease: Washington University experience and review of the literature. J Endourol/Endourol Soc 15(8):815–819

Najmaldin A, Antao B (2007) Early experience of tele-robotic surgery in children. Int J Med Robot Comput Assist Surg: MRCAS 3(3):199–202

Allaparthi S, Blute RD (2010) Novel application of da Vinci robotic system in patients of Zinners syndrome–case report and review of literature. Can J Urol 17(2):5109–5113

Selli C, Cavalleri S, De Maria M, Iafrate M, Giannarini G (2008) Robot-assisted removal of a large seminal vesicle cyst with ipsilateral renal agenesis associated with an ectopic ureter and a Müllerian cyst of the vas deferens. Urology 71(6):1226.e5–1226.e7

Moore CD, Erhard MJ, Dahm P (2007) Robot-assisted excision of seminal vesicle cyst associated with ipsilateral renal agenesis. J Endourol/Endourol Soc 21(7):776–779

Hong YK, Onal B, Diamond DA, Retik AB, Cendron M, Nguyen HT (2011) Robot-assisted laparoscopic excision of symptomatic retrovesical cysts in boys and young adults. J Urol 186(6):2372–2378
Conflict of interest
None.
Consent section
Written informed consent was obtained from the patient for publication of this Case Report/any accompanying images. A copy of the written consent is available for review by the Editor-in-Chief of this journal.
Electronic supplementary material
Below is the link to the electronic supplementary material.
Supplementary material (MP4 31340 kb)
About this article
Cite this article
Sridhar, A.N., Zacharakis, E., Dudderidge, T. et al. Robot-assisted management of Zinner's syndrome: report of seminal vesicle sparing technique and review of literature. J Robotic Surg 8, 185–187 (2014). https://doi.org/10.1007/s11701-013-0430-3
Received:

Accepted:

Published:

Issue Date:

DOI: https://doi.org/10.1007/s11701-013-0430-3
Keywords
Zinner's syndrome

Robotic assisted

Seminal vesicle cyst sparing