Abstract
We compared 5-year biochemical recurrence (BCR)-free rates for robotic-assisted laparoscopic prostatectomy (RALP) and laparoscopic radical prostatectomy (LRP). Three hundred and twelve consecutive patients who underwent RALP from 2003 to 2008 were compared to 97 consecutive LRP patients from 1999 to 2004. All laparoscopic surgeries were performed by one surgeon and robotic surgeries were performed by this surgeon or a laparoscopically naïve surgeon. Both groups were evaluated for perioperative outcome, pathologic status, and mid-term oncologic outcomes (5-year BCR-free rates at prostate-specific antigen [PSA] cutoffs of <0.4, <0.2, or <0.1 ng/ml). Baseline characteristics were equivalent except for age (61.9 years vs. 65.1 years, P < 0.0001). RALP operating time was shorter (215.5 min vs. 305.3, P < 0.0001), and resulted in fewer complications (3.8% vs. 10.3%, P = 0.0214) and blood transfusions (2.9% vs. 13.4%, P = 0.0003). Positive surgical margins were equivalent (pT2 20.9% vs. 28.8%, P = 0.1818). Overall 5-year BCR-free rates were comparable for RALP (97.6, 93.4, and 85.1%) and LRP (97.7, 89.7, and 79.7%) at PSA cutoff levels of <0.4, <0.2, and <0.1 ng/ml, respectively. There was a significant difference in BCR-free rates between the RALP and LRP groups for patients with organ-confined (pT2) disease at 0.2 ng/ml (96.4% vs. 88.7%, P = 0.0373) and 0.1 ng/ml (91.0% vs. 83.0%, P = 0.0470). We report lower morbidity, comparable pathologic outcome and improved mid-term oncologic results in patients with organ-confined disease after RALP in comparison to LRP.
Access options
Buy single article
Instant access to the full article PDF.
USD 39.95
Price excludes VAT (USA)
Tax calculation will be finalised during checkout.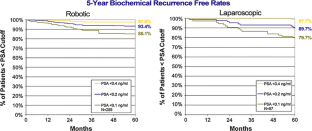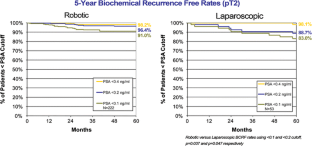 References
Ghavamian R (2009) Robotic and open radical prostatectomy: is there reason to be receptive to change now and in the future? Expert Rev Anticancer Ther 9:863–865. doi:10.1586/era.09.65

Ham WS, Park SY, Kim WT, Koo KC, Lee YS, Choi YD (2008) Open versus robotic radical prostatectomy: a prospective analysis based on a single surgeon's experience. J Robotic Surg 2:235–241. doi:10.1007/s11701-008-0111-9

Tewari A, Srivasatava A, Menon M (2003) A prospective comparison of radical retropubic and robot-assisted prostatectomy: experience in one institution. BJU Int 92:205–210. doi:4311

Wood DP, Schulte R, Dunn RL, Hollenbeck BK, Saur R, Wolf JS Jr, Montie JE (2007) Short-term health outcome differences between robotic and conventional radical prostatectomy. Urology 70:945–949. doi:10.1016/j.urology.2007.06.1120

Menon M, Shrivastava A, Tewari A, Sarle R, Hemal A, Peabody JO, Vallancien G (2002) Laparoscopic and robot assisted radical prostatectomy: establishment of a structured program and preliminary analysis of outcomes. J Urol 168:945–949. doi:10.1097/01.ju.0000023660.10494.7d

Srinualnad S (2008) Early experience of robotic assisted laparoscopic radical prostatectomy. J Med Assoc Thai 91:377–382

Smith JA Jr, Chan RC, Chang SS, Herrell SD, Clark PE, Baumgartner R, Cookson MS (2007) A comparison of the incidence and location of positive surgical margins in robotic assisted laparoscopic radical prostatectomy and open retropubic radical prostatectomy. J Urol 178:2385–2389. doi:10.1016/j.juro.2007.08.008 discussion (2389–2390)

White MA, De Haan AP, Stephens DD, Maatman TK, Maatman TJ (2009) Comparative analysis of surgical margins between radical retropubic prostatectomy and RALP: are patients sacrificed during initiation of robotics program? Urology 73:567–571. doi:10.1016/j.urology.2008.11.011

Trabulsi EJ, Linden RA, Gomella LG, McGinnis DE, Strup SE, Lallas CD (2008) The addition of robotic surgery to an established laparoscopic radical prostatectomy program: effect on positive surgical margins. Can J Urol 15:3994–3999

Badani KK, Kaul S, Menon M (2007) Evolution of robotic radical prostatectomy: assessment after 2766 procedures. Cancer 110:1951–1958. doi:10.1002/cncr.23027

Murphy DG, Kerger M, Crowe H, Peters JS, Costello AJ (2009) Operative details and oncological and functional outcome of robotic-assisted laparoscopic radical prostatectomy: 400 cases with a minimum of 12 months follow-up. Eur Urol 55:1358–1366. doi:10.1016/j.eururo.2008.12.035

Menon M, Shrivastava A, Kaul S, Badani KK, Fumo M, Bhandari M, Peabody JO (2007) Vattikuti Institute prostatectomy: contemporary technique and analysis of results. Eur Urol 51:648–657. doi:10.1016/j.eururo.2006.10.055 discussion (657–648)

Schroeck FR, Sun L, Freedland SJ, Albala DM, Mouraviev V, Polascik TJ, Moul JW (2008) Comparison of prostate-specific antigen recurrence-free survival in a contemporary cohort of patients undergoing either radical retropubic or robot-assisted laparoscopic radical prostatectomy. BJU Int 102:28–32. doi:10.1111/j.1464-410X.2008.07607.x

Menon M, Bhandari M, Gupta N, Lane Z, Peabody JO, Rogers CG, Sammon J, Siddiqui SA, Diaz M Biochemical recurrence following robot-assisted radical prostatectomy: analysis of 1,384 patients with a median 5-year follow-up. Eur Urol doi:10.1016/j.eururo.2010.09.010

Galli S, Simonato A, Bozzola A, Gregori A, Lissiani A, Scaburri A, Gaboardi F (2006) Oncologic outcome and continence recovery after laparoscopic radical prostatectomy: 3 years' follow-up in a "second generation center". Eur Urol 49:859–865. doi:10.1016/j.eururo.2006.01.035

Rassweiler J, Schulze M, Teber D, Marrero R, Seemann O, Rumpelt J, Frede T (2005) Laparoscopic radical prostatectomy with the Heilbronn technique: oncological results in the first 500 patients. J Urol 173:761–764. doi:10.1097/01.ju.0000153486.94741.e5

Drouin SJ, Vaessen C, Hupertan V, Comperat E, Misrai V, Haertig A, Bitker MO, Chartier-Kastler E, Richard F, Roupret M (2009) Comparison of mid-term carcinologic control obtained after open, laparoscopic, and robot-assisted radical prostatectomy for localized prostate cancer. World J Urol 27:599–605. doi:10.1007/s00345-009-0379-z

Rochat CH (2009) Realtime multicenter databases, european group of robotic Urology 2005. Proceedings of IRUS Meeting

Rochat CH (2006) Prostatectomie radicale robot assistee (da Vinci) abord transperitoneal. J Urol Urogynakol 8:17–21

Dubernard P, Benchetrit S, Chaffange P, Hamza T, Van Box Som P (2003) Prostatectomie extrapéritonéale rétrograde laparoscopique (P.E.R.L.)Technique simplifiée (à propos d'une série de 143 cas). Prog Urol 13:163–174

Curto F, Benijts J, Pansadoro A, Barmoshe S, Hoepffner JL, Mugnier C, Piechaud T, Gaston R (2006) Nerve sparing laparoscopic radical prostatectomy: our technique. Eur Urol 49:344–352. doi:10.1016/j.eururo.2005.11.029

Schumacher MC, Burkhard FC, Thalmann GN, Fleischmann A, Studer UE (2008) Good outcome for patients with few lymph node metastases after radical retropubic prostatectomy. Eur Urol 54:344–352. doi:10.1016/j.eururo.2008.05.023

Dindo D, Demartines N, Clavien PA (2004) Classification of surgical complications: a new proposal with evaluation in a cohort of 6,336 patients and results of a survey. Ann Surg 240:205–213. doi:00000658-200408000-00003

Zorn KC, Gofrit ON, Steinberg GP, Taxy JB, Zagaja GP, Shalhav AL (2008) Planned nerve preservation to reduce positive surgical margins during robot-assisted laparoscopic radical prostatectomy. J Endourol 22:1303–1309. doi:10.1089/end.2008.0009

Ficarra V, Novara G, Artibani W, Cestari A, Galfano A, Graefen M, Guazzoni G, Guillonneau B, Menon M, Montorsi F, Patel V, Rassweiler J, Van Poppel H (2009) Retropubic, laparoscopic, and robot-assisted radical prostatectomy: a systematic review and cumulative analysis of comparative studies. Eur Urol 55:1037–1063. doi:10.1016/j.eururo.2009.01.036

Stephenson AJ, Kattan MW, Eastham JA, Dotan ZA, Bianco FJ Jr, Lilja H, Scardino PT (2006) Defining biochemical recurrence of prostate cancer after radical prostatectomy: a proposal for a standardized definition. J Clin Oncol 24:3973–3978. doi:10.1200/JCO.2005.04.0756

Hara I, Kawabata G, Tanaka K, Kanomata N, Miyake H, Takenaka A, Fujisawa M (2007) Oncological outcome of laparoscopic prostatectomy. Int J Urol 14:515–520. doi:10.1111/j.1442-2042.2007.01773.x

Krambeck AE, DiMarco DS, Rangel LJ, Bergstralh EJ, Myers RP, Blute ML, Gettman MT (2009) Radical prostatectomy for prostatic adenocarcinoma: a matched comparison of open retropubic and robot-assisted techniques. BJU Int 103:448–453. doi:10.1111/j.1464-410X.2008.08012.x

Barocas DA, Salem S, Kordan Y, Herrell SD, Chang SS, Clark PE, Davis R, Baumgartner R, Phillips S, Cookson MS, Smith JA Jr (2010) Robotic assisted laparoscopic prostatectomy versus radical retropubic prostatectomy for clinically localized prostate cancer: comparison of short-term biochemical recurrence-free survival. J Urol 183:990–996. doi:10.1016/j.juro.2009.11.017
Conflict of interest
This work was supported through a grant provided by Intuitive Surgical in the year 2006 to the Geneva Foundation for Medical Education and Research for the development of an online clinical database. Usha Kreaden is Sr. Biostatistician for Intuitive Surgical and April Hebert is a Scientific Consultant for Intuitive Surgical.
About this article
Cite this article
Rochat, CH., Sauvain, J., Dubernard, P. et al. Mid-term biochemical recurrence-free outcomes following robotic versus laparoscopic radical prostatectomy. J Robotic Surg 5, 251–257 (2011). https://doi.org/10.1007/s11701-011-0266-7
Received:

Accepted:

Published:

Issue Date:

DOI: https://doi.org/10.1007/s11701-011-0266-7
Keywords