Abstract
Total laparoscopic hysterectomy (TLH) in obese patients is challenging. We sought to evaluate whether total laparoscopic hysterectomies using the da Vinci robotic system in obese patients, in comparison with non-obese patients, is a reasonable surgical approach. One-hundred consecutive robot-assisted TLHs were performed over a 17-month period. Obesity was not a contraindication to robotic surgery, assuming adequate respiratory function to tolerate Trendelenburg position and, for cancer cases, a small enough uterus to allow vaginal extraction without morcellation. Data were prospectively collected on patient characteristics, total operative time, hysterectomy time, estimated blood loss, length of stay, and complications. Outcomes with non-obese and obese women were compared. The median age, weight, and BMI of the 100 patients who underwent robot-assisted TLH was 57.6 years (30.0–90.6), 82.1 kg (51.9–159.6), and 30.2 kg/m2 (19.3–60.2), respectively. Fifty (50%) patients were obese (BMI ≥ 30); 22 patients were morbidly obese (BMI ≥ 40). There was no increase in complications (p = 0.56) or blood loss (p = 0.44) with increasing BMI. While increased BMI was associated with longer operative times (p = 0.05), median time increased by only 36 min when comparing non-obese and morbidly obese patients. Median length of stay was one day for all weight categories (p = 0.42). Robot-assisted TLH is feasible and can be safely performed in obese patients. More data are needed to compare robot-assisted TLH with other hysterectomy techniques in obese patients. Nonetheless, our results are encouraging. Robot-assisted total laparoscopic hysterectomy may be the preferred technique for appropriately selected obese patients.
This is a preview of subscription content, log in to check access.
Access options
Buy single article
Instant access to the full article PDF.
US$ 39.95
Tax calculation will be finalised during checkout.
Subscribe to journal
Immediate online access to all issues from 2019. Subscription will auto renew annually.
US$ 99
Tax calculation will be finalised during checkout.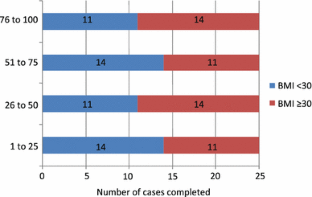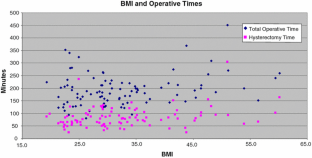 References
1.

Centers for Disease Control and Prevention, Hysterectomy in the United States, 2000–2004, http://www.cdc.gov/reproductivehealth/WomensRH/00-04-FS_Hysterectomy.htm. Last accessed online 4/27/2009

2.

World Health Organization (2000) (PDF). Technical report series 894: Obesity: preventing and managing the global epidemic. World Health Organization, Geneva. Last accessed online 4/27/2009

3.

Ogden CL, Carroll MD, McDowell MA, Flegal KM (2007) Obesity among adults in the United States—no change since 2003–2004. NCHS data brief no 1. National Center for Health Statistics, Hyattsville

4.

Centers for Disease Control and Prevention, Overweight and obesity. CDC, Atlanta. Available at: http://www.cdc.gov/nccdphp/dnpa/obesity/index.htm. Last accessed online 4/27/2009

5.

Ghezzi F, Ghezzi F, Cromi A, Bergamini V, Uccella S, Beretta P, Franchi M, Bolis P (2006) Laparoscopic management of endometrial cancer in nonobese and obese women: a consecutive series. J Minim Invasive Gynecol 13:269–275

6.

Pitkin RM (1976) Abdominal hysterectomy in obese women. Surg Gynecol Obstet 142(4):532–536

7.

Pitkin RM (1977) Vaginal hysterectomy in obese women. Obstet Gynecol 49(5):567–569

8.

Perlow JH, Morgan MA (1994) Massive maternal obesity and perioperative cesarean morbidity. Am J Obstet Gynecol 170:560

9.

American Cancer Society (2008) Cancer Facts & Figures 2008. American Cancer Society, Atlanta

10.

Wynder EL, Escher GC, Mantel N (1966) An epidemiological investigation of cancer of the endometrium. Cancer 19(4):489–520

11.

Eltabbakh GH, Shamonki MI, Moody JM, Lee Garafano L (2000) Hysterectomy for obese women with endometrial cancer: laparoscopy or laparotomy? Gynecol Oncol 78:329–335

12.

Obermair A, Manolitsas TP, Leung Y, Hammond IG, McCartney AJ (2005) Total laparoscopic hysterectomy versus total abdominal hysterectomy for obese women with endometrial cancer. Int J Gynecol Cancer 15:317–324

13.

Yu CK, Cutner A, Mould T, Olaitan A (2005) Total laparoscopic hysterectomy as a primary surgical treatment for endometrial cancer in morbidly obese women. Br J Obstet Gynaecol 112:115–117

14.

Wu JM, Wechter ME, Geller EJ, Nguyen TV, Visco AG (2007) Hysterectomy rates in the United States, 2003. Obstet Gynecol 110(5):1091–1095

15.

Beste TM, Nelson KH, Daucher JA (2005) Total laparoscopic hysterectomy utilizing a robotic surgical system. J Soc Laparoendosc Surg 9:13–15

16.

Fiorentino RP, Zepeda MA, Goldstein BH, John CR, Rettenmaier MA (2006) Pilot study assessing robotic laparoscopic hysterectomy and patient outcomes. J Minim Invasive Gynecol 13:60–63

17.

Veljovich DS, Paley PJ, Drescher CW, Everett EN, Shah C, Peters WA (2008) Robotic surgery in gynecologic oncology: program initiation and outcomes after the first year with comparison with laparotomy for endometrial cancer staging. Am J Obstet Gynecol 198:679.e1–679.e9

18.

Boggess J, Gehrig P, Cantrell L, Shafer A, Ridgway M, Skinner E et al (2008) A comparative study of three surgical methods for hysterectomy with staging for endometrial cancer; robotic-assistance, laparoscopy, laparotomy. Am J Obstet Gynecol 199:360.e1–360.e9

19.

Cancer Therapy Evaluation Program, Common Terminology Criteria for Adverse Events, Version 3.0, DCTD, NCI, NIH, DHHS 31 March 2003 (http://ctep.cancer.gov), Published date 9 August 2006

20.

Hubens G, Balliu L, Ruppert M, Gypen B, Van Tu T, Vaneerdeweg W (2008) Roux-en-Y gastric bypass procedure performed with the da Vinci robot system: is it worth it? Surg Endosc 22:1690–1696

21.

Khaira HS, Bruyere F, O'Malley PJ, Peters JS, Costello AJ (2006) Does obesity influence the operative course or complications of robot-assisted laparoscopic prostatectomy? BJU Int 98(6):1275–1278

22.

Kho RM, Hilger WS, Hentz JG, Magtibay PM, Magrina JF (2007) Robotic hysterectomy: technique and initial outcomes. Am J Obstet Gynecol 197:113.e1–113.e114 Erratum in: Am J Obstet Gynecol. 2007;197(3):332

23.

Childers JM, Brzechffa PR, Surwit EA (1993) Laparoscopy using the left upper quadrant as the primary trocar site. Gynecol Oncol 50(2):221–225

24.

Rabl C, Palazzo F, Aoki H, Campos GM (2008) Initial laparoscopic access using an optical trocar without pneumoperitoneum is safe, effective in the morbidly obese. Surg Innov 15(2):126–141

25.

Visco AG, Advincula AP (2008) Robotic gynecologic surgery. Obstet Gynecol 112(6):1369–1384
Acknowledgments
Statistical analysis was performed by Vanessa Bolejack, MPH, Cancer Research and Biostatistics, Seattle, WA, USA.
About this article
Cite this article
Rebeles, S.A., Muntz, H.G., Wieneke-Broghammer, C. et al. Robot-assisted total laparoscopic hysterectomy in obese and morbidly obese women. J Robotic Surg 3, 141 (2009). https://doi.org/10.1007/s11701-009-0149-3
Received:

Accepted:

Published:
Keywords
Robotics

Obesity

Obese

Hysterectomy

Robot-assisted surgery

Laparoscopic-assisted hysterectomy

Total laparoscopic hysterectomy