Abstract
This paper aims to provide a synthesis of a number of articles that over the last few years have explored the industrialization process in Spain from the perspective of the new economic geography (NEG). To this end, we present some of the seminal theoretical papers of the NEG literature from which originated the main theoretical predictions that have been tested through empirical analysis applied to the case of Spain. We also look at those papers on the economic history of Spain that—through the use of an economic geography framework—have analysed how the location and regional concentration of manufacturing has evolved over the years. Altogether, this paper aims not only to present the determinants of the industrial map of Spain, but also to highlight the positive externalities that stem from the interaction between the NEG and economic history, showing the usefulness of a cliometric approach based on economic theory and empirical testing to give us a more detailed knowledge of the past.
Access options
Buy single article
Instant access to the full article PDF.
US$ 39.95
Tax calculation will be finalised during checkout.
Subscribe to journal
Immediate online access to all issues from 2019. Subscription will auto renew annually.
US$ 79
Tax calculation will be finalised during checkout.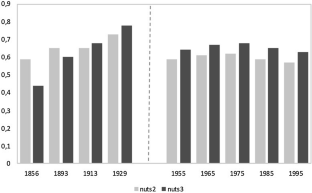 Notes
1.

The theoretical and empirical NEG literature has continued to grow since the 1990s. Nevertheless, in the present paper it is enough to present just a few of the early models from this literature, since these cover the main predictions that have been empirically tested in research exploring the case of Spain and are included here. For some of the more recent contributions and surveys that summarize the main lines of research and results within the NEG literature of the last few years, see, for example, Redding (2013), Combes and Gobillon (2015), Karlsson et al. (2015), Redding and Rossi-Hansberg (2017), Gaspar (2018), Henning (2019), and Brakman et al. (2019).

2.

See Rosés et al. (2010, p. 245 and 246) for a detailed account of the integration of the Spanish market between 1860 and 1930.

3.

According to calculations made by Herranz (2005), in 1878 haulage costs fell by up to 86% thanks to the introduction of the railway.

4.

Although the Cánovas tariff (1892) was characterized by the imposition of a high duty on imports of cereals, textile products, and iron and steel goods, the tariffs of 1906 (the Salvador tariff) and 1922 (the Cambó tariff) focused especially on the protection of a growing group of industrial production sectors (Sabaté 1995; Tena 1999).

5.

A more complete view of the Spanish economy's integration into the international markets between 1860 and 1930 can be found in Tirado et al. (2013, pp. 301–304).

6.

7.

For more details on the origins of Catalan industrialization in the late eighteenth century, see Martinez-Galarraga and Prat (2016).

8.

Together with the market crowding effect, a further force could lead to the dispersion of manufacturing activities; since unskilled farm workers are immobile, a proportion of them will be located on the periphery and their demand for manufactured goods has to be satisfied.

9.

By assuming that regions are symmetric, the NEG does not take primary geographical elements into account, and therefore, the theory does not establish which region will become the industrialized core and which the periphery.

10.

As well as this externality, Marshall (1890) noted a further two: informational spillovers and the formation of a skilled labour market.

11.

Unlike new trade theory, the NEG can explain the mechanisms whereby sizeable differences can be generated in regions' productive structures and income levels, even when these regions present similar factor endowments. What makes the NEG models attractive is the fact that the cost parameters and level of demand are endogenous and vary between locations as they depend on location decisions taken by all the agents. This distinguishes these models from those of international trade with imperfect competition, in which the location of the factors of production is given and fixed (exogenous) Combes et al. (2008a, b, p. 47).

12.

It is interesting that, when considering the presence of urban costs (Ottaviano et al. 2002) and the heterogeneity of individual attitudes as regards migration (Tabuchi and Thisse 2002), to which we can add the transport costs that are positive for agricultural goods (Picard and Zeng 2005), not only are some of the more restrictive or less realistic assumptions from earlier NEG models relaxed, the existence of a bell-shaped evolution in the relationship between economic integration and inequality in different contexts is also confirmed.

13.

On this matter, see also Rodríguez-Pose (2018, p. 200).

14.

The Ginis for the period 1856–1929 are calculated using information from fiscal sources, while for 1955–1995 they come from direct estimates of gross value added. Therefore, they are not directly comparable, and this makes it more practical to divide the presentation of the results into two blocks and analyse the tendencies within each. Nevertheless, given what we know qualitatively and quantitatively about the evolution of Spanish industry, it would not be too unrealistic to assume that the geographical distribution of industry in 1955 was not very different from that of 1929 (Carreras 1990).

15.

Combes and Gobillon (2015) survey the existing literature and report that the elasticity of productivity with respect to density usually ranges between 4 and 7%. Recent studies show that agglomeration economies seem to have more impact in developing economies such as China and India (Chauvin et al. 2014).

16.

17.

Agglomeration effects were also present in the population, helping to shape Spain's particular spatial demographic pattern characterized by a population concentrated on the coast and a growing depopulation process in the interior except for Madrid, which just keeps on growing. Ayuda et al. (2010), González-Val et al. (2017), and Beltrán Tapia et al. (2018) stress the importance of increasing returns, market potential, and the existence of an agglomeration effect, respectively, in the spatial distribution of the population since the beginning of the twentieth century.

18.

19.

Using a similar framework but in an investigation over the long term at NUTS2 level, Betrán (2011) finds that comparative advantage (agricultural and mining resources) was important between 1856 and 1955, and skilled labour from 1965, while NEG factors were important between 1929 and 1973, although even then their impact was smaller than the impact of factor endowments and was decreasing over time. The same kind of approach has been employed for analysing the Polish case in Wolf (2007), for UK in Crafts and Mulatu (2005 and 2006) and Crafts and Wolf (2014), for the USA in Klein and Crafts (2012) and Crafts and Klein (2017), for the Italian regional industrialization in Daniele et al. (2016), Basile and Ciccarelli (2017) or Missaia (2018), or for the former Yugoslavia in Nikolic (2018).

20.

21.

By focusing on interregional inequality, he assumed labour mobility as in Krugman (1991) and replaced the agricultural good in household consumption with housing costs as in Helpman (1998). Redding and Venables (2004), on the other hand, sought to explain differences in cross-country wages in terms of GDP per capita within the NEG framework.

22.

However, the parameters estimated show that agglomeration forces are limited to geographical scale. The economic influence of wages in the neighbouring areas of any county falls rapidly with distance and is only effective in a radius of less than 1000 kilometres. Income in areas outside this limit does not exert a positive influence on the determination of local wages.

23.

24.

While Crozet (2004) combines an NEG model based on Krugman (1991) with a discrete choice model of migration à la Tabuchi and Thisse (2002) to obtain a tractable migration equation, Kancs (2005) derives a similar equation from another NEG model, devised by Pflüger (2004), which is an analytically solvable version of Krugman (1991).

25.

Rates of internal migration rose in the early 1980s, in particular those over a short distance. However, unlike in previous decades, and due to the increase in the spatial dispersion of emigration and immigration (that is, the increase in the number of important places of both destination and origin), the increase in the gross number of migrations was not accompanied by an increase in net migrations.

26.

"…the new fundamental ingredient that a multi-regional setting brings about is that the accessibility to markets varies across regions. In other words, spatial frictions between any two regions are likely to be different, which means that the relative position of the region within the whole network of interaction matters". Behrens and Thisse (2007, p. 462).

27.

28.

29.

An overview of the integration of the Spanish economy into international markets before the Civil War (1936–39) can be found in Tirado et al. (2013, 301–308).

30.

As shown in Table 1, the participation of Madrid in total industrial production in Spain remained stable between 1860 and 1900. However, this participation virtually doubled between 1900 and 1930. In the theoretical debate, these results come close to the predictions deriving from the model proposed by Crozet and Koenig (2004a).

31.

In line with the strengthening of the wage gradient centred on Barcelona, Table 1 shows that the participation of Catalonia in total industrial production in Spain rose from 24.5% in 1960 to 26.1% in 2000. Nevertheless, the Madrid region's participation also continued to increase, rising from 10.5% in 1960 to 11.6% in 2000, overtaking the Basque Country to become the second biggest industrial region in Spain.
References
Ades AF, Glaeser EL (1995) Trade and circuses: explaining urban giants. Quart J Econ 110(1):195–227

Ahlfeldt GM, Redding SJ, Sturm DM, Wolf N (2015) The economics of density: evidence from the Berlin Wall. Econometrica 83(6):2127–2189

Alañón-Pardo A, Arauzo-Carod JM (2013) Agglomeration, accessibility and industrial location: evidence from Spain. Entrep Reg Dev 25(3–4):135–173

Alonso O, Chamorro JM, González X (2004) Agglomeration economies in manufacturing industries: the case of Spain. Appl Econ 36(18):2103–2116

Alonso-Villar O (2001) Large metropolises in the third world: an explanation. Urban Stud 38(8):1359–1371

Ayuda MI, Collantes F, Pinilla V (2010) From locational fundamentals to increasing returns: the spatial concentration of population in Spain, 1787–2000. J Geogr Syst 12(1):25–50

Basile R, Ciccarelli C (2017) The location of the Italian manufacturing industry, 1871–1911: a sectoral analysis. J Econ Geograph 18(3):627–661

Behrens K (2003). Assymetric trade and agglomeration. LEG Document de Travail, 2003–10

Behrens K, Thisse JF (2007) Regional economics: a new economic geography perspective. Reg Sci Urban Econ 37(4):457–465

Behrens K, Gaigné C, Ottaviano G, Thisse JF (2006) Is remoteness a locational disadvantage? J Econ Geogr 6(3):347–368

Beltrán Tapia FJ, Díez-Minguela A, Martinez-Galarraga J (2018) Tracing the evolution of agglomeration economies: Spain, 1860–1991. J Econ Hist 78:81–117

Berger T, Enflo K (2017) Locomotives of local growth: the short- and long-term impact of railroads in Sweden. J Urban Econ 98:124–138

Betrán C (1999) Difusión y localización industrial en España durante el primer tercio del siglo XX. Revista de Historia Económica 17(3):663–696

Betrán C (2011) Regional specialization and industry location in the long term: Spain in the US mirror (1856–2002). Cliometrica 5(3):259–290

Bosker M, Brakman S, Garretsen H, Schramm M (2008) A century of shocks: the evolution of the German city size distribution, 1925–1999. Reg Sci Urban Econ 38(4):330–347

Brakman S, Garretsen H, Schramm M (2004) The spatial distribution of wages: estimating the Helpman-Hanson model for Germany. J Reg Sci 44(3):437–466

Brakman S, Garretsen H, Van Marrewijk C (2019) An introduction to geographical and urban economics. A spiky world. Cambridge University Press, Cambridge

Brülhart M (2011) The spatial effects of trade openness: a survey. Rev World Econ 147:59–83

Brülhart M, Sbergami F (2009) Agglomeration and growth: cross-country evidence. J Urban Econ 65(1):48–63

Brülhart M, Crozet M, Koenig P (2004) Enlargement and the EU periphery: the impact of changing market potential. World Econ 27(6):853–875

Büchel K, Kyburz S (2018) Fast track to growth? Railway access, population growth and local displacement in 19th century Switzerland. J Econ Geogr 20:155–195

Carreras A (1990) Industrialización Española: Estudios de Historia Cuantitativa. Espasa-Calpe, Madrid

Castañeda L, Tafunell X (1993) Un nuevo indicador para la historia financiera española: la cotización de las letras de cambio a corto plazo. Revista de Historia Económica 11(2):367–383

Chauvin JP, Glaeser E, Tobio K (2014) Urban economics in the US and India. Harvard University, Cambridge

Ciccone A (2002) Agglomeration effects in Europe. Eur Econ Rev 46(2):213–227

Ciccone A, Hall RE (1996) Productivity and the density of economic activity. Am Econ Rev 86(1):54–70

Combes PP, Gobillon L (2015) The empirics of agglomeration economies. In: Duranton G, Henderson JV, Strange W (eds) Handbook of urban and regional economics, vol 5. Elsevier, North-Holland, pp 247–348

Combes PP, Duranton G, Gobillon L (2008a) Spatial wage disparities: sorting matters! J Urban Econ 63(2):723–742

Combes PP, Mayer T, Thisse JF (2008b) Economic geography. the integration of regions and nations. Princeton University Press, Princeton

Combes PP, Lafourcade M, Thisse JF, Toutain JC (2011) The rise and fall of spatial inequalities in France: a long-run perspective. Explor Econ Hist 48(2):243–271

Crafts N (2005) Market potential in British regions, 1871–1931. Reg Stud 39(9):1159–1166

Crafts N, Klein A (2017) A long-run perspective on the spatial concentration of manufacturing industries in the United States. CEPR discussion papers 12257

Crafts N, Mulatu A (2005) What explains the location of industry in Britain, 1871–1931? J Econ Geogr 5(4):499–518

Crafts N, Mulatu A (2006) How did the location of industry respond to falling transport costs in Britain before World War I? J Econ Hist 66(3):575–607

Crafts N, Venables AJ (2003) Globalization in history: a geographical perspective. In: Bordo MD, Taylor AM, Williamson JG (eds) Globalization in historical perspective, ch. 7. The University of Chicago Press, Chicago

Crafts N, Wolf N (2014) The location of the UK cotton textiles industry in 1838: a quantitative analysis. J Econ Hist 74(4):1103–1139

Crozet M (2004) Do migrants follow market potentials? An estimation of a new economic geography model. J Econ Geogr 4(4):439–458

Crozet M, Koenig P (2004a) Trade liberalization and the internal geography of countries. In: Mayer T, Mucchielli M (eds) Multinational firms' location and economic geography. Edward Elgar, Cheltenham, pp 91–109

Crozet M, Koenig P (2004b) EU enlargement and the internal geography of countries. J Comp Econ 32(2):265–279

Daniele V, Malanima P, Ostuni N (2016) Geography, market potential and industrialization in Italy 1871–2001. Pap Reg Sci 97(3):639–662

Davis DR, Weinstein DE (1999) Economic geography and regional production structure: an empirical investigation. Eur Econ Rev 43(2):379–407

Davis DR, Weinstein DE (2002) Bones, bombs, and break points: the geography of economic activity. Am Econ Rev 92(5):1269–1289

Davis DR, Weinstein DE (2003) Market access, economic geography and comparative advantage: an empirical test. J Int Econ 59(1):1–23

Diebolt C, Hippe R (2018) Remoteness equals backwardness? Human capital and market access in the European regions: insights from the long run. Educ Econ 26(3):285–304

Díez-Minguela A, Martinez-Galarraga J, Tirado DA (2016) Why did Spanish regions not converge before the Civil War? Agglomeration economies and (regional) growth revisited. Revista de Historia Económica/J Iber Latin Am Econ Hist 34(3):417–448

Donaldson D (2018) Railroads of the Raj: estimating the impact of transportation infrastructure. Am Econ Rev 108(4):899–934

Donaldson D, Hornbeck R (2016) Railroads and American economic growth: a market access approach. Q J Econ 131(2):799–858

Fallah BN, Partridge MD, Olfert R (2011) New economic geography and US metropolitan wage inequality. J Econ Geogr 11:865–895

Fujita M, Krugman P, Venables AJ (1999) The spatial economy: cities, regions, and international trade. The MIT press, Cambridge (MA)

Garcia Pires A (2006) Estimating Krugman's economic geography model for the Spanish regions. Span Econ Rev 8(2):83–112

García-López MA, Holl A, Viladecans E (2015) Suburbanization and the highways: when the Romans, the Bourbons and the first cars still shape Spanish cities. J Urban Econ 85(1):52–67

Gaspar JM (2018) A prospective review on new economic geography. Ann Reg Sci 61:237–272

Germán L, Llopis E, Maluquer J, Zapata S (2001) Historia Económica Regional de España, siglos XIX y XX. Crítica, Barcelona

González-Val R, Viladecans E, Tirado DA (2017) Market potential and city growth: Spain 1860–1960. Cliometrica 11(1):31–61

Hanson GH (1996) Economic integration, intraindustry trade, and frontier regions. European Economic Review 40(3–5):941–949

Hanson GH (1997) Increasing returns, trade and the regional structure of wages. Econ J 107:113–133

Hanson GH (1998) Market potential, increasing returns, and geographic concentration. NBER working papers, 6429

Hanson GH (2005) Market potential, increasing returns and geographic concentration. J Int Econ 67(1):1–24

Harris CD (1954) The market as a factor in the localization of industry in the United States. Ann Assoc Am Geogr 44(4):315–348

Head K, Mayer T (2006) Regional wage and employment responses to market potential in the EU. Reg Sci Urban Econ 36(5):573–594

Helpman E (1998) The size of regions. In: Pines D, Sadka E, Zilcha I (eds) Topics in public economics. Cambridge University Press, New York, pp 33–54

Henning M (2019) Time should tell (more): evolutionary economic geography and the challenge of history. Reg Stud 53(4):602–613

Herranz A (2005) La reducción de los costes de transporte en España (1800–1936). Cuadernos Económicos del ICE 70:183–203

Hirschman AO (1958) The strategy of economic development. Yale University Press, New Haven (CT)

Hornung E (2015) Railroads and growth in Prussia. J Eur Econ Assoc 13:699–735

Kanbur R, Venables AJ, Wan G (2005) Introduction to the special issue: spatial inequality and development in Asia. J Dev Econ 9(1):1–4

Kancs DA (2005) Can we use NEG models to predict migration flows? An example of CEE accession countries. Migr Lett 2:32–63

Karlsson C, Andersson M, Norman T (2015) Handbook of research methods and applications in economic geography. Edward Elgar Publishing, Cheltenham

Kim S (1995) Expansion of markets and the geographic distribution of economic activities: the trends in US regional manufacturing structure, 1860–1987. Q J Econ 110(4):881–908

Klein A, Crafts N (2012) Making sense of the manufacturing belt: determinants of US industrial location, 1880–1920. J Econ Geogr 12(4):775–807

Knaap T (2006) Trade, location, and wages in the United States. Reg Sci Urban Econ 36(5):595–612

Krugman P (1980) Scale economies, product differentiation, and the pattern of trade. Am Econ Rev 70(5):950–959

Krugman P (1991) Increasing returns and economic geography. J Polit Econ 99(3):483–499

Krugman P, Livas Elizondo R (1996) Trade policy and the Third World metropolis. J Dev Econ 49(1):137–150

Krugman P, Venables AJ (1995) Globalization and the inequality of nations. Q J Econ 110(4):857–880

Kuznets S (1966) Modern economic growth. Rate, structure, and spread. Yale University Press, New Haven

Madrazo S (1984) El Sistema de Transportes en España, 1750–1850. Turner, Madrid

Marshall A (1890) Principles of economics. Macmillan, London

Martinez-Galarraga J (2012) The determinants of industrial location in Spain, 1856–1929. Explor Econ Hist 49(2):255–275

Martinez-Galarraga J (2014) Market potential estimates in history: a survey of methods and an application to Spain, 1867–1930. In: EHES working papers, 51

Martinez-Galarraga J, Prat M (2016) Wages, prices, and technology in early Catalan industrialization. Econ Hist Rev 69(2):548–574

Martinez-Galarraga J, Tirado DA, González-Val R (2015) Market potential and regional economic growth in Spain (1860-1930). Eur Rev Econ Hist 19(4):335–358

Martínez-Galarraga J, Paluzie E, Pons J, Tirado DA (2008) Agglomeration and labour productivity in Spain over the long term. Cliometrica 2(3):195–212

Matas A, Raymond JL, Roig JL (2015) How market access shapes human capital accumulation in a peripheral country: the case of Spain. Appl Econ 47(11):1118–1132

Midelfart-Knarvik KH, Overman H, Venables AJ (2000) Comparative advantage and economic geography: estimating the location of production in the EU. CEPR discussion papers 2618

Midelfart-Knarvik KH, Overman H, Redding S, Venables AJ (2002) The location of European industry. In: European Commission (ed) European economy. European integration and the functioning of product markets, 2/2002. Directorate-General for Economic and Financial Affairs, Brussels, pp 213–269

Milanovic B (2005) Half a world: regional inequality in five great federations. J Asia Pac Econ 10(4):408–445

Mion G (2004) Spatial externalities and empirical analysis: the case of Italy. J Urban Econ 56(1):97–118

Missiaia A (2018) Old patterns die hard: regional aspects of the Italian industrialization in the long run. Paper presented at the workshop on economic geography of long-run industrialization, at International Institute of Social History (IISH), 22–23 March 2018

Monfort P, Nicolini R (2000) Regional convergence and international integration. J Urban Econ 48(2):286–306

Myrdal G (1957) Economic theory and under-developed regions. Methuen & Co, London

Nadal J (1975) El Fracaso de la Revolución Industrial en España, 1814–1913. Ariel, Barcelona

Nadal J (1987) La industria fabril española en 1900. Una aproximación. In: Nadal J, Carreras A, Sudrià C (eds) La Economía Española en el Siglo XX. Una Perspectiva Histórica. Ariel, Barcelona, pp 23–61

Nadal J, Carreras A (1990) Pautas Regionales de la Industrialización Española (siglos XIX y XX). Ariel, Barcelona

Niebuhr A (2006) Market access and regional disparities. Ann Reg Sci 40(2):313–334

Nikolic S (2018) Determinants of industrial location: Kingdom of Yugoslavia in the interwar period. Eur Rev Econ Hist 22(1):101–133

O'Rourke KH, Williamson JG (1999) Globalization and history: the evolution of a nineteenth-century Atlantic economy. The MIT Press, Cambridge (MA)

Ottaviano G, Pinelli D (2006) Market potential and productivity: evidence from Finnish regions. Reg Sci Urban Econ 36(5):636–657

Ottaviano G, Tabuchi T, Thisse JF (2002) Agglomeration and trade revisited. Int Econ Rev 43(2):409–436

Paluzie E (2001) Trade policy and regional inequalities. Pap Reg Sci 80(1):67–85

Paluzie E, Pons J, Tirado DA (2004) The geographical concentration of industry across Spanish regions, 1856–1995. Jahrbuch Für Regionalwissenschaft 24(2):143–160

Paluzie E, Pons J, Tirado DA (2007) Aglomeración y productividad del trabajo en las regiones españolas. In: Reig E (ed) Competitividad, Crecimiento y Capitalización de las Regiones Españolas. Fundación BBVA, Bilbao, pp 249–276

Paluzie E, Pons J, Silvestre J, Tirado DA (2009a) Migrants and market potential in Spain over the twentieth century: a test of the new economic geography. Span Econ Rev 11(4):243–265

Paluzie E, Pons J, Tirado DA (2009b) A test of the market potential equation in Spain. Appl Econ 41(12):1487–1493

Parejo A (2001) Industrialización, desindustrialización y nueva industrialización de las regiones españolas (1950–2000). Un enfoque desde la historia económica, Revista de Historia Industrial 19:15–75

Peña D, Sánchez-Albornoz N (1983) Dependencia Dinámica entre Precios Agrícolas. El trigo en España, 1857–1890. Un Estudio Empírico. Servicio de Estudios de Historia Económica. Banco de España, Madrid

Pflüger M (2004) A simple, analytically solvable, chamberlinian agglomeration model. Reg Sci Urban Econ 64:565–573

Picard P, Zeng DZ (2005) Agricultural sector and industrial agglomeration. J Dev Econ 77(1):75–106

Pollard S (1981) Peaceful conquest: the industrialization of Europe, 1760–1970. Oxford University Press, Oxford

Pons J, Paluzie E, Tirado DA (2004) La inserción española en la economía internacional y sus efectos sobre la localización industrial: 1856–1995. Invest Reg 5:5–27

Pons J, Paluzie E, Silvestre J, Tirado DA (2007) Testing the new economic geography: migrations and industrial agglomerations in Spain. J Reg Sci 47(2):289–313

Prados de la Escosura L (2017) Spanish economic growth. Palgrave studies in economic history. Palgrave, London

Puga D (1999) The rise and fall of regional inequalities. Eur Econ Rev 43(2):303–334

Redding SJ (2013) Economic geography: a review of the theoretical and empirical literature. In: Bernhofen D, Falvey R, Greenaway D, Kreickemeier U (eds) Palgrave handbook of international trade. Palgrave, London, pp 497–531

Redding SJ, Rossi-Hansberg E (2017) Quantitative spatial economics. Ann Rev Econ 9:21–58

Redding SJ, Schott PK (2003) Distance, skill deepening and development: Will peripheral countries ever get rich? J Dev Econ 72:515–541

Redding SJ, Sturm D (2008) The costs of remoteness: evidence from German division and reunification. Am Econ Rev 98(5):1766–1797

Redding SJ, Venables AJ (2004) Economic geography and international inequality. J Int Econ 62(1):53–82

Redding SJ, Sturm D, Wolf N (2011) History and industrial location: evidence from German airports. Rev Econ Stat 93(3):814–831

Ringrose DR (1970) Transportation and economic stagnation in Spain: 1750–1850. Duke University Press, Durham

Rodríguez-Pose A (2018) The revenge of the places that don't matter (and what to do about it). Camb J Reg Econ Soc 11:189–209

Roos M (2001) Wages and market potential in Germany. Jahrbuch Für Regionalwissenschaft 21(2):171–195

Rosés JR (2003) Why isn't the whole of Spain industrialized? New economic geography and early industrialization, 1797–1910. J Econ Hist 63(4):995–1022

Rosés JR, Sánchez-Alonso B (2004) Regional wage convergence in Spain 1850–1930. Explor Econ Hist 41(4):404–425

Rosés JR, Martinez-Galarraga J, Tirado DA (2010) The upswing of regional income inequality in Spain (1860–1930). Explor Econ Hist 47(2):244–257

Rueda V, A'Hearn B (2020) Internal borders and population geography in the unification of Italy. CEPR discussion papers 14604

Sabaté M (1995) La impronta industrial de la reforma arancelaria de 1906. Revista de Historia Industrial 7:81–107

Sánchez-Albornoz N (1987) The economic modernization of Spain, 1830–1930. New York University Press, New York

Tabuchi T, Thisse JF (2002) Taste heterogeneity, labor mobility and economic geography. J Dev Econ 69(1):155–177

Tedde de Lorca P (1994) Cambio institucional y cambio económico en la España del siglo XIX. Revista de Historia Económica 3:525–538

Tena A (1999) Un nuevo perfil del proteccionismo español durante la Restauración, 1875–1930. Revista de Historia Económica 17(3):579–621

Tirado DA, Paluzie E, Pons J (2002) Economic integration and industrial location: the case of Spain before World War I. J Econ Geogr 2(3):343–363

Tirado DA, Pons J, Paluzie E (2006) Los cambios en la localización de la actividad industrial en España, 1850–1936. Un análisis desde la nueva geografía económica. Revista de Historia Industrial 31:41–63

Tirado DA, Pons J, Paluzie E, Martinez-Galarraga J (2013) Trade policy and wage gradients: evidence from a protectionist turn. Cliometrica 7(3):295–318

Venables AJ (1996) Equilibrium locations of vertically linked industries. Int Econ Rev 37(2):341–359

Viladecans E (2004) Agglomeration economies and industrial location: city level evidence. J Econ Geogr 4(5):565–582

Wolf N (2007) Endowment vs. market potential: What explains the relocation of industry after Polish reunification in 1918? Explor Econ Hist 44(1):22–42

World Bank (2009) World development report: reshaping economic geography. World Bank, Washington
Additional information
Publisher's Note
Springer Nature remains neutral with regard to jurisdictional claims in published maps and institutional affiliations.
About this article
Cite this article
Martinez-Galarraga, J., Paluzie, E., Pons, J. et al. New economic geography and economic history: a survey of recent contributions through the lens of the Spanish industrialization process. Cliometrica (2020). https://doi.org/10.1007/s11698-020-00214-1
Received:

Accepted:

Published:
Keywords
Economic history

Economic geography

Manufacturing

Spain
JEL Classification