Abstract
The growing appeal of the long-run perspective among economists and the fiftieth anniversary of the publication of the Conrad and Meyer article (1958), which marked the official beginning of the Cliometric Revolution, have attracted a lot of interest on economic history. This paper explores the long-term development of economic history by analysing all the 6516 articles published in the top five international journals (Economic History Review, Journal of Economic History, Explorations in Economic History, European Review of Economic History and Cliometrica). Our main results are that the Cliometric Revolution took quite a long time to fully display its effects. We show that the conventional wisdom on the current state of the discipline seems a bit too optimistic. Economic history does not seem to be neither more comparative nor more focussed on peripheral countries. The historical periods studied do not change considerably, and the relevance of different topics did not change univocally. Most articles use some econometrics but only a minority feature advanced techniques. Economic history is indeed becoming more democratic, but its boundaries remain limited to the most advanced countries. Articles by authors from Continental Europe increased substantially, while that of North American declined. This change may be the harbinger of a new divergence between the two shores of the Atlantic, possibly related to the rise of a new paradigm, but it is too early to tell.
Access options
Buy single article
Instant access to the full article PDF.
USD 39.95
Price excludes VAT (USA)
Tax calculation will be finalised during checkout.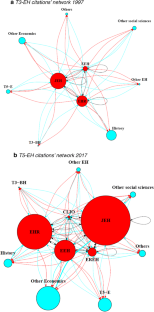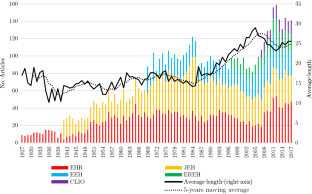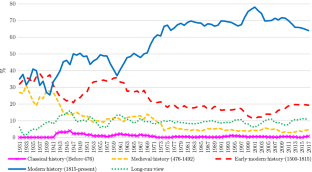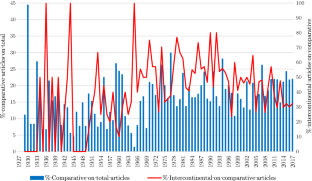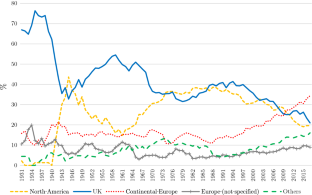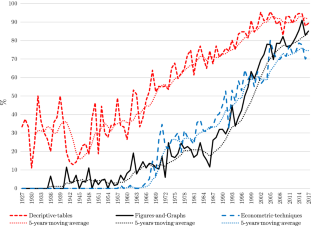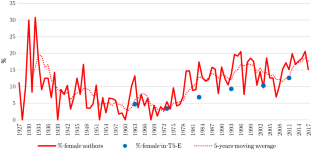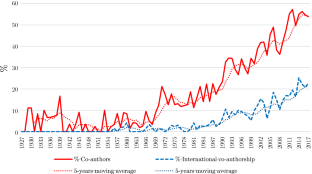 Notes
We have contacted all authors who have published more frequently in the top five economic history journals in the last 20 years and the editors of these journals. We got a total of 60 answers of 100, a very high rate for a survey. We wish to thank all of them for their collaboration.

The survey received 332 responses from a total of about 1200 economic historians, selected according to different criteria (e.g. authorship in main journals or participation to economic history conferences).

Di Vaio and Weisdorf (2010) focus on economic history only, while they include in their list journals outside the WoS such as the Irish Economic and Social History, Jarhbuch für Wirtschaftsgeschichte and Rivista di Storia Economica as well as the Annales.

For the yearly data and additional comments on this issue, see the working paper version of this paper (Cioni et al. 2018, Table 3).

Books have been singled out on the basis of abbreviation of the titles of individual items or of series (such as Routledge Research in Gender and History or The Cambridge History of Science). Thus, there is a margin of uncertainty in the classification.

For a detailed analysis of the citation done and received by the T5-EH, see Cioni et al. (2018, Tables 4 and 5).

The EEH had been established in 1949 as Explorations in Entrepreneurial History, with Hugh G.J. Aitken as editor. It ceased in 1958 and restarted in 1963 as second series edited by Ralph L. Andreano. In 1969, the journal was renamed as Explorations in Economic History. Thus, we include it only since 1969, when it takes the current denomination (personal communication with Ralph L. Andreano in March 2019).

We have decided not to use the JEL codes of the American Economic Association because we deem them overly aggregate.

This method might yield false positives, if these words are quoted in the references, in the literature survey, or appear in negative statements ("we cannot use panel regression"). Thus, in any doubtful case, we have double-checked the results with a direct reading of the selected articles.

A Chi-square test rejects the null hypothesis of equal distribution at 1% for the long-run comparison between 1927–1940 and 1997–2017, and for all pairwise comparisons between subsequent periods except between the second and the third.

Articles on "Institutions" represented 10.5% of the total in the EHR (10.6% for all T5-EH) and the share rose from 9% in 1961–1996 (8.6% all journals) to 12.5% (13.3%) in 1997–2017.

These shares are computed on a total of 5903 articles, which excludes "no area" and "intercontinental" papers.

Continental Europe also includes comparative articles dealing with the UK and other European countries.

Table 6 reports the results of logit specifications, but results of probit models are almost identical. The sample in the advanced econometric regression is restricted to articles with some econometrics.

This figure may be slightly overstated, as the earlier issues of EHR reported, for some authors, only the initial of the given name.

These assumptions imply that all individuals who published at least one article since 1975 were professional economic historians and that they have continued to work in the field throughout all their career. This assumption is unlikely. Several authors belonged to other fields (Weingast, one of the two authors of the most cited article in the database, is a political scientist); others may have changed field in the meanwhile, or may have left academia, or, sadly, may have passed away. Furthermore, it is more likely that an author publishes her first article after, than before, her 30th birthday. The estimate includes authors who have published in recent years but who were not active around 2010, and thus, it overstates the number for the comparison with the estimate by Baten and Muschallik (2012).

All co-authored articles accounted for half of the total in the T5-E already in 1993 (vs. one-third in the economic history journals) and for about 80% in 2011 (vs. 55%). Articles co-authored by three or more individuals represented 28% in T5-E in 1993 and for 38.5% in 2011 (vs. 5% and 18%, respectively, for the T5-EH).

This estimate refers to the number of different polities during the entire period. Thus, for example, we consider Czechoslovakia from 1927 to 1992, and then, since 1993 to nowadays, we consider Slovakia and the Czech Republic as separate countries.

We compute population as the sum of 1940, 1960 and 1996.

We compute concentration with Herfindahl–Hirschman Indexes on ten-year rolling windows (i.e. 1931 is compute with data 1927–1936). The statement refers to the average 1945–2012, excluding the first period, when American contributions to the EHR were few and thus highly concentrated. For the full results of this analysis, see Cioni et al. (2018, Fig. 17a–c).
References
Abramitzky R (2015) Economics and the modern economic historian. J Econ History 75(4):1240–1250

Acemoglu D, Johnson S, Robinson JA (2001) The colonial origins of comparative development: an empirical investigation. Am Econ Rev 91(5):1369–1401

Acemoglu D, Johnson S, Robinson JA (2002) Reversal of fortune: geography and institutions in the making of the modern world income distribution. Quart J Econ 117(4):1231–1294

Allen RC (2009) The British industrial revolution in global perspective. Cambridge University Press, Cambridge

Andreano R (1970) The new economic history: recent papers on methodology. Wiley, Oxford

Association of Business Schools—ABS (2018), Academic Journal Guide 2018. (https://charteredabs.org/academic-journal-guide-2018/)

Austin G, Broadberry S (2014) Introduction: the renaissance of African economic history. Econ History Rev 67(4):893–906

Baten J, Muschallik J (2012) The global status of economic history. Econ History of Develop Regions 27(1):93–113

Boldizzoni F (2011) The poverty of clio: resurrecting economic history. Princeton University Press, Princeton

Boldizzoni F, Hudson P (eds) (2016) Routledge handbook of global economic history. Routledge, London

Bolt J, Inklaar R, de Jong H, van Zanden JL (2018) Rebasing 'Maddison': new income comparisons and the shape of long-run economic development. In: Maddison project working paper n. 10

Chaunu P (1970) L'histoire sérielle Bilan et perspectives. Rev Hist 243(2):297–320

Cioni M, Federico G, Vasta M (2018) Ninety years of publications in Economic History: evidence from the top five field journals (1927-2017). In: University of Siena, Quaderni del Dipartimento di Economia Politica e Statistica WP n. 791

Cioni M, Federico G and Vasta M (2019) The road to success in economic history, mimeo

Clark G (2007) A farewell to alms. A brief economic history of the World. Princeton University Press, Princeton

Comite National de la Recherche Scientifique—CNRS (2017) Categorization of journals in economics and management. Version 5.01

Conrad AH, Meyer JR (1958) The economics of slavery in the Ante Bellum South. J Polit Econ 66(2):95–130

Cousens SH (1961) Emigration and demographic change in ireland, 1851–1861. Econ History Rev 14(2):275–288

Di Vaio G, Weisdorf J (2010) Ranking economic history journals: a citation-based impact adjusted analysis. Cliometrica 4(1):1–16

Diebolt C (2016) Cliometrica after 10 Years: definition and principle of cliometric research. Cliometrica 10(1):1–4

Diebolt C, Haupert M (eds) (2016) Handbook of cliometrics. Springer, Berlin

Diebolt C, Haupert M (2018a) A cliometric counterfactual: what if there had been neither Fogel nor North?". Cliometrica 12(3):407–434

Diebolt C, Haupert M (2018b). We are ninjas: how economic history has infiltrated economics.In: Association française de cliométrie (afc) working papers no 4

Eloranta J, Ojala J, Valtonen H (2010) Quantitative methods in business history: an impossible equation? Manag Organ History 5(1):79–107

Fabricant S (1950) The state and measurement: the quantitative study of government activity. J Econ History 10:4–18

Fishlow A (1961) The trustee savings banks, 1817–1861. J Econ History 21(1):26–40

Fogel R (1964) Railroads and American economic growth: essays in econometric history. Johns Hopkins Press, Baltimore

Fogel R (1989) Without consent or contract. the rise and fall of American slavery. W.W. Norton and Company, New York

Fogel R, Elton G (1984) Which road to the past? Two views of history. Yale University Press, New Haven

Fogel R, Engerman S (1974) Time on the cross: the economics of American Negro Slavery. W.W. Norton and Company, New York

Fourie J, Gardner L (2014) The internationalization of economic history: a puzzle. Econ History Develop Reg 29(1):1–14

Gibson J, Anderson DL, Tressler J (2014) Which journal rankings best explain academic salaries? Evidence from the University of California. Econ Inq 52(4):1322–1340

Hamermesh DS (2013) Six decades of top economics publishing: who and how? J Econ Lit 51(1):162–172

Hamermesh DS (2018) Citations in economics: measurement, uses and impact. J Econ Lit 56(1):115–156

Harte NB (1977) Trends in publication on the economic and social history of Great Britain and Ireland 1925-74. Econ History Rev 30(1):20–41

Hatton TJ, Persson KG, Zamagni V (1997) Editorial statement. Eur Rev Econ History 1:1–2

Haupert M (2016) History of Cliometrics. In: Diebolt C, Haupert M (eds) Handbook of cliometrics. Springer, Berlin, pp 3–32

Heckman JJ and Moktan S (2018) Publishing and promotion in economics: the tyranny of the top five. In: IZA discussion paper No. 11868

Hoffman PT, Jacks DS, Levin PA, Lindert PH (2002) Real inequality in Europe since 1500. J Econ History 62(2):322–355

Hyde FH, Parkinson BB, Marriner S (1953) The nature and the profitability of the Liverpool slave trade. Econ History Rev 5(3):368–377

Kalaitzidakis P, Mamuneas TP, Stengos T (2011) An updated ranking of academic journals in economics. The Can J Econ 44(4):1525–1538

Kuld L, O'Hagan J (2018) Rise of multi-authored papers in economics: demise of the 'lone star' and why? Scientometrics 114:1207–1225

Landes SL (1958) Reply to Mr. Danière and some reflections on the significance of the debate. J Econ History 18(3):331–338

Lewis B (1937) The Islamic guilds. Econ History Rev A8(1):20–37

Lyons JS, Cain LP, Williamson SH (eds) (2007) Reflections on the cliometrics revolution. Conversations with economic historians. Routledge, London

Margo R (2018) The integration of economic history into economics. Cliometrica 12(3):377–406

McCloskey D (1976) Does the past have useful economics? J Econ Lit 14(2):434–461

McCloskey D (1987) Econometric history. Palgrave, London

Mitchener KJ (2015) The 4D future of economic history: digitally-driven data design. J Econ History 75(4):1234–1239

Mokyr J (1990) The lever of riches: technological creativity and economic progress. Oxford University Press, New York

Mokyr J (2002) The gifts of athena: historical origins of the knowledge economy. Princeton University Press, Princeton

Morgan S, Shanahan M (2010) The supply of economic history in Australasia: the Australian economic history review at 50. Australian Econ History Rev 50:217–239

Neal L (1994) Explorations in economic history. In: Simon RJ, Fyfe JJ (eds) Editors as gatekeepers. getting published in the social sciences. Rowman and littlefield publishers, lanham (MD) and London, pp 73–83

Newell WH (1973) The agricultural revolution in nineteenth-century France. J Econ History 33(4):697–731

North DC (1981) Structure and change in economic history. W.W. Norton and Company, New York

North DC (1990) Institutions, institutional change, and economic performance. Cambridge University Press, New York

North DC, Thomas RP (1973) The rise of the western world. A new economic history. Cambridge University Press, New York

North DC, Weingast BR (1989) Constitutions and commitment: the evolution of institutions governing public choice in seventeenth-century England. J Econ History 49(4):803–832

Ojala J, Eloranta J, Ojala A, Valtonen H (2017) Let the best story win—evaluation of the most cited business history articles. Manag Org History 12:305–333

Poelmans E, Rousseau S (2016) Quantifying the heterogeneity of publication cultures in economic business, and financial history. Essays Econ Bus History 34:95–135

Pomeranz K (2001) The great divergence. China, Europe, and the making of the modern world economy. Princeton University Press, Princeton

Rosenbloom JL, Sundstrom WA (1999) The sources of regional variation in the severity of the great depression: evidence from U.S. manufacturing, 1919–1937. J Econ History 59(3):714–747

Rosenthal JL, Bin Wong R (2011) Before and beyond divergence. The politics of economic change in China and Europe. Harvard University Press, Cambridge

Seltzer AJ (2018) Publication trends and future challenges for the Australian economic history review: a bibliometric analysis. Austr Econ History Rev 58(2):112–133

Seltzer AJ, Hamermesh D (2018) Co-authorship in economic history and economics: are we any different? Explor Econ History 69:102–109

Sharp P (2013) An interview with prof. Karl Gunnar Persson. the newsletter of the cliometrics society 27(2):14–21

Thomas M (2007) Charles H. Feinstein, interviewed by Mark Thomas. In: Lyons JS, Cain LP, Williamson SH (eds) Reflections on the cliometrics revolution. Conversations with economic historians. Routledge, London and New York, pp 286–300

Wehrheim L (2018) Economic history goes digital: topic modeling the journal of economic history. Cliometrica. https://doi.org/10.1007/s11698-018-0171-7

Whaples R (1991) A quantitative history of the journal of economic history and the cliometric revolution. J Econ History 51(2):289–301

Whaples R (2002) The supply and demand of economic history: recent trends in the Journal of Economic History. J Econ History 62(2):524–532

Williamson JG (2011) Trade and poverty. When the third world fell behind. MIT Press, Cambridge

Wrigley EA (1999) The Review during the last 50 years. Economic History Society. http://www.ehs.org.uk/dotAsset/a9207d87-4533-42a3-9e7e-2ceca7d71bb7.pdf
Acknowledgements
We would like to thank Valeria Battisti, Giulia Cecchetti, Paolo Jonica Nova, Enrico Minnella, Valentina Nanni, Valentina Savelli, Andrea Severini, Federico Terzi, Francesco Tonen, Valeria Vitale, Giorgia Vitucci, Nicolò Zavarise and, particularly, Alberto Montesi, Sara Pecchioli and Stefano Susini for research assistance. We are grateful to Alberto Baccini, Lucio Barabesi, Sara Franceschi, Alessandro Nuvolari, Tiziano Razzolini and Marco Savioli for helpful comments and suggestions. Special thanks are due to Ralph L. Andreano, Larry Neal and Jeffrey Williamson for their useful information. A previous version of this paper has benefited from the comments of all participants at the 8th edition of the EH/tune Workshop held in Siena in November 2018 and at the Riccardo Faini CEIS seminars held in Rome (Tor Vergata) in March 2019. Last but not least, we wish to thank the editor Claude Diebolt and two anonymous referees for their valuable comments. The usual disclaimer applies.
Additional information
Publisher's Note
Springer Nature remains neutral with regard to jurisdictional claims in published maps and institutional affiliations.
Electronic supplementary material
Below is the link to the electronic supplementary material.
About this article
Cite this article
Cioni, M., Federico, G. & Vasta, M. The long-term evolution of economic history: evidence from the top five field journals (1927–2017). Cliometrica 14, 1–39 (2020). https://doi.org/10.1007/s11698-019-00186-x
Received:

Accepted:

Published:

Issue Date:

DOI: https://doi.org/10.1007/s11698-019-00186-x
Keywords
JEL Classification