Abstract
The objective of this paper is to explain, from a cliometric perspective, the determinants of the growth of Argentina's exports between 1880 and 1929. To do this, we have constructed a gravity model with the principal products exported each year by Argentina to its most important trading partners. In this way, we believe that this study constitutes a relevant and original contribution to the analysis of economic growth from a historical perspective and specifically in explaining the factors determining the export success of the settler countries during the first wave of globalisation. Our results show that Argentina's export-led growth must be explained from both the supply and demand sides. We also find that the reduction in trade costs and trade liberalisation, especially the latter, boosted exports. We also support the idea that Argentina had a successful agro-export sector because it offered a diverse basket of products to the different European and American countries that consumed them. To sum up, we can conclude that Argentina took advantage of a multilateral and open economic system. Within this context, the country generally found a demand for its supply, which constitutes the key to explaining the magnitude and speed of Argentina's export growth.
Access options
Buy single article
Instant access to the full article PDF.
US$ 39.95
Tax calculation will be finalised during checkout.
Subscribe to journal
Immediate online access to all issues from 2019. Subscription will auto renew annually.
US$ 79
Tax calculation will be finalised during checkout.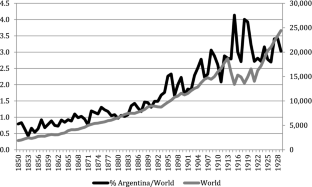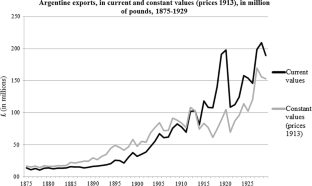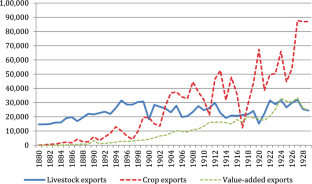 Notes
1.

We have followed the subdivision considered by Kuntz-Ficker and Rayes (2017: 43) as an alternative to dividing by decades or the Maddison phases.

2.

For a critical vision, see Míguez and Rayes (2014).

3.

The products included in the model are: wool, salted and dried cattle hides, raw sheep skins, bovines, jerked meat, tallow, wheat, corn, linseed, chilled and frozen beef, frozen mutton, wheat flour, quebracho logs and quebracho extract.

4.

The trade partners of Argentina included in the model are: Germany, Belgium, Brazil, Chile, Spain, United States, France, Italy, The Netherlands, United Kingdom and Uruguay.

5.

Alternatively, instead of the cost of transport we have used distance to approximate transport costs (CEPII). Logically, in this case, this variable does not change from year to year. The results obtained are very similar to those produced from our estimate of the real transport cost. They are available on request.
References
Albert B (1988) South America and the first world war. The impact of the war on Brazil, Argentina, Peru and Chile. Cambridge University Press, Cambridge

Alvarez J, Bertola L, Porcile G (2007) Primos ricos y empobrecidos. Crecimiento, distribución del ingreso e instituciones en Australia-Nueva Zelanda vs Argentina-Uruguay. Fin de siglo, Montevideo

Amaral S (1998) The rise of capitalism on the Pampas: the estancias of Buenos Aires, 1785–1870. Cambridge University Press, Cambridge

Anderson JE (1979) A theoretical foundation for the gravity equation. Am Econ Rev 69:106–116

Anderson JE, van Wincoop E (2003) Gravity with gravitas: a solution to the border puzzle. Am Econ Rev 93:170–192

Aparicio G, Pinilla V, Serrano R (2009) Europe and the international agricultural and food trade, 1870–2000. In: Lains P, Pinilla V (eds) Agriculture and economic development in Europe since 1870. Routledge, London, pp 52–75

Aparicio G, González AL, Pinilla V, Serrano R (2018) The world periphery in global agricultural and food trade, 1900–2000. In: Pinilla V, Willebald H (eds) Agricultural development in the world periphery: a global economic history approach. Palgrave, London, pp 63–88

Badía-Miró M, Carreras-Marín A (2012) Latin America and its main trade partners, 1860–1930: did the first world war affect geographical patterns. In: Yáñez C, Carreras A (eds) The economies of Latin America: new cliometric data. Pickering and Chatto, London, pp 59–62

Badía-Miró M, Carreras-Marín A, Meissner C (2018) Geography, policy, or productivity? Regional trade in five South American countries, 1910–50. Econ Hist Rev 71:236–266

Bandieri S (2011) Historia de la Patagonia. Sudamericana, Buenos Aires

Barsky O, Gelman J (2001) Historia del agro en la Argentina: desde la conquista hasta el siglo XX. Grijalbo-Mondadori, Buenos Aires

Bergstrand JH (1985) The gravity equation in international trade: some microeconomic foundations and empirical evidence. Rev Econ Stat 67:474–481

Bergstrand JH (1989) The generalised gravity equation, monopolistic, and the factor-proportions theory in international trade. Rev Econ Stat 71:143–153

Bértola L, Ocampo JA (2013) El desarrollo económico de América Latina desde la Independencia. Fondo de Cultura Económica, Mexico

Brown JC (2002) Historia socioeconómica de la Argentina: 1776–1860. Instituto Torcuato Di Tella, Buenos Aires

Bulmer-Thomas V (1994) La historia económica de América Latina desde la independencia. Fondo de Cultura Económica, Mexico

Bunge A (1928) La economía argentina, vol 2. Agencia General de Librerías y Publicaciones, Buenos Aires

Cardenas E, Ocampo JA, Thorp R (2003) Introducción. In: Ocampo JA, Thorp R (eds) Cárdenas E. La era de las exportaciones latinoamericanas. De fines del siglo XIX a principios del XX. Fondo de Cultura Económica, Mexico

Carreras-Marín A, Badia-Miró M, Peres Cajías J (2013) Intraregional trade in South America, 1912–1950: the cases of Argentina, Bolivia, Brazil, Chile and Peru. Econ Hist Dev Reg 28:1–26

Clemens MA, Williamson JG (2004) Why did the tariff-growth correlation change after 1950? J Econ Growth 9:5–46

Cortés Conde R (1974) Hispanoamérica: la Apertura del Comercio Mundial, 1850–1930. Editorial Paidós, Buenos Aires

Cortés Conde R (1979) El progreso argentino 1880–1914. Sudamericana, Buenos Aires

Cortés Conde R, Hunt S (eds) (1985) The export economy of Argentina, 1880–1920. The Latin American economies: growth and the export sector 1880–1930. Holmes, Nueva York, pp 319–391

Cortés Conde R (1997) La economía argentina en el largo plazo (Siglos XIX y XX). Sudamericana, Buenos Aires

Cortés Conde R (2003) Las vicisitudes de una economía exportadora. In: Ocampo JA, Thorp R (eds) La era de las exportaciones latinoamericanas. De fines del siglo XIX a principios del XX. Fondo de Cultura Económica, Mexico, pp 360–417

Cortés Conde R, Harriague MM (1994) Estimaciones del Producto Bruto Interno de Argentina 1875–1935. Universidad de San Andrés, Victoria

Cortés Conde R, Halperin Donghi T, Gorostegui de Torres H (1965) Evolución del Comercio Exterior Argentino I. Exportaciones. Instituto Torcuato Di Tella, Buenos Aires

Deardorff A (1984) Testing trade theories and predicting trade flows. In: Jones R, Kenen P (eds) Handbook of international economics. North Holland, Amsterdam, pp 467–517

Denoon D (1983) Settler capitalism: the dynamics of dependent development in the southern hemisphere. Clarendon Press, Oxford

Di Tella G, Zymelman M (1967) Las etapas del desarrollo económico argentino. Editorial Universitaria de Buenos Aires, Buenos Aires

Díaz Alejandro CF (2002) Ensayos sobre la historia económica argentina. Amorrortu, Buenos Aires

Duncan WT (1984) Australia and Argentina: on parallel paths. Melbourne University Press, Carlton

Estevadeordal A, Frantz B, Taylor AM (2003) The rise and fall of world trade, 1870–1939. Q J Econ 118:359–407

Evenett SJ, Keller W (2002) On theories explaining the success of the gravity equation. J Polit Econ 110:281–316

Fajgelbaum P, Redding SJ (2014) External integration, structural transformation and economic development: evidence from Argentina, 1870–1914. NBER Working Paper Series 20217: 1–56

Federico G, Tena-Junguito A (2016) World trade, 1800–1938: a new data-set. Eur Hist Econ Soc 93:1–351

Feenstra RC, Markusen JA, Rose AK (1998) Using the gravity equation to differentiate among alternatives theories of trade. Can J Econ 34:430–447

Ferrer A (2008) La economía argentina. Desde sus orígenes hasta principios del siglo XXI. Fondo de Cultura Económica, Mexico

Ferreres O (2010) Dos siglos de economía argentina (1810–2010). Historia argentina en cifras. El Ateneo, Buenos Aires

Findlay R, Lundahl M (2017) The economics of the frontier. Conquest and settlement. Palgrave Macmillan, London

Fodor J, O´Connell A (1973) La Argentina y la Economía Atlántica en la Primera Mitad del Siglo XX. Desarrollo Económico 49:3–65

Fogarty J (1985) Staples, super-staples and the limits of staple theory: the experiences of Argentina, Australia and Canada compared. In: Platt DCM, Di Tella G (eds) Argentina, Australia and Canada. Studies in comparative development 1870–1965. Macmillan, London, pp 19–35

Ford A (1966) El patrón-oro: 1880–1914. Inglaterra y Argentina. Editorial del Instituto, Buenos Aires

Francis J (2017) Globalisation, the terms of trade, and Argentina's expansion in the long nineteenth century. J Latin Am Stud 49:709–738

Gallo E (1987) La expansión agraria y el desarrollo industrial en Argentina (1880–1930). Anuario IEHS 13:13–25

Geller L (1975) El crecimiento industrial argentino hasta 1914 y la teoría del bien primario exportable. In: Giménez Zapiola M (ed) El régimen oligárquico: materiales para el estudio de la realidad argentina (hasta 1930). Amorrortu, Buenos Aires, pp 152–200

Gerchunoff P (2016) En busca del eslabón perdido. La economía política de los gobiernos radicales, 1916–1930. Edhasa, Buenos Aires

Gerchunoff P, Aguirre H (2006) La economía argentina entre la Gran Guerra y la Gran Depresión. Estudios y Perspectivas de la CEPAL 32:1–87

Gerchunoff P, Llach L (2007) El ciclo de la ilusión y el desencanto. Un siglo de políticas económicas argentinas. Emecé, Buenos Aires

Gerchunoff P, Llach L (2008) Antes y después del "corto siglo XX". Dos globalizaciones latioamericanas (1850–1914 y 1980–2000s). XXI Jornadas de la Asociación Argentina de Historia Económica, Caseros

Giberti H (1956) Historia económica de la ganadería argentina. Solar, Buenos Aires

Gravil R (1985) The Anglo-Argentine connections, 1900–1939. Westview Press, Boulder

Halperin Donghi T (1982) Guerra y finanzas en los orígenes del Estado Argentino (1791–1850). Editorial de Belgrano, Buenos Aires

Helpman E (1987) Imperfect competition and international trade: evidence from fourteen industrial countries. J Jpn Int Econ 1:62–81

Helpman E, Krugman P (1985) Market structure and foreign trade; increasing returns, imperfect competition, and the international economy. MIT press, Cambridge

Hummels D, Levinsohn J (1995) Monopolistic competition and international trade: reconsidering the evidence. Q J Econ 110:799–836

Jacks DJ (2006) What drove 19th century commodity market integration? Explor Econ Hist 43:383–412

Jacks DJ, Meissner CM, Novy D (2008) Trade costs, 1870–2000. Am Econ Rev 98:529–534

Jacks DJ, Meissner CM, Novy D (2011) Trade booms, trade busts, and trade costs. J Int Econ 83:185–201

Kuntz-Ficker S (2017) Latin America's first export era: a preliminary balance (toward a new synthesis). In: Kuntz-Ficker S (ed) The first export era revisited. Reassesing its contribution to Latin American economies. Palgrave Macmillan, London, pp 313–336

Kuntz-Ficker S, Rayes A (2017) The contribution of argentine exports to the economy, 1875–1929. In: Kuntz-Ficker S (ed) The first export era revisited. Reassesing its contribution to latin American economies. Palgrave Macmillan, London, pp 37–72

League of Nations (1942) The network of world trade. A Companion Volume to "Europe's Trade". League of Nations Geneva

Lloyd C, Metzer J, Sutch R (eds) (2013) Settler economies in world history. Brill, Leiden-Boston

Maddison project (2013) http://www.ggdc.net/maddison/maddison-project/home.htm, 2013 version. Accessed 2 Oct 2015

Martirén JL, Rayes A (2016) La Industria Argentina de harina de trigo en el cambio de siglo. Límites y Alcances, 1880–1914. H-Industri@: revista de historia de la industria, los servicios y las empresas en. América Latina 18:1–27

Míguez E (2001) El mercado de trabajo y la estrategia de los migrantes en el flujo trasatlántico de mano de obra hacia la Argentina. Un panorama. Estudios Migratorios Latinoamericanos 49:443–462

Míguez E (2008) Historia económica de la Argentina: De la conquista a la crisis de 1930. Editorial Sudamericana, Buenos Aires

Míguez E, Rayes A (2014) La naturaleza de la dependencia, la dependencia de la naturaleza. Las exportaciones argentinas 1890–1938 en perspectiva comparada. Desarrollo Económico 211:313–344

Montoya A (1956) Historia de los saladeros argentinos. Raigal, Buenos Aires

O'Connell A (1984) La Argentina en la Depresión. Los problemas de una economía abierta. Desarrollo Económico 92:479–514

Offer A (1989) The first world war: an agrarian interpretation. Clarendon Press, Oxford

O'Rourke KH (1997) The european grain invasion, 1870–1913. J Econ Hist 57:775–801

O'Rourke KH, Williamson J (2000) Globalization and history: the evolution of a nineteenth-century Atlantic economy. US MIT, Cambridge

Peterson H (1964) Argentina and the United States 1810–1960. State University of New York, New York

Pinilla V, Aparicio G (2015) Navigating in troubled waters: south American exports of food and agricultural products, 1900–1950. Revista de Historia Económica J Iber Latin Am Econ Hist 33:223–255

Pinilla V, Ayuda MI (2010) Taking advantage of globalization? Spain and the building of the International market in Mediterranean horticultural products, 1850–1935. Eur Rev Econ Hist 14:239–274

Platt DCM (1972) Latin America and british trade 1806–1914. Adam and Charles Black, London

Platt DCM (1980) Objeciones de un historiador a la teoría de la dependencia en América Latina en el siglo XIX. Desarrollo Económico 76:435–451

Pomfret R (1981) The staple theory as an approach to Canadian and Australian economic development. Aust Econ Hist Rev 21:133–146

Rayes A (2013a) Más allá de la ganadería y la agricultura. Las exportaciones argentinas de quebracho, 1890–1913. Folia Histórica del Nordeste 21:141–154

Rayes A (2013b) Bestias negras de la estadística. Las exportaciones argentinas "a órdenes", 1895–1913. Estadística e Sociedade 3:6–20

Rayes A (2014a) Sobreviviendo en el cambio. Las exportaciones argentinas de lanas y cueros en tiempos de cereales y frigoríficos, 1890–1913. Revista Quinto Sol 18:1–22

Rayes A (2014b) Los destinos de las exportaciones y la neutralidad argentina durante la Primera Guerra Mundial. Política y Cultura 42:31–52

Rayes A (2015) La estadística de las exportaciones argentinas, 1875-1913. Nuevas evidencias e interpretaciones. Investigaciones de Historia Económica 11:31–42

Regalsky A (1986) Las inversiones Extranjeras en la Argentina. Centro Editor de América Latina, Buenos Aires

Rocchi F (2011) Argentina en el mundo. In: Míguez E (ed) Argentina. La apertura al mundo, 1880–1930. Santillana-Fundación Mapfre, Madrid, pp 95–149

Rosal M, Schmit R (1999) Del reformismo borbónico al librecomercio: las exportaciones pecuarias del Río de La Plata (1768–1854). Boletín del Instituto de Historia Argentina y Americana "Dr Emilio Ravignani" 20:69–109

Rubio M (2011) But they buy (despite duties!) Latin America custom duties and trade during de pre-1914 Belle-Epoque. X Congreso Internacional de la AEHE, Sevilla

Sabato H (1989) Capitalismo y ganadería en Buenos Aires: la fiebre del lanar 1865–1890. Sudamericana, Buenos Aires

Salvatore R, Newland C (2003) Between independence and the golden age: the early argentine economy. In: Della Paolera G, Taylor A (eds) A new economic history of argentina. Cambridge University Press, Cambridge, pp 19–45

Santos Silva JMC, Tenreyro S (2006) The log of gravity. Rev Econ Stat 88:641–658

Schedvin CB (1990) Staples and regions of pax britannica. Econ Hist Rev 43:533–559

Sesto C (2005) Historia del capitalismo agrario argentino. La vanguardia ganadera bonaerense, 1856–1900. Universidad de Belgrano-Siglo XXI, Buenos Aires

Smithies A (1966) Crecimiento económico: comparaciones internacionales. Argentina y Australia. Fundación de Investigaciones Económicas Latinoamericanas, Buenos Aires

Tena-Junguito A, Willebald H (2013) On the accuracy of export growth in Argentina, 1870–1913. Econ Hist Dev Reg 28:28–68

Vázquez Presedo V (1971) Estadísticas históricas argentinas (comparadas). Primera parte, 1875–1914. Ediciones Macchi, Buenos Aires

Vázquez Presedo V (1979) El Caso Argentino: Migración de Factores, Comercio Exterior y Desarrollo 1875–1914. Editorial Universitaria de Buenos Aires, Buenos Aires

Villanueva J (1972) El origen de la industrialización argentina. Desarrollo Económico 47:451–476

Vitelli G (2012) Los dos siglos de la Argentina. Historia económica comparada. Centro Cultural de la Cooperación Floreal Gorini-Universidad Nacional de Quilmes, Buenos Aires

Watkins M (1963) A staple theory of economic growth. Can J Econ Political Sci 29:83–95

Weinmann R (1994) Argentina en la Primera Guerra Mundial. Neutralidad, transición política y continuismo económico. Biblos, Buenos Aires

Winograd C, Véganzonès MA (1997) Argentina in the 20th Century: an accounted of long-awaited growth. OECD, Paris
Official publications
Argentine Official statistics of foreign trade, Buenos Aires, various editions (1870–1930)
Acknowledgements
This study has received financial support from Spain's Ministry of Economy and Competitiveness, project ECO2015-65582-P, the Government of Aragon, through the Research Group S55_17R and from the National Foundation for Scientific and Technical Research of the Argentine Ministry of Science, Technology and Innovation (PICT 2016-1912). The authors wish to thank Leticia Arroyo-Abad, María Isabel Ayuda, Marc Badia-Miro, Anna Carreras, Roberto Cortés Conde, Hugo Ferrer, Elena Martínez, Chriss Meissner, Eduardo Míguez, Pilar Nogués-Marco, Federico d'Onofrio, Marcela Sabaté, Isabel Sanz, Steve Stein, Raúl Serrano, Henry Willebald and participants at the Economic History Seminar of the University of Zaragoza, the Vienna Frontier Research in Economic and Social History Meeting, Agricliometrics III (University of Cambridge), the Ridge Forum May 2017 (Montevideo), the Pre-session and session on Agricultural Efficiency in the Great Specialization at Vienna University of Economics and Business and at the Boston World Economic History Congress, the Natural Resources Management workshop held at the University of Barcelona, for their help and advice. We also thank the editor and the anonymous referees who provided insightful comments prior to publication. The usual disclaimers apply.
Electronic supplementary material
Below is the link to the electronic supplementary material.
About this article
Cite this article
Pinilla, V., Rayes, A. How Argentina became a super-exporter of agricultural and food products during the First Globalisation (1880–1929). Cliometrica 13, 443–469 (2019). https://doi.org/10.1007/s11698-018-0178-0
Received:

Accepted:

Published:

Issue Date:
Keywords
Settler economies

Latin American economic history

First Globalisation

International trade
JEL Classification