Abstract
This study examined the relationship between land inequality and human capital accumulation in the Korean colonial period by using a panel data set from 1934 to 1942. Evidence of the adverse relationship between land inequality and the accumulation of human capital has thus far only been presented by using data from Western countries and from countries that achieved industrialization not under colonial occupation but by their own economic interest. The presented findings thus contribute to the body of knowledge on this topic and confirm the generalizability of the Galor model by analyzing the unique Korean context under Japanese rule in the early twentieth century. It is the first study to present evidence that inequality in landownership had an adverse effect on the level of public education in the Korean colonial period (i.e., it is a non-financial hurdle for human capital accumulation). By using a fixed effects model and a fixed effects two-stage least squares model with an instrumental variable estimation, this study exploits variation in inequality in land concentration across regions in Korea, accounting for the unobserved heterogeneity across these regions. Overall, this analysis establishes a highly significant adverse effect of land inequality on education in the Korean colonial period.
Access options
Buy single article
Instant access to the full article PDF.
USD 39.95
Price excludes VAT (USA)
Tax calculation will be finalised during checkout.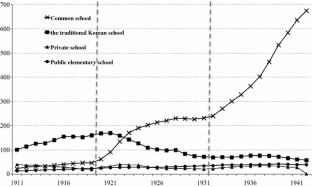 Notes
This study measures the level of urbanization using the number of workers in commerce and transportation relative to the total population, while Cinnirella and Hornung (2011) used the proxy of the share of the population living in urban centers. This distinction occurs because the process of urbanization in Korea differs from those in Western countries. According to Horvath (1969), "the colonial city model" has distinctive features compared to his other two city models, "the industrial city model" and "the pre-industrial model." After the opening of the ports in 1876 and the Japanese occupation, the Japanese colonial government reorganized Korean cities to make them the bases of colonial exploitation. In this situation, commercial activity, especially in relation to rice, was main activity that helped the cities grow. For example, the city of Koonsan underwent planned development under Japanese colonial rule. Koonsan is located close to the plains, and thus, it was easy to collect rice for export to Japan, and it also served as the perfect commercial base for selling goods manufactured in Japan to Jeollanam-do and Chungcheongnam-do. The construction of railway connections to the colonial cities further boosted their development (Cho 2000). For these reasons, it is more relevant to capture the level of urbanization of each region using the share of workers in commerce and transportation.
References
Ahn B (1989) The Research on the Structure of Labor Market: Focusing on the Industrialization in the 1930s. In: Ahn B (ed) The Economic Structure of Modern Korea (Geundea Choseoneui Kyungjea Gucho). Seoul, Bibong

Alesina A, Rodrik D (1994) Distributive politics and economic growth. Quart J Econ 109(2):65–90

Banerjee AV, Newman AF (1993) Occupational choice and the process of development. J Polit Econ 101(2):274–298

Barro R (2000) Inequality and growth in a panel of countries. J Econ Growth 5(1):5–32

Becker SO, Woessmann L (2009) Was Weber wrong? A human capital theory of protestant economic history. Q J Econ 124(2):531–596

Becker SO, Woessmann L (2010) The effect of protestantism on education before the industrialization: evidence from 1816 Prussia. Econ Lett 107(2):224–228

Becker SO, Cinnirella F, Woessmann L (2011) The effect of investment in children's education on fertility in 1816 Prussia. Cliometrica 6(1):29–44

Bernargee AV, Duflo E (2003) Inequality and growth: What can the data say? J Econ Growth 8(3):267–299

Black SE, Deverux PJ (2011) Recent developments in intergenerational mobility. In: Ashenfelter O, Card D (Eds) Handbook of Labor Economics, vol. 4B. Elsevier, Amsterdam, pp 1487–1541

Bowles S, Gintis H (1977) Schooling in capitalist America: educational reform and the contradictions of economic life. Basic Books, New York

Chang SW (1994) The plan for the increased yield of rice and the change of rural area. Hankoosa 13 (the Korean History 13), Hangilsa

Checchi D, Ichino A, Rustichini A (1999) Most equal but less mobile? Education financing and intergenerational mobility in Italy and in the US. J Pub Econ 74(3):351–393

Cho Y (1989) Contents and methods of elementary education from Chosun dynasty through Japanese occupation. Chodeunkyoyookyeonku (The Research on the Elementary Education) 3:34–65

Cho SY (1999) The Construction of Agricultural Productive Basis and Management of a Large Scale Farm under Japanese Colonial Rule. Studies on folklore (Minsokhak yeongu) 6:383–408

Cho SY (2000) The formation of colonial small town and the change of urban space under the Japanese rule. Studies on folklore (Minsokhak yeongu) 7:7-31

Cho SW (2014) Expansion of General Education in the 1920s and Korea Modern History Depiction Narration of National History in General School. Ilbonhak (The Study on Japan) 39:117–154

Choi WK (1988) Fascism and Korean Society in the late period of Japanese Rule (Iljeashidea fascismgua hankooksahoe), Cheong-A

Choi WK (2000) The Oriental Development Company's Emigration Project and the Korean Movement against Emigration. Korean Culture (HankookMinjokMoonhwa) 16:69–118

Choi HK (2010) Founding and Education Activity of Elementary School in Japanese Imperialism Period— Gun-po City in Center Research. Kyungjusahak (The Kyungju Study on History) 31:151–183

Chung YT (1988) The agricultural policy of Japanese colonial government and the colonial landowner-tenant system. Hankooksaron (Discourse of Korean History) 20:413–502

Chung YT (1993) The discourse on Japanese immigration and the colonial immigration system. Korean Cult (HankookMoonhwa) 14

Cinnirella F, Hornung E (2011) Landownership concentration and the expansion of education. CESifo working paper series, no. 3603. CESifo Group Munich

Dao NT (2015) From Agriculture to Manufacturing: How Does Geography Matter?. Cliometrica, pp 1–33. doi:10.1007/s11698-015-0132-3

Diebolt C, Perrin F (2013) From stagnation to sustained growth: the role of female empowerment. Am Econ Rev 103(3):545–549

Easterly W (2007) Inequality does cause underdevelopment: insights from a new instrument. J Dev Econ 84(2):755–776

Eckert CJ, Lee KB, Lew YI, Robinson M, Wagner EW (1991) Korea old and new: a history. Ilchokak Publishers, Seoul

Engerman S, Sokoloff KL (2000) Institutions, factor endowments, and paths of development in the new world. J Econ Perspect 14:217–232

Fershtman C, Murphy K, Weiss MY (1996) Social status, education, and growth. J Polit Econ 104(1):108–132

Forbes JK (2000) A reassessment of the relationship between inequality and growth. Am Econ Rev 90(4):869–887

Gallagher J, Robinson R (1953) The imperialism of free trade. Econ History Rev, second series 6, no. 1, pp 1–15

Galor O (2009) Inequality and economic development: an overview. Working papers 2009-3, Brown University, Department of Economics

Galor O (2011a) Unified growth theory. Princeton University Press, Princeton

Galor O (2011b) The demographic transition: causes and consequences. Cliometrica 6(1):1–28

Galor O, Moav O (2004) From physical to human capital accumulation: inequality and the process of development. Rev Econ Stud 71(4):1001–1026

Galor O, Weil DN (2000) Population, technology, and growth: from Malthusian stagnation to the demographic transition and beyond. Am Econ Rev 90:806–828

Galor O, Zeira J (1988) Income distribution and investment in human capital: macroeconomics implication. Working paper no. 197, Department of Economics, Hebrew University

Galor O, Zeira J (1993) Income distribution and macroeconomics. Rev Econ Stud 60:35–52

Galor O, Moav O, Vollrath D (2009) Inequality in landownership, the emergence of human-capital promoting institutions, and the great divergence. Rev Econ Stud 76:143–179

Han WH (1991) The resistance and the education fever on common school. Kyoyookeeron (Theory on Education) 6

Hassler J, Mora JR, Zeira J (2000) Intelligence, social mobility, and growth. Am Econ Rev 90(4):888–908

Heo SY (1983) Studies on characteristics of Korean colonial manufacturing sector under Japanese rule. Ph.D. Dissertation, Seoul National University

Horvath RV (1969) In Search of a Theory of Urbanization: Notes on the Colonial City. East Lakes Geographer 5:69–82

Howe A (1998) Free trade and liberal England 1846–1946. Oxford University Press, Oxford

Ju IJ (2003) Colonial government, private companies and industrialization in colonial Korea. Rev Econ History 35:63–87

Jun B, Lee J (2014) The tradeoff between fertility and education: evidence from the Korean development path. FZID discussion paper 92-2014. University of Hohenheim, Center for Research on Innovation and Services (FZID)

Kajimura H (1985) kyushokuminnchishakaikouseitairon (The Discourse on the Structure of Previous Colonial Society). kankokukinndaikeizaigennkyu (The Research on Modern Korean Economy), Sageyjeol

Kaldor N (1957) Alternative theories of distribution. Rev Econ Stud 23(2):83–100

Kang MS (2007) A historical study on the enactment of the first chosen educational ordinance in the Japanese colonial period. HankookKoyooksahak (The Study on Korean Educational History) 29:1–24

Kazuo H (1976) Nihon Teikoku Shugi No Chousen Ni Okeru Nougyou Seisaku -1920-neudai Shokuminchi Jinushi-sei No Keisei (An Agricultural Policy of ImperialJapan for Cononial Choseon -the Formation of Cononial Landownership). Nipponshi Kenkyuu 171 (The Studies on Japanese History 171)

Keynes JM (1920) The economic consequences of the peace. Macmillan and Co. Limited, London

Kikkawa S (1904) Kankoku Nogyokeieiron (Discourse of Management of Korean Agriculture). DiaNihon nokai, Tokyo

Kim C (1965) Population and Economy in the Colonial Period. In: Choi WK (ed) Fascism and Korean Society in the late period of Japanese Rule (Iljeashidea fascismgua hankooksahoe), Cheong-A

Kim S (1986) The development of business of the oriental development company. In: The Korean Social History Studies Institute (Hankook sahoesa yeongoohoe) The Korean modern society in Rural under the Japanese Imperialism (Hankook nongchonwa ilbon jeakkok jooui). Literature and Intellect (MoonhakguaJisungSa)

Kim YS (2000) The research on the modern history of agriculture of Korea. Jisiksaneopsa

Kim Y (2007) The Korean peasants movement and agriculture policies of the Japanese government. Orient Stud, Dong Yang Kak 41:269–282

Kim S, Jeon K, Jang S, Park Y (1989) A study on the history of land reform. Korea Rural Economic Institute, Seoul

Lee MK (1988) The history of Choseon's education. Gureum

Lee HR (1994) The social structure of Korea in the colonial period. Hankoosa 14 (the Korean History 14), Hangilsa

Lee KS (2003a) The development of Japanese agricultural immigration. Seoul Rep Korea Rural Econ Inst 7:51–78

Lee SS (2003b) The Enforcement and Characteristics of an Increased Yield of Rice Policy in Chosun during the War time (1937–1945). SaChong (the Collection of History)

Lucas RJ (1988) On the mechanics of economic development. Journal of Monetary Economics 22:3–42

Maoz YD, Moav O (1999) Intergenerational mobility and the process of development. Economic Journal 109(458):677–697

Moskowitz K (1974) The creation of the Oriental Development Company: Japanese illusions meet Korean reality. Occasional papers on Korea 2–3

Oh SC (2000) The formation of Korean Primary School in the Colonial period. Kyoyookkwahaksa

Owen AL, Weil DN (1998) Intergenerational earnings mobility, inequality and growth. Journal of Monetary Economics 41(1):71–104

Panizza U (2002) Income inequality and economic growth: evidence from American Data. J Econ Growth 7:25–41

Park BY (1971) Shokuminchi Ni Okeru Shougyou-teki Nougyou No Tenkai (the development of commercialized agriculture of colony). Tokyo University Press, Tokyo

Park SH (2001) Association Enterprise And Transformations Of Rural Society Under Rule of Japanese imperialism. Chung-Ang Sa Ron 15 (Discourse of History at Chung-Ang University), 81–106

Park M, Seo H (2003) Colonial authority and statistics; statistical system of the Choson government-general and census. Seoul National University Press, Seoul

Perotti R (1996) Growth, income distribution, and democracy: what the data say. J Econ Growth 1(2):149–187

Persson T, Tabellini G (1994) Is inequality harmful for growth? Am Econ Rev 84(3):600–621

Seo MS (2007) Industrial policies of Japanese imperialism and formation of native capital in Korea. Orient Stud, Dong Yang Kak 41:251–267

Seth MJ (2010) A history of Korea: from antiquity to the present. Rowman & Littlefield Publishers, Lanham

Shin Y (1982) A survey on the land survey program of Korea under Japanese colonial rule. Jisik Sanup Publication Company, Seoul

Soh SY (2005) Structure and evolution of landowner–tenant relationship in the colonial "Chosun.". Korean J Agric History 4(2):65–88

Son JH (2008) The tracks going to ruling class in the Japanese imperialism. Kyoyookchulhak (Philosophy of Education) 35:341–343

Song HY (2001) The Comparative Study on the Japanese Policy of University Education. J Chinese Historical Researches (Joogkuksayeonku) 16:253–286

The Education Ordinance (1911) In: Academy of Korean Studies (ed) Encyclopedia of Korean Culture. http://encykorea.aks.ac.kr/

Uzawa H (1965) Optimum technical change in an aggregative model of economic growth. Int Econ Rev 6:18

Wen CM (2006) The study on Japanese agricultural migration to Korea in the early 20th century: focusing on "Japanese Oriental Development Company". Hallym J Jpn Stud 23:99–137

Woo J (1991) Race to the swift. Columbia University Press, New York
Acknowledgments
We are grateful to Oded Galor for his valuable comments. Comments from Francesco Cinnirella, Helene Latzer, Jeong-Dong Lee, Hayoung Park, Jongsu Lee, attendees of my presentation at Brown University, and two anonymous referees are also gratefully acknowledged. This work was supported by the National Research Foundation of Korea (NRF) Grant Funded by the Korea government (MEST) (No. 2010-0026178).
Data source
Government-General in Korea (1908–1943) the Annual Statistical Report of the Government-General.
About this article
Cite this article
Jun, B., Kim, TY. Non-financial hurdles for human capital accumulation: landownership in Korea under Japanese rule. Cliometrica 11, 63–92 (2017). https://doi.org/10.1007/s11698-015-0138-x
Received:

Accepted:

Published:

Issue Date:

DOI: https://doi.org/10.1007/s11698-015-0138-x
Keywords
Inequality

Education

Development

Korean economic history
JEL Classification