Abstract
In this article, we reflect on how patents of introduction or importation, which compose an institutional policy related to weak IPR systems, could influence long-term international technology transfer. Both theoretically and empirically, the consequences of strengthening IPRs in lagging economies for technology transfer and innovation remain unclear. Although the mainstream literature tends to link stronger patent enforcement with better invention and innovation markets now and in the past, new theoretical and historical evidence supports extreme complexity in the relationship between IPR extension and scope and technological diffusion. For the first time, in this study, we analyze a large series of patents of introduction, which were a common feature of the early stages of almost all patent systems designed to favor technology transfer and innovation above original inventor property rights. Though typically used by pioneers, followers, and latecomers, we know little of how they functioned and their consequences. In this study, we analyze the use of patents of introduction throughout the nineteenth and twentieth centuries in Spain, which was a lagging country on the European periphery. The results demonstrate that this institutional policy could facilitate technology transfer, innovation, and advancement at earlier stages of industrialization. As additional research has demonstrated, such evidence may have serious implications for IPR treatment in both developing and underdeveloped economies.
Access options
Buy single article
Instant access to the full article PDF.
US$ 39.95
Tax calculation will be finalised during checkout.
Subscribe to journal
Immediate online access to all issues from 2019. Subscription will auto renew annually.
US$ 79
Tax calculation will be finalised during checkout.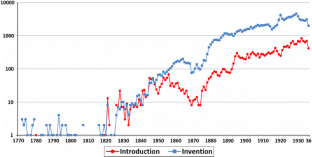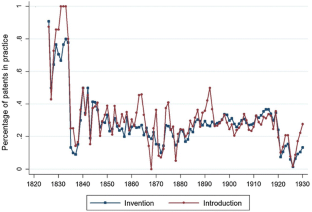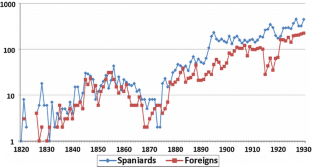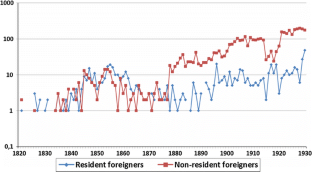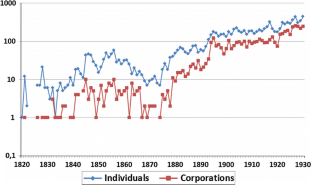 Notes
1.

Best estimates show that the length of an optimal copyright term should not extend beyond 2 years, and patents should extend no greater than 10 years.

2.

In this paper, Lerner examines 177 policy changes related to patent strengthening throughout 60 countries over 150 years.

3.

In these tables, the evolution of compulsory working clauses, discrimination against foreigners, and the nature of prior examinations are analyzed. Compared with Germany, the United States, the UK, or France for instance, Spain was the only country that maintained together for over 160 years obligatory implementation, foreign discrimination (principally through patents of introduction), and grants without prior technical examinations.

4.

There are only indirect references to patents of introduction or importation for undeveloped countries in Penrose (1973, 782) and recently in Khan and Sokoloff (2008). Suggestions as to its negative effect in the UK by Khan and Sokoloff (1998, 312, Note 25). See also preliminary work on patents of introduction in Spain and Mexico in Beatty and Sáiz (2007).

5.

The first laws (1811 and 1820) established a two-year period to implement the patent, which was reduced to one in 1826, returned to two in 1878, and set at three from 1902 on.

6.

According to Lerner (2005, Table 2), utility models were also used in many developing countries and even advanced economies such as Belgium, Germany, or Japan throughout the twentieth century. Others did not allow such protections (the United States, the UK, the Netherlands, Sweden, Norway, and France). Nevertheless, we lack a deep analysis on how they were administrated in each country (e.g., if they required prior technical examinations and international novelty). In Spain, they were closed to patents of introduction as they protected very simple ideas not implemented in the national market.

7.

Switzerland did not pass a patent law until 1888, Holland rescinded theirs between 1869 and 1912, and Denmark had essentially no protection before 1876 and weak protection thereafter.

8.

Between 1880 and 1930, the Spanish system of innovation began to expand. Internationally relevant inventors, such as Isaac Peral, Leonardo Torres Quevedo, and Juan de la Cierva, emerged through a network of changes in scientific and technological education as well as innovative business activity. The only Nobel Prize in Science in Spanish history was awarded during this period (to Ramón y Cajal in 1906). Severo Ochoa, who was awarded the Nobel Prize in Physiology in 1959 after migrating and researching in the United States for 20 years, was an advanced student during the 1920s; he received his MD degree in Madrid in 1929.

9.

We indexed and studied (from the original files) approximately 150,000 patents between 1826 and 1939. Approximately 70 people were involved in this enormous project (see http://historico.oepm.es for further details).

10.

Regulation of the 15th of January, 1924 (Colección Legislativa de España, NS, T. LXXXIII).

11.

Royal Order of the 26th of March, 1838 (Colección de las leyes, decretos y declaraciones de las Cortes, y de los Reales Decretos, Ordenes, Resoluciones y Reglamentos generales expedidos por las Secretarías del Despacho, T. XXIII); and Royal Order of the 11th of January, 1849 (Colección Legislativa de España, T. XLVI).

12.

For further consideration of problems with patent classification, see Griliches (1990).

13.

A task that was carried out throughout a decade of careful patent cataloguing and study. More information on the classification system and numerous examples can be found in Sáiz (2002).

14.

Novelties of different types for housing reorganization, furniture, private and domestic objects, urbanism, medicines, hygiene, heating, music, sport and plays, shows, teaching, fine arts, optics, and photography, among others.

15.

Advances in processing and manipulation of fats, oil, candles, soaps, cosmetics, glass, matches, medicines, fertilizers, lubricants, paints, and varnishes, among similar compounds.

16.

Foreign patents superseded domestic patents especially from 1870 to 1930 (Sáiz 2002, Fig. 1).

17.

18.

Between 1830 and 1841, the Sociedad Anónima de las Ferrerías de Marbella y Málaga applied for several patents of introduction related to the iron industry and implemented many in Manuel Heredia's iron factories, which effectively transferred British technologies to Spain. See OEPM, Historical Archive, privileges of introduction 98, 144, 177, and 178. Heredia's family also used introductions in other sectors during the nineteenth century.

19.

The first patent of introduction was acquired in September 1856 by Jose Vilallonga and Ibarra Hermanos (OEPM, Historical Archive, privilege 1482), who were dealing with Bessemer to introduce the converter. They installed one in Guriezo (Cantabria) in north Spain. Days later, Bessemer registered a patent of invention (OEPM, Historical Archive, privilege 1510) and implemented the converter in the same place.

20.

The 15th of July, 2002, the US Congress passed a resolution declaring that Meucci was the true inventor of the phone (107th Congress; 1st Session; H. Res. 269).

21.

Jose Dalmau applied for the patent of introduction in September 1877 (OEPM, Historical Archive, privilege 5753) and implemented Bell's invention in Catalonian factories and between the Civil and Military Government. A month later, Bell applied for an invention patent for improvements on his phone (OEPM, Historical Archive, privilege 5766), which lasted no more than a year because he did not pass the compulsory working clause, which was another characteristic of a 'weak' patent system for impeding intellectual monopolies.
References
Arora A (1995) Licensing tacit knowledge: intellectual property rights and the market for know-how. Econ Innov New Technol 4:41–59

Beatty E, Sáiz P (2007) Propiedad industrial, patentes e inversión en tecnología en España y México (1820–1914). In: Dobado R, Gómez A, Márquez G (Comp.) México y España ¿historias económicas paralelas? México, Fondo de Cultura Económica, pp 425–467

Bessen J, Maskin E (2009) Sequential innovation, patents, and imitation. Rand J Econ 40(4):611–635

Boldrin M, Levine DK (2008) Against intellectual monopoly. Cambridge University Press, Cambridge

Boldrin M, Levine DK (2009) Market size and intellectual property protection. Int Econ Rev 50(3):855–881

Branstetter L, Fisman R, Foley C (2006) Do stronger intellectual property rights increase international technology transfer? Empirical evidence from US firm-level panel data. Quart J Econ 121(1):321–349

Chin JC, Grossman G (1990) Intellectual property rights and North-South trade. In: Jones RW, Kreuger AO (eds) The political economy of North-South trade: essays in honor of Robert E. Baldwin. Basil Blackwell, Cambridge, pp 90–107

Diebolt C, Pellier K (2011) Measuring the 'ideas': evidence from a new international patent database. Association Française de Cliométrie, Working Paper Series, n. 4

Epstein SR (2004) Property rights to technical knowledge in pre-modern Europe, 1300–1800. Am Econ Rev Pap Proc 94(2):382–387

Freeman C (1987) Technology and economic performance: lessons from Japan. Pinter Publishers, London

Gilbert R, Shapiro C (1990) Optimal patent length and breadth. Rand J Econ 21:106–112

Goodfriend M, McDermott J (1998) Industrial development and the convergence question. Am Econ Rev 88(5):1277–1289

Griliches Z (1990) Patent statistics as economic indicators. J Econ Lit 28:1661–1707

Grossman G, Lai E (2004) International protection of intellectual property. Am Econ Rev 94(5):1635–1653

Helpman E (1993) Innovation, imitation, and intellectual property rights. Econometrica 61:1247–1280

Hilaire-Perez L (1991) Invention and the state in 18th-century France. Technol Cult 32(4):911–931

Kaplan F (1988) Dickens, a biography. William Morrow, New York

Kelly M (2009) Technological progress under learning by imitating. Int Econ Rev 50(2):397–414

Khan Z (2005) The democratization of invention: patents and copyrights in American economic development. Cambridge University Press, Cambridge (N.Y.)

Khan Z (2012) Selling ideas: an international perspective on patenting and markets for technological innovations, 1790–1930. Unpublished paper

Khan Z, Sokoloff KL (1998) Patent institutions, industrial organization and early technological change: Britain and the United States, 1790–1850. In: Berg M, Bruland K (eds) Technological revolutions in Europe: historical perspectives. Edward Elgar, Northampton, pp 292–313

Khan Z, Sokoloff K (2004) Institutions and democratic invention in 19th century America. Am Econ Rev 94:395–401

Khan Z, Sokoloff KL (2008) Historical perspectives on patent systems in economic development. In: Netanel NW (ed) The development agenda: global intellectual property and developing countries. Oxford University Press, Oxford, pp 215–245

Lamoreaux N, Sokoloff K (2001) Market trade in patents and the rise of a class of specialized inventors in the 19th-century United States. Am Econ Rev 91(2):39–44

Lee JY, Mansfield E (1996) Intellectual property protection and US foreign direct investment. Rev Econ Stat 78(2):181–186

Lerner J (2000) 150 Years of patent protection. NBER Working Paper Series, 7478

Lerner J (2002) Patent protection and innovation over 150 years. NBER Working Paper Series, 8977

Lerner J (2005) 150 Years of patent office practice. Am Law Econ Rev 7(1):112–143

Loscertales J (2002) Deutsche investitionen in Spanien 1870–1920. Franz Steiner, Stuttgart

Lubar S (1991) The transformation of antebellum patent law. Technol Cult 32(4):932–959

Lundvall BÅ (1988) Innovation as an interactive process: from user-producer interaction to the national system of innovation. In: Dosi G, Freeman C, Nelson y RR, Silverger G (eds) Technical change and economic theory. Pinter Publishers, London, pp 349–369

Macleod Ch (1988) Inventing the industrial revolution. The English patent system, 1660–1800. Cambridge University Press, Cambridge

Moser P (2005) How do patent laws influence innovation? Evidence from nineteenth-century world's fair. Am Econ Rev 95(4):1214–1236

Nagoaka S (2009) Does strong patent protection facilitate international technology transfer? Some evidence from licensing contracts of Japanese firms. J Technol Transf 34:128–144

Nicholas T (2010) The role of independent invention in U.S. technological development, 1880–1930. J Econ Hist 70(1):57–82

Nicholas T (2011) Independent invention during the rise of the corporate economy in Britain and Japan. Econ Hist Rev 64(3):995–1023

Penrose E (1951) The economics of the international patent system. Johns Hopkins Press, Baltimore

Penrose E (1973) International patenting and the less-developed countries. Econ J 83(331):768–786

Plasseraud Y, Savignon F (1986) L'Etat et l'invention: histoire des brevets. Institut National de la Propriété Industrielle, Paris

Puig N, Loscertales J (2001) Las estrategias de crecimiento de la industria química alemana en España: Exportación e inversión directa, 1880–1936. Revista de Historia Económica 19(2):345–382

Richter R, Streb J (2011) Catching-up and falling behind: knowledge spillover from American to German machine toolmakers. J Econ Hist 71(4):1006–1031

Sáiz P (1999) Invención, patentes e innovación en la España contemporánea. OEPM, Madrid

Sáiz P (2002) The Spanish patent system (1770–1907). Hist Technol 24:45–79

Schmookler J (1966) Invention and economic growth. Harvard University Press, Cambridge (Mass.)

Smith PJ (2001) How do foreign patent rights affect US exports, affiliate sales, and licenses? J Int Econ 55:411–439

Tortella T (2000) A guide to sources of information on foreign investment in Spain, 1780–1914. International Institute of Social History, Amsterdam

Waterson M (1990) The economics of product patents. Am Econ Rev 80:860–869

Yang G, Maskus KE (2001) Intellectual property rights, licensing, and innovation in an endogenous product-cycle model. J Int Econ 53:169–187
Acknowledgments
I would like to acknowledge research funding from the following sources: the Collaboration agreement between the Oficina Española de Patentes y Marcas and the Universidad Autónoma de Madrid for cataloguing and studying the historical documentation of patents and trademarks (1999–2012) as well as The British Academy International Networks (2003–2008) 'Patents in history: Studies in the patterns and institutions of technological change and transfer.' I would also like to acknowledge very useful comments from anonymous referees, Jose Luis Zofío-Prieto, Inmaculada Álvarez-Ayuso, and very especially Rocío Sánchez-Mangas, whose selfless help significantly contributed to improving the original draft.
About this article
Cite this article
Sáiz, P. Did patents of introduction encourage technology transfer? Long-term evidence from the Spanish innovation system. Cliometrica 8, 49–78 (2014). https://doi.org/10.1007/s11698-013-0094-2
Received:

Accepted:

Published:

Issue Date:
Keywords
IPR institutions

Patents of introduction

Technology transfer

European periphery
JEL Classification