Abstract
In this study, an anionic surfactant sodium lauryl sulfate (SLS) stabilized with silica nanoparticles was prepared for use as liquid foam unloading agent with good foamability and foam stabilizing ability. In the foam, the silica nanoparticles were adsorbed onto the gas–liquid interface to form a silica-SLS aggregates film which prevents bubble coalescence and, thus, the foam stability and liquid unloading efficiency can be improved. The concentration of silica nanoparticles as the stabilizing agent was unnecessarily high if sufficient time was given for the silica to be in contact with the surfactant. The study on the performance of foam unloading agent showed that nanofluid with 0.03% silica nanoparticles had the best performance with a foam stability of 72% at 80 °C and a liquid efficiency of 97.5% at 100 °C. It also had temperature resistance as high as 100 °C, salinity resistance of up to 10% and hydrocarbon content of up to 50%. Using a bubble column, the high production capacity of SLS-silica nanofluid could be realized. The formation of silica nanoparticles in the bubble column was induced by CO2 gas, which simultaneously they adsorbed SLS. The foam unloading performance of the nanofluid produced was comparable to that of the small-scale preparation. The success of silica nanofluid production as liquid foam unloading agent in bubble column reactor opens an opportunity for large-scale production in the field.
Access options
Buy single article
Instant access to the full article PDF.
USD 39.95
Price excludes VAT (USA)
Tax calculation will be finalised during checkout.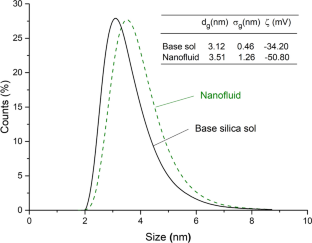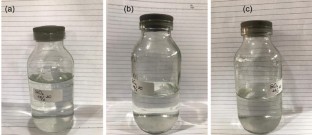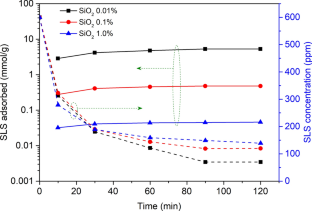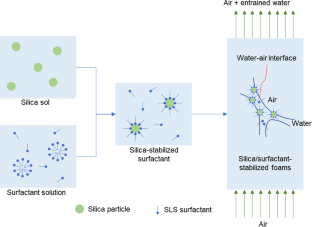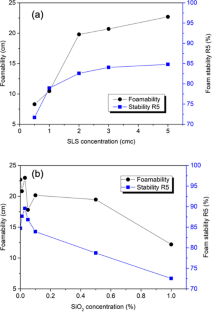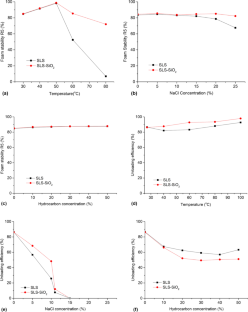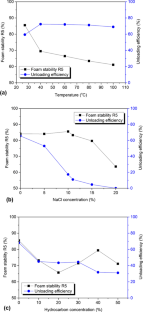 References
Abang GNO, Pin YS, Ridzuan N (2021) Application of silica (SiO2) nanofluid and Gemini surfactants to improve the viscous behavior and surface tension of water-based drilling fluids. Egypt J Petrol 30(4):37–42. https://doi.org/10.1016/j.ejpe.2021.10.002

Ajani A, Kelkar M, Sarica C, Pereyra E (2016) Effect of surfactants on liquid loading in vertical wells. Int J Multiph Flow 83:183–201. https://doi.org/10.1016/j.ijmultiphaseflow.2016.03.019

Alargova RG, Warhadpande DS, Paunov VN, Velev OD (2004) Foam superstabilization by polymer microrods. Langmuir 20(24):10371–10374. https://doi.org/10.1021/la048647a

Alyousef Z, Almobarky M, Schechter D (2017) Enhancing the stability of foam by the use of nanoparticles. Energy Fuels 31:10620–10627. https://doi.org/10.1021/acs.energyfuels.7b01697

Alyousef Z, Almobarky M, Schechter D (2018) The effect of nanoparticle aggregation on surfactant foam stability. J Colloid Interface Sci 511:365–373. https://doi.org/10.1016/j.jcis.2017.09.051

Binks BP, Horozov TS (2005) Aqueous foams stabilized solely by silica nanoparticles. Angew Chem Int Edn 44(24):3722–3725. https://doi.org/10.1002/anie.200462470

Binks BP, Rodrigues JA (2008) Origin of stabilisation of aqueous foams in nanoparticle—surfactant mixtures. Soft Matter 4:2373–2382. https://doi.org/10.1039/b811291f

Briceño-Ahumada Z, Soltero-Martínez JFA, Castillo R (2021) Aqueous foams and emulsions stabilized by mixtures of silica nanoparticles and surfactants: A state-of-the-art review. Chem Eng J Adv 7:100116. https://doi.org/10.1016/j.ceja.2021.100116

Fameau AL, Salonen A (2014) Effect of particles and aggregated structures on the foam stability and aging. C R Phys 15(8–9):748–760. https://doi.org/10.1016/j.crhy.2014.09.009

Hu N, Li Y, Wu Z, Lu K, Huang D, Liu W (2018) Foams stabilization by silica nanoparticle with cationic and anionic surfactants in column flotation: effects of particle size. J Taiwan Inst Chem Eng 88:62–69. https://doi.org/10.1016/j.jtice.2018.04.008

Hunter TN, Pugh RJ, Franks GV, Jameson GJ (2008) The role of particles in stabilising foams and emulsions. Adv Coll Interface Sci 137:57–81. https://doi.org/10.1016/j.cis.2007.07.007

Hunter TN, Wanless EJ, Jameson GJ, Pugh RJ (2009) Aspects non-ionic surfactant interactions with hydrophobic nanoparticles : impact on foam stability. Colloids Surf A 347:81–89. https://doi.org/10.1016/j.colsurfa.2008.12.027

Joseph A, Hicks PD (2018) Modelling mist flow for investigating liquid loading in gas wells. J Petrol Sci Eng 170:476–484. https://doi.org/10.1016/j.petrol.2018.06.023

Knapik E, Stopa J, Marzec A (2014) Foams stabilized with nanoparticles for gas well deliquification. Pol J Chem Technol 16(2):114–117. https://doi.org/10.2478/pjct-2014-0040

Li X, Xiong Y, Chen D, Zou C (2015) Utilization of nanoparticle-stabilized foam for gas well deliquification. Colloids Surf, A 482(8):378–385. https://doi.org/10.1016/j.colsurfa.2015.05.053

Liu Z, Hedayati P, Sudhölter EJR, Haaring R, Shaik AR, Kumar N (2020) Adsorption behavior of anionic surfactants to silica surfaces in the presence of calcium ion and polystyrene sulfonate. Colloids Surfaces A: Physicochem Eng Aspects 602:125074. https://doi.org/10.1016/j.colsurfa.2020.125074

Myers D (1999) Surfaces, Interfaces, and Colloids, 2nd edn. John Wiley and Sons Inc, New York

Petkova R, Tcholakova S, Denkov ND (2012) Foaming and foam stability for mixed polymer-surfactant solutions: Effects of surfactant type and polymer charge. Langmuir 28(11):4996–5009. https://doi.org/10.1021/la3003096

Qomariyah L, Widiyastuti W, Winardi S (2020) Effect of colloidal properties on the particle characteristics in the flame-assisted spray-drying process. Chem Pap 74(1):285–296. https://doi.org/10.1007/s11696-019-00878-8

Rahman NA, Widhiana I, Juliastuti SR, Setyawan H (2015) Synthesis of mesoporous silica with controlled pore structure from from bagasse ash as a silica source. Colloids Surf, A 476:1–7. https://doi.org/10.1016/j.colsurfa.2015.03.018

Spildo K, Sun L, Djurhuus K, Skauge A (2014) A strategy for low cost, effective surfactant injection. J Petrol Sci Eng 117:8–14. https://doi.org/10.1016/j.petrol.2014.03.006

Van Nimwegen AT, Portela LM, Henkes RAWM (2016) The effect of surfactants on vertical air/water flow for prevention of liquid loading. SPE J 21(2):488–500. https://doi.org/10.2118/164095-PA

Venancio JCC, Nascimento RSV, Pérez-Gramatges A (2020) Colloidal stability and dynamic adsorption behavior of nanofluids containing alkyl-modified silica nanoparticles and anionic surfactant. J Mol Liq 308:113079. https://doi.org/10.1016/j.molliq.2020.113079

Wasan D, Nikolov A (2008) Thin liquid films containing micelles or nanoparticles. Curr Opin Colloid Interface Sci 13(3):128–133. https://doi.org/10.1016/j.cocis.2007.11.011

Wu J, Lei Q, Xiong C, Cao G, Zhang J, Li J, Fang J, Tan J, Ai T, Li N, Jia M (2016) A nano-particle foam unloading agent applied in unloading liquid of deep gas well. Pet Explor Dev 43(4):695–700. https://doi.org/10.1016/S1876-3804(16)30081-7

Yang W, Wang T, Fan Z, Miao Q, Deng Z, Zhu Y (2017) Foams stabilized by in situ-modified nanoparticles and anionic surfactants for enhanced oil recovery. Energy Fuels 31(5):4721–4730. https://doi.org/10.1021/acs.energyfuels.6b03217

Yang C, Niu X, Zhou J, Wang J, Huo Z, Lu Y (2020) Synergistic action mechanism and effect of ammonium dodecyl sulfate and 1,2,4-triazole in alkaline slurry on step height reduction for Cu cMP. ECS J Solid State Sci Technol 9(3):034010. https://doi.org/10.1149/2162-8777/ab80b3

Zana R (2002) Dimeric (gemini) surfactants: Effect of the spacer group on the association behavior in aqueous solution. J Colloid Interface Sci 248(2):203–220. https://doi.org/10.1006/jcis.2001.8104

Zhu Y, Jiang J, Cui Z, Binks BP (2014) Soft Matter Responsive aqueous foams stabilised by silica nanoparticles hydrophobised in situ with a switchable surfactant. Soft Matter 10:9739–9745. https://doi.org/10.1039/C4SM01970A
Acknowledgements
This work was supported by The Ministry of Research, Technology and Higher Education of Indonesia through Doctoral Dissertation Research Grant (Contract numbers: 720/PKS/ITS/2019 and 3/E1/KP.PTNBH/2020).
Additional information
Publisher's Note
Springer Nature remains neutral with regard to jurisdictional claims in published maps and institutional affiliations.
Supplementary Information
Below is the link to the electronic supplementary material.
Rights and permissions
Springer Nature or its licensor (e.g. a society or other partner) holds exclusive rights to this article under a publishing agreement with the author(s) or other rightsholder(s); author self-archiving of the accepted manuscript version of this article is solely governed by the terms of such publishing agreement and applicable law.
About this article
Cite this article
Mawarani, L.J., Widiyastuti, W. & Setyawan, H. Foams stabilized with silica nanoparticles derived from sodium silicate for gas well liquid unloading. Chem. Pap. (2023). https://doi.org/10.1007/s11696-023-02690-x
Received:

Accepted:

Published:

DOI: https://doi.org/10.1007/s11696-023-02690-x
Keywords
Foam

Foamability

Silica nanoparticles

Surfactant

Deliquification

Liquid unloading